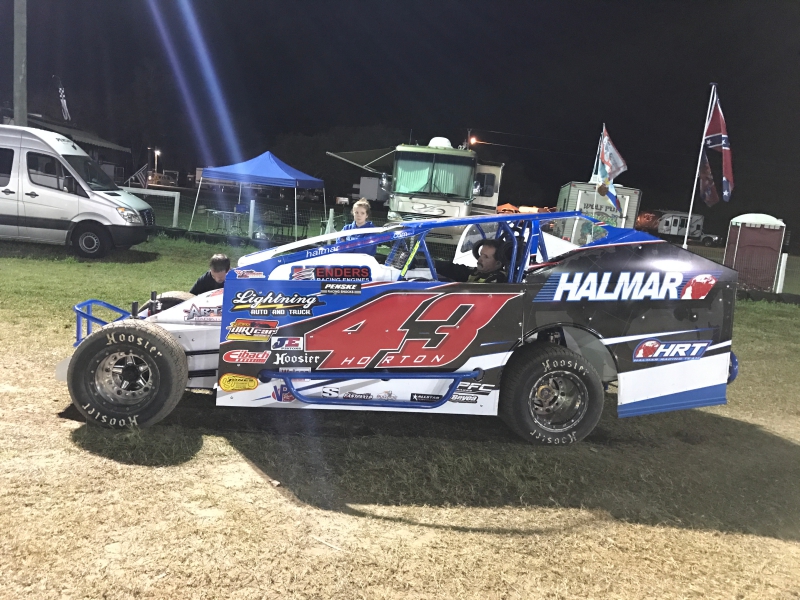 Practice Day
Story & Photos By: Hunter Horton/RacersGuide.com
The day is finally here. It is practice day at the Dirt Car Nationals. 
We started our morning by waking up in Brunswick, Georgia at 8 AM. Like I said in my last blog post we had a flat tire on the trailer and had to stop at a motel. When we up got up and we were rolling and went over to the tire service center. Shout out to J & J tire service for having the tires we needed and getting us fixed. 
After about an hour at the tire shop we got a new tire and we were back on the road. Our next stop was to our hotel to drop our bags off. After we checked into our hotel we went over to a Cracker Barrel and got some breakfast. After breakfast it was finally time to head to the race track for the day.
When we got to the track we unloaded the car and the tools, then we had a chance to catch up with Dave Hunt and Dave Reedy from Penske Shocks. Dad and I talked to Dave Reedy about different shock packages that we should try and use down here this week. We also caught up with Tim Fuller & Billy Pauch and talked about different things and what set ups we each have in our cars.
Finally, about 7:45 PM the modifieds were called out for first of three practice session for the night. Dad was fastest in his group and 4th fastest overall, he said that he was really surprised how the car reacted! In the second practice session Dad was 3rd fastest in his group and 9th overall. Dad said that the car is still pretty damn good! We decided not to run the 3rd and final practice session. Awesome job to our teammate Stewart Friesen for setting fastest in that session. Dad said he doesn't want to mess with the car too much, he screws the whole car up. He is pretty happy though because he said he usually comes here and on practice night he is 35th fastest. 
We decided not to watch the late model race nor the third practice. We just decided to go get something to eat. After we ate at Applebee's we headed back to our hotel room, to go to bed. Another day tomorrow! It's supposed to rain though so we will see what tomorrow brings!!