Steve Poirier beats Jordan Poirier in Lucas Oil Empire Super Sprint Feature at Mohawk International Raceway
 
Story By: MIKE MALLETT / ESS SERIES MEDIA
Photos By: RANDY MALLETT/ HAMMERDOWN PHOTO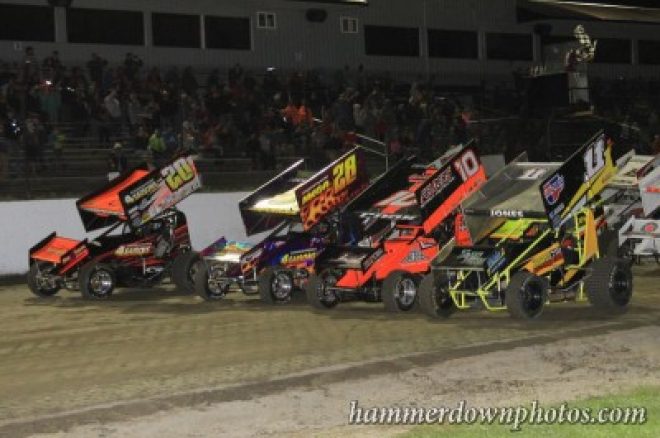 AKWESASNE, NY – June 10, 2017- Steve Poirier was still chasing his first series win coming into Friday night's Lucas Oil Empire Super Sprint event at the Mohawk International Raceway.  That was all the 2016 and seven-time series champion needed.
The St. Mathieu de Beloeil, Que., driver had won seven of the last 11 events at the fast half-mile.  After Friday night, you can make that eight out of the last 12.  Poirier was dominant in the 25-lap A-Main passing Chris Jones for the lead early after starting in the second row.  There was no catching him from that point forward as he won the NAPA Auto Parts Tour of the U.S., 1000 Island RV Centre Canadian Series, SUNY Canton Series feature.
"I like that track," said Poirier after the triumph.  "My style is good here and it's always a pleasure.  I think we won the last three here.  When things went wrong it was because we were kind of struggling with the car or a car accident, something like that.  The track was awesome tonight as it was fun to drive."
Chris Jones jumped out to the lead from his pole position while Poirier rocketed into the second position.  At that point the chase was on.  Poirier stalked Jones.  Jones was able to keep Poirier at bay for the next handful of laps.
Things got more difficult for Jones as he hit traffic on the seventh lap.  Jones was able to make a couple of quick moves to keep Poirier behind him.  Then, on lap nine, Jones got boxed in on the bottom of the speedway allowing Poirier to dispatch of him on the outside.
"I thought at first I would get him (Jones) on the inside because he was too much in the middle to get him on the outside," stated Poirier about the pass for the lead.  "He got bottled up a little bit and I tried the outside of one and two.  I felt good there so I did it the next six, tens laps there it was pretty good. Eventually it looked the bottom was coming back so I figured it was safer to go back to there."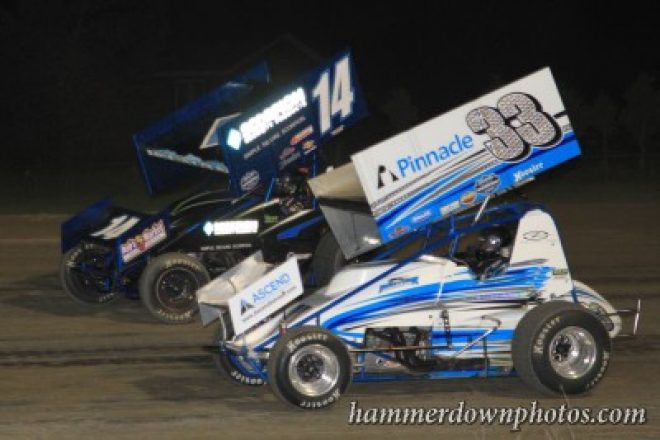 Poirier pulled away after taking control leaving Jones to fend off another Poirier as Jordan began to apply pressure for the second position.  Jordan was able to wrangle the runner-up spot in the running order on lap 12.  Meanwhile, Steve was nearly a straightaway out in front.
The Poirier's held the top two spots when the only caution came on lap 15 when Yan Bilodeau caught a marker tire on the bottom of the track and spiraled through the air.  His night was done while the Steve had to contend with Jordan on a double-file restart.
Like he almost always is, Steve was flawless at the green flag jumping quickly back out to an extended advantage over Jordan.  With the Poirier's settling into the top two positions, Matt Billings moved into third with Coleman Gulick making a huge move on the restart go from eighth into the top fourth.
Steve went on to score career win 63.  It ends a four race winless streak to start the season for the Empire Super Sprint career wins leader.
"The last couple of races I wasn't that happy and not as concentrated on my race program," commented Poirier.  "At some point you wonder was it luck, why are we not winning this year?  Kevin (Loveys) made some good adjustments and I drove it decent.  It feels good to back in Victory Lane."
Jordan searched in the final few laps before settling for the second position.   It was the second time in less than a week that the duo earned the top two spots as Jordan held off Steve to score his first win last Sunday at the Cornwall Motor Speedway.
"Finishing second is bad for morale, but we finished second to Steve," cited Jordan.  "We knew he was good on the slick stuff.  We drove a good race.  I think we moved the wing back too far for the restart.  As the laps were coming down we were catching him a bit.  We can be really happy with our second place."
Billings, driving Mike Stelter's No. 36, picked up his best finish of the 2017 season.  Billings was on his way to an even better finish last weekend at Cornwall before the rear-end went south while running second.  Friday he raced to third after the team thrashed to get it repaired for this weekend.
"I have to say thanks to Mike (Stelter) and Tom (Rightmyer) and all the guys that worked at the shop in Rochester (NY)," stated Billings.  "Last week at Cornwall we went from 16th up to second before the rear-end blew out of it.  They worked their butts off all week to get this thing back.  I'm glad we were fast tonight.  I'm glad we got a third."
Gulick picked up hard-charger honors after coming from 14th to finish in fourth.  Jones held on to take the final spot in the top five.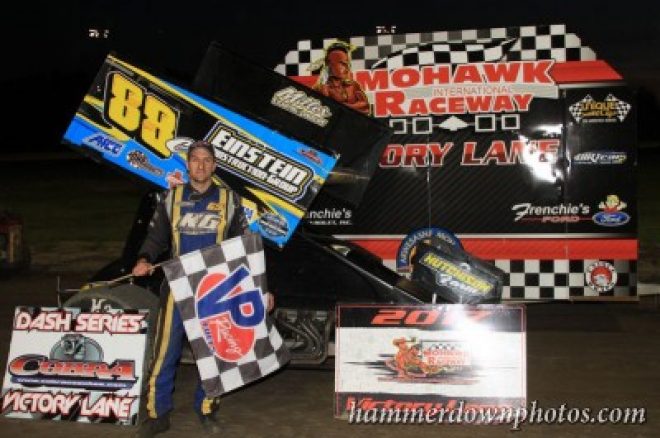 Lucas Oil ESS A-Main – Steve Poirier ($1,600), Jordan Poirier ($1,100), Matt Billings ($825), Coleman Gulick ($755), Chris Jones ($565), Paulie Colagiovanni ($470), Matt Tanner ($680), Alain Bergeron ($420), Paul Kinney ($410), Brandon Kidd ($425), Jason Barney ($385), Dan Douville ($345), Chad Miller ($400), Keith Granholm ($340), Brett Wright ($285), Guillaume Neiderer ($330), Scott Holcomb ($275), Anthony Cain ($270), Lee Ladouceur ($315), Jeff Cook ($260), Yan Bilodeau ($255), Dave Axton ($300), Dale Gosselin ($250)
Lap Leader – Jones 1-8, Poirier 9-25.
ESS Bonuses:
 
Hoosier Tires Bridesmaid Bonus – J Poirier $100
E&V Energy Fast Time – Tanner, S Poirier, Billings $25
Car Mate Trailers Heats – Tanner, S Poirier, Kidd $25
Scorpion Security Products/Cobra Coaches Dash – Chad Miller $105, Gulick $75, Ladouceur $50, Neiderer $25 Douville $25,
Engler Machine and Tool Halfway – S Poirier $50
Insinger Performance Hard Charger – Gulick (10 pos), $50
Ohsweken Speedway 22nd Anniversary – Axton $50
Scorpion Security Products Last Car Lead Lap – Granholm $50
Scorpion Security Products 12 Redraw – Barney $25
Fondations 55 Pick 5 – Jones $35
Hoosier Tire –  Tanner $200
For more Information on the Lucas Oil Empire Super Sprints:
 Web: www.empiresupersprints.com
Twitter: @ESSprints
 
Facebook: https://www.facebook.com/EmpireSuperSprints
 
Android App: Empire Super Sprints
The Lucas Oil Empire Super Sprints are brought to you by: Lucas Oil, Mach 1 Chassis, Einstein Construction Group, NAPA Auto Parts, Hoosier Racing Tires, Donath Motorworx, Insinger Performance/Sunoco Race Fuels, Scorpion Security Products, 1000 Islands RV Centre, Car Mate Trailers, Fondations 4 Saisons, Beard Sewer and Drain, Cobra Coaches, 911 Restoration, Fondations 55, E&V Energy, SUNY Canton, Engler Machine and Tool, Northwood 2 Construction, Brodix Cylinder Heads, Lacaillade Masonry, FX Chevy, ASI Racewear and many, many associate sponsors!!