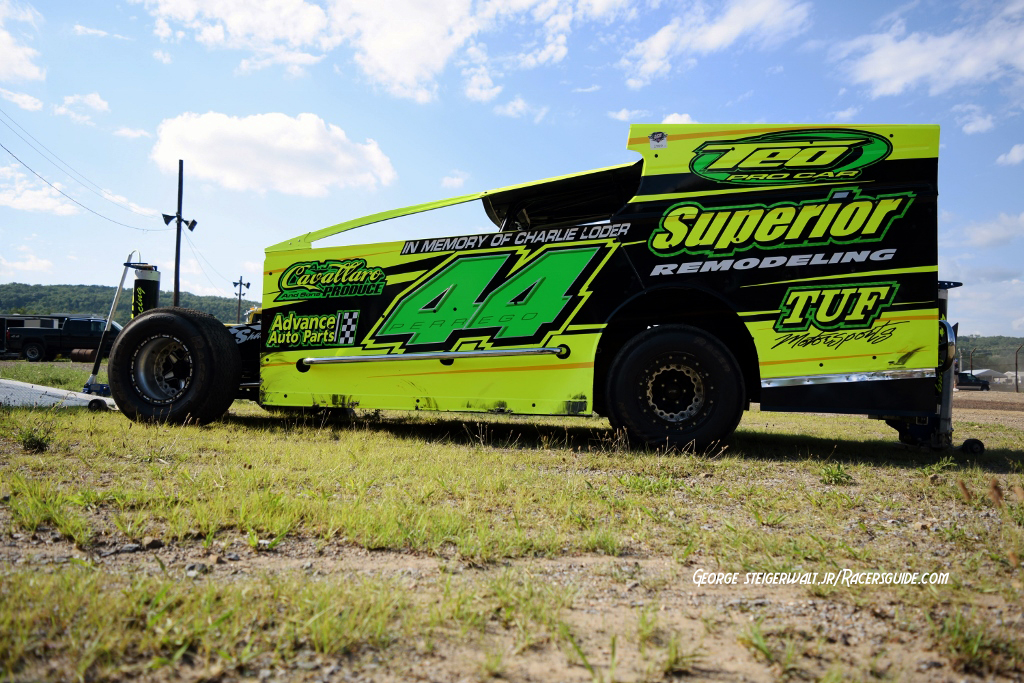 ANTHONY PERREGO WINS MODIFIED SUMMER SLAM RACE 3 WORTH $2,500 AT FIVE MILE POINT SPEEDWAY.
Story By: Andy Harpel/Five Mile Point Speedway
Photos By: RacersGuide.com Photo Staff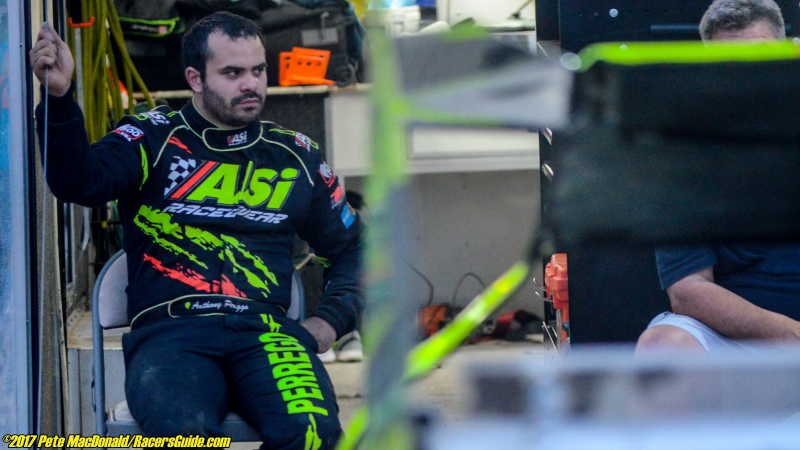 KIRKWOOD, NY…Anthony Perrego raced to his second Modified feature win of the season at Five Mile Point Speedway on Sunday. The victory in race three of the 30 lap Modified Sunday Summer slam was worth $2,500 for Perrego. The fourth and final Modified Summer Slam race is Sunday, September 17th.
Rusty Smith and Danny Tyler led the 26 car Modified starting field to the green of the 30 lap feature event. The race got off to a slow start as back to back cautions on lap 1 and 2 slowed the early pace. Despite the two cautions, it was clear that the outside line was going to be the place to be as Tyler took the lead from his outside starting position. When racing resumed on lap 2 Tyler quickly re-established himself on the top of the quarter mile oval as Smith battled with Dan Creeden and Anthony Perrego for the second spot. On lap 8 the caution flew again for slowing Alex Tonkin as the top four had remained unchanged. At this point Glenn Knapp ran in the fifth spot as he was having another solid run.
When the green flag came back out Tyler continued to lead but Perrego took advantage of his outside fourth place restart position to catapult up to second place. Tyler was using his big block powered Modified upfront but was searching for the ideal line to keep the car hooked up. This allowed Perrego to use an even higher line to work past on lap 12. Perrego quickly opened up his lead as now a great three wide battle for second place occurred between Tyler, Smith and Creeden. On lap 14 the caution flew again as current weekly Modified point leader Kevin Bates slowed in turn 4. The ensuing restarting would be the final double file start of the race and Perrego now had Creeden to his inside. Perrego again used the outside line on the restart to pull ahead and maintain his race lead. On lap 16 Knapp pulled pit side ending his strong run. On the same lap the race would go red as Sam Allen slammed the turn 1 wall and foam blocks sending him end over end. Fortunately, Allen emerged uninjured but he was out of action for the balance.
After a short delay, racing resumed and Perrego again took to the high side of the speedway as Creeden tried to work the middle of the quarter mile. Smith now had to contend with Nick Rochinski as they raced for the third position as Tyler faded to fifth. As the laps wound down it became clear that only a mechanical issue would derail Perrego as he continued to set a torrid pace out front. Brian Malcolm was on the move during the final ten circuits as he was one of the few drivers utilizing the bottom line of the speedway. Malcolm started twenty-first but fell back to twenty-sixth after being involved in the lap 1 tangle. On lap 28 Malcolm broke in to the top five as he worked past Tyler.
At the finish Perrego would win by six car lengths over Creeden for his second win of the season at Five Mile Point Speedway. Rochinski took sole possession of the Modified Summer Slam point lead by finishing third. Rusty Smith and Malcolm rounded out the top five. Positions six through ten were filled by Tyler, Mike Butler, Kurt Decker, Clay Butler and Steve Davis. Malcolm earned the $150 Hard Charger Bonus in Memory of James and Reta Whitman.
Twenty-three starters took the green in the 20 lap Crate Sportsman feature event. Kyle Pierce charged out to the race lead but second place starter Tanner Harpell took over on lap 2. The race would go caution free for the first 13 laps and Harpell and Pierce held the advantage over Matt Cole. Harpell ran the middle of the quarter mile while both Pierce and Cole stayed glued to the inside groove. The first caution of the race flew on lap 13 as Coby Hendrickson spun and Mike Jackson slowed. At this point two drivers were making the most of the outside of the quarter mile as Randy Fox advanced from eleventh to seventh and Kyle Rohner, who had started twenty-third was up to eighth. On the restart Harpell continued to look strong in the middle of the speedway as Pierce remained within striking distance. Cole stayed close and made several bids for second. The balance of the feature would go caution free and Harpell went on for his first victory of 2017. Pierce finished second with Cole in third. Brad Cicio finished fourth with Corey Cormier having a strong fifth place finish. Rohner charged from last to sixth at the finish and will carry his point lead in to this Saturday night. Fox, Mike Austin, Todd Titus and Jeff Bubori completed the top ten.
The Xcel 600 Modifieds were on hand Sunday for their third and final Summer Slam event of the season. Byron Worthing entered the day as the point leader for the division and left no doubt he was the guy to beat by days end. Worthing started on the outside pole for the 20 lap feature event and took the lead immediately at the drop of the green. Doug Windhausen ran in second place during the early stages but it was Bailey Boyd making the biggest charge in the field. Boyd started eighth and was up to third by lap 4. Boyd pulled in to the runner-up slot on lap 5 and tried to reel in Worthing using the high side of the speedway. A caution on lap 8 bunched up the field. On the restart Boyd tried the outside to work around Worthing but Worthing had the middle of the speedway working to his liking. Worthing went on to lead the balance of the feature and go on for the win. Boyd finished second with Chris Kithcart, Tyler Bartik and Windhausen completing the top five. Worthing earned the Xcel 600 Modified Summer Slam Championship as he swept all three races. Boyd finished second in the points with Bartik third in the final standings.
Damon Decker led all 20 laps of the Street Stock feature event to record his first ever victory at the speedway. It was only the second ever start for the young driver. Shane Wolf, Jr. raced from his ninth starting spot to secure a second place finish. Butch Green, Lanson Albanese and Earl Zimmer rounded out the top five.
Eric Beach took the lead from Josh Towner on lap 11 of the Factory Stock feature event and went on for the victory. Beach is the current point leader in the class. Grayson Albanese, Charlie Towner, Josh Towner and Ned Fitch completed the top five.
Mike Wilmot, Jr. led 14 of 15 laps in the Lightning Cat Expert feature event only to slow coming to the finish line. Both Nick Kennedy and Adam Gilbert were able to dart past at the finish. Kennedy captured the win with Gilbert second. Wilmot coasted across the line in third with Chad Uplinger and Isiah Forward completing the top five.
John Maynard led wire to wire in the 12 Lightning Cat Novice feature and Dalton Maynard was the Slingshot feature winner.
MODIFIED SUMMER SLAM OFFICIAL FEATURE FINISH (30): ANTHONY PERREGO ($2,500), Dan Creeden, Nick Rochinski, Rusty Smith, Brian Malcolm, Danny Tyler, Mike Butler, Kurt Decker, Clay Butler, Steve Davis, Donnie Elliott, Mike Colsten, Brad Szulewski, Frank Yankowski, Randy Fox, Rocco Infonte, Aleia Geisler, P.J. Goodwin, Sam Allen, Glenn Knapp, Jim Becker, Kevin Bates, Alex Tonkin, Joe Eisenhauer, Joey Colsten, Travis Smith. Hard Charger $125 Award In Memory of Reta and James Whitman: Brian Malcolm. Crate Sportsman. Gamblers Bonus ($190 each): Anthony Perrego/Steve Davis. Open Sportsman Bonus ($150): Brad Szulewski.
MODIFIED DNQ: Tyler Siri, Joe Krum, Dan Solomon, Brian Weaver.
CRATE SPORTSMAN OFFICIAL FEATURE FINISH (20): TANNER HARPELL, Kyle Pierce, Matt Cole, Brad Cicio, Corey Cormier, Kyle Rohner, Randy Fox, Mike Austin, Todd Titus, Jeff Bubori, Gregg Turner, Tim Howell, Alex Yankowski, Leo McGurrin, Marty Bunker, Del Howell, Kenny Ryder, Tom Hampton, Joe Guastella, Blaine Klinger, Rich Coons, Colby Hendrickson, Mike Jackson.
STREET STOCK OFFICIAL FEATURE FINISH (20): DAMON DECKER, Shane Wolf Jr., Butch Green, Lanson Albanese, Earl Zimmer, Matt Bowman, Ricky Davis Sr., Shawn Boynton, Ray Lindquist, Doug Polhamus. DNS – Shane Wolf Sr.
XCEL 600 MODIFIED OFFICIAL FEATURE FINISH (20): BYRON WORTHING, Bailey Boyd, Chris Kithcart, Tyler Bartik, Doug Windhausen, Cody Manmiller, Steven Sherwood, Kevin VanValkenburg, Damon Henry, Rich Green, Adam Mudge, Rick Gardner, Eric Boyd, Will Eastman. DNS – Dakota Anderson, Doug Lattner. XCEL 600 MODIFIED SUMMER SLAM CHAMPION: BRYON WORTHING.
FACTORY STOCK OFFICIAL FEATURE FINISH (15): ERIC BEACH, Grayson Albanese, Charlie Towner, Josh Towner, Ned Fitch Matt Millard, Neil DiBlasi, Steve Mower, Brady Simpson, Josh Wilbur, Phil Clapper.
LIGHTNING CAT EXPERT OFFICIAL FEATURE FINISH (20): NICK KENNEDY, Adam Gilbert, Mike Wilmot, Chad Uplinger, Isaiah Forward, Jeremy Warren, Casey McPherson, Josh Wilder, Chris Taylor, Dave Simms, Rich Wagner, Rick Lunn, Dave Bainbridge, Mat Mather, Mike Knight, Frank Smith, Bill Giles, Kenny Underwood, Jason Colwell Sr., Andrew Bolles, Jimmy DiFulvio, Sheldon Whitman. DNS – Kyle Rogers.
LIGHTNING CAT NOVICE OFFICAL FEATURE FINISH (12): JOHN MAYNARD, Brian Salmini, Mike Stark, Brandon Golzak, Jerry Kingeter, Jason Colwell Jr., Walter Decker, Jesse Torrens, Edwin King, Marisol Torrens, Randy Lane, Ashley Slater, Bryant Beach.
SLINGSHOT OFFICIAL FEATURE FINISH (10): DALTON MAYNARD, Blaine Klinger.