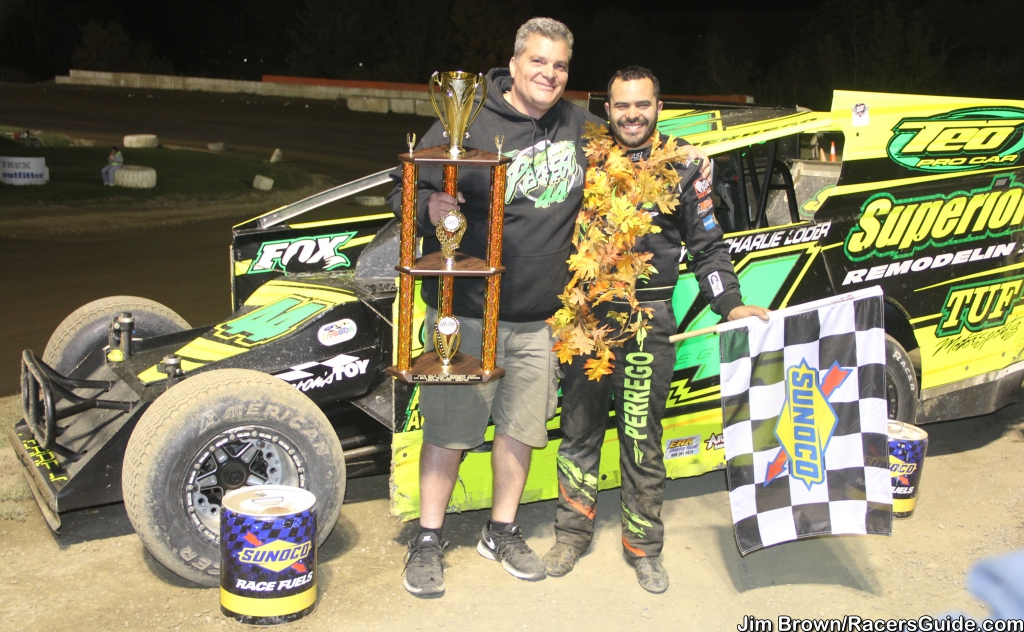 ANTHONY PERREGO WINS MODIFIED PORTION OF NATIONAL QUARTER MILE DIRT TRACK CHAMPIONSHIP WEEKEND ON FRIDAY EVENING
Story By: Andy Harpel/Five Mile Point Speedway
Photos By: Jim Brown/RacersGuide.com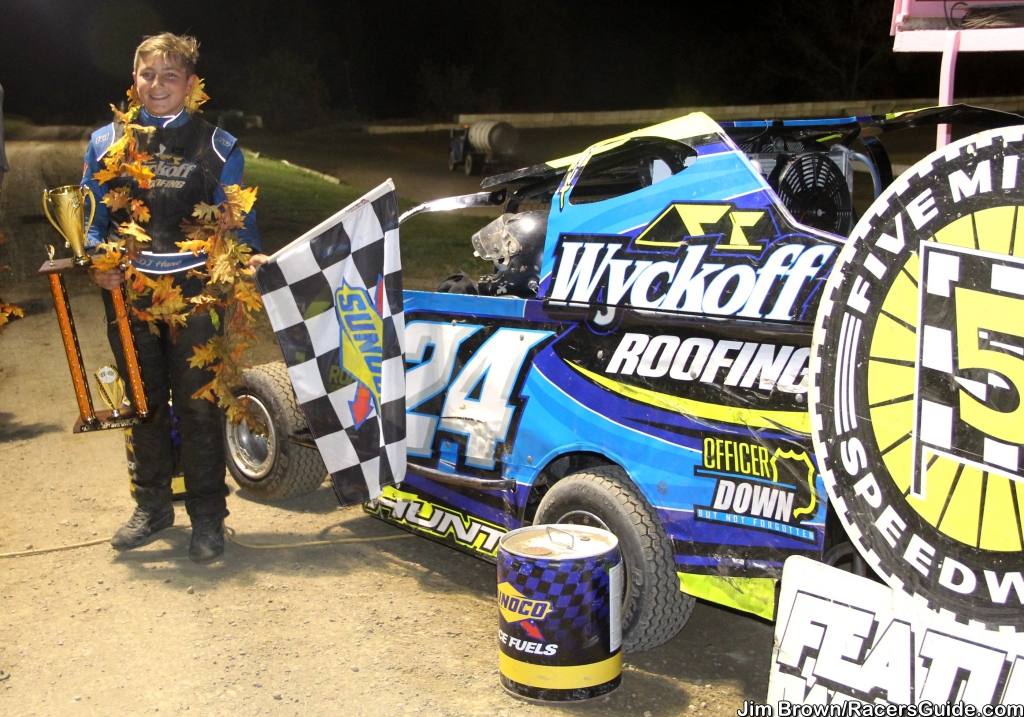 KIRKWOOD, NY…An outstanding first night of action on the National Quarter Mile Dirt Track Championship Weekend at Five Mile Point Speedway found Anthony Perrego recording the win in the 35 lap Modified feature. The victory was worth over $3,500 for Perrego and his second victory of the season at the speedway.
Brian Weaver and Brian Malcolm led the twenty-five car Modified starting field to the green flag for the 35 lap main event. Weaver quickly raced out to the lead at the start as Brett Tonkin immediately made himself a factor by moving in to second from his fourth starting slot. Tonkin, was the winner on this race weekend last year at FMP and was quickly making it known he was going to be a factor again this year. Weaver, fresh off his 150th career Modified victory back on September 19th was hoping to continue his strong end to the race 2017 season.
On lap 6 Tonkin raced past Weaver for the race lead and quickly moved ahead. The second and final caution of the event flew on the same lap. At this point the top five consisted of Tonkin, Weaver, Malcolm, Joey Colsten and Mike Colsten. Anthony Perrego was sitting in sixth for the final caution but had already advanced five positions in the first six circuits.
When racing resumed Tonkin opened up his lead over Weaver as Perrego took advantage of the high line around the quarter mile oval and gained several spots. Perrego worked past Weaver for the second position on lap 11 and set his site Tonkin for the race lead. With the race only 35 laps drivers did not have time to pace themselves and Perrego knew that as flew around the outer limits of the speedway. Tonkin had opened up a sizeable lead but it was diminishing with each lap as Perrego closed in. Meanwhile Weaver was now solidly in third as a great five car battle took place between Malcolm, Mike Colsten, Danny Tyler, Joey Colsten and Rusty Smith.
Perrego caught Tonkin as the race passed the halfway mark. The two ran side by side for several laps before Perrego took command on lap 20. Tonkin held on to second place as Weaver now began to close back in on the second position. Great battles took place throughout the field as the race continued without caution. Once Perrego got out front he was not challenged again for the race lead. On lap 32 the multiple car battle for fourth position shifted as Tyler, Colsten and Malcolm all got together. This allowed Rusty Smith to drive around the top and gain all three positions as the race continued under green. For Malcolm, the contact ultimately led to him dropping out on lap 34.
At the finish it would be Perrego claiming win number three of the season at Five Mile Point Speedway. His three wins garnered over $7,000 at the quarter mile oval this season. Tonkin finished second with Weaver claiming third at the stripe. Smith wound up fourth with Mike Colsten claiming the fifth position worth a $1,000. Shawn Walker, Kevin Hartnett, Tyler, Joey Colsten and Steve Davis completed the top ten.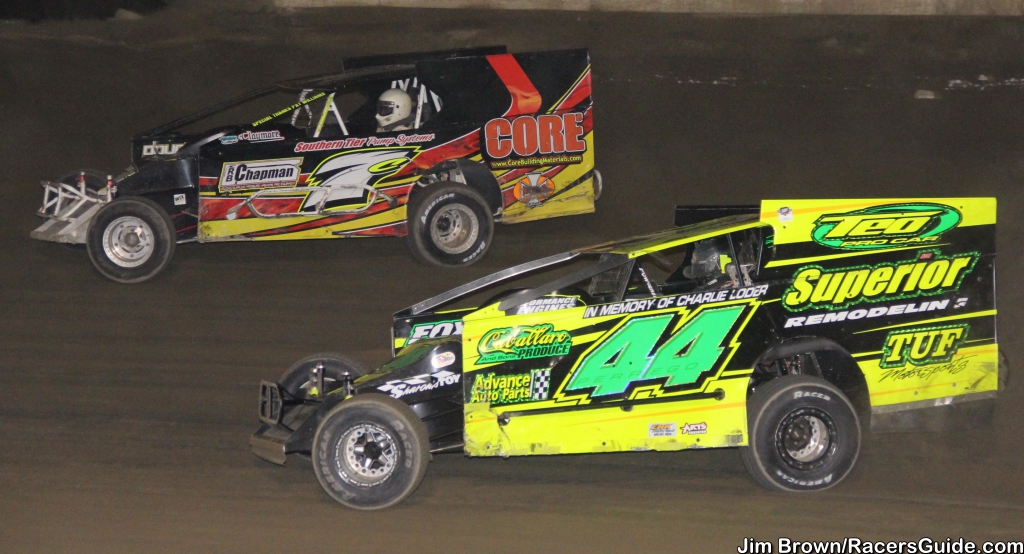 Mike Austin started on the pole and went on to win the 25 lap GRIT Crate Sportsman feature event. Although Austin recorded the victory he did not lead every lap as he and Mike Nagel, Jr. had a fantastic side by side battle for the lead throughout. Austin ran the very bottom of the quarter mile while Nagel utilized the extreme outside of the speedway throughout the 25 lapper. Nagel was credited with leading four different laps during the battle as the duo literally ran side by side the entire last 20 laps of the feature. At the finish Austin just edged out Nagel for the victory. In 1991 Nagel's father came up just a bumper short to Mike Colsten for the victory in the Modified portion of the National Quarter Mile Dirt Track Championship Weekend. Both finishes were two of the closest during the rich history of this event. Dustin Jordan finished third with Donnie Lawson racing from eleventh to fourth at the finish. Rookie Alex Yankowski did a great job to garner fifth after starting fifteenth.
D.J. Hunt dominated in the 20 lap Xcel 600 Modified Tour feature in a race that went caution free. Hunt won by almost a full straightaway enroute to his second win of the season at the speedway. Aaron Bowes, Damon Henry, Will Eastman and Bailey Boyd completed the top five.
Ray Hyer was the winner of the Four Cylinder Open 20 lap main event. This race also went caution free and was one of the most unique race formats run each season at the speedway. The field consisted of rear wheel drive and front wheel drive cars and trucks. Four different "Best of Class" winners were awarded throughout the field. The race itself was fantastic as the different class of cars all utilized different lines around the speedway and still went caution free.
RACE NOTES…The speedway was in outstanding condition on Friday evening for night one of the National Quarter Mile Dirt Track Championship Weekend…The racing action was second to none with very few cautions throughout the entire program…The Modified feature was slowed by only two cautions, both the Xcel Modified and Four Cylinder Open features went caution free and after a rough start the Crate Sportsman feature finished with an fantastic side by side battle for the win…The Four Cylinder Open had four different top finishing feature winners in an awesome five and six wide racing feature event…
NATIONAL QUARTER MILE DIRT TRACK CHAMPIONSHIP OFFICIAL FEATURE FINISH (35): ANTHONY PERREGO, Brett Tonkin, Brian Weaver, Rusty Smith, Mike Colsten, Shawn Walker, Kevin Hartnett, Danny Tyler, Joey Colsten, Steve Davis, Steve Babicek, Brad Szulewski, Richard Smith, Nick Rochinski, Corey Costa, Frank Yankowski, Joe Judge, Kyle Weiss, Kory Fleming, Nick Branning, Lee Dewitt, Brian Malcolm, P.J. Goodwin, Brad Weaver, Glenn Knapp. DNQ – Jim Becker, Brad Shaffer, Dan Allen, Mike Loney.
GRIT CRATE SPORTSMAN NATIONAL QUARTER MILE DIRT TRACK CHAMPIONSHIP WEEKEND OFFICIAL FEATURE FINISH (25): MIKE AUSTIN, Mike Nagel Jr., Dustin Jordan, Donnie Lawson, Alex Yankowski, Tim Guild, Randy Gates, Bobby Flood, Tanner Harpell, Milton Mann, Matt Brewer, Joseph Brown, Eric Williams, Joe Guastella, Ray Leonard, Stacey Jackson, Aaron Weaver, Pat Jordan, Lem Atkins, Kyle Rohner, A.J. Potrzebowski, Jeremy Williams, Matt Cole, Kailee Dimorier. DNQ – Tim Howell, Brandon Daley, Tom Hampton.
XCEL 600 MODIFIED TOUR NATIONAL QUARTER MILE DIRT TRACK CHAMPIONSHIP WEEKEND OFFICIAL FEATURE FINISH (20): D.J. HUNT, Aaron Bowes, Damon Henry, Will Eastman, Bailey Boyd, Josh Pepe, Doug Lattner, Kevin VanValkenburg, Dakota Koehler, Grant Schibilia, Bumps Scott, Craig Berringer, Josh Mudge, John Burnside, Doug Windhausen, Justin Dimorier, Dominick Amato, Gaby Meixell, Rich Christman, P.J. Dixon.
FOUR CYLINDER OPEN NATIONAL QUARTER MILE DIRT TRACK CHAMPIONSHIP WEEKEND OFFICIAL FEATURE FINISH (20): RAY HYER (top rear wheel drive), Keith Shay, Mitch Hurlbert, Justin Ladue, JIMMY DIFULVIO (top front wheel drive on DOT tires), Wayne Russell Jr., Kenny Underwood, Jim Backowski, Nick Kennedy, Randy Lane, BOB CRANDALL (top finishing truck), Dave Simms, Jeff Young, Brandon Clapperton, John Maynard, Andy Brigham, QUINN WALLIS (top front wheel drive racing tires), Max Hill, Eric Rowley, Doug O'Hara, Greg Slater, Wayne VanDusen, Brian Salmini, Tyler Belcher, Rick Lunn, Matt Gibson. DNQ – Robert Hill, Don Woodworth, Herb Dunn, Wayne Shellenberger, Trey Palmer.