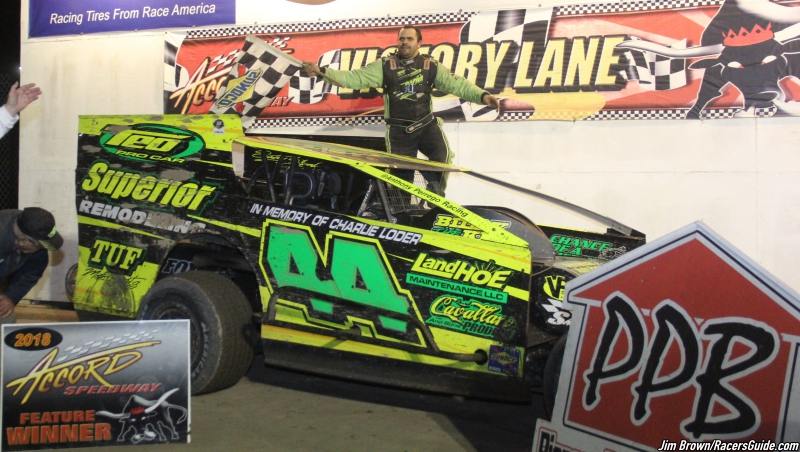 Perrego and Jordan Capture King Of The Catskills Main Events At Accord Speedway
Story By: Steve Pados/Accord Speedway
Photos By: Jim Brown/RacersGuide.com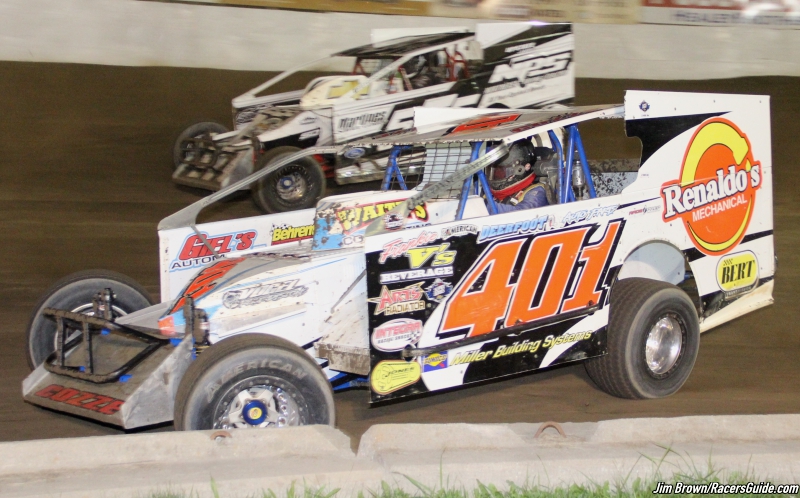 The Ulster County weather was warm and breezy in the afternoon but once the sun went down a brisk chill filled the air. Nevertheless, the heated and competitive action packed racing on the speedway kept the crowd entertained throughout the King of the Catskills events. The Accord Speedway was in top form and a solid roster of drivers and a standing room only crowd proved to be a win/win for Promoters Gary and Donna Palmer to host their annual King of the Catskills event at the speedway. Working right up until race time, Gary Palmer had the pristine quarter mile clay speedplant in impeccable condition and the attention to detail enabled the solid field of Modified and Sportsman competitors to race wall to wall and then some throughout the evening of racing events. The evening of speed was headlined by sponsor Bruce Insinger and his Insinger Fuel Team. Check them out on the web at: www.insingerperformance.com
When all was said and done, the 2018 Accord Speedway Modified champion, "The Montgomery Missile" Anthony Perrego was all business as he drove from eighth starting position to and followed "Showtime" Danny Tyler for forty one laps until he made the move of the event to slip past Tyler and go on to record his first ever KotC event and with it garnering a cool $5,000.00 for a good night's work in his Superior Remodeling hot rod. Tyler, the 2017 speedway champion and defending champion of the event, settled for runner-up honors but it was a great way to finish for the talented racer who took some time off of racing during the season to re-group and the decision paid off big for Tyler. "The DC Express" Danny Creeden started from eleventh position and worked his way into contention and then engaged in a blazing battle with "Jammin" Jimmy Wells right until the end with Creeden gaining third place and Wells fourth in his Upstate Auto Wagon. "BK Speed" Brian Krummel returned to the speedway and completed the top five with a solid run. Garden Stater Steve Davis made the long tow and headed up the second five in his Premio Sausage racer. "Iron" Mike Ricci raced from 12th spot to finish seventh while Jerry Higbie was eighth, invader Frank Cozze ninth and Andy Bachetti drove into the top ten after suffering a series of problems during the evening. Twenty six Modifieds were on hand for the event with the returning Corey Lowitt scratching out early in the evening.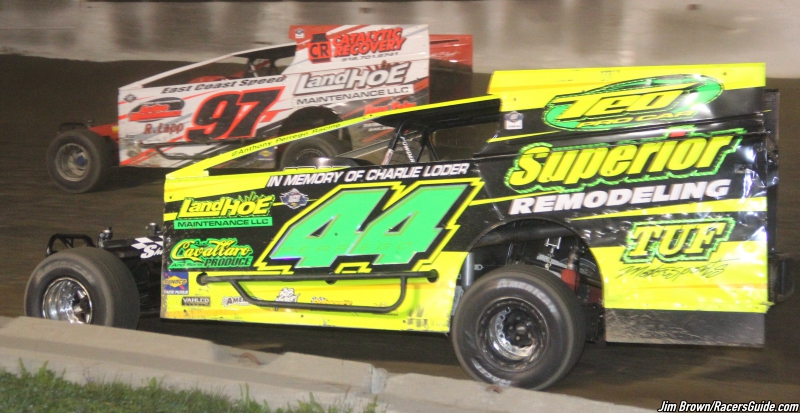 Speedville, New York's Dustin Jordan made his first ever Accord Speedway appearance and started from fourth spot to grab the lead after Ryan McCartney led lap number one. Jordan pushed his Firetower Doubles racer to the limit with some great moves taking it to the top in turns one and two and he broke away from the field. Some skirmishes including a hard tumble by Chris VanDuser on the backstretch slowed the action a bit but the racing was rock solid with excitement throughout. VanDuser was not injured in his incident. Each time racing resumed Jordan showed the hot hand with young guns tenth starting Cole Stangle and twelfth starting Alex Yankowski hustling through the field to run nose to tail as chased Jordan around the track. The hard drive by Stangle came to an end when he lost the handle and spin out ending his night of competition. Ninth starting "The Bushkill Bullet" Kyle Rohner worked his way into contention and the 2018 track champion and defending champion of the event soon found a home on the baseline of the speedway as he came charging forward. Rohner would move into second on lap-28 and a restart gave him one shot at the win but Jordan was strong and captured his first win at the speedway in his very first attempt. Rohner would settle for second with Alex Yankowski third, Cole Hentschel fourth and Ryan McCartney completing the top five. The second five found Charles Loiodice, Kevin Stevens, Jim Housworth, Michael Corbin and Daniel Morgiewicz following.
The veteran campaigner "Quick" Willie DeGraw wasted no time in charging to the front in the 25-lap Emmanuel's Marketplace Fireball Four Cylinder feature. Again, a few skirmishes here and there slowed down the event but DeGraw was in command from start to finish. DeGraw would lead wire to wire to pick up the win with Dave Donovan second, PJ Bleau third, Mike Travis fourth and newcomer Ryan Lamania fifth. Dave Bendell headed up the next five with another newcomer John Napoli, Bill Rion, Tim DeGrote, and Jeremy Warren following.
The Emmanuel's Marketplace Four Cylinder Enduro excursion found Ted DeGrote utilize his outside pole position to grab the lead. DeGrote built up a huge lead but things came to a halt when Shawn Maloney got upside down on the backstrestch. Maloney was unhurt in the incident but the car suffered sever damage front and rear. On the restart Mike Travis would take over the lead with DeGrote now second and Johnny Bankich hustling hard from a 22nd place start to move into third but a straightaway back at the time. A series of red flags slowed the action and on another restart DeGrote was back in the lead with Travis and Bankich chasing and Jeff DeGroat,who was fourth now falling off of the pace. Another restart brought the three leaders together again and they raced together for a couple of laps until again they hit slower traffic with Bankich taking the low road, Degrote the high road and leaving Travis with no wiggle room. Bankich then took command of the event and went on to win with PJ Bleau the runner-up and Ted DeGrote third.
GEMSTONES:
The showcased event of the season at Accord for the Palmer Family was another spectacular event for the successful New York promotional team now in their 18th season at operating their Ulster County facility. The racing was superb as every Modified and Sportsman heat resembled a mini feature event. The standing room only crowd came from far and wide with as many as eight states representing the statewide support of the tremendous racing activity. Parking was at a premium and the grounds were abuzz with excitement for the long awaited evening of racing at the "Gem in the Catskills". The turnstiles of fans filled the concession areas all night long as they devoured the great cuisine offered up by the speedway concessions.
Special thanks to Superior Landscaping located in Walden, New York and Yannone Enterprises from Newburgh, New York for stepping up big and adding the bonus money for the Sportsman feature event.
26 Modifieds made their way to the pit area along with 35 sportsman and 20 Fireballers and 34 Four Cylinder Enduros. Four heats were needed for the Modifieds with New Jersey invader Billy Osmun III capturing the first, Jimmy Wells getting the win in the second heat, invader from Oley, Pa Loudon Reimert winning the third and Jerry Higbie capturing the fourth. The Sportsman division cars ran four heats with RJ Smith, Travis Green, Joey Bonetti and Charles Loiodice capturing the heat wins. Two Sportsman B-Mains were needed and won by Matt Shultz and Nick Plumstead.
The Northeast Stock Car Old Timers were on hand and selling the their raffle calendars. With 80 chances to win, the twenty dollar tag seemed very reasonable. You can check out their website at: www.nescotracing.com The Capital District Deaf Center was also on hand selling their raffle tickets that will be drawn on December 8th at the Red Lion Inn.
Arnold Restivo and his sister Ann made it to their first Accord Speedway event since 1975. The only question is, "What took you so long?" Welcome back!
Chrystal and Joe Judge won the 50/50 raffle worth $449.00.
Grandma Ann's Pies were handed out to all feature winners and two raffled off courtesy of John Liggan Insurance, Wright's Farm Market, Sunday Rosendale Farmers Market and Cousin Pete Donohue.
Speedway management thanks all of our drivers and fans for a great season at the speedway.
Halloween Havoc is next up on the Accord Speedway schedule. The date is October 27th with a full itinerary of racing and fun things for the families of racing to enjoy. Hay Rides, Balloon Sculpturing, Pumpkin Painting, Kid's Costume Parade, Bike Raffle Give-a-ways.
Insinger Fuels Modifieds: (60-LAPS) Anthony Perrego, Danny Tyler, Danny Creeden, Jimmy Wells, Brian Krummel, Steve Davis, Mike Ricci, Frank Cozze, Jerry Higbie, Andy Bachetti, Tommy Meier, Richard Smith, Jesse Marks, Kyle VanDuser, Loudon Reimert, Joe Judge, Rich Eurich, Rob Rowe, John Lutes jr, Kurt Hundeland, Nick Johnson, Tommy Johnson, Billy Osmun, Tyler Siri, Leo Fotopoulos, Corey Lowitt
Arkel Motors Sportsman: (30-LAPS) Dustin Jordan, Kyle Rohner, Alex Yankowski, Cole Hentschel, Ryan McCartney, Charles Loiodice, Kevin Stevens, Jim Housworth, Michael Corbin, Daniel Morgiewicz, Matt Shultz, Travis Green, Alex VanPelt, Jason Feinberg, Cole Stangle, Brian Durbin, Joe Brown, Christian Rumsey, Robbie Colburn, Nick Plumstead, Harry Baldwin, Chris VanDuser, Joey Bonetti, Rj Smith. (DNQ) Tyler Johnston, Joe Coppola, Chris Lynch, Hunter Lapp, Jimmy Winchell, Rich Eggers, Pat Mann, Rich Simmons, Samantha Muller, Jeff Higham. Erin Paulison
Emmanuel's Marketplace Fireball 4-Cylinders: Willie DeGraw, Dave Donovan, PJ Bleau, Mike Travis, Ryan Lamantia, Dave Bendell, John Napoli, Bill Rion, Tim DeGrote, Jeremy Warren, Nicole Nelson, Brandon Conklin, Jeff DeGroat, Ryan Heady, Shawn Moloney, Ken Barringer, Robert Phillips, George Barringer, Jerry Kingeter, Cassandra Woinoski
Emmanuel's Marketplace 4-Cylinders Enduros: Johnny Bankich, PJ Bleau, Ted DeGrote, Clayton Dumond, Greg Bendell
The next scheduled event at Accord is the "Halloween Havoc" spectacular coming to the speedway on October 27th. Gates will open at 12 Noon. Admission for Adults $14.00; Seniors (65+) $12.00; Children $3.00 (11+ under) Indoor Seating $20.00; Family four pack special: 2 Adults + 2 Children and $20.00 in Accord Bucks for $44.00 (a savings of $10.00) Additional information will follow.
Special event shows do have an increase in admission.
For further updates and information regarding all of the news and additions to the Accord Speedway, log on to their well documented website at: http://www.accordspeedway.com or call the speedway hotline at: 845-626-3478.
At the Accord Speedway……………………………………..