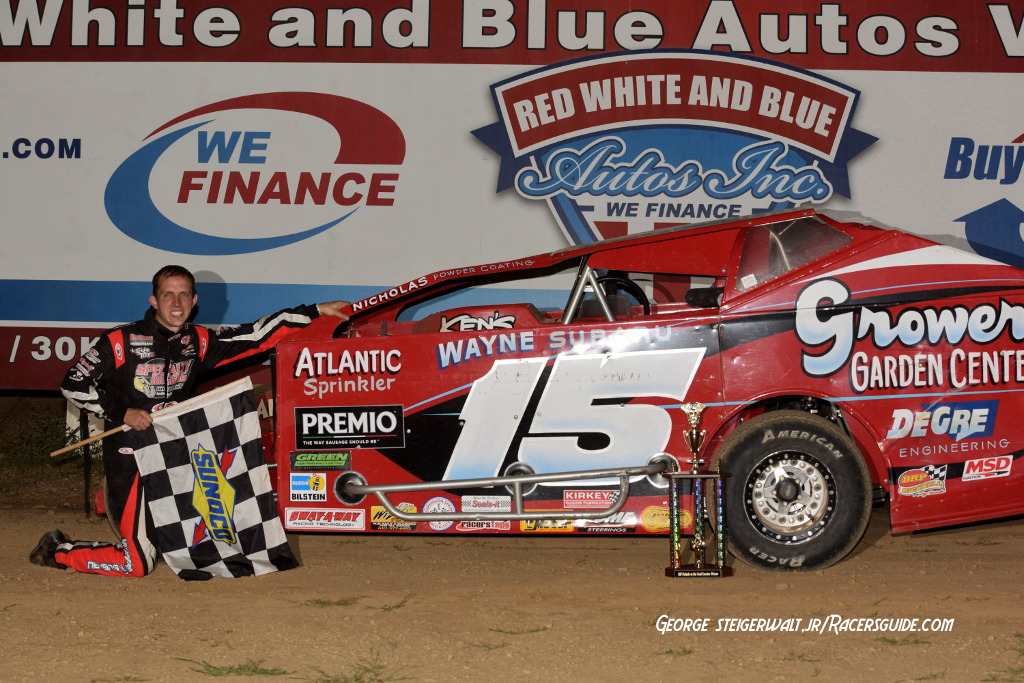 Billy Pauch Jr leads all 40 laps and wins "The Prelude to the Coalcracker" Modified Race at Big Diamond Speedway. Matt Stangle, Chris Derr and Shon Elk also victorious on the night.
Story By: Ken Bruce/Big Diamond Speedway
Photos By: George Steigerwalt Jr./RacersGuide.com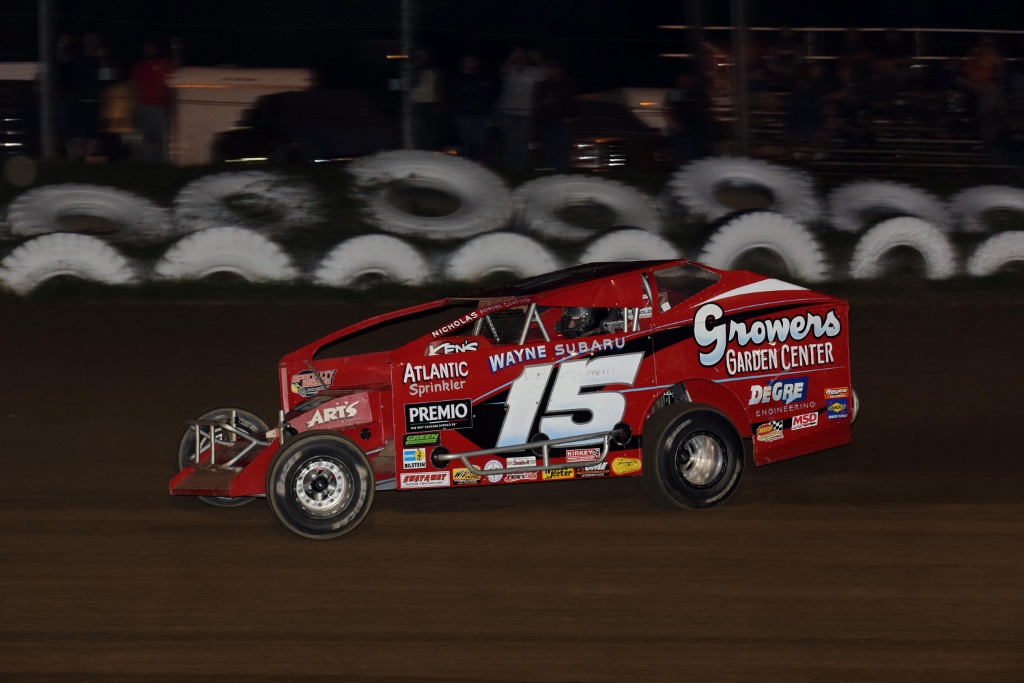 In what has become a rare occurrence this season at the Big Diamond Speedway the mighty 358 Modifieds were able to get a Friday night race in the completed and in the books. This Friday night the dirt oval nestled up in the mountains presented the annual "Prelude to the Coalcracker" race paying a cool $4600 to the winner and when all was said and done it was none other than Billy Pauch Jr standing in victory lane holding the big check.
The track championships were also crowned in both the Modified Division and the Sportsman Division on Friday night. Congratulations to Craig Von Dohren in the Modifeds and to Matt Stangle in the Sportsman for winning season long point's title.
With the night's feature starting lineup determined by the luck of the draw, it was Ray Swinehart and Jeff Strunk leading the Steel and Metal Service 358 Modifieds to green flag. Billy Pauch Jr who has been winless so far this season at Big Diamond didn't waste no time asserting himself from his third starting spot as Pauch Jr was able to charge under the both Swinehart and Strunk to take the lead going into turn one.
The race went non-stop for the first 11 laps before the first caution flag of the race was displayed. When the race resumed it was Pauch Jr still in command but the field was close in tow as Strunk, Ryan Watt, Rick Laubach, John Willman and a hard charging Ryan Godown all battle right behind the leader. Unfortunately for Godown, his strong run came to end after he had made his way up to fourth on lap 23 when he coasted to a stop on the back stretch with mechanical problems.
While the action was hot and heavy at the front, many eyes were on the 20th place started Craig Von Dohren who was in an incident in his race forcing him to qualify through the consi. Von Dohren was on the move and had worked his way up into the top ten when the caution for Godown was thrown.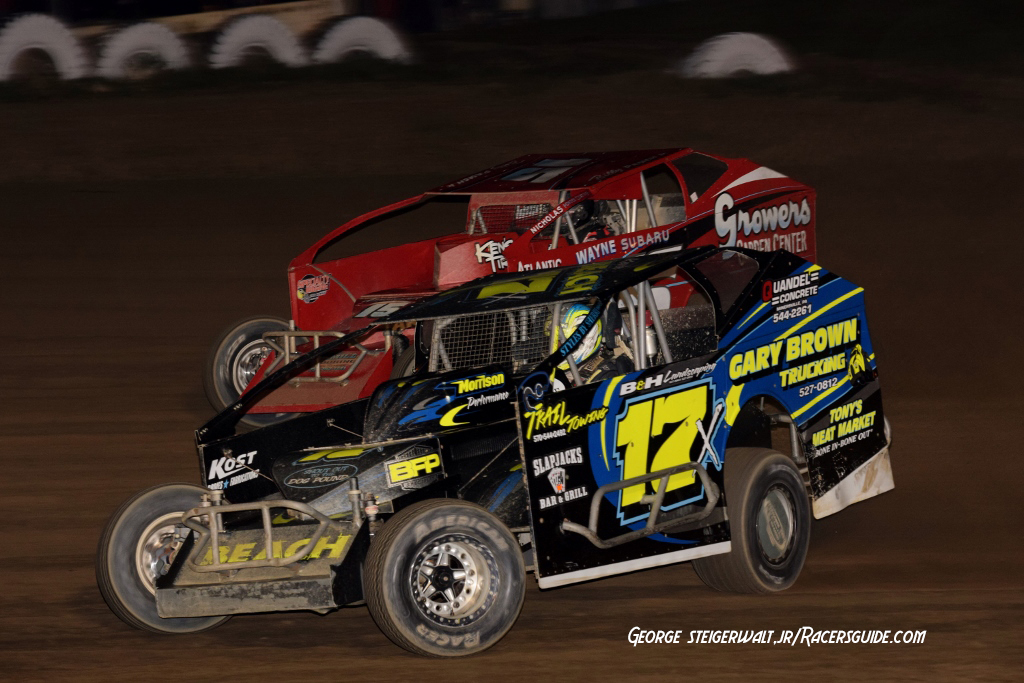 Pauch Jr was still leading the way when Brett Kressley who was running in the top five brought out another yellow when he spun his #19. Chaos ensued on the next restart when the second place running Strunk went high coming out of turn four on the restart leaving a big opening which was immediately filled by Duane Howard. Strunk can't get back down and makes contact with the wall causing the #126 to slow down with field on the gas right behind him. With nowhere to go cars start to pile into Strunk with the end result of Strunk going over and landing on his side. Once the car was put back onto four wheels Strunk was able to fire it back up and make his way to the pits although done for the night.
Pauch Jr leads the field back to green with Watt putting the pressure on him for the lead with Howard and Von Dohren right behind the two leaders. The race was slowed by one more caution flag on lap 33 and on the restart it was the same thing with Watt trying to force Pauch Jr into a mistake. But it was all for naught as Pauch Jr was driving a flawless race. Watt was forced to give up his charge to the lead as the surging Von Dohren was now making a move on Watt for the runner-up spot. Von Dohren was able to get underneath Watt going into the turns but Watt was able to keep his momentum up exiting the turns to hold off Von Dohren.
The battle for second allowed Pauch Jr to put a couple of car lengths between himself and his challengers as he raced under the checkered flag for the big win. Ryan Watt who was debuting a new Bicknell chassis finished second with Von Dohren, Howard and Laubach rounding out the top five.
In the U.S.S. Achey Sportsman division it was once again New Jersey's Matt Stangle who was standing in victory lane. Dave Dissinger would grab the early lead but it was Stangle who was on the move early from his tenth starting spot and after a hard battle for a few laps it was Stangle getting by Dissinger to take the lead. Doug Hendricks would find the extreme outside to his liking in the late stages of the race and would cut into Stangle's lead quickly and put pressure on the young driver. Hendricks threw all he could at Stangle but just couldn't quite pull of the pass. Stangle would hold Hendricks off for the win with Shawn Light, Dissinger and Ray Woodhall Sr completed the top five.
Shon Elk took the checkered flag in the Savage 61 Road Runner division. Elk and Devin Trexler would go at it early for the lead with Elk getting by Trexler when he got loose on lap ten. Once in front Elk was able to build up a big lead and take the win over Kody Sites, Shawn Mulhall, Jim Kost and Devin Trexler.
The No Sweat Service Group Street Stocks once again put on an exciting battle with Chris Derr taking the win after an hard battle early on with Jesse Krasnitsky, Joey Brennan, Eric Tripp and Elvin Brennan. Derr would end up taking the lead for good on lap eight and grab the victory over Eric Tripp, Elvin Brennan III, Jason Geesaman and Joey Brennan.
The Steel & Metal Service Center Modified division was won by Billy Pauch Jr. followed by Ryan Watt, Craig VonDohren, Duane Howard, Rick Laubach, John Willman, Frank Cozze, Kevin Beach, Mike Lisowski, Ray Swinehart, Brett Kressley, Tim Buckwalter, Frank Porrecca, and Jimmy Reppert. Did not finish were Bobby Trapper, Mike Gular, Jeff Strunk, Danny Bouc, Doug Manmiller, Andy Burkhart, Frank Yankowski, Ryan Godown, Tim Fitzpatrick and Jared Umbenhauer. Did not qualify were Cliff Quinn, Justin Grim, Ryan Beltz, Bobby Gunther Walsh, Heath Metzger, Dan Waisempacher, Jim Bobbitt, Dan Hineline, Scott Albert and Billy Lasko.
The Modified Challenge races were won by Ryan Godown on the last round over Kevin Beach who won all the preceding races until that point.
The U.S.S. Achey Sportsman division was won by Matt Stangle followed by Doug Hendricks, Shawn Light, Dave Dissinger, Ray Woodall Sr, Wayne Witmer, Billy Moyer, Glenn Rowan, Kevin Brady, Ed Mrochko, TJ Fitzpatrick, Nate Mohr, Dylan Smith and Mike Scheck. Did not finish were Rich Emel, Matt Clay, Chris Brennan, Kyle Reber and Mike Mammana.
The Savage 61 Road Runner division was won by Shon Elk over Kody Sites, Shawn Mulhall, Jim Kost, Devin Trexler, Terry Kramer, Fred Everly, Kyle Wingle and Dan Nagle. Did not finish were Dave Long Jr., Kris Ney and Jon Schlauch.
The No Sweat Service Group Street Stock division was won by Chris Derr followed by Eric Tripp, Elvin Brennan III, Jasen Geesaman, Joey Brennan, Jesse Krasnitsky, Leroy Long, Kyle Saylor and Chris Heller. Did not finish were Dean Hine, Justin Rhoads, Butch Helsel and Robin Wagner. Disqualified was Jeff Haag.