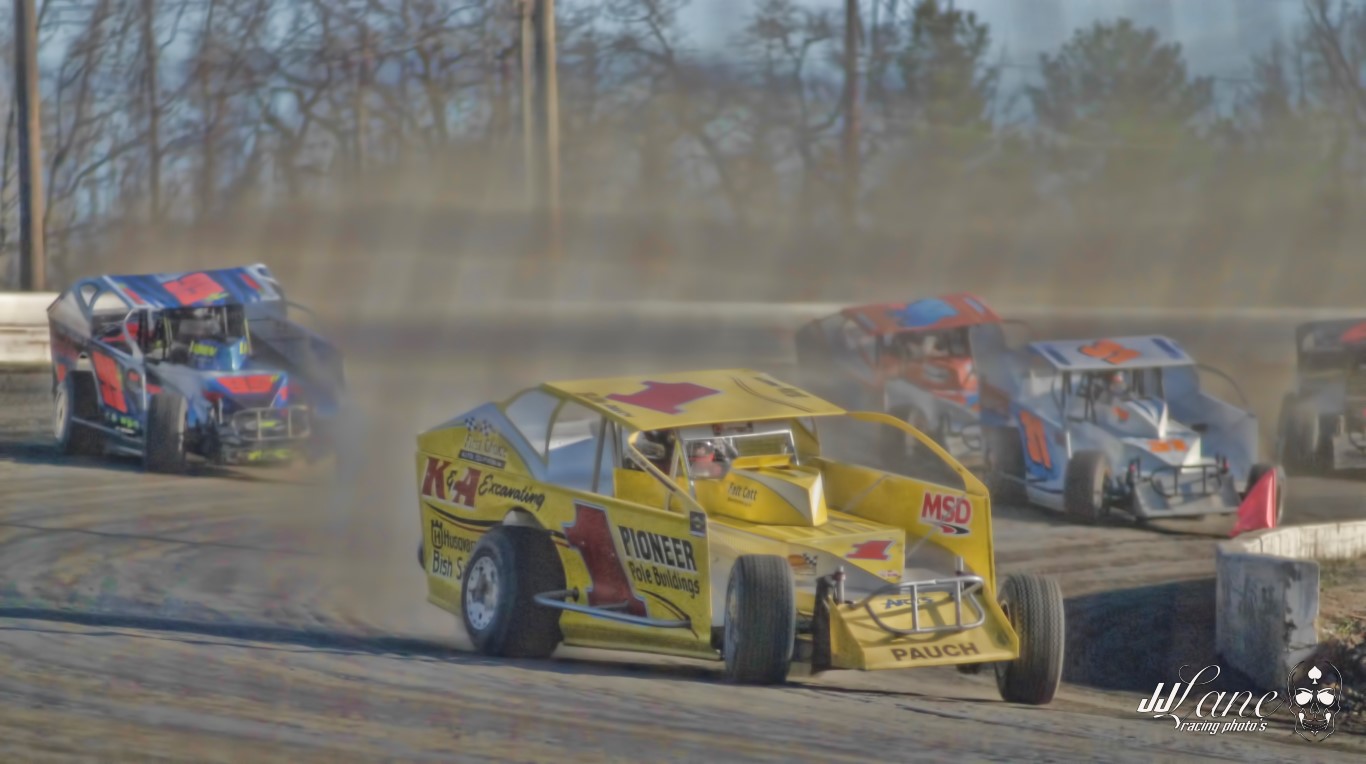 Billy Pauch Back on Top, Collects 60th Career Victory at Bridgeport
Story By: Mandee Pauch/MPR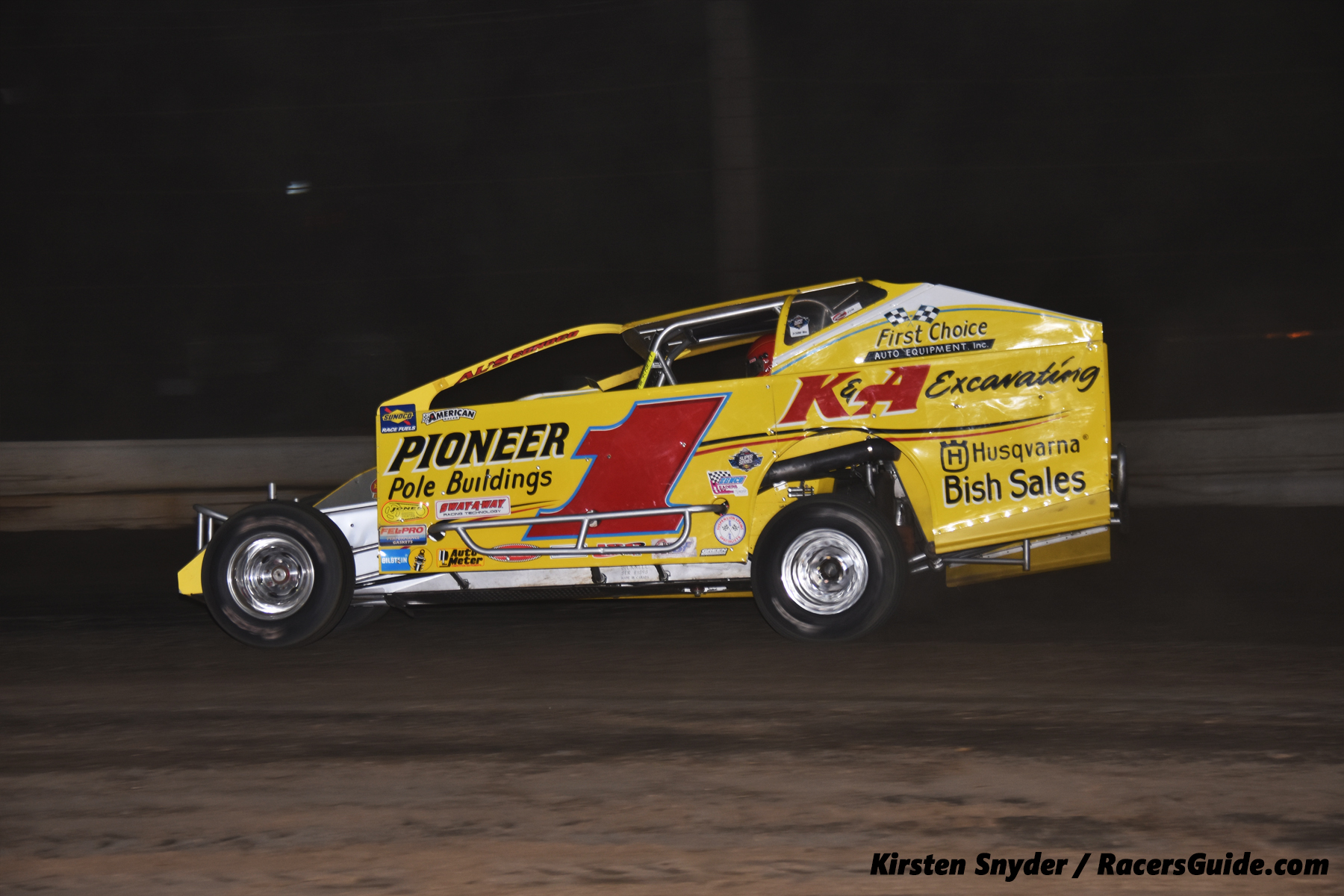 Photos By: John John Lane & Kirsten Snyder/RacersGuide.com
A wreck during Friday night's competition at Georgetown Speedway left Billy Pauch Sr.'s K&A Excavating No.1 Big Block Modified questionable to race for Saturday at Bridgeport Speedway. Despite severe damage to the car, Pauch and the team prevailed and drove away to pick up his 60th career victory at Bridgeport Speedway.
Pauch Sr.'s weekend started Friday evening at Georgetown Speedway for the Deron Rust Memorial.
"We drove 3+ hours to Georgetown to make three laps in warm-ups and one lap in the heat," Pauch Sr. said.
The lap one incident involving several cars caused severe damage to the No.1, putting an end to Pauch's night
On the drive home after a discouraging evening, Pauch decided to make a few phone calls to round up some help.
"There was a lot to be fixed on the car," he added. "Everybody came together Saturday morning. I had my daughter, my son, my wife, my grandson – who's just over two years old, Jimmy, Mike, and Phil. It was a lot of work, but we got it back together. It was questionable how it would go."
After thrashing all morning to get the car back together, Pauch was able to make it in time to Bridgeport.
"We started eighth in the heat and got pushed up the first lap and fell back to last, about ¼ straightaway from the field, and caught back up to finish fifth, which put us into the draw."
Pauch Sr. rolled off on the outside of the third row for the 25-lap main event.
"We worked our way up and had a restart with Richie Pratt Jr. at one point and was able to roll around the outside of him and run a couple of laps side-by-side before I finally got him," recalled Pauch Sr. "We had about three restarts with Ryan Watt on the outside of us and we beat him all three restarts and beat him to the end to win the race."
This was quite an emotional win for Pauch Sr. Not only did his friends and family join together to help him get to the track that day, but it was his first win in over a year.
"It's pretty nice to finally win and to beat Watt, who won the last five-straight races there, to beat him head-to-head is something. It wasn't a give me feature win, we earned it. All of the hard work that we put into it on Saturday to get it back together paid off."
Pauch Sr. mentioned the late nights him and his team have been putting in the race shop to try and gain that extra edge on the track.
"Johnny Pfeffer helped us out a little bit with some stuff," noted Pauch Sr. "Between him, Phil Cox and myself, I think we're finally getting this car in the right direction to do good. I know I have a good car I just can't seem to get the breaks I need to show it."
Pauch Sr.'s next race on tap will be on Wednesday, May 16th with the Super DIRTcar Series at Bridgeport Speedway. Last year saw Pauch Sr. finish runner-up to Ryan Watt.
"Hopefully we'll be on top of our game for the next race with the DIRT guys," he said. "They're the best in modified racing right now so if we can beat them then we'll be doing something."
Billy Pauch Jr. was scheduled to race Friday at Big Diamond Speedway but due to mother nature the race was postponed.
Pauch Jr.'s Saturday night opened with a second-place finish in his heat race at New Egypt Speedway, placing him on the outside of the fifth row for the main event.
"We weren't the best car out there, but we got a decent run out of it," said Pauch Jr. about his third-place finish. "We turned the same times as the leaders but once we got to third it felt like it was a tough track to pass on."
Next on slate for Pauch Jr. will be Orange County Speedway on Tuesday, Big Diamond Speedway on Friday, New Egypt Speedway on Saturday and the Action Track USA season opener on Sunday.