Past 'Gobbler' Winners Danny Johnson & Anthony Perrego In Different Seats For 2016 Edition; Northeast Dirt-Track Finale Set For November 26 At Accord Speedway
Story By: Brett Deyo/SSTS – Photos By: Dave Dalesandro & Pete MacDonald/RacersGuide.com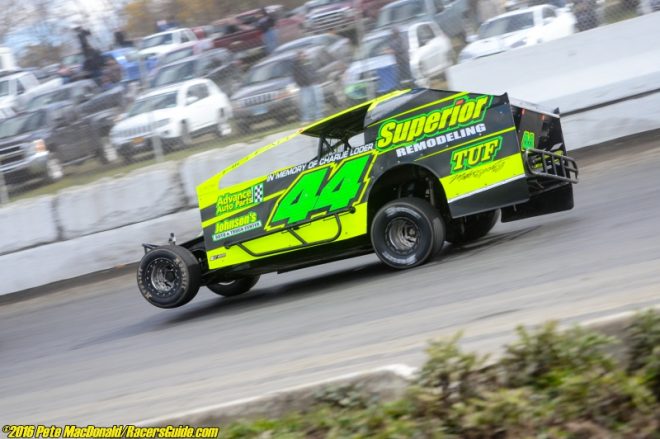 ACCORD, NY – Race fans, this is it.
The final 2016 shot to see outdoor dirt-track racing in the Northeast takes place at Accord Speedway on Saturday, November 26 with the fourth running of the post-Thanksgiving 'Gobbler' finale.
Fans will enjoy a "full plate" of racing to include the 'Mashed Potato' Modifieds in a 50-lap, $5,000-to-win contest, the 'Turkey 25' for Open vs. Crate 602 Sportsman, 'Sweet Potato' Slingshots and 'Pumpkin Pie' Pure/Street Stocks. After the completion of racing there will be some 'Enduro pudding' as a side, when the Four Cylinders battle for 100 laps. A weather date of Dec. 3 is in place for this event.
Two past 'Gobbler' Modified winners will pilot different rides for this year's event.
A year ago, it was Danny Johnson of Rochester, N.Y., who topped a rare December dirt-track race after rain postponed the 'Gobbler' by a week. On the 26th, Johnson will climb aboard the Gary Mann-owned New York Truck Parts mount for the first time. The car, which had been driven by Anthony Perrego with the No. 55 on its doors, will be re-lettered with Johnson's trademark No 27J for 'Gobbler' action.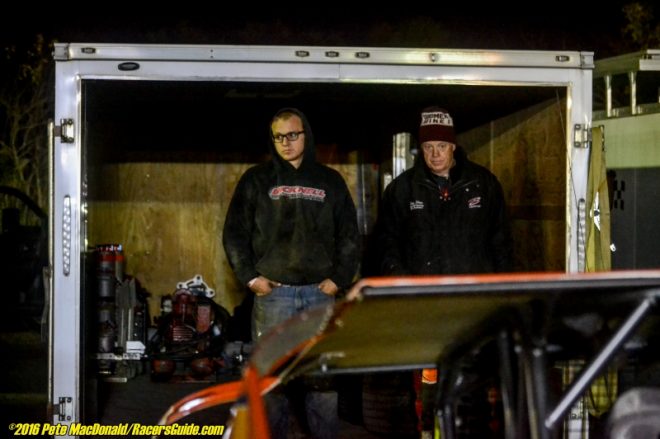 Perrego, who won the 2013 'Gobbler' then driving for Mann, will have his own new ride ready for the season finale. The Montgomery, N.Y., star is set to pilot the Superior Remodeling No. 44 owned by Brian Smith. Perrego made his debut in the car during the small-block Modified portion of Eastern States Weekend at N.Y.'s Orange County Fair Speedway, placing a strong third.
For the 'Gobbler' event, pit gates will open at 10 a.m. Grandstand gates unlock at 11 a.m. Hot laps begin at 1 p.m. with racing to follow at 2 p.m.
Grandstand admission is $24 for Adults. Seniors (ages 65 and over) pay $22. Kids under 11 pay $5. Pit admission is $35. Limited indoor seating is $35 and can be reserved by calling 845.626.1142.
Rules have been posted for all divisions and can be found at the following link: http://bdmotorsportsmedia.com/gobbler-rules-prices-general-information/
The 'Gobbler' is a co-promotion involving BD Motorsports Media LLC and Accord Speedway owners and promoters Gary and Donna Palmer.
Accord Speedway, a neat-and-tidy quarter-mile clay oval nestled in the hills of Ulster County, is located at 299 Whitfield Road Accord, NY 12404. The speedway is on the web at www.accordspeedway.com.
To learn more about the Short Track Super Series Fueled By VP or BD Motorsports Media LLC, visit www.shorttracksuperseries.com or www.bdmotorsportsmedia.com, call 845.728.2781 during business hours, e-mail bdmotorsportsmedia@gmail.com, "like" Short Track Super Series on Facebook or follow @ShortTrackSS on Twitter.