Pagenaud Drives to Dominant Sonoma Victory and 2016 Championship
Story By: MITCH ROBINSON / INDYcar SERIES MEDIA
Photos By: CHRIS OWENS / INDYcar SERIES PHOTO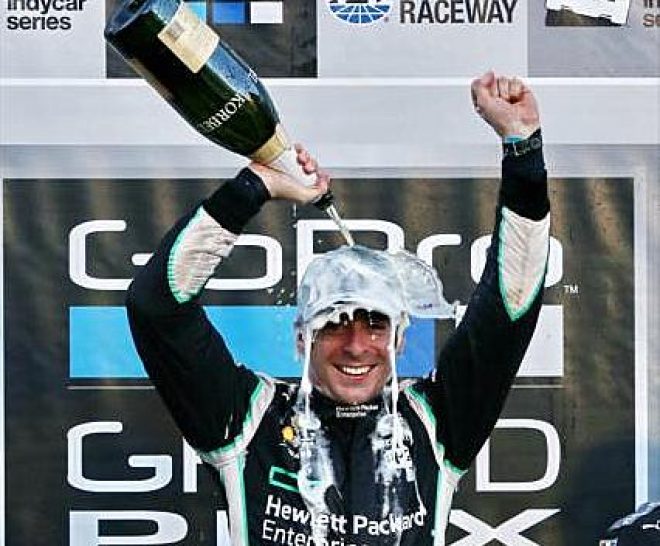 SONOMA, Calif. –September 19, 2016- With a dominating drive from the pole position, Simon Pagenaud won the GoPro Grand Prix of Sonoma and earned his first Verizon IndyCar Series championship.
Pagenaud led 76 of the 85 laps in the No. 22 Hewlett Packard Enterprise Chevrolet to score his fifth win of the season and wrap up the title. It secured Team Penske's 14th Indy car championship in its 50th year of operation.
"It's unbelievable. I think I will realize it more tomorrow," Pagenaud said. "What a race!"
Pagenaud's win was the 10th by a Team Penske driver in the 16 races this season and the 187th all-time in Indy cars for the revered racing organization.
"There is so much emotion right now, to be honest," said Pagenaud, fighting back tears. "I can't find the words. My whole career has been about this, about today and getting to this point and to this level."
Pagenaud is the first Frenchman since Sebastien Bourdais to win an Indy car championship. Bourdais won four successive championships from 2004-07 under the sanctioning of Champ Car.
"What I'm thinking about right now is it's been a long career," said Pagenaud. "You start, 7 years old. You go through a lot. I remember my first race in France in a go-kart. It was raining. I had my visor open because I had the wrong helmet. I still have that picture at home. The ground I covered since is quite incredible."
Rahal Letterman Lanigan Racing's Graham Rahal (No. 15 Steak 'n Shake Honda) crossed the finish line 3.2523 seconds adrift of Pagenaud, with Juan Pablo Montoya (No. 2 Verizon Team Penske Chevrolet), Ryan Hunter-Reay (No. 28 DHL Andretti Autosport Honda), and Sunoco Rookie of the Year Alexander Rossi (No. 98 Castrol Edge/Curb Andretti Herta Autosport Honda) rounding out the top five in the 2016 season finale on Sonoma Raceway's 2.385-mile permanent road course.
Pagenaud held a 43-point advantage over teammate Will Power heading into the weekend and added a point by winning the Verizon P1 Award in qualifying Saturday. Power started fourth in the No. 12 Verizon Team Penske Chevrolet and moved into second place behind Pagenaud after the first round of pit stops. But a clutch malfunction on Lap 36 forced Power to stop on track and bring out a full-course caution. The Australian finished the race in 20th place to secure second in the championship for the fourth time in his career, 127 points behind Pagenaud.
"Yeah, it was obviously disappointing to have that gearbox problem," said Power, a three-time Sonoma winner. "It's a 1-2-3 for the team (in the championship), which is really good, considering how it finished last year. I think the team is really strong now.
"I've raced (Simon) for 10 years and I'm happy to see him win a championship," Power said, "even though I finished second to him."
Helio Castroneves finished the race in seventh place in the No. 3 Hitachi Chevrolet to wind up third in the championship. It gave Team Penske its second 1-2-3 sweep in the standings, after also accomplishing the feat in 1994 (Al Unser Jr., Emerson Fittipaldi, Paul Tracy).
"It was a great run," said team owner Roger Penske. "I just take my hat off to the whole team, and what they've done all season long. And to cap it off with another win, 10 wins for these guys, certainly Pagenaud dug deep all year and came up with a win for the team."
It was all Pagenaud, all race long. The Frenchman put on a championship drive en route to stamping his name in the history books as the champion. Rahal pushed him over the closing laps, but was never able to attempt a pass for the lead.
"Good day, good way to end it," Rahal said. "I wanted to get Pagenaud, but when I'd get behind him, I'd get massively loose. I thought at one point it was best I salvage a second place rather than do something stupid."
Josef Newgarden (No. 21 Fuzzy's Ultra Premium Vodka/ECR Chevrolet) finished sixth in the race to claim fourth in the championship. Rahal's runner-up result in the race scored him a fifth-place championship finish, tops among the Honda drivers. Chevrolet clinched the manufacturers' championship for the fifth straight year – each season since engine competition resumed in 2012.
Rossi ran out of fuel coming out of the last turn of the last lap, allowing teammate Hunter-Reay to overtake him for fourth place in the race. Still, Rossi, the 2016 Indianapolis 500 winner when he also coasted across the finish line, clinched Sunoco Rookie of the Year honors for the season.
The 2017 Verizon IndyCar Series season – a total of 17 races with all the same venues as this year and the addition of Gateway Motorsports Park near St. Louis – kicks off March 12 with the Firestone Grand Prix of St. Petersburg.