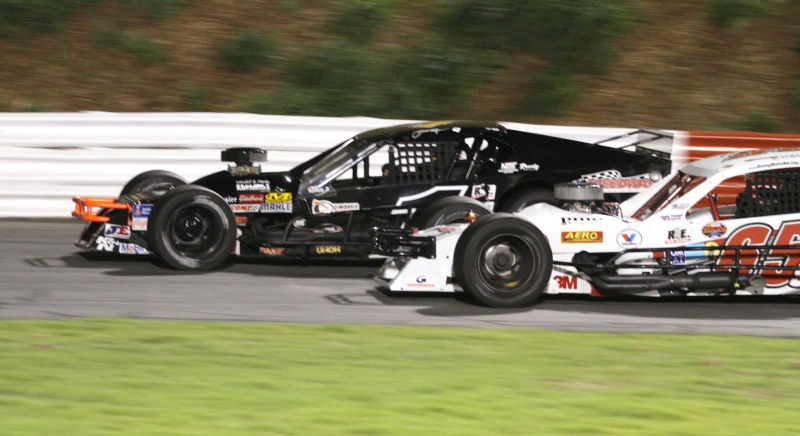 Myers Flies from Rear to Front at Bowman Gray

Story By: Loren Pinillis/BGS
Photos By: Eric Hylton/BGS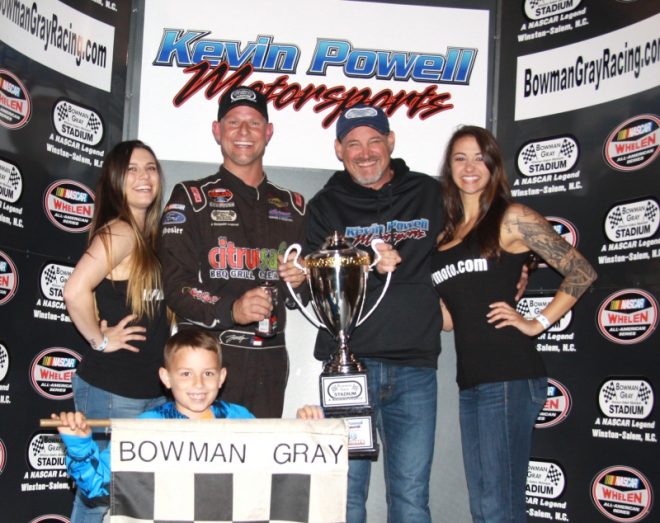 (Bowman Gray Stadium, Winston-Salem, NC) Burt Myers right now has one game plan for his season at Bowman Gray Stadium. As he puts it, "When the train is running, you ride it – because it'll throw you off eventually." And right now, the train is certainly running for
Myers.
Myers took the checkered in Saturday night's Kevin Powell Motorsports 100 for the Brad's Golf Cars Modified Series, giving him two wins out of two races so far this season. But not only did Myers grab the win – he also won $3,000 as part of Bowman Gray Stadium's
Fans' Challenge Award.
For Modified 100-lappers, the top four qualifiers can choose to accept the Fans' Challenge and start in the rear. If they then make it back to at least a fourth-place finish, they'll win a huge cash payout. Myers qualified second on Saturday and elected to start in the
rear for the chance to make a dash for the money.
"As the day went on, and I got here – I just felt really good about it. They say go with your gut," said Myers about the decision to start in the rear. "Everything just started pointing in the direction that we might could just do this."
Bobby Measmer of Concord and Daniel Yates of Lexington tangled for the initial lead as the green flag dropped. Measmer grabbed control and maintained the lead until Danny Bohn of Huntersville slipped by him during a double-file restart to take over the top spot.
"The outside seemed really good," said Bohn about passing Measmer. "I was able to get up enough to pass him, and I was sideways when I passed him – just up on the wheel. That's what you have to do at this place."
But as Bohn was making his way forward, Myers was also skillfully using the double-file restarts to climb through the field. With about 20 laps to go, Myers darted by Bohn on the outside to take over the lead. Myers held on to win.
"He just got a good start. I spun the tires a little bit," said Bohn. "He had the advantage across the line. And once the guy on the outside has the advantage across the line, they can manipulate how much room you have getting into turn one."
Myers was, of course, pleased to take the checkered – realizing that many factors all contributed to his feat. "Everything just seemed to play out in our favor," said Myers. "I caught a couple breaks. I don't care how good you are or how fast you are, without a couple
breaks it's virtually impossible. Especially on the next to last restart – I got clear, passed about three cars, and that was the move that helped us to win the race."
"Danny Bohn ran me clean and hard- and I'll remember that," said Myers. "He gave me the room, but he ran me hard. These nerf bars hang out there for a reason."
Bohn ended up finishing second with Tim Brown of Tobaccoville taking third. Brody Jones of Statesville qualified third fastest and started in the rear to also give the Fans' Challenge an attempt. Jones caught some bad luck and finished 15th.
In the Texas Steak & Tap House Sportsman Series, Defending Champion Tommy Neal of Walkertown battled past Robbie Brewer of Winston-Salem to steal away the lead and take the win in the first 20-lapper. John Holleman of Winston-Salem claimed victory in the
second race.
Jeremy Warren of Winston-Salem pulled off the hat trick in the Q104.1 New Country Street Stock Series. He finished second in the season-opening race but was awarded the win after post-race technical inspection. Now, Warren returned on Saturday to grab another
win – making him two for two so far this season.
In the Law Offices of John Barrow Stadium Stock Series, Wesley Thompson of Advance and Chuck Wall of Lexington each won in a 15-lapper.
Race Results
Brad's Golf Cars Modified Series
Kevin Powell Motorsports 100: 100 laps
FINISH CAR DRIVER HOMETOWN
1 1 Burt Myers Walnut Cove, NC
2 65 Danny Bohn Huntersville, NC
3 83 Tim Brown Tobaccoville, NC
4 79 James Civali Davidson, NC
5 75 Lee Jeffreys Wallburg, NC
6 53 John Smith Mount Airy, NC
7 4 Jason Myers Walnut Cove, NC
8 31 Zach Brewer Winston-Salem, NC
9 14 Bobby Measmer Jr. Concord, NC
10 5 Randy Butner Pfafftown, NC
11 18 Daniel Yates Lexington, NC
12 12 Mike Norman Lewisville, NC
13 66 Ronnie Clifton Walkertown, NC
14 27 Jonathan Brown Winston-Salem, NC
15 92 Brody Jones Statesville, NC
16 50 Michael Clifton Walkertown, NC
17 7 Al Hill Jonesville, NC
Texas Steak & Tap House Sportsman Series
1st Sportsman Race: 20 laps
FINISH CAR DRIVER HOMETOWN
1 21 Tommy Neal Walkertown, NC
2 68 Robbie Brewer Winston-Salem, NC
3 19 Michael Adams Yadkinville, NC
4 86 Taylor Branch Lewisville, NC
5 81 Zack Clifton Walkertown, NC
6 02 Derek Stoltz Walkertown, NC
7 4 John Holleman Winston-Salem, NC
8 7 Dylan Ward Winston-Salem, NC
9 55 Zack Ore Winston-Salem, NC
10 98 Billy Gregg Lexington, NC
11 70 Tony Black Lexington, NC
12 92 Kyle Southern Rural Hall, NC
13 2 Joseph Brown Lewisville, NC
14 6 Shane Tuttle Winston-Salem, NC
15 11 Wayne Hill Winston-Salem, NC
16 47 Jeffery Wood Winston-Salem, NC
17 14 Terry Thompson Winston-Salem, NC
18 1 John Wall Pfafftown, NC
19 99 Corey Rose Trinity, NC
2nd Sportsman Race: 20 laps
FINISH CAR DRIVER HOMETOWN
1 4 John Holleman Winston-Salem, NC
2 02 Derek Stoltz Walkertown, NC
3 7 Dylan Ward Winston-Salem, NC
4 19 Michael Adams Yadkinville, NC
5 86 Taylor Branch Lewisville, NC
6 81 Zack Clifton Walkertown, NC
7 21 Tommy Neal Walkertown, NC
8 68 Robbie Brewer Winston-Salem, NC
9 98 Billy Gregg Lexington, NC
10 92 Kyle Southern Rural Hall, NC
11 55 Zack Ore Winston-Salem, NC
12 99 Corey Rose Trinity, NC
13 11 Wayne Hill Winston-Salem, NC
14 6 Shane Tuttle Winston-Salem, NC
15 2 Joseph Brown Lewisville, NC
16 70 Tony Black Lexington, NC
17 14 Terry Thompson Winston-Salem, NC
Q104.1 New Country Street Stock Series
Street Stock Race: 20 laps
FINISH CAR DRIVER HOMETOWN
1 97 Jeremy Warren Winston-Salem, NC
2 22 Brian Wall Winston-Salem, NC
3 99 Bryan Sykes Winston-Salem, NC
4 30 Blake Shupe Mount Airy, NC
5 14 Aaron Hylton Kernersville, NC
6 02 Amber Lynn Walkertown, NC
7 20 Derrick Rice Kernersville, NC
8 52 Fletcher Whaley Advance, NC
9 00 Donnie Martin Winston-Salem, NC
10 69 Gerald Robinson Jr Winston-Salem, NC
11 40 Taylor Robbins Winston-Salem, NC
12 2 Willie Wall Winston-Salem, NC
13 88 Nick Brill Winston-Salem, NC
14 1 Jasper Sumner Trinity, NC
15 49 Phillip Jones Lexington, NC
16 16 Brad Lewis Winston-Salem, NC
17 08 Jake Creed Dobson, NC
18 4 Spencer Martin Winston-Salem, NC
Law Offices of John Barrow Stadium Stock Series
1st Stadium Stock Race: 15 laps
FINISH CAR DRIVER HOMETOWN
1 81 Chuck Wall Lexington, NC
2 01 Chris Allison Mocksville, NC
3 24 A.J. Sanders Mocksville, NC
4 09 Tim Evans Arcadia, NC
5 35 Johnny Baker Randleman, NC
6 44 Doug Rembold Harrisburg, NC
7 27 Austin Cates Tobaccoville, NC
8 04 Josh Broome Thomasville, NC
9 39 Michael Tucker Winston-Salem, NC
10 76 Billy Cameron Jr Salisbury, NC
11 69 Brandon Crotts Winston-Salem, NC
12 6 Dale Patterson Mocksville, NC
13 3 Kyler Staley Reedy Creek, NC
14 68 Tyler Bush Clemmons, NC
Law Offices of John Barrow Stadium Stock Series
2nd Stadium Stock Race: 15 laps
FINISH CAR DRIVER HOMETOWN
1 02 Wesley Thompson Advance, NC
2 13 Chase Hunt Lexington, NC
3 16 Stephen Sanders Midway, NC
4 8 Shane Southard Yadkinville, NC
5 11 David Hopkins Winston-Salem, NC
6 33 DJ Dean Thomasville, NC
7 77 Randy McElveen Winston-Salem, NC
8 71 Auston McElveen Winston-Salem, NC
9 54 Justin Owens Walnut Cove, NC
10 00 Daryl Bryant Pilot Mountain, NC
11 14 Ken Bridges King, NC
12 06 Derek Sheets Walkertown, NC
13 23 Andy Spears Lexington, NC
14 1 Grayson Keaton Mocksville, NC
15 56 Tyler Burke Midway, NC