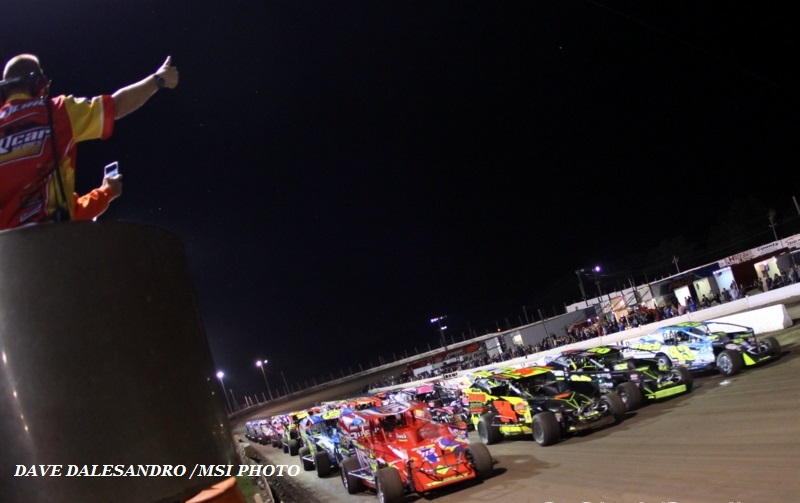 Mr. Dirt Track U.S.A. to pay $25,000 to win
Story By: Phil Allaway/Lebanon Valley Speedway
Photos By: Dave Dalesandro/RacersGuide.com
WEST LEBANON – In 1992, Lebanon Valley Speedway promoter Howard Commander began paying $17,500 to the winner of his annual Mr. Dirt Track U.S.A. race, giving Mr. Dirt Track the distinction of having the top payout for the winner of a 100-lap short-track dirt modified feature in the Northeast.
This year, the bar is going to be raised.
Through sponsorship from Amsterdam Trailer Repair, which has become one of the biggest supporters of dirt track racing in the Capital Region of New York this season, the winner of this year's Mr. Dirt Track U.S.A. race will receive $25,000.
The 100-lap Mr. Dirt Track U.S.A. race, part of the Super DIRT Series, will highlight an action-packed card on Saturday, Sept. 1. Racing will also include a King of Dirt Sportsman Series race, and features only for pro stocks and pure stocks.
General admission will be $24, with premium bleacher seats going for $26.
According to speedway archives, the Mr. Dirt Track U.S.A. race became part of the Lebanon Valley lore in 1976, when Eddie Delmolino won the first edition of what was to become one of the annual highlights on the high banks.
Since that time, Brett Hearn has dominated the big-money race, taking the checkered flag 12 times, including taking home the $17,500 last year. In comparison, Ken Tremont Jr. is second on the Mr. Dirt Track U.S.A. win list with four victories, the last coming in 2005.
Hearn's first Mr. Dirt Track U.S.A. victory came in 1982, long before many of today's young guns were even born.
Two of the invaders to keep an eye on on Sept. 1 are Super DIRT Series point leader Matt Sheppard, who won Mr. Dirt in 2016, and Stewart Friesen, who is splitting his time between the NASCAR Camping World Truck series and dirt track modified this season. Friesen was first under the checkered flag in 2015.