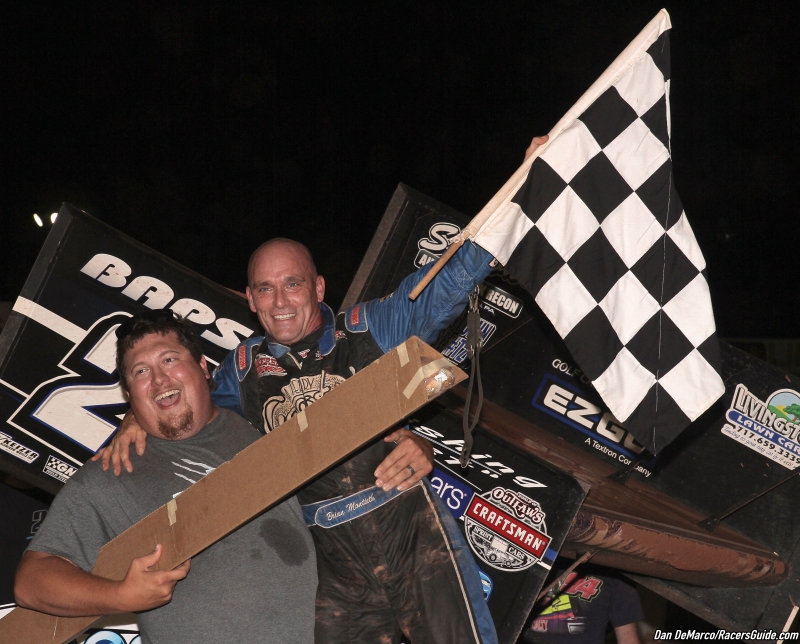 MONTEITH PICKS UP FIRST BAPS MOTOR SPEEDWAY WIN
Story By: BAPS Motor Speedway
Photos By: Dan DeMarco/RacersGuide.com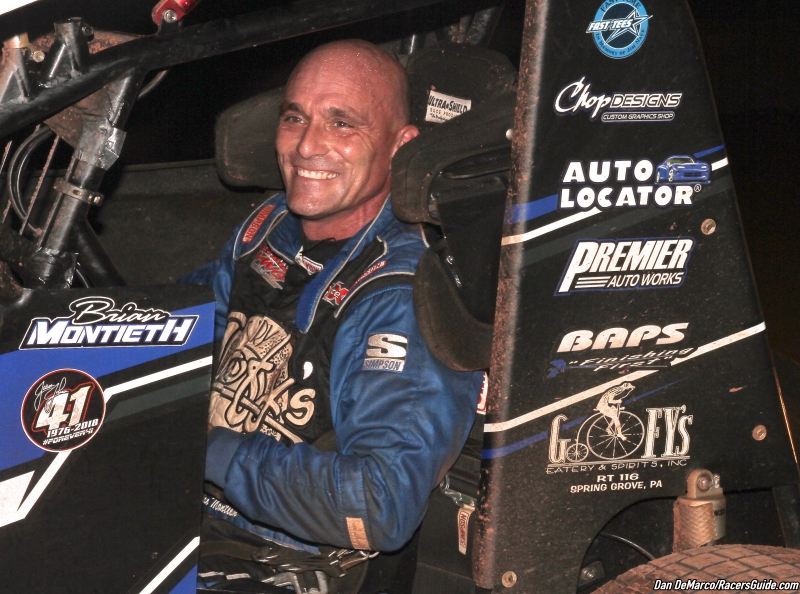 YORK HAVEN, PA: It's hard to believe Brian Montieth didn't have a win at BAPS Motor Speedway coming into the 2018 season.
Looking at the configuration at track, you would think it's a place Montieth would excel. There is a decent amount of banking, it's a smallish half mile, and the racing is pretty good at the York Haven facility.
But Montieth hasn't always shined. It's not that he hasn't had opportunities, as much as his luck just never seemed to be in his corner whether he was running up front or battling mid-pack.
That changed last week. Montieth took advantage of J.J. Grasso's misfortune and collected the victory in a special Friday night appearance at the speedway by the SprintCarUnlimited.com 410 Sprint Car division and the PASS/IMCA Sprint Series.
"I'm glad to finally get rid of the damn monkey," Montieth said. "We've been close here and probably should've won, but we just couldn't get things to go our way. So, it feels good to finally get one here."
Tyler Ross started on the pole, but he gave way to Ryan Smith on the opening circuit of the 25-lap main event. Ross was second with the fifth-place J.J. Grasso making a strong move to the front.
Grasso, who started third, got past Ross and started to track down Smith. He, finally, caught him on Lap 7 and buzzed around the outside to wrestle the lead away by the time they hit the flagstand.
While Grasso was able to build a lead, Montieth, who started eighth on the grid, was able to take second at the midway point. It wasn't until the last five laps that the Phoenixville driver was able close on the leader.
But, Grasso appeared to have enough as he got the two-to-go sign. But coming out of Turn 4 to take the white flag, he ran out of fuel, which allowed Montieth to take the top spot. Smith also got by for second.
At the finish, it was all Montieth. Smith was second, followed by Grasso, who was able to nurse his car to the finish. Fifth-place starter Mark Smith and Tyler Esh, who started seventh, completed the top five.
"The track surface is night and day different from the beginning of the year," Montieth said. "Kudos to management and track crew for making the astonishing turnaround.
"I thought I was going to have to settle for second again, but then we caught a break there at the end. I feel bad for J.J., but we'll take it."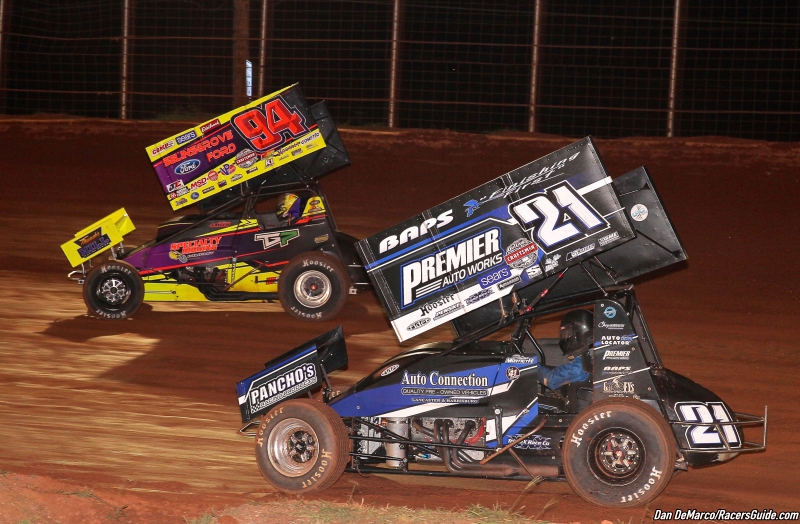 Kyle Moody, Grasso, and Montieth were heat winners for the 25-car field. Bradley Howard won the consolation.
In the PASS/IMCA main event, Zach Newlin took the lead on Lap 13 and went on to capture a caution-filled 20-lap affair.
John Walp started on the outside pole and took the lead over Erin Statler. Newlin, who started third, wasted little time taking over the runner-up spot.
The fifth caution event — there were eight total — came out on Lap 12. On the third attempt at a restart, Newlin stayed close. One lap later, he blew by Walp and took over the top spot.
Newlin led the rest of the way and took the win over Walp. Jaremi Hanson, Darren Miller, and John Scarborough completed the top five.
Scarborough, Austin Bishop, and Hanson were heat winners for the 31-car field. Landon Price won the consolation.
410 Sprint Feature Finish, 25 Laps: 1. Brian Montieth; 2. Ryan Smith; 3. J.J. Grasso; 4. Mark Smith; 5. Tyler Esh; 6. Gerard McIntyre Jr.; 7. Kyle Moody; 8. Anthony Macri; 9. Jordan Givler; 10. Bradley Howard; 11. Dan Shetler; 12. Steven Drevicki; 13. Scott Fisher; 14. Kody Hartlaub; 15. Austin Burke; 16. Shai Morris; 17. Greg Plank; 18. Joe Kata III; 19. Tyler Reeser; 20. Tyler Ross; 21. TJ DeHaven; 22. Colby Womer; 23. Chad Trout; 24. Mark Coldren; 25. Mike Walter.
305 Sprint Feature Finish, 20 Laps: 1. Zach Newlin; 2. John Walp; 3. Jaremi Hanson; 4. Darren Miller; 5. Johnny Scarborough; 6. Stephanie Dodson; 7. Scott Lutz; 8. Ian Detweiler; 9. Andrew Hake; 10. Josh Dressler; 11. Erin Statler; 12. John Fiore; 13. Larry McVey; 14. Devin Adams; 15. Nick Sweigart; 16. Landon Price; 17. Kassidy Kreitz; 18. Kyle Smith; 19. Billy Ney; 20. Scott Ellerman; 21. Jay Krout; 22. Alex Potosky; 23. Austin Bishop; 24. Christian Rumsey.