MESERAULL SCORES CAREER FIFTH IN AMSOIL USAC WINGLESS FEATURE AT LINCOLN SPEEDWAY;
Story By: BILL MEYER / LINCOLN SPEEDWAY MEDIA
Photos By: PAUL ARCH & DAN DEMARCO / RACERSGUIDE.COM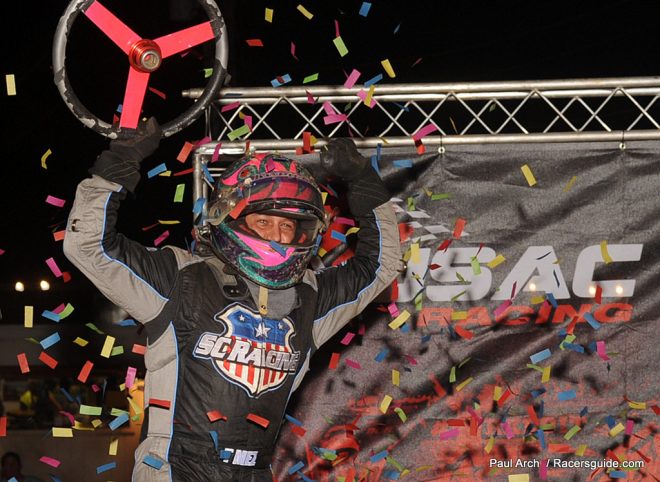 ABBOTTSTOWN, PA – June 15, 2017 – What a difference a night makes. One night after crashing on the final lap at Grandview Speedway, San Jose, California's Thomas Meseraull claimed the $6,000 top prize in race #2 of the Amsoil USAC wingless sprint car Eastern Storm tour at Lincoln Speedway Wednesday night.
It was Meseraull's second overall win of the year and fifth USAC win of his career.
Meseraull drove around polesitter and race-long leader Jarett Andretti to take the lead on lap six and drove away from the field to a four and-a-half second win over Andretti, who scored his best-ever USAC finish. Third through fifth were Kevin Thomas, Jr., Chad Boesphlug, and Chris Windom.
Sixth through tenth were Tyler Courtney, Shane Golobic, C.J. Leary, Kyle Robbins, and Jerry Coons, Sr. Alex Bright was the hard charger after coming from 22nd staring spot to finish 11th. In the end, 17 of the 22 starters finished on the lead lap, and leading 2017 Lincoln winner Danny Dietrich was the only car which failed to finish.
Heats for the USAC Sprinters were won by Golobic, Windom, and Aaron Farney. Robert Ballou won the B-Main. And fast time in time trials over the 28-car USAC field was set by Justin Grant with a one-lap time of 15.874-seconds (85.055-MPH).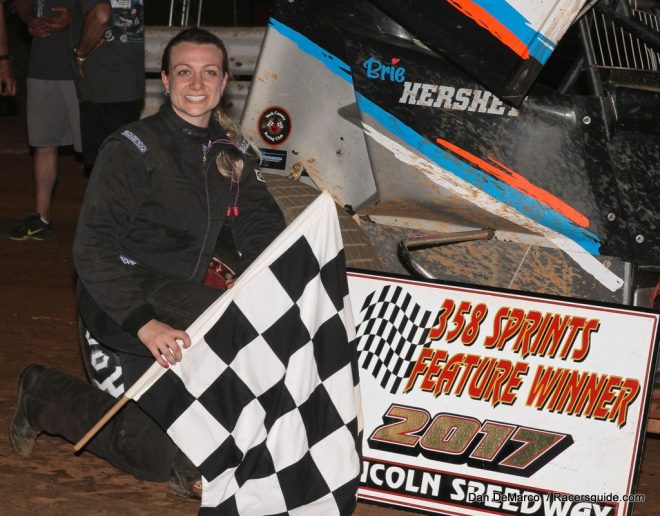 Lady driver Brie Hershey got the monkey off her back by becoming the ninth winner in nine races so far this year in the 20-lap "358" sprint car feature. Hershey started on the pole beside Ashley Cappetta and was never caught. It was Hershey's fourth career Lincoln win.
Points leader Adrian Shaffer started fourth and was scored second every lap, with Phil Walter, Brent Shearer, and Cappetta rounding out the top five. Sixth through tenth were Doug Hammaker, Tyler Ross (in a backup Tom Rumsey car), Kyle Denmyer, Ryan Higgins, and Todd Rittenhouse, Jr.
Heats for the 28 "358" Sprints were won by Walter, Shaffer, and Hammaker, with Rittenhouse winning the consolation.
Lincoln Speedway is back in action this Saturday night, June 17th, with BAPS NIGHT featuring the 410 Sprints and 358 Sprints. In addition, there it will be York Flooring Kids Big Wheel Races and it will also be the first of two York County Racing Club Nights on the season. Gates open at 5:30 PM, with racing action getting underway at 7:30 PM.
To get all the latest news, results, schedule changes and rule changes, visit Lincoln Speedway's website at http://www.lincolnspeedway.com to stay up-to-date on all the action or pending weather conditions at Central Pennsylvania's "Premier" Saturday night race track – The Fabulous Lincoln Speedway.
RACE RESULTS
 
Wednesday, June 14, 2017
LINCOLN SPEEDWAY
Abbottstown, PA
Amsoil USAC Sprints
USAC Eastern Storm Feature Finish (30 Laps) – 1. 27-Thomas Meseraull; 2. 18-Jarrett Andretti; 3. 44-Kevin Thomas, Jr.; 4. 69-Chad Boespflug; 5. 5-Chris Windom; 6. 23C-Tyler Courtney; 7. 3-Shane Golobic; 8. 30-CJ Leary; 9. 17R-Kyle Robbins; 10. 39C-Jerry Coons; 11. 13K-Alex Bright; 12. 32-Chase Stockton; 13. 12-Robert Ballou; 14. 63-Brady Bacon; 15. 99M-Kyle Moody; 16. 15F-Aaron Farney; 17. 52-Isaac Chapple; 18. 21P-Carmen Perigo; 19. 71P-Dave Darland; 20. 11-Justin Grant; 21. 77-Dustin Smith; 22. 13-Danny Dietrich. No Time
Lap Leaders – Jarrett Andretti (1-5), Thomas Meseraull (6-30)
USAC Sprint Heat Winners – Shane Golobic, Chris Windom, Aaron Farney
USAC Sprint B-Main Winner – Robert Ballou
USAC Time Trials (Fast time) – Justin Grant, 15.874-seconds (85.055 MPH)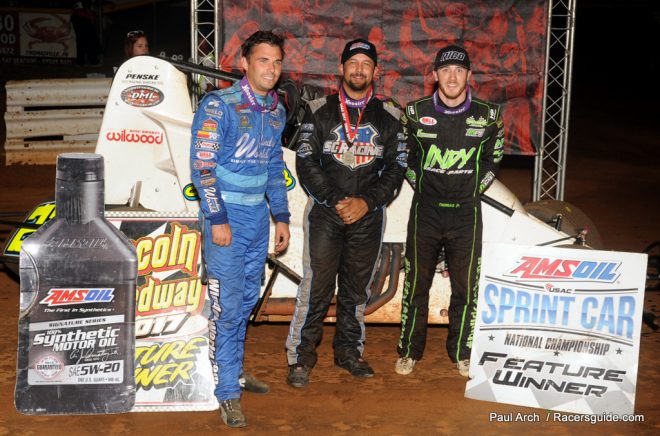 KEIZER ALUMINUM WHEELS 358 SPRINTS
358 Sprint Feature Finish (20 Laps) – 1. 97-Brie Hershey; 2. 27S-Adrian Shaffer; 3. 5-Phil Walter; 4. 12-Brent Shearer; 5. 89-Ashley Cappetta; 6. 66-Doug Hammaker; 7. 41B-Tyler Ross; 8. 38D-Kyle Denmyer; 9. 13-Ryan Higgins; 10. 23R-Todd Rittenhouse, Jr.; 11. 9-Dalton Dietrich; 12. 19M-Landon Myers; 13. 28-Matt Findley; 14. 10-Zach Eucalano; 15. 66A-Cody Fletcher; 16. 59-Steve Wilbur; 17. 74-TJ DeHaven; 18. 5A-Zachary Allman; 19. 41-Jeff Halligan; 20. 7-Trey Hivner; 21. 90-Jordon Givler; 22. 12B-Mike Bittinger; 23. 19-Troy Wagaman, Jr.; 24. 5Q-Ryan Quackenbush. No Time
Lap Leaders – Brie Hershey (1-20)
358 Sprint Heat One Finish (8 laps/6 to qualify) – 1. 5-Phil Walter; 2. 41-Jeff Halligan; 3. 41B-Tyler Ross; 4. 90-Jordon Givler; 5. 19M-Landon Myers; 6. 5Q-Ryan Quackenbush; 7. 23R-Todd Rittenhouse, Jr.; 8. 5A-Zachary Allman; 9. 10-Zach Eucalano; 10. 21X-Kyle Abrahims. No Time
358 Sprint Heat Two Finish (8 laps/6 to qualify) – 1. 27S-Adrian Shaffer; 2. 12-Brent Shearer; 3. 66A-Cody Fletcher; 4. 97-Brie Hershey; 5. 12B-Mike Bittinger; 6. 19-Troy Wagaman, Jr.; 7. 9-Dalton Dietrich; 8. 28-Matt Findley; 9. 19G-Todd Gracey (DNF). No Time
358 Sprint Heat Three Finish (8 laps/6 to qualify) – 1. 66-Doug Hammaker; 2. 38D-Kyle Denmyer; 3. 13-Ryan Higgins; 4. 89-Ashley Cappetta; 5. 59-Steve Wilbur; 6. 7-Trey Hivner; 7. 74-TJ DeHaven; 8. 3-Chris Prior; 9. 8-Kenny Kuhn. Time – 2:12.88
358 Sprint Consolation Finish (8 laps/6 to qualify) – 1. 23R-Todd Rittenhouse, Jr.; 2. 9-Dalton Dietrich; 3. 74-TJ DeHaven; 4. 28-Matt Findley; 5. 10-Zach Eucalano; 6. 5A-Zachary Allman; 7. 8-Kenny Kuhn; 8. 3-Chris Prior; 9. 21X-Kyle Abrahims DNS: 19G-Todd Gracey. No Time
UPCOMING SCHEDULE:
Saturday, June 17, 2017 (Time Trials @ 7:30 PM) – BAPS NIGHT/YORK COUNTY RACING CLUB NIGHT: 410 Sprints and 358 Sprints, PLUS York Flooring Kids Big Wheel Races
Saturday, June 24, 2017 (7:30 PM) – PEPSI NIGHT – 410 Sprints, 358 Sprints, and All-American Outlaws