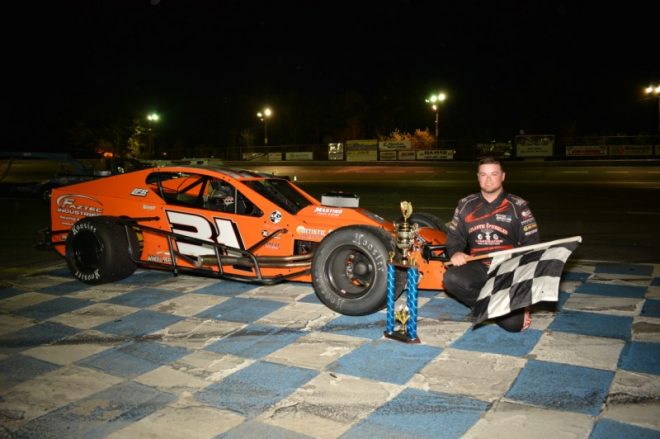 Mauriello Picks Up First Wall Win Of 2019
Story By: Jeff Gravatt/Wall Stadium
Photos By: John John Lane/RacersGuide.com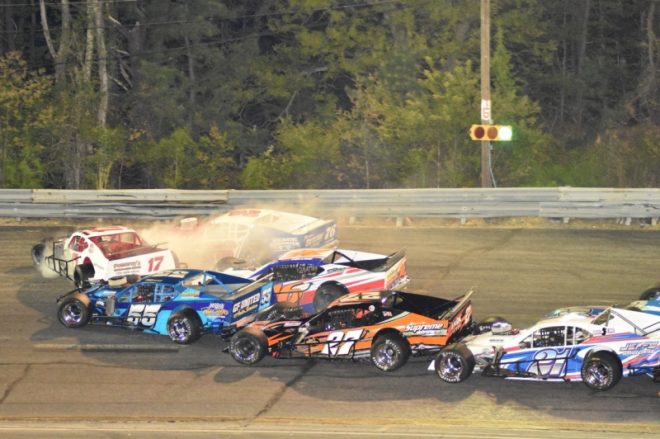 WALL TOWNSHIP, N.J. ~ Taking over the lead on a restart midway through the event, Eric Mauriello of Brick, N.J., drove the Steve Ferrara Jr. Motorsports No. 31 to victory in Saturday night's 40-lap All American Auto Group Modified feature at Wall Stadium Speedway.
Tyler Truex set the early, fast pace with Derek Hopkinson and  opening night winner Jimmy Blewett right behind. But the complexion of the race changed when Hopkinson and Blewett tangled in the first turn and slid into the guard rail. Behind them, more than half of the close-running field became involved in spins or tangles and needed to make pit stops to have their mounts checked or make repairs. Blewett, however, was able to continue and took up the chase. He later dropped back, made a pit stop in the closing circuits, and was scored 11th at the end.
Mauriello became Truex's prime challenger, and took the lead on that restart. Truex dropped to fourth, then spun in turn two later in the race and was scored 10th at the finish.
Ken Matlach closed with a rush to finish second, followed by Roger Coss, Steven Reed and Eddie McCarthy.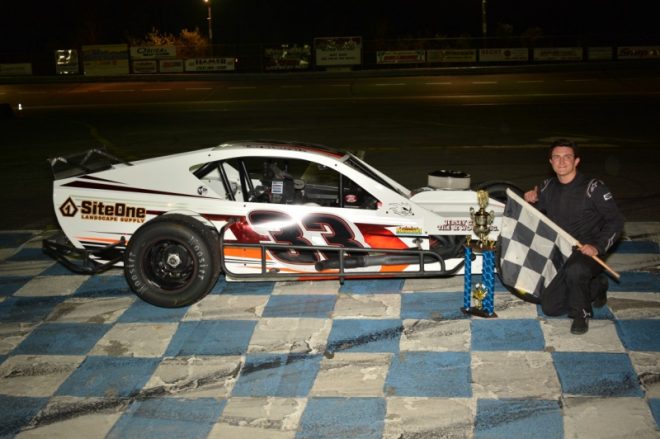 It was a one-two finish for the DiGiantomasso family in the Center State Engineering Sportsman division. Carsten DiGiantomasso took the victory, with older brother Jarret close behind in second. John McCormack was third.
The "Pro-Tech 8 Safety Gloves Fan Pick of the Race Award" of a $100 bonus is in effect for a different division each week and it was for the Sportsman racers on Saturday. A fan picked position "three" after the checkered, with the award going to McCormack. Jonathan Laureigh and Michael Carr rounded out the top-five.
Defending O'Shea's Auto Repair Factory Stock champion Mike Montano Jr. won that feature over Bryan O'Shea, Kenny Green, Shanon Mongeau and opening night winner Elliott Wohl.
Daniel Carter won the Green Flag Driving Experience Legend Car main. He had quickly made the trip to Wall after the event at his intended track for the night, N.Y.'s Bethel Motor Speedway, was postponed by bad weather. Carter then outraced Long Island's Kevin Nowak, Colin Milroy, Rob Silver and Joe McGrath. Carter, not a track regular, was a Legend Car feature winner at last year's Wall Turkey Derby, 
Randy Hart was in third place in the Surfside Collision 4-Cylinder stock car feature on the final lap. Ahead of him, Alonzo Morales and Neil Rutt III were racing for the win in turn four. When they tangled and slid to the infield, Hart came through to get his career first victory. Morales was scored in second, over Sal Ligouri, Darianne McLaren and Jennifer Schultz.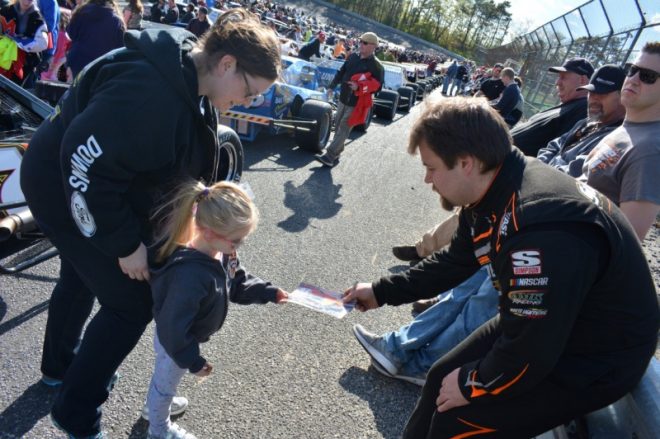 Division newcomer Chris Silvestri won his first Mike's Performance Center Limited-Late Model feature. Opening night winner Shanon Mongeau was leading on lap five, until sidelined with a motor problem.
The 2019 Saturday night regular season continues on Saturday (May 4) evening with the Modifieds, Sportsman cars, Factory Stocks, 4 Cylinder Stocks and Legend Cars in action. The  Limited Late Model division is scheduled off. Qualifying starts at 5:45 p.m. and main event racing begins at 7:00 p.m.
Saturday night competiton continues through early October with schedule details at wallspeedwayracing.com.
Wall Stadium is located on Route 34 in Wall Township, N.J., just one mile north of Garden State Parkway exit 98 and Interstate 195 exit 35B. The speedway hotline number is 732-681-6400 and email address is ckmotorsports@aol.com.

RACE RESULTS
MODIFIED FEATURE – 40 Laps – 1. Eric Mauriello, 2. Ken Matlach, 3. Roger Coss, 4. Steven Reed, 5. Eddie McCarthy, 6. Ron Frees, 7. Shaun Carrig, 8. Jason Treat, 9. Kevin Davison, 10. Tyler Truex, 11. Jimmy Blewett, 12. Andrew Krause, 13. Kenny Van Wickle, 14. Derek Hopkinson, 15. Joey Jarowicz, 16. Ricky Collins, 17. Chris Andretta, 18. Dom Fattaruso, 19. Adam LaCicero, 20. Joey Merlino
SPORTSMAN FEATURE – 25 Laps – 1. Carsten DiGiantomasso, 2. Jarret DiGiantomasso, 3. John McCormack (Pro-Tech 8 Safety Gloves Bonus of $100), 4. Jonathan Laureigh, 5. Michael Carr, 6. Kyle Scisco, 7. Christian LaCicero, 8. Michael Rising, 9. Robert Sutphin, 10. Tommy Martino Jr., 11. Bruce Devrous, 12. Roland DeMartino, 13. Joe King Jr., 14. Jake Nelke, 15. Larry Thompson, 16. Timmy Stephen
FACTORY STOCK FEATURE – 25 Laps – 1. Mike Montano Jr., 2. Bryan O'Shea, 3. Kenny Green, 4. Shanon Mongeau, 5. Elliott Wohl, 6. Scott Riggleman, 7. John Bowers, 8. Tim Majek, 9. Waylon Speer, 10. Joe Mongeau, 11. Mike Montano Sr., 12. Rob Ptaszynski, 13. Tom Rajkowski, 14. Kevin Flores, 15. Nancy Riggleman, 16. Tony Bartone, 17. Billy Both, 18. Sean Wall, 19. Matt Badessa, 20. Richie Byrne, 21. Nick Killmer, 22. Theresa Collins
LEGEND CARS FEATURE – 25 Laps – 1. Daniel Carter, 2. Kevin Nowak, 3. Colin Milroy, 4.  Rob Silver, 5. Joe McGrath, 6. Jim Downey, 7. Rob Hyer, 8. Joe Przbylinski, 9. Quinn Trimmer, 10. Roger Nickerson, 11. Kevin Pritchard, 12. Peter Bruno, 13. Sean Verwys
4 CYLINDER STOCK FEATURE – 25 Laps – 1. Randy Hart, 2. Alonzo Morales, 3. Sal Ligouri, 4. Darianne McLaren, 5. Jennifer Schultz, 6. Ian Ashford, 7. Marko Vuksanic, 8. Neil Rutt III, 9. Max Montijo, 10. Ryan Maher, 11. Bill Schwarz, 12. Deanna McLaren, 13. Nicole Razzano, 14. Jeff Loesch Jr., 15. Chuck McDonald
LIMITED LATE MODEL FEATURE – 15 Laps – 1. Chris Silvestri, 2. Greg Gastelu, 3. Jim Moorman, 4. Mike Tillett, 5. Greg Miranda, 6. Shanon Mongeau