[xyz-ihs snippet="Posts-Ad"]
Mauriello Aiming For Back To Back Turkey Derby Wins
By: Pete MacDonald
On November 28th of last season, not very many people outside Wall Stadium knew the name Eric Mauriello, that would all change the following day as Mauriello scored what many would consider a huge upset victory in Turkey Derby XLI at Wall Stadium.
The second generation driver from Howell, NJ who was driving probably one of, if not the most iconic pavement modifieds throughout the United States in Dick Barney's "Big Red" 14, Mauriello would take the lead for good on Lap 125 and not look back.
What would winning back to back Turkey Derby's mean for Mauriello?
"It would be big, really big. I don't think Dickey (Barney) has ever done that. Before last year he hasn't won this race in a long time, so to go back to back it would be pretty cool", said Mauriello following Saturday's second practice session.
After a 2015 season at Wall Stadium which saw Mauriello win two races and end up second in the season long point standings, he has to be considered one of the favorites heading into this coming weekend's Thanksgiving weekend tradition knows as Turkey Derby.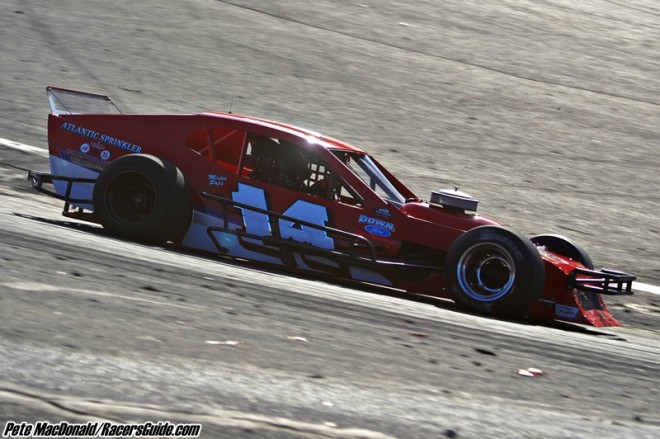 When asked if racing at Wall on a weekly basis would help come Saturday versus someone like Matt Hirschman or Ryan Preece that race at Wall only once during the season, "It's an advantage, the track changes more and more every year, it's getting older and older and slicker over the years, Those guys got it down pretty good though, they travel enough so they know exactly what to do when they get here", explained Mauriello.
You would think after winning such a storied and traditional race such as Turkey Derby would open up some doors to bigger things, but not as much as Mauriello would have liked. "A little bit has happened but it's all money driven now to open those doors", pointed out Mauriello.
"It took a while to set in, it was pretty cool once everyone knew who did what, I had a bunch of radio interviews and that was all fun, it would be great to win it again", revealed Mauriello.
After ending the final practice session second fastest, I would think his chances are just as great, if not greater than last years.
Any questions, comments or concerns I can be e-mailed at racersguide@gmail.com or found on Twitter @PMacDonald51. Thanks for reading!
[xyz-ihs snippet="Posts-Ad"]