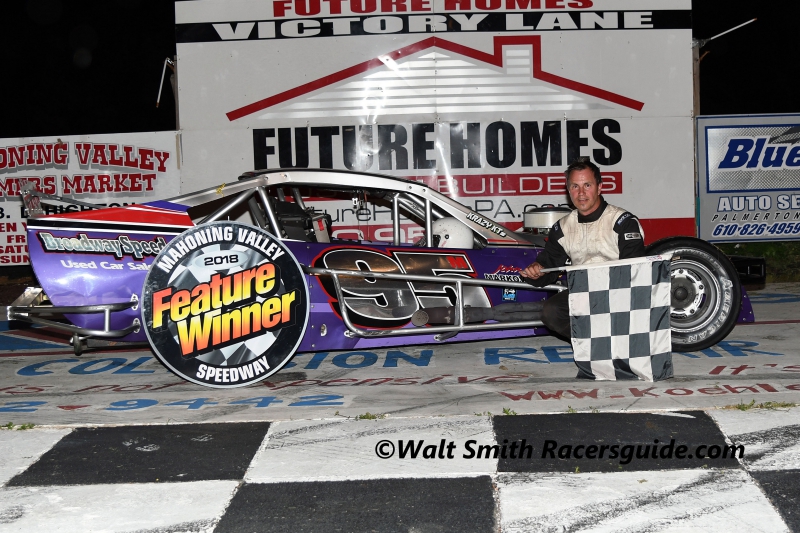 John Markovic scores close Modified win over Brian DeFebo; Kenny Hein nabs Late Model glory: Ken Erney III picks up first career win in Street Stock 75; Mike Stofflet, Cody Kohler and Beau Drobot also victors
Story By: DINO OBERTO /Mahoning Valley Speedway
Photos By: Walt Smith/RacersGuide.com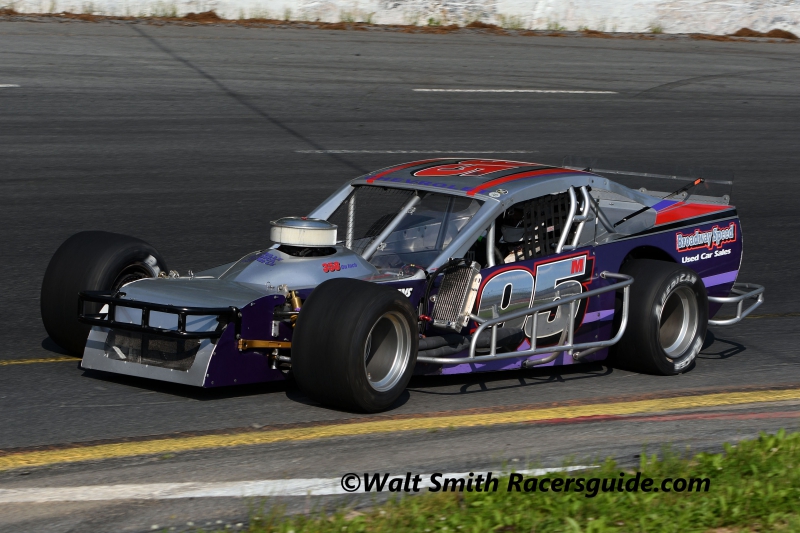 (LEHIGHTON, PA. 5-26-18) Saturday night's racing at Mahoning Valley Speedway was very reflective to Dorney Park Speedway as a trio of drivers with deep ties to the defunct 1/5-mile track in Allentown graced Victory Lane.
John Markovic edged Brian DeFebo in a thrilling Modified feature, Kenny Hein held off a throng of on-comers in the Late Model main and Ken Erney III scored his career first win in a thrilling 75-lap Street Stock show.
Markovic and Hein began their careers at "The Park" while Erney's dad was one of the more prominent drivers who competed there.
Other winners included Mike Stofflet in Dirt Mods, Cody Kohler in the Pro 4s and Beau Drobot with the Hobby Stocks.
The 35-lap Modified event saw pole sitter Ron Haring Jr., take control of the early going while Gene Bowers and Markovic ran side-by-side in his path. Markovic was able to just get by Bowers for second when a caution waved for a minor incident after seven laps.
It would be on that restart that the regarded veteran would seize the lead. Bowers, who was very solid, slipped to second by lap 10 and on the ensuing circuit DeFebo worked into third. For Bowers his night was cut short while under close quarters he slide into the turn two wall at lap 14.
From that point on Markovic and DeFebo put on a thrilling duel to the finish. Repeatedly DeFebo was trying to make a pass but each time Markovic stayed unyielding of his spot. He would hold on for a half car length win, his first this season and 61st overall.
"I love racing against Brian (DeFebo), he's a class act. We did a little bumping and banging and hopefully that didn't mess him up. It was a good race," acknowledged Markovic. "The car was a little tight and I wish it had been a bit freer."
Markovic notched his career first win 38 years ago at Dorney in a Late Model.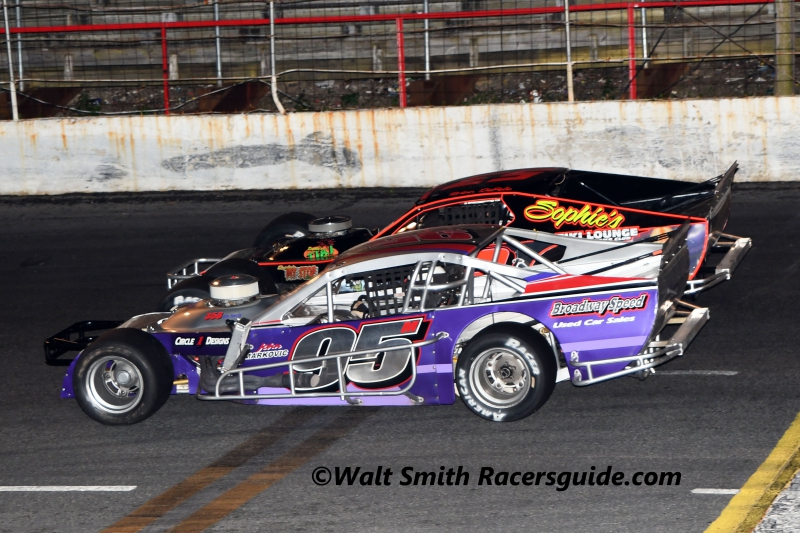 "Without racing I'd have nothing else to do. I love the sport and I'm glad to be back in Victory Lane here at Mahoning Valley."
With his runner-up register DeFebo was able to keep his point lead in tack. Kyle Strohl drove nicely to third while Bobby Jones and Earl Paules rounded out the top five.
"That was fun tonight. I just couldn't make any moves on the outside though. I tried making magic on the bottom but just couldn't do it," bottom lined DeFebo.
"I come here every week with the fire within as if I hadn't won in 10 years. And had it been anyone else but John (Markovic) I would have drove harder underneath. But I just have so much respect for him and his career. I watched and admired him when I was a kid and I wasn't going to be the one to take him out."
In the Late Model race Hein would start from the pole and lead the way after the opening lap. However, bearing down heavily where Mike Sweeney and Matt Wentz who ran in tight formation. Also in the front pack included Broc Brown and Frankie Althouse.
That group would go lap after lap in what would turn out to be a caution free race. All the while Hein refused to waver as he kept his aim despite the onslaught.
At the end Hein, who like Markovic began racing at Dorney Park in the mid-1980s, picked up a stirring win, his first in six seasons. Wentz, Althouse, Sweeney and Brown completed the front five.
The Street Stocks contested in a special 75-lap/$1000-to-win run. Erney would lead the field to the race commencing green and afterwards lead for the first time in a feature race.
This is Erney's sophomore season and prior to this night had neither a top-5 nor top-10 finish. Setting the early pace it was clear to see that those marks where about to change for the better.
Despite immense pressure from Mark Deysher and Todd Ahner while at the same time running two-wide with each other, Erney never flinched. His restarts where timed perfectly and played a key in his maintaining the lead.
In the waning laps a fast charging Josh Mooney zipped by Ahner and Deysher and would make a strong-willed attempt on the final lap to get past but Erney was determined to not let this one slip away as he took the unforgettable first career victory.
It was the first time the Erney name was in Victory Lane since Ken Erney Sr., won at Dorney in 1984.
Defending Dirt Mod champ Mike Stofflet roared to his second straight win with a dominating performance. Stofflet unseated teammate Colton Perry for the lead on lap two and afterwards went into cruise control the rest of the distance.
Cody Kohler rolled to his third consecutive Pro 4 win. It took the former class champ eight hard fought laps to get around early leader Bobby Kibler Sr., but once he did it was smooth sailing the rest of the way.
There is nothing quite like a career first win and for Beau Drobot his came with extra special feel to it. Drobot was unchallenged for all 20 laps of the Hobby Stock win and was understandably emotional when standing in Victory Lane as it was the first time winning in s stock car since his dad, Nimmy Drobot, passed away some 10 years ago.
Modified Feature Finish (35 Laps): 1. John Markovic, 2. Brian DeFebo, 3. Kyle Strohl, 4. Bobby Jones, 5. Earl Paules, 6. Joey Jarowicz, 7. Lou Strohl, 8. Avery Arthofer, 9. Ron Haring Jr., 10. Kassidy Altemose, 11. Gene Bowers, 12. Devin Schmidt, 13. Nick Baer
Late Model Feature Finish (25 Laps): 1. Ken Hein, 2. Matt Wentz, 3. Frankie Althouse, 4. Mike Sweeney, 5. Broc Brown, 6. Jeremy Miller, 7. Paul Koehler Jr., 8. Geno Steigerwalt, 9. Jacob Kerstetter, 10. Samantha Osborn, 11. Nick Kerstetter, 12. Kevin Behler
Street Stock Feature Finish (75 Laps): 1. Ken Erney III, 2. Josh Mooney, 3. Mark Deysher, 4. Lonnie Behler, 5. Todd Ahner, 6. Corey Edelman, 7. Stacey Brown, 8. Eric Kocher, 9. Jillian Long, 10. BJ Wambold, 11. Cody Geist, 12. Shayne Geist, 13. Devin Schmidt, 14. Jamie Smith, 15. Lyndsay Buss, 16. Jeremy Scheckler, 17. Jared Ahner, 18. Jon Moser
Dirt Modified Feature Finish (20 Laps): 1. Mike Stofflet, 2. Colton Perry, 3. Ricky Yetter, 4. Billy Lowden Jr., 5. Ricky Ross, 6. Corey Edelman, 7. Bill Sitler Jr., 8. Ray Deemer DNS: Vince Fegley Jr.
Pro 4 Feature Finish (20 Laps): 1. Cody Kohler, 2. Bill Rooney, 3. Bobby Kibler Sr., 4. Johnny Bennett, 5. Jake Kibler, 6. Randy Schaffer, 7. Josh Kuronya DNS: Tyler Stangle DQ: Steven McDonough
Hobby Stock Feature Finish (20 Laps): 1. Beau Drobot, 2. Tiffany Wambold, 3. Devin Schmidt, 4. Michael Wambold, 5. Ryan Berger, 6. Peyton Arthofer, 7. Trisha Connolly, 8. Gary Reed, 9. Jacob Boehm, 10. Al Arthofer, 11. Shawn Kistler, 12. Kassidy Altemose, 13. Travis Solomon, 14. Lyndsay Buss DNS: Cody Boehm