Marc Johnson Stunned the Dirt Modified World with His Title-Winning Season at Albany-Saratoga Speedway; Now He sits Poised to Do It Again
Story By: MATT NOLES / RACERSGUIDE.COM
Photos By: DAVE DALESANDRO / RACERSGUIDE.COM
SPRAKERS, NY- March 17, 2017- Simon Sinek once stated that champions are not the ones who always win races; they are the ones that go out there and try. And try harder the next time and even harder in their next attempt.
Marc Johnson fits that statement perfectly. Though many see him as the 'underdog,' a venerable David versus Goliath persona, he has been close to completing the improbable numerous times in the past. Last season at the Albany-Saratoga Speedway in Malta, New York he did just that over Brett Hearn. By one, single, point.
Where some would look for a Spielberg-like screenplay to explain his 2016 modified track title run, one only has to look to the driver of the familiar No. 3J for the reason behind his rise to short-track racing superstardom. Simply enough, to be a champion is to have a devoted and unbreakable mindset that few possess; Marc Johnson has it.
After the loss of his father before the start of the season, it became quickly apparent that the Guilderland, New York native was on a mission on Friday nights in 2016; a mission that he would not be deterred from completing. "Last year was more for my father than anything," stated Johnson. "I wanted that championship so bad last year that if I lost it, I would have been pretty disappointed with myself."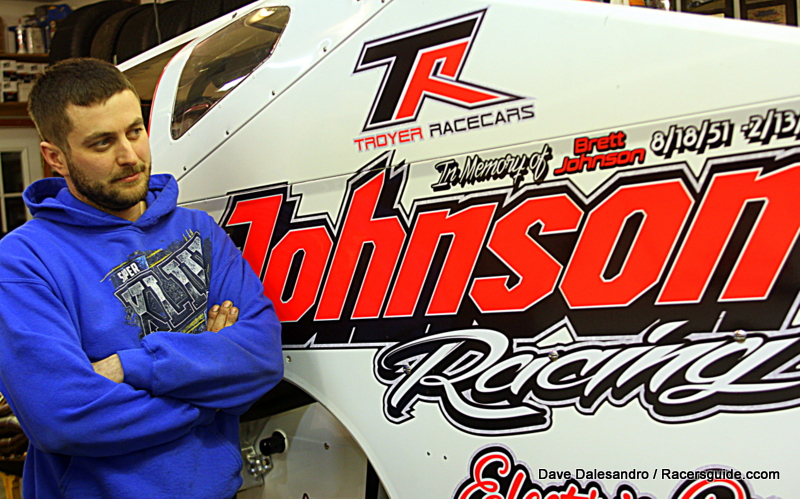 Every father-son relationship differs from family to family and in the case of the Johnson's, theirs was certainly no different. "My dad always had confidence in me," He continued. "He wasn't one of those parents at the gokart track that yelled at me when I made a mistake or didn't do well. He always said 'we'll get them next week.' So in that respect, because of him, I always knew that I had another week."
Though there wasn't necessarily an intense amount of pressure from his father to perform well on Friday nights, beyond a doubt there were some disagreements in the shop from time-to-time. "We had a weird relationship at times," Johnson said with a smile. "We fought a lot like an old married couple but it always only lasted for about ten minutes and then we'd just give it up and go racing."
Champions are never born, though some may say otherwise, instead they are made through a variety of different means. Johnson's ascent started long before he ever strapped into a center-steer dirt modified. Though he shrugs off the annoying moniker of being one of the 'little guys' these days, the start of his career was very much the opposite of a giant among men.
"When we started racing we started off at Dodge City [Speedway in Cobleskill, New York] in a gokart," Johnson recalled. "We didn't even have enough money to put a motor on it so my father and I ripped a motor out of one of our snowmobiles and bolted it on. My racing career slowly happened; it wasn't instantaneous or anything. It's always been about having fun to a certain extent."
If fun were a season then it would be best defined by Johnson's dominating year in 2016. In just 16 starts at the 'Great Race Place,' Johnson came away with 13 top-five finishes and four total victories, including three-in-a-row to start the point season, on his way to the modified crown. By the numbers, he easily was the most consistent and dominating driver at the Malta, New York oval.
"Winning the first race was the hardest," said Johnson. "The next week we went back and I had won the week before and nobody was expecting me to win again and by the time we won our third straight, there was really no pressure. That first win though, that was huge. It was the first year racing without my father and my mindset was really checkers or wreckers and we ended up with checkers."
Whether he wanted to fulfill the role or not, Marc Johnson has inadvertently become a racer that others look up to after the 2016 season. Though he is certainly not one of the 'little guys' anymore, he does recognize the role that your mentality and outlook can play in ones racing career.
"I don't know if I am showing the smaller teams that you can beat guys like Hearn," stated Johnson. "Hopefully I can do that for those guys but to be honest, it's all about what you do in the garage. You have to do a ton of work but there were guys like Mike Mahaney that did that for me when he came out of nowhere. It made me realize that it's just not the guys with a stacker hauler that can win."
However truthful his outlook might be, Johnson does note that seeing top-of-the-line equipment towing a car into a pit area can certainly wreak havoc on a racer's confidence. "You can think whatever you want about your program," He remarked. "But when you show up in the pits and you see those big haulers and you're walking through, it can have a negative effect on you."
Though it may have been so in the past, the sight of all those aforementioned items did little to sway his determination and ability throughout the season. "Confidence goes a long way in racing," Johnson commented. "I've learned that you need to make certain moves on the track at the right time and not think about it. If you don't have that confidence, that one move that you didn't make could be the difference in winning and losing."
In his case, the difference between winning and losing came down to the final night of points at Albany-Saratoga. As if trying to win a title wasn't stressful enough for Johnson, he had to do it in front of a full-house against the greatest modified driver the sport has ever known.
"I was a wreck the whole week leading up to that night," He stated. "I talked to Ronnie Johnson [2016 Fonda Speedway modified track champion] because he had gone through the exact same thing the week before at Fonda [Speedway in Fonda, New York] and he told me 'what's going to happen will happen,' and I was surprisingly calm."
His new-found inner peace should have been decimated in short order as soon as he arrived at the speedway that fateful Friday afternoon. "I got to the track and the place was mobbed," Johnson said. "There were people already parked out on Route 9 and people were coming up to me telling me that they came to see me beat Brett Hearn and I probably heard that about 10 or 15 times; it was nuts."
As if the atmosphere wasn't challenging enough, Johnson decided to make the task at hand even more difficult for himself. "Then we got to our heat race that night," He said shaking his head. "And I honestly don't think I passed anyone and I heard that Hearn went right to the front. The guy I had to beat was going to be starting in front of me for the feature."
Though the task which lay before him was a difficult one, it still wasn't enough to deter the newly crowned track champion; not in the slightest. "My confidence was still high until I got stuck behind an un-named driver," said Johnson. "I had never run the berm before but I could see the title slipping away at that point if I didn't make a move."
So, with little to no options before him, he made the move that put him into the record books. "I had to go and run the top for about five laps or so," He continued. "Then we started passing people and I could see Hearn coming back to me in lapped traffic and I just shot it right in on the bottom going into turn three and surprised him."
There are very few times where drivers feel utter elation behind the wheel; there are even fewer times when those moments amount to life-altering ones. It's safe to say that his fateful pass entering turn three on that night of all nights encompassed all of those emotions and more.
"I was in the car and I was happier than you know what," exclaimed Johnson. "I think that the reason why I wasn't nervous the whole time that night was because of how the year went, really. My dad was helping me out that night some way, somehow and I just had a feeling that it was going to work out and it did in the end; by one point and if my dad did have anything to do with it, that's how he would have wanted it to happen."
As soon as the long-awaited checkered flag flew over that particular modified feature, Johnson knew he had beaten both the odds and all competitors. It's a feeling that he's not likely to forget anytime soon.
"I knew I had the title as soon as the race was over," continued Johnson. "But there were still some nerve-wracking moments. We had a caution late in the race and after the restart, I could see Hearn poking his nose on the outside of me and I thought 'oh boy,' but it just worked out. I think I was a half of a car length ahead of him at the checkered."
And that's how the title was won; by one of the most dominating seasons in recent memory that was held in the balance by a manner of a few feet at the finish line. For Marc Johnson to beat the odds was prolific and memorable at best. In short; it's a title chase that won't soon be forgotten.
However impressive 2016 was for the Marc Johnson race team, there will be some that will inevitably call his accomplishment a fluke; a luck-of-the-draw moment more than anything. If those aforementioned individuals had any idea about whom Marc Johnson is or what he stands for, they'd be wise to take those assumptions back because it seems that he's really just getting started.
"I know I can do it again," concluded Johnson. "No doubts at all. I hate being known as the underdog; I work too hard to be the underdog." And that's that. Marc Johnson; the 2016 Albany-Saratoga Speedway modified track champion and, unfortunately for his contemporaries, the underdog no longer.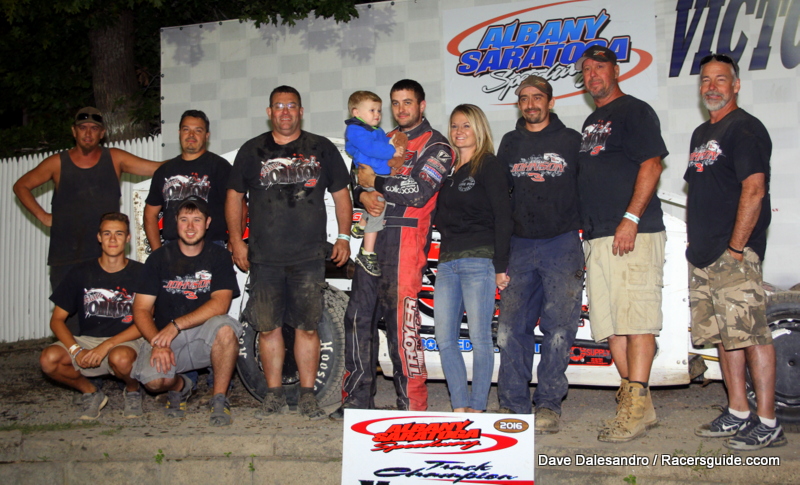 Matt Noles is a contributing writer to Racer's Guide, Dirt Track Digest and Speedway Illustrated. He currently resides in Sprakers, New York and can be reached via e-mail at matt_noles@yahoo.com.