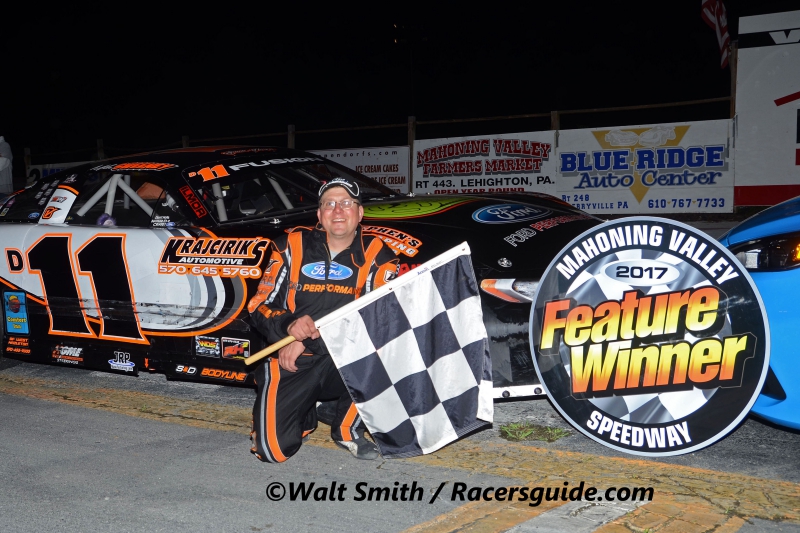 Mahoning Valley Speedway Late Model champion Mike Sweeney is once again Northeast region's top class winner
Story By: Dino Oberto/Mahoning Valley Speedway
Photos By: Walt Smith/RacersGuide.com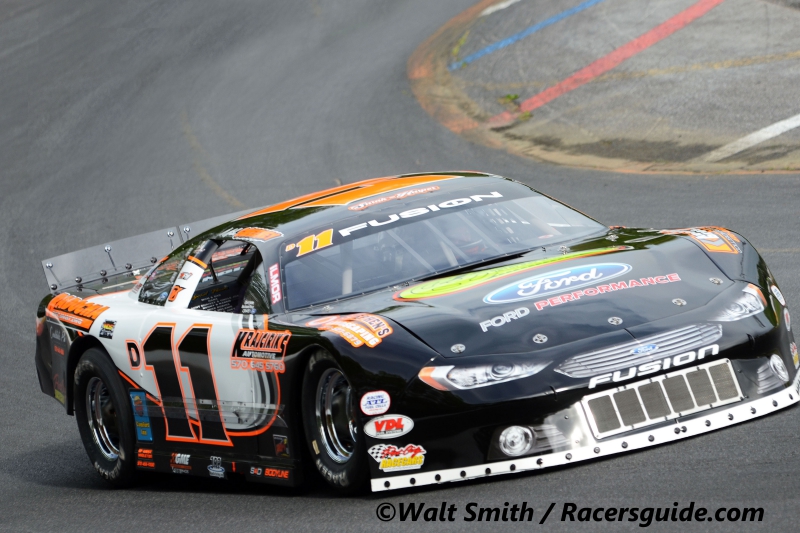 It's almost becoming second nature for Nesquehoning's Mike Sweeney, who, for the third consecutive year, has been the leader in asphalt Late Model wins.
According to the annual compiling of the Top Northeast Winners list by Area Auto Racing News, Sweeney's 10 feature victories put him at the pinnacle of his respective class for 2017. It is a feat that he repeated from last season and in 2015 was tied for number one.
"It's definitely an awesome honor. We watch those results in Area Auto Racing News (AARN) each week. When we got to the eight win mark we suddenly started to hit a snag and leveled out and we began to get a little nervous and thought maybe we wouldn't get it this year," said Sweeney.
"Going after that win mark is something we like to do and set as one of yearly goals. To get recognized at the Motorsports show venue the past two years, signing autographs and going up on stage to receive our award is special to us and it's nice that (AARN Editor) Lenny Sammons and his group take the time to pay tribute to all of us who get there."
2017 marks the third straight season that Sweeney has hit the 10 win mark. Dating back to 2014 he has scored 34 times as the race victor. In the past two years those victories vaulted him to championships at Lehighton's Mahoning Valley Speedway. He also took in events at Evergreen Raceway where he has notched four wins in just a half dozen starts the last two years.
"I'm that type of racer where I race to win week in and week out. Obviously we have seen that work in our favor the last few years which has helped us win point championships and to get this additional honor is the cherry on the top of the cake to be named the Northeast's top asphalt Late Model winner," said Sweeney.
"I'm very competitive and want to win every race I'm in. Our team works really hard all winter long and we do that with results in mind. Wining Opening Night this year at Mahoning Valley was the first time we achieved that for the first race of the season in all the years I've been racing," he continued.
"That got things going good for us and we racked up a couple more wins right after that. And then we went to Evergreen and banged one out there too and that just helped keep the momentum steady. It energizes my guys when we win it's important to keep building on that."
With his 44 career Mahoning wins and 10 at Evergreen, where is also a two-time champion, (2008-'09) Sweeney is second on the all-time Eastern Pennsylvania asphalt Late Model winners list behind only Paul Koehler Jr. (71).
And, although he may be listed as the top gun, don't let those numbers, impressive as they are, think he has a lock each week he competes. His competition is as good as it gets. Runner-up Frankie Althouse won five times and was on the verge of several more. Lorin Arthofer II had three wins that could have easily been double that. Jeremy Miller was in Victory Lane on more than one occasion and 14-year old Broc Brown had a breakout year as well. The previous years he was dealing with the likes of Koehler and Earl Paules.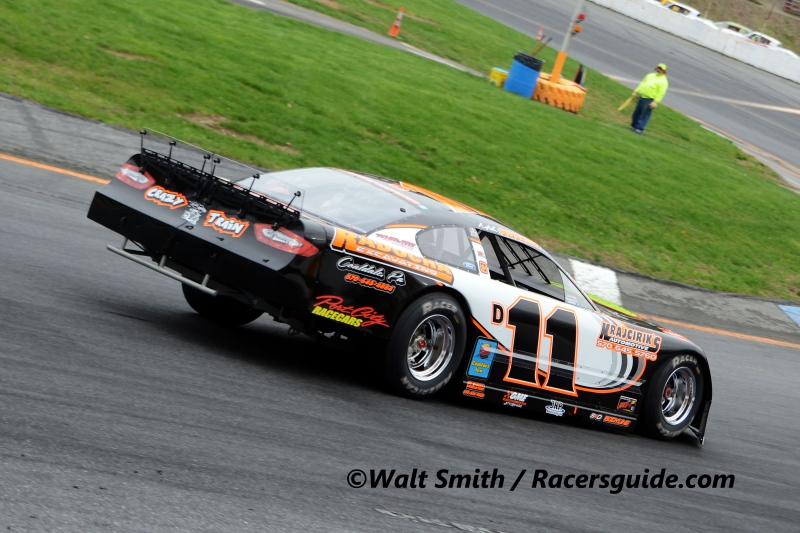 "We don't show up at the race track and pound our chest and think, 'We got this tonight.'  We just work to put speed in the car. Those guys are all very good and you never take anything lightly. They race us hard each week and you have to earn your way to Victory Lane," noted Sweeney.
"We know that we need to put ourselves on top of the speed charts, hope the luck falls our way and go out and try to do our best every single night. You have to because that's what every one of those guys have in mind too."
While Sweeney will be crowned at the December 16 Awards Banquet as Mahoning's division champion, he will also get his time in the spotlight during the 2018 Pioneer Pole Buildings Motorsports Racecar and Trade Show Presented by Sunoco and Fueled by Insinger Performance, January 19-21 at the Greater Philadelphia Expo Center in Oaks, Pa., where he, along with all Top Northeast Winners, will be lauded in a special autograph signing session and awards presentation.