ANTHONY MACRI RACES TO FIRST CAREER WIN IN THRILLING 410 SPRINT CAR FEATURE AT LINCOLN
Story By: BILL MEYER / LINCOLN SPEEDWAY MEDIA
Photos By: DAN DEMARCO / RACERSGUIDE.COM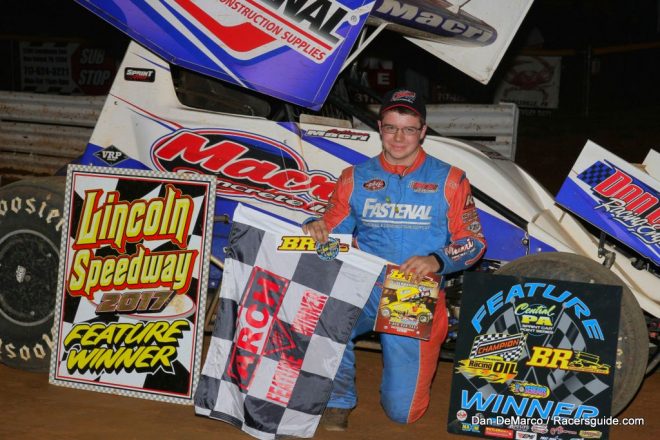 ABBOTTSTOWN, PA – June 4, 2017 – A childhood dream came true for 17-year-old Anthony Macri at Lincoln Speedway Saturday night.
And the Dillsburg youngster's first win couldn't have been more exciting.
In a thriller that saw five lead changes between front row starters Macri and Glenndon Forsythe, Marci reclaimed the lead for the third time and final time on lap 15.
"To be honest with you, when Forsythe got by me, I thought that was pretty much the end, said Macri after doing a wing dance on his Fastenal/Macri Concrete #39 in victory lane, "But Moon Byers taught me one thing, and that's to be patient and things will come back to you. And that's pretty much what happened."
When asked about putting his first career sprint car win into words, Macri said "I can't explain it. I never thought this day would come. Sitting up in the stands as a little kid, I never thought this would have happened, but here we are."
"To be honest with you, at the first caution, I thought there were more than six laps," said Macri, "It felt like the longest race of my life. When he got by me, I can't really say what I was thinking."
That caution, the first of two during the event, involved Jeff Rohrbaugh, Gerard McIntyre, Jr., and defending track champ Alan Krimes, who tangled in turn number one. Krimes was the only driver able to continue, as McIntyre ended up on top of Rohrbaugh's car. The only other caution came out when Robbie Kendall spun in turn four of lap 18.
Macri led the first eight laps before Forsythe drove by on the backstretch of lap nine. Macri returned the favor, and the two swapped the lead on consecutive laps through lap 15.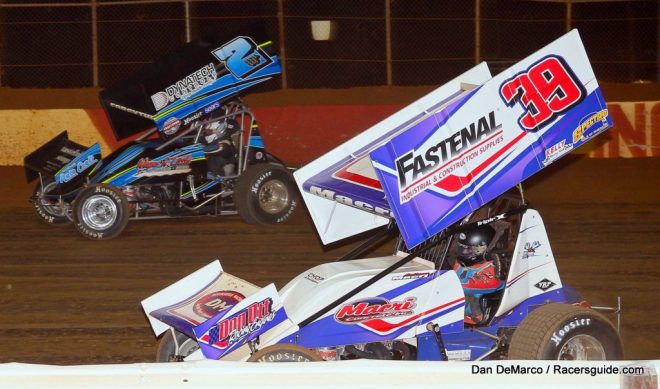 Macri withstood additional challenges from Forsythe over the next several laps, but drove away to a 2.31-second win over Jim Siegel, who caught Forsythe for the runner-up spot with three laps to go. Also getting around Forsythe were Billy Dietrich, 11th-starting Brian Montieth, and Cory Haas, who crossed third through fifth.
Forsythe settled for sixth, followed by Freddie and Brandon Rahmer, Scott Fisher, and Chad Trout, who started 19th.
Heats for the 22 "410" Sprints were won by Krimes and the Rahmers.
New Oxford's Dwight Leppo led every a lap of a wild 20-lap "358" sprint car feature to score his second career Lincoln win. Though he was never passed for the lead, there was torrid racing in behind, with Brent Shearer and Trey Hiver finishing second and third. Doug Hammaker and Kevin Nouse rounded out the top five.
Sixth through tenth were Troy Wagaman, Jr., 14th-starting Ashley Cappetta, Cody Fletcher, Phil Walter, and Steve Wilbur.
Heats for the 32 "358" Sprints were won by Leppo, Nouse, Hammaker, and Adrian Shaffer, with Ryan Quackenbush winning the consolation.
Shaun Jones led every lap from the pole in the 20-lap "358" Precise Racing Products series late model feature, surviving a late-race scare from Randy Christine, Jr. after getting caught behind heavy lapped traffic racing for position over the final three laps. It was Jones' second career Lincoln win.
Christine traded second place with Bobby Beard in the early stages of the race and crossed in the runner-up spot 1.10 seconds behind Jones. Travis Mease, Beard, and Derick Quade rounded out the top five.
Heats for the 19 "358" Late Models were won by Quade and Christine.
Next Saturday night, June 10th, it will be the annual NATIONAL FALLEN FIREFIGHTERS NIGHT IN MEMORY OF BRANDON LITTLE along with KIDS NIGHT featuring the 410 Sprints, 358 Sprints, and Central PA Legends. Gates open at 5:00 PM, with racing action getting underway at 7:30 PM.
To get all the latest news, results, schedule changes and rule changes, visit Lincoln Speedway's website at http://www.lincolnspeedway.com to stay up-to-date on all the action or pending weather conditions at Central Pennsylvania's "Premier" Saturday night race track – The Fabulous Lincoln Speedway.
RACE RESULTS; Saturday, June 3, 2017
LINCOLN SPEEDWAY
Abbottstown, PA
John H. Myers Night/ARCH Night
LAWRENCE CHEVROLET 410 SPRINTS
410 Sprint Feature Finish (25 Laps) – 1. 39M-Anthony Macri ($3,200); 2. 59-Jim Siegel; 3. 8-Billy Dietrich; 4. 21-Brian Montieth; 5. 39-Cory Haas; 6. 2W-Glenndon Forsythe; 7. 51-Freddie Rahmer; 8. 88-Brandon Rahmer; 9. 21T-Scott Fisher; 10. 1X-Chad Trout; 11. 5-Tyler Ross; 12. 5G-Chase Dietz; 13. 69-Tim Glatfelter; 14. 87-Alan Krimes; 15. 99M-Kyle Moody; 16. 10K-Joe Kata, III; 17. 17-Cole Young; 18. 55K-Robbie Kendall (DNF); 19. 14-Jeff Rohrbaugh (DNF); 20. 16-Gerard McIntyre, Jr. (DNF); 21. 27G-Jay Galloway (DNF). No Time
Lap Leaders – Anthony Macri (1-8), Glenndon Forsythe (9-12), Anthony Macri (13), Glenndon Forsythe (14), Anthony Macri (15-25)
410 Sprint Heat One Finish (10 laps) – 1. 87-Alan Krimes; 2. 2W-Glenndon Forsythe; 3. 5-Tyler Ross; 4. 21-Brian Montieth; 5. 16-Gerard McIntyre, Jr.; 6. 21T-Scott Fisher; 7. 1X-Chad Trout; 8. 17-Cole Young. Time – 2:34.274
410 Sprint Heat Two Finish (10 laps) – 1. 88-Brandon Rahmer; 2. 39-Cory Haas; 3. 8-Billy Dietrich; 4. 59-Jim Siegel; 5. 55K-Robbie Kendall; 6. 69-Tim Glatfelter; 7. 74-Dwayne Gutshall (DNF). No Time
410 Sprint Heat Three Finish (10 laps) – 1. 51-Freddie Rahmer; 2. 99M-Kyle Moody; 3. 39M-Anthony Macri; 4. 5G-Chase Dietz; 5. 14-Jeff Rohrbaugh; 6. 27G-Jay Galloway; 7. 10K-Joe Kata, III. 2:36.089
KEIZER ALUMINUM WHEELS 358 SPRINTS
358 Sprint Feature Finish (20 Laps) – 1. 4-Dwight Leppo; 2. 12-Brent Shearer; 3. 7-Trey Hivner; 4. 66-Doug Hammaker; 5. 1J-Kevin Nouse; 6. 19-Troy Wagaman, Jr.; 7. 89-Ashley Cappetta; 8. 66A-Cody Fletcher; 9. 5-Phil Walter; 10. 59-Steve Wilbur; 11. 9-Dalton Dietrich; 12. 28-Matt Findley; 13. 44-Dave Brown; 14. 19M-Landon Myers; 15. 23R-Todd Rittenhouse, Jr.; 16. 97-Brie Hershey; 17. 5A-Zachary Allman; 18. 21-CJ Tracy; 19. 22T-Dave Thrush; 20. 3-Chris Priar; 21. 27S-Adrian Shaffer (DNF); 22. 41-Jeff Halligan (DNF); 23. 00-Chris Frank (DNF); 24. 80M-Dan Richcreek (DNF). No Time
Lap Leaders – Dwight Leppo (1-20)
358 Sprint Heat One Finish (10 laps/5 to qualify) – 1. 4-Dwight Leppo; 2. 23R-Todd Rittenhouse, Jr.; 3. 19-Troy Wagaman; 4. 59-Steve Wilbur; 5. 00-Chris Frank; 6. 77K-Steven Kissamore; 7. 9-Daulton Dietrich (DNF); 8. 97-Brie Hershey (DNF). Time – 2:33.81
358 Sprint Heat Two Finish (10 laps/5 to qualify) – 1. 1J-Kevin Nouse; 2. 66A-Cody Fletcher; 3. 21-CJ Tracy; 4. 89-Ashley Cappetta; 5. 22T-Dave Thrush; 6. 5Q-Ryan Quackenbush; 7. 44-Dave Brown; 8. 59T-Tim Stallings (DNF). No Time
358 Sprint Heat Three Finish (10 laps/5 to qualify) – 1. 66-Doug Hammaker; 2. 12-Brent Shearer; 3. 5-Phil Walter; 4. 28-Matt Findley; 5. 80M-Dan Richcreek; 6. 51-Austen Treuchet (DNF); 7. 13-Jon Stewart (DNF); 8. 5A-Zachary Allman (DNF). No Time
358 Sprint Heat Four Finish (10 laps/5 to qualify) – 1. 27S-Adrian Shaffer; 2. 41-Jeff Halligan; 3. 7-Trey Hivner; 4. 19M-Landon Myers; 5. 3-Chris Priar; 6. 28P-Eric Parker (DNF); 7. 8-Kenny Kuhn (DNF); 8. 23J-Jake Eldreth (DNF). No Time
358 Sprint Consolation Finish (10 laps/4 to qualify) – 1. 5Q-Ryan Quackenbush; 2. 9-Dalton Dietrich; 3. 44-Dave Brown; 4. 97-Brie Hershey; 5. 23J-Jake Eldreth; 6. 5A-Zachary Allman; 7. 13S-Jon Stewart; 8. 28-Eric Parker (DNF); 9. 8-Kenny Kuhn (DNF); DNS – 59T-Tim Stallings. No Time
358 LATE MODELS
358 Late Model Feature Finish (20 Laps) – 1. 32J-Shaun Jones; 2. 74-Randy Christine, Jr.; 3. 116-Travis Mease; 4. 33-Bobby Beard; 5. 74Q-Derick Quade; 6. 21Z-Cam Zeigler; 7. 5-Charles Potts; 8. U10-Sam Gallagher; 9. 57-Brad Shank; 10. 19-Drew Weisser; 11. 20-Steve Billet; 12. 19L-Brandon Long; 13. 68-DJ Groft; 14. 50-Jason Smith; 15. 4M-Kyle Moser; 16. 4-Jake Moser; 17. 000-Matt Nailor; 18. 08B-Jacob Burdette; 19. 22-Chase Billet. No Time
Lap Leaders – Shaun Jones (1-20)
358 Late Model Heat One Finish (8 laps) – 1. 74-Derick Quade; 2. 33-Bobby Beard; 3. 21Z-Cam Zeigler; 4. 5-Charle Potts; 5. 19-Drew Weisser; 6. U10-Sam Gallagher; 7. 000-Matt Nailor; 8. 57-Brad Shank; 9. 19L-Brandon Long; DNS – 4-Jake Moser. No Time
358 Late Model Heat Two Finish (8 laps) – 1. 74-Randy Christine, Jr.; 2. 32J-Shaun Jones; 3. 116-Travis Mease; 4. 68-DJ Groft; 5. 50-Jason Smith; 6. 20-Steve Billet; 7. 08B-Jacob Burdette; 8. 4M-Kyle Moser; 9. 22-Chase Billet (DNF). No Time
UPCOMING SCHEDULE:
Saturday, June 10, 2017 (7:30 PM) – NATIONAL FALLEN FIREFIGHTERS NIGHT IN MEMORY OF BRANDON LITTLE/KIDS NIGHT: 410 Sprints, 358 Sprints, and Central PA Legends (Gates open at 5:00 p.m. for Kids Night)
Wednesday, June 14, 2017 (Time Trials @ 7 PM) – Amsoil USAC Sprints and 358 Sprints
Saturday, June 17, 2017 (Time Trials @ 7:30 PM) – BAPS NIGHT: 410 Sprints and 358 Sprints, PLUS York Flooring Kids Big Wheel Races