L.J. Lombardo Claims First Career Valley Win
Story By: PHIL ALAWAY / LEBANON VALLEY SPEEDWAY MEDIA
Photos By: MARK BROWN / RACERSGUIDE.COM
West Lebanon NY.- June 12, 2017- Saturday night brought warm weather and no precipitation to Lebanon Valley.  The time was nigh for some good racing and the fans got it on Saturday night, along with a first-time winner.
Mike Keeler, who has dealt with a number of mechanical issues this season, started from the pole.  On this night, Keeler did not have mechanical woes and led early.
A series of incidents kept the field close early on.  First, Kyle Sheldon spun in turn 3 to bring out the caution on lap 3.  On the restart, Ken McGuire spun and hit the wall in turn 1.  McGuire and Sheldon were able to continue.  The next restart was aborted due to additional contact.
The next restart saw contact between Paul Gilardi and Sheldon in turn 2 that resulted in another yellow.  However, before that yellow was thrown, Danbury's L.J. Lombardo was able to slip past Keeler for the lead.
Back in the pack, Brett Hearn had some issues in his heat race and started back in 18th.  From there, Hearn quickly moved up the order, methodically picking off driver after driver.  His primary rivals in the championship were stuck further down the order.
J.R. Heffner was on the move as well, slowing advancing from 12th.  Heffner got to third, but could not make all that much progress on Lombardo.  Keeler hitting the wall brought out a caution with three laps to go, creating a new race.
On the restart, Heffner got past Kyle Armstrong for second and ran down Lombardo as fast as I could.  On the final lap, the two went side-by-side in turns 3 and 4, but Lombardo out-dragged Heffner to earn his first Lebanon Valley win.
Afterwards, Lombardo was overjoyed.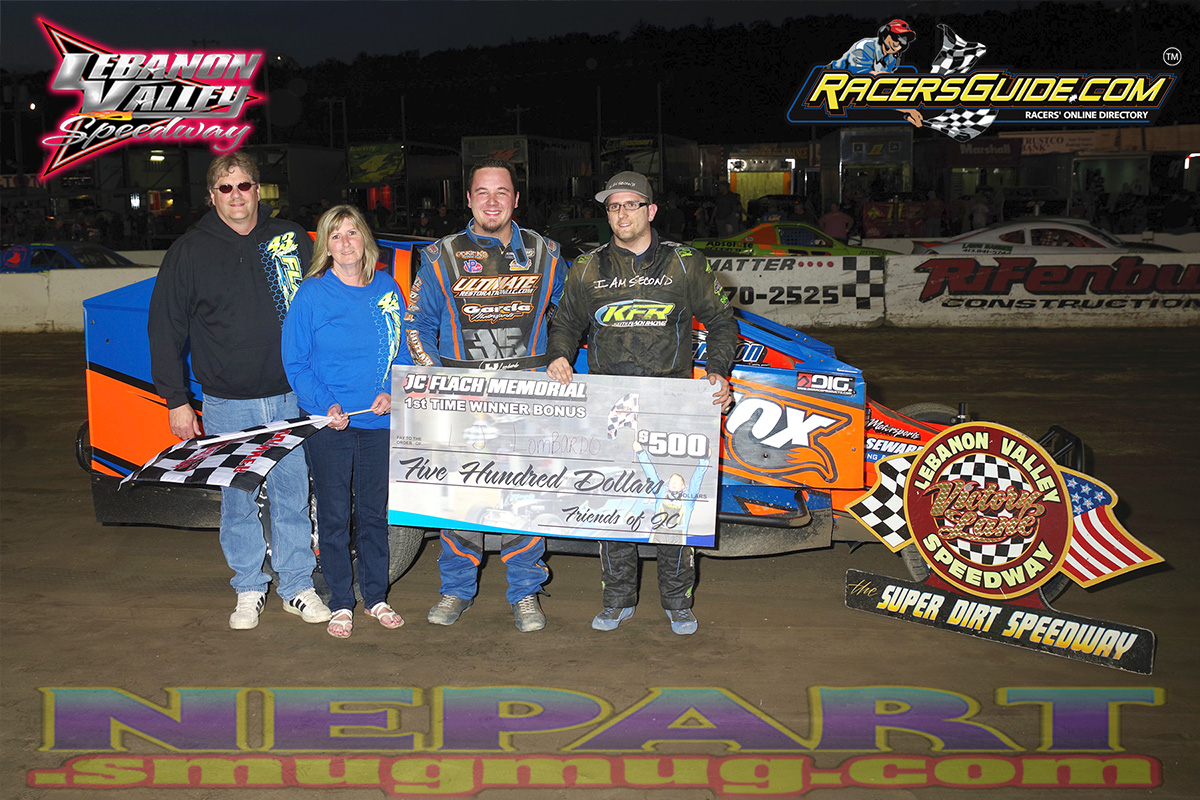 "I'm grateful that we didn't start on the pole and that we didn't just take off with it.  We actually had to make some moves to get to it," Lombardo said.  "[Winning at Lebanon Valley] is a dream come true."
Hearn passed Armstrong on the final lap to finish third.  Wayne Jelley was fifth.
The Small Block Modified feature was clean for the most part.  Sean Mandel started from the pole and led early.  Jason Herrington, the "Flyin' Farmer," gave chase.  It took only a few laps for the Brunswick native to snatch the lead.  Once there, the gregarious Herrington pulled away to a big lead.
Further back, Tremont and Heffner were on the move.  Tremont's Small Block was one of the ten fastest cars on the premises Saturday night and it showed in spades.  Tremont quickly rose from the 14th starting spot to seventh in six laps.   A couple laps later, he was in the top five.  Heffner was close behind.
On lap 14, Tremont took second from Mandel and was staring down a huge gap to Herrington.  That gap disappeared in a hurry as Tremont had at minimum, a half-second a lap on Herrington.  With four laps to go, Tremont was able to get past Herrington for the lead.
A caution due to a spin for Brandon Pitcher in turn 4 closed up the pack for a three-lap sprint.  However, no one could prevent Tremont from taking his second Small Block win in a row.
On the final restart, Heffner was able to get past Herrington for his second second-place finish of the night.  Herrington was third.  Frank Hoard III was fourth, while Demetrios Drellos was fifth.
In Pro Stock, Tom Dean started on pole with multi-time champion Jay Corbin alongside.  It has been a tough start to the 2017 season for Corbin, who has shown speed but had issues.  Saturday night was more of the same.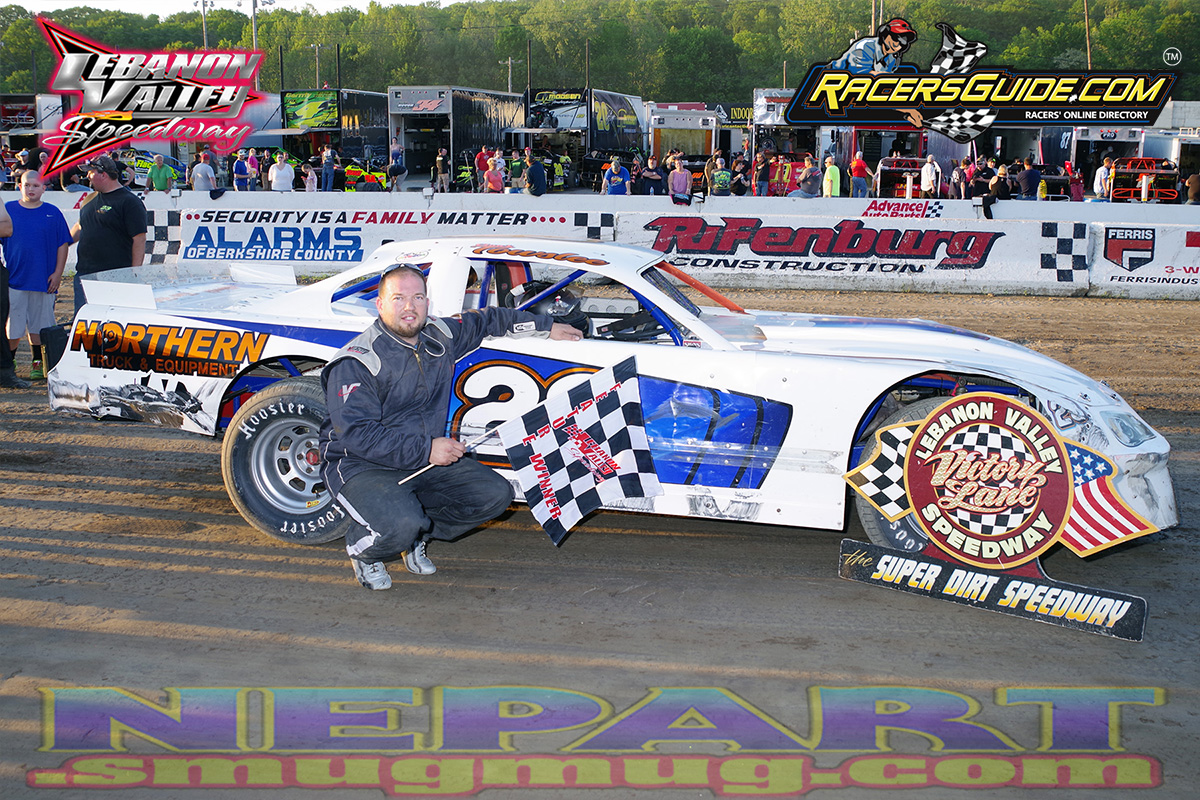 Corbin took the lead from Dean on lap 2 and seemed to have some good pace.  Unfortunately, the bad luck struck again.  Corbin cut a tire exiting turn 2 on lap 7 and spun trying to get into the pits to bring out a caution.  He would eventually finish 17th.
Corbin's spin put Jay Casey in the lead with Chuck Towslee close in tow.  The two fought hard for the lead.  The battle was fierce.  Towslee was able to get past Jay Casey, but Jay Casey wasn't done.  He jacked up the rear end of Towslee's No. 23 entering turn 3, then went to the inside.  More contact was made.  Unfortunately, this contact ultimately broke his right front corner, ending his night.
Jay's son, Jason Casey took over second as a result and tried to get to Towslee, but he could do nothing with him.  Towslee held on to take his first win of the year.
Points leader Rob Yetman passed Jason Casey on the last lap for second.  Steven LaRochelle finished fourth and John Routhier was fifth.
In Pure Stock, Dave Stickles, Larry Perez and Dom Denue won regular features.  Ed Hatch won the 20-lap Meltz Lumber Purestock Race.  Chris White won the 4-Cylinder Single-Cam class and the race overall.  P.J. Bleau finished second and won the Dual-cam class.
ARG Trucking/Doherty Brothers Construction Modified Feature Results (30 laps): 1) L.J. Lombardo, 2) J.R. Heffner, 3) Brett Hearn, 4) Kyle Armstrong, 5) Wayne Jelley, 6) Brian Berger, 7) Kenny Tremont Jr., 8) Andy Bachetti, 9) Keith Flach, 10) Chad Jeseo, 11) Eddie Marshall, 12) Kolby Schroder, 13) Kyle Sheldon, 14) Rob Pitcher, 15) Mike King, 16) Paul Gilardi, 17) Elmo Reckner, 18) Mike Keeler, 19) Dan Humes, 20) Matt Pupello, 21) Ken McGuire, 22) Tyler Dippel, 23) Kenny Aanonsen Jr., 24) Steve Hough, 25) Olden Dwyer
Small Block Modified Feature Results (24 laps): 1) Kenny Tremont Jr., 2) J.R. Heffner, 3) Jason Herrington, 4) Frank Hoard III, 5) Demetrios Drellos, 6) Brian Peterson, 7) Alan Houghtaling, 8) Olden Dwyer, 9) Frank Harper, 10) Brett Haas, 11) Bryan McGuire, 12) Sean Mandel, 13) Peter Carlotto, 14) Mike Mahaney, 15) Timothy Davis, 16) Brian Sandstedt, 17) Ray Hall Jr., 18) Jason Tompkins, 19) Dan Humes, 20) Chad Pierce, 21) Brandon Pitcher
Pro Stock Feature Results (20 laps): 1) Chuck Towslee, 2) Rob Yetman, 3) Jason Casey, 4) Steven LaRochelle, 5) Jon Routhier, 6) Rick Duzlak, 7) Jason Meltz, 8) Tom O'Connor, 9) Hugh Page, 10) Rich Crane, 11) Tom Dean, 12) Brian Keough, 13) Dan Cote, 14) Jeff Kelmel, 15) Ed Bishop, 16) Jay Casey, 17) Jay Corbin, 18) Joe LaFlamme, 19) Don Collins, 20) Todd Hoffman, 21) Victor Hopkins
Pure Stock Feature No. 1 Results (8 laps): 1) Dave Stickles, 2) Mark Dwyer, 3) Clifford Booth, 4) Adam Schneider, 5) Zach Seyerlein, 6) Joe Walcott, 7) Jordan Miller, 8) Wuggie Burdick, 9) Nick Reilly, 10) Karen Verhagen, 11) Dennis O'Connor Jr.
Pure Stock Feature No. 2 Results (8 laps): 1) Larry Perez, 2) Mike Arnold, 3) Chris Murphy, 4) Lou Gancarz, 5) Brian Walsh, 6) Zach Sorrentino, 7) Tim Thompson, 8) Keri VanDenburg, 9) Brian VanDenburg, 10) Tom Murphy, 11) Evan Denue
Pure Stock Feature No. 3 Results (8 laps): 1) Dom Denue, 2) Bill Deak Jr., 3) Ed Hatch, 4) John Devine, 5) Jeff Meltz Jr., 6) Jeff Meltz Sr., 7) Gary O'Brien, 8) Jay Casey, 9) Ray Hall Sr., 10) Jeff Kreutziger, 11) Jesse Murphy, 12) Shawn Perez.  DNS: Al Relyea
Meltz Lumber Purestock Race (20 laps): 1) Ed Hatch, 2) Ray Hall Sr., 3) Bill Deak Jr., 4) Dom Denue, 5) Dave Stickles, 6) John Devine, 7) Jay Casey, 8) Zach Seyerlein, 9) Zach Sorrentino, 10) Brian Walsh, 11) Jordan Miller, 12) Mark Dwyer, 13) Larry Perez, 14) Tim Thompson, 15) Mike Arnold, 16) Lou Gancarz, 17) Gary O'Brien, 18) Karen Verhagen, 19) Adam Schneider, 20) Chris Murphy, 21) Joe Walcott
4-Cylinder Single Cam Feature Results (15 laps): 1) Chris White, 2) Jim Williams, 3) James Street, 4) Brett Horlacher, 5) Stephen Cameron Jr., 6) Brandon Ely, 7) John Sheppard, 8) Victor Duncan Jr., 9) Gary Malloy, 10) Bradley Batho, 11) Jethro Rossman
4-Cylinder Dual-Cam Feature Results (15 laps): 1) P.J. Bleau, 2) Kenny Stager, 3) Chris Vandeputte, 4) Tomm Gomm, 5) Shawny Hazel, 6) Jake Gomm, 7) Mike Duncan, 8) Derek Quintero, 9) Chris Calabro, 10) William Sass Jr., 11) Matt Thompson, 12) Jim Guertin, 13) David White, 14) Pat Zimmer, 15) John Wright