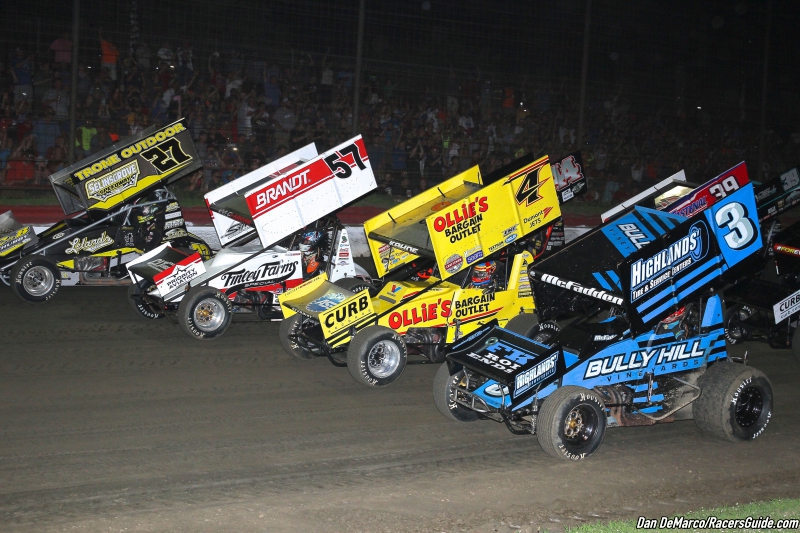 LEVAN MACHINE & TRUCK EQUIPMENT PRESENT THURSDAY NIGHT, AUGUST 23 AT GRANDVIEW SPEEDWAY:
ALL STAR 410 SPRINTS THUNDER CUP CHAMPIONSHIP IN SMOKE ON THE HILL 2, TONY STEWART TO MAKE THIRD START IN THUNDER SERIES
Story By: Bob Miller / TOTH
Photos By: Dan DeMarco & George Steigerwalt / RacersGuide.com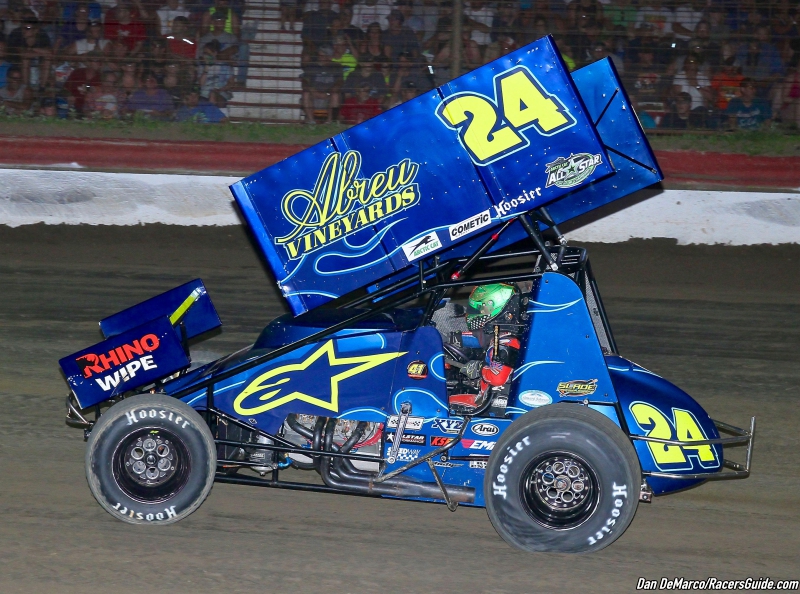 BECHTELSVILLE, PA (August 11, 2018) – A champagne celebration with a two-foot-tall gold cup trophy chalice, confetti scattered all over Grandview Speedway victory lane, and one winner – the best-of-the-best in 410 Sprint Car racing.
This defining moment has been the highlight of the three previous NAPA Auto Parts Thunder on the Hill Racing Series Thunder Cup events and will happen again on Thursday, August 23 when the Arctic Cat All Star Circuit of Champions comes to Grandview Speedway for the Levan Machine & Truck Equipment Thunder Cup: Smoke on the Hill 2.
Created in 2015, the Thunder Cup marked the second premier 410 Sprint Car event to hit the Bechtelsville, PA one-third-mile speedway.
The inaugural race was won by 'Double D' Danny Dietrich in a thrilling last lap battle where Dietrich barely edged passed Greg Hodnett to claim the victory. Following Dietrich, the sons in a pair of 'father-son' Thunder on the Hill winning combinations claimed Thunder Cup wins. In 2016, it was Stevie Smith – not to be confused with Inaugural Thunder on the Hill Race Winner, Steve Smith – scored the win aboard the Leffler Energy No. 51, owned by Fred Rahmer. In 2017, it was the younger Rahmer, Freddie Rahmer Jr. leading that same No. 51 to Grandview Speedway Victory Lane.
Expectations are high for this year's Thunder Cup iteration, as well. With a stacked field of Arctic Cat All Star Circuit of Champion competitors, former NASCAR Cup Series Champion Tony Stewart, and the determined drivers from the Pennsylvania Posse, no one knows what to expect on the cars hit the Hill.
The Levan Machine & Truck Equipment Thunder Cup marks the second 2018 appearance of the 410 Sprint Cars. The earlier event was won by NASCAR Cup Series star Kyle Larson, with Greg Hodnett, Kasey Kahne following closely behind. With a NASCAR off-weekend would could Larson and Kahne come chasing the Thunder Cup?
Joining the 410 Sprint Cars in action are the NASCAR 358 Modifieds in a 30-Lap, $3,000-to-win showdown. Grandview's premier racing division always provides for some hard-racing and wheel-to-wheel excitement.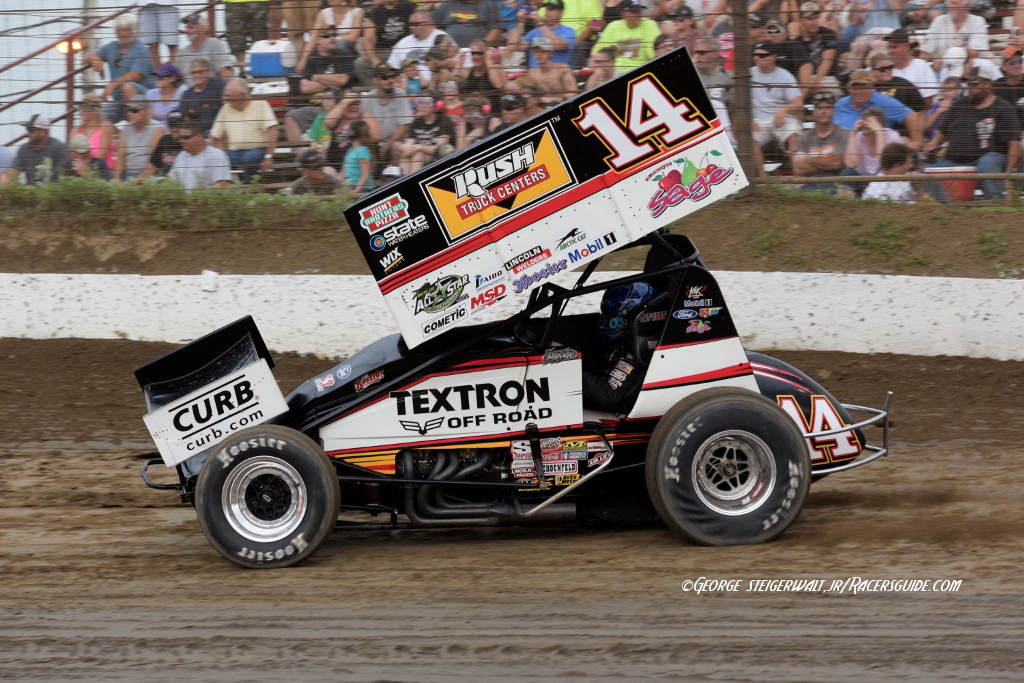 Levan Machine & Truck Equipment presents the 4th Annual Thunder Cup: Smoke on the Hill 2 featuring the Arctic Cat All Star Circuit of Champions 410 Sprint Cars in a 35-lap, $5,000-to-win event alongside the NASCAR 358 Modifieds takes place on Thursday, August 23 with a 7:30 PM start time.
Fans interested in attending can score advance tickets by calling 443-513-4456. Please speak clearly and leave your name and the number of tickets you would like. Tickets may be paid for and picked up at the Will-Call Window on race night after 3:30 PM.
Advance ticket holders may enter the grandstands at 4:30 PM, one half hour prior to general admission tickets going on sale at 5 PM. Advance tickets orders will be available until 9 AM on race day, Thursday, August 23 then general admission tickets go on sale at 5 PM.
Levan Machine & Truck Equipment located in Fleetwood, PA (just outside of Reading, PA) is part of the Thunder on the Hill family of sponsors. Levan Machine & Truck Equipment is a full-service machine shop and custom truck up-fitting center for Central Pennsylvania. Levan also provides a full line of truck bodies, van interiors, and utility and service bodies. They are the local Boss Snowplow distributor including snowplows and salt spreaders; a Knapheide retailer for truck bodies and lift gates, and a Weatherguard distributor for van and truck interior products. Levan Machine & Truck Equipment also provides repair as an ASE Blue Seal recognized service location. For full details on all of Levan Machine & Truck Equipment products and services log onto www.levanmachine.com
On August 23, pit gates open at 2 PM, advanced ticket holder grandstand gates at 4:30 PM, general admission tickets going on sale at 5 pm, and racing at 7:30 pm. General Admission tickets are $30 for adults, $10 for children age 6-11, and FREE for kids 5 and under.
Additional news and updates about this event will be available on all of the NAPA Auto Parts Thunder on the Hill Racing Series social media channels.
NAPA Auto Parts continues their long run with the Thunder on the Hill Racing Series as the title sponsor joined by Pioneer Pole Buildings, Levan Machine and Truck Equipment, Quaker Steak & Lube, and GALCO Business Communications.
Grandview Speedway
GPS USERS: 43 Passmore Road, Bechtelsville, PA 19505
Located less than a mile off Route 100, 10 miles north of Pottstown, PA
Speedway Phone: 610-754-7688
Thunder on the Hill Racing Series Phone: 443-513-4456
Series Website: Track Website: http://www.grandviewspeedway.com
Twitter/Instagram: @TOTHRACING
Facebook: http://www.facebook.com/thunderonthehill
About Thunder on the Hill Racing Series
The brainchild of Grandview Speedway owner Bruce Rogers, special events promoter Bob Miller and local driving star Dave Kelly, the Thunder on the Hill Racing Series celebrates 28 years of the most anticipated events of the racing calendar year after year. In 130 events over $4.5 million dollars has been divvied up among the area's fastest racers. What started as a single 410 Sprint Car event in 1990 has blossomed to feature a variety of racing action including 358 Modifieds, USAC Wingless Sprints, All-Star Circuit of Champions, 360 & 410 Sprint Cars, Sportsman, Late Models, Midgets, Legend Cars, DIRTcar and ROC Modified events.
About Grandview Speedway
Grandview Speedway is a high-banked one-third mile clay oval, celebrating their 56th Anniversary season in 2018. The facility offers free parking, quality food at reasonable prices (be sure to try the french fries), a program book, Grandview Speedway and Thunder on the Hill race wear and great viewing from every seat in the house. Race fans may take part in the Inside/Out promotion, where you can sign up (no charge) to watch warm-ups from inside turn four. Race fans are also invited to victory lane following the racing program and, race fans may enter the pits after the races to meet the drivers. Be ready to enjoy the spine-tingling fireworks salute on the feature event parade lap.