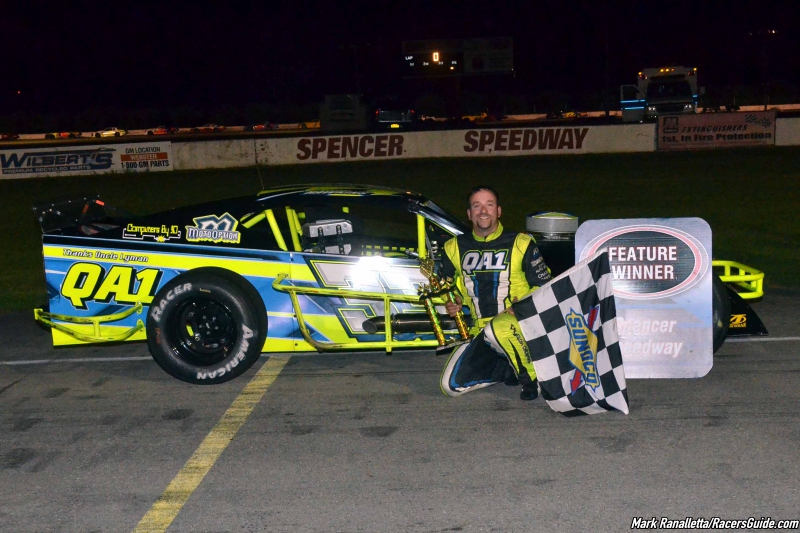 LEATY, CATALANO AND SCHOONMAKER TAKE 2018 SPENCER POINT CHAMPIONSHIPS: HAWKINS, CATALANO AND SCHENK WIN FINAL FEATURES
Story by: Gary M. Spaid / Spencer Speedway
Photos By: Mark Ranalletta / RacersGuide.com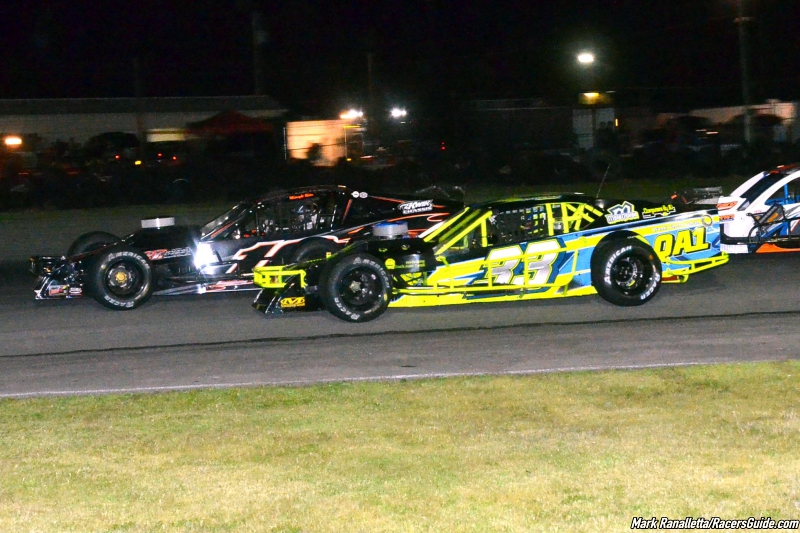 WILLIAMSON, NY…It was double point night at John White's Spencer Speedway last Friday and with the regular season complete, the track champions were determined for 2018.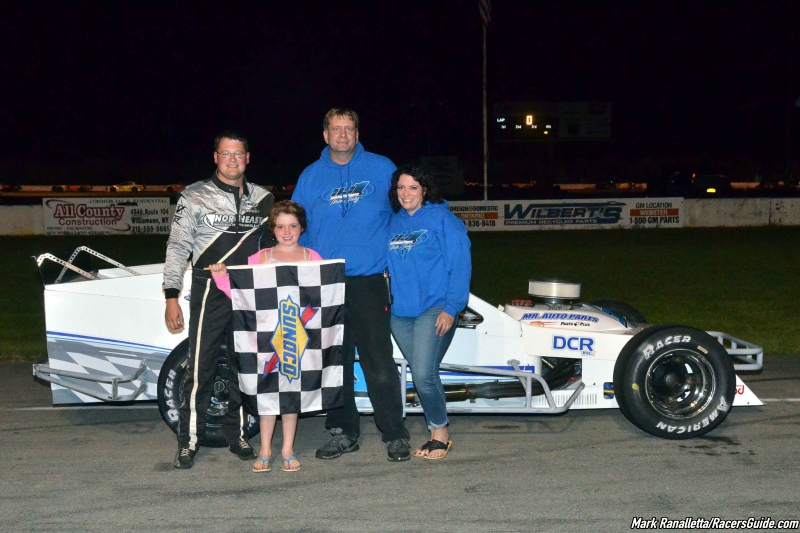 In the Sunoco Modified division Eddie Hawkins picked up his first win of the season, with Mike Leaty laying claim to his fifth Sunoco Modified track title.
In the Super Sixes, it was last year's champion, Barrett Schenk picking up the 20-lap feature win. Ashley Schoonmaker became just the second female, Amy Catalano being the first, to win a division championship at John White's Spencer Speedway.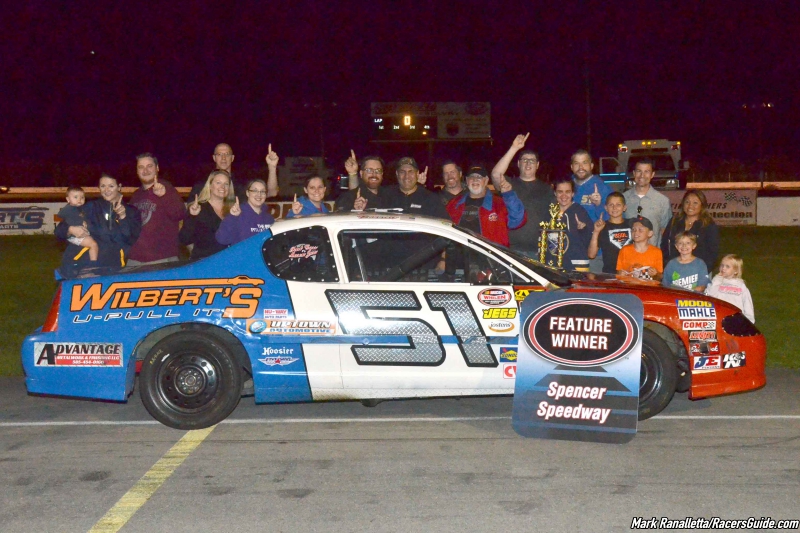 Tyler Catalano took the win in the Grandpa Dog Four Cylinders and also earned his first track championship in his rookie year.
The 35-lap Sunoco Modified feature would run green-to checkers on this final night of points. The yellow almost waved when Amy Catalano found herself off the backstretch in the infield grass. But she quickly recovered and returned at the back of the pack.
Up front Eddie Hawkins jumped out to a commanding lead over Andy Lewis and Mike Leaty. Throughout the race Leaty would chase down Hawkins, but never getting close enough to make a pass for the lead.
Meanwhile the real race was for third between Lewis, Daryl Lewis Jr. and Tommy Catalano. Daryl Lewis Jr. was finally able to hold down the position at the checkers over Andy and Catalano.
The 20-lap Super Six race saw only one yellow flag fly, for a spin by Josh Marchese on lap 11.
Brian Hallett was the early leader in a side-by-side duel with Josh Marchese. Both were being pressured by Barrett Schenk. Schenk was finally able to grab second from Marchese and set off after Hallett. He completed his pass for the lead on lap six and never looked back.
At the finish line it would be Schenk followed by Hallett, Ashley Schoonmaker, Marchese and Brandon Allen. Her third place finish was enough to earn Schoonmaker the Super Six track championship.
"It just took a lot of hard work this year. My grandpa and I have been working very hard on this car all year long," commented Schoonmaker when asked how she won the title this year.
The Grandpa Dog Four Cylinder feature also went caution free. Corey Copeland led for nine laps before he was passed by Jacob Gustafson. Gustafson seemed to have the field covered until rookie Tyler Catalano made a late race charge, passing Gustafson with one lap remaining and holding on for the victory. Catalano was followed across the finish line by Gustafson, Travis Montgomery, A.J. Montgomery and Copeland.
"My mom told me to be patient this year," added Catalano. "I guess that really worked for me this year."
Nearly 30 New York Super Stocks were on hand for a 25-lap feature. Nick Robinson, from Waverly took home his second win of the year at Spencer. Chris Finocchario came home a close second followed by Zach Willis, Mike Hyman and Nate Peckham. This division will highlight the next race event at John White's Spencer Speedway.
SPENCER NOTES: It was announced that long time Spencer official Larry Steurrys was serving his last night at the track as an official. Larry served as a corner flagger, the race director and currently helps his brother Brian Steurrys on the flagstand. Larry joins Don Toal as Spencer officials who have retired this year.
Racing returns to John White's Spencer Speedway in two weeks, on Friday, August 24th with the "Dave London Memorial 50" for Super Stocks topping the racing card. That night the Grandpa Dog 4-Cylinders will be running a special "Dash for Cash" event. Race time is set for 7 p.m.
The final week of racing in 2018 at John White's Spencer Speedway will feature the RoC Modifieds in a 75 lap Race of Champions qualifier. The RoC Street Stocks and RoC Four Cylinder cars are also on the race card on Friday, August 31st.
Spencer Speedway is located just fifteen minutes east of Rochester, NY, along Route 104 in the Town of Williamson. Spencer Speedway is the local "The Place to Race" for Central New York in 2018. Only two nights of oval track racing remain on the 2018 calendar.
JOHN WHITE'S SPENCER SPEEDWAY DOUBLE POINT NIGHT SUMMARY
GRANDPA DOG 4 CYLINDER
HEAT 1: T. Montgomery, T. Catalano, D. Heimes, A. Montgomery
HEAT 2: J. Gustafson, A.J. Montgomery, C. Copeland.
FEATURE (15-laps): TYLER CATALANO, Jacob Gustafson, Travis Montgomery, A.J. Montgomery, Corey Copeland, Dave Heimes, Allie Montgomery
Top 10 In Grandpa Dog Four Cylinder Points for 2018:
1) Tyler Catalano 418, 2) Jacob Gustafson 410, 3) Travis Montgomery 406, 4) A.J. Montgomery 381, 5) Corey Copeland 348, 6) Dave Heimes 342, 7) Allie Montgomery 321, 8) Dalton Alexander 218, 9) Jason Treasure 84, 10) Joe Clark 83
SUPER SIXES
HEAT 1: B. Hallett, A. Schoonmaker, T. Faro, A. Knoepfler, V. Grant.
HEAT 2: B. Schenk, J. Marchese, B. Allen, A. VanHall, A. Cocilova.
FEATURE (20-laps): BARRETT SCHENK, Brian Hallett, Ashley Schoonmaker, Josh Marchese, Brandon Allen, Tim Faro, Van Grant, Andy Cocilova, Adam VanHall, DNS: Alison Knoepfler.
Top 10 In Super Six Points for 2018:
1) Ashley Schoonmaker 410, 2) Brian Hallett 394, 3) Barrett Schenk 365, 4) Van Grant 349, 5) Andy Cocilova 317, 6) Josh Marchese 264, 7) Tim Faro 263, 8) Adam VanHall 233, 9) Alison Knoepfler 225, 10) Bill Inch 223
SUNOCO MODIFIEDS
HEAT 1: M. Leaty, E. Hawkins, A. Catalano, A. Jankowiak, M. Lees.
HEAT 2: D. Lewis Jr., A. Lewis To. Catalano, Ti. Catalano, M. Nickels
FEATURE (35-laps): EDDIE HAWKINS, Mike Leaty, Daryl Lewis Jr., Andy Lewis, Tommy Catalano, Amy Catalano, Matt Lees, Andy Jankowiak, Timmy Catalano, Luke Cino, Mikey Nichels
Top 10 In Sunoco Modified Points for 2018: 1)Mike Leaty 460, 2) Tommy Catalano 45, 3) Daryl Lewis Jr. 438, 4) Andy Lewis 428, 5) Amy Catalano 424, 6) Eddie Hawkins 419, 7) Timmy Catalano 394, 8) Mikey Nickels 311, 9) Matt Lees 291, 10) Luke Cino 282