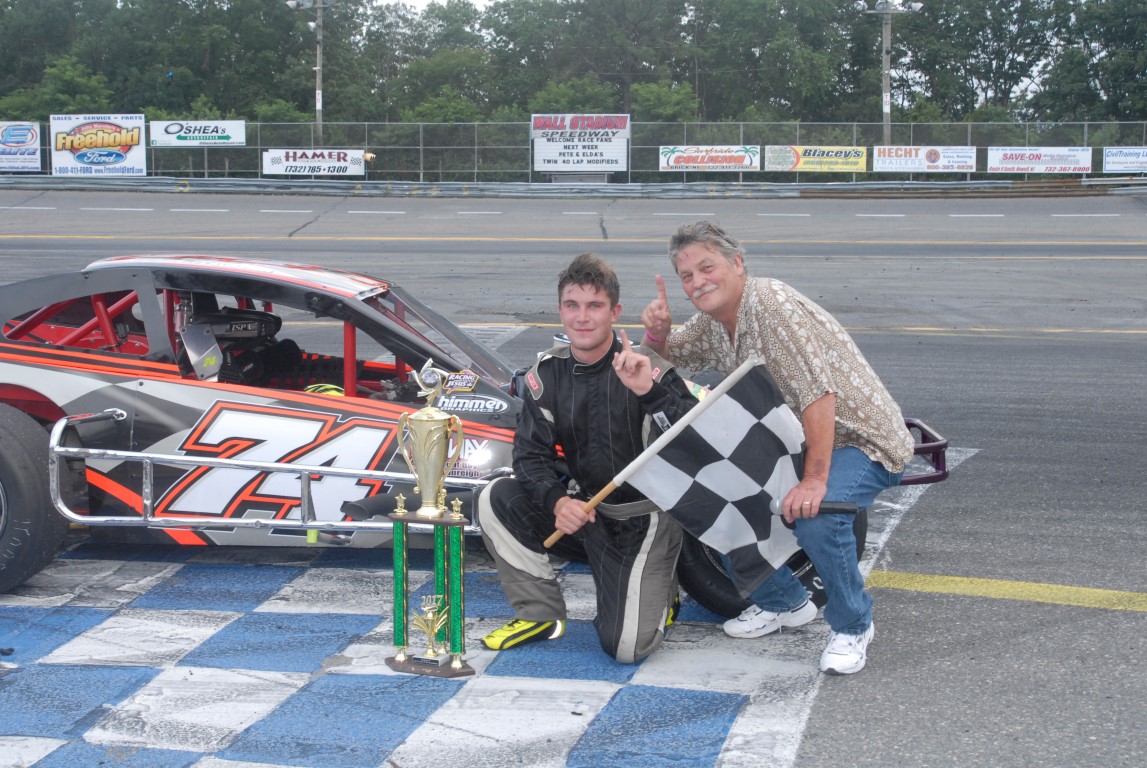 LAUREIGH, FRENCH AND RAIN WIN AT WALL STADIUM SATURDAY
Story By: Jeff Gravatt/Wall Stadium
Photos By: John John Lane/RacersGuide.com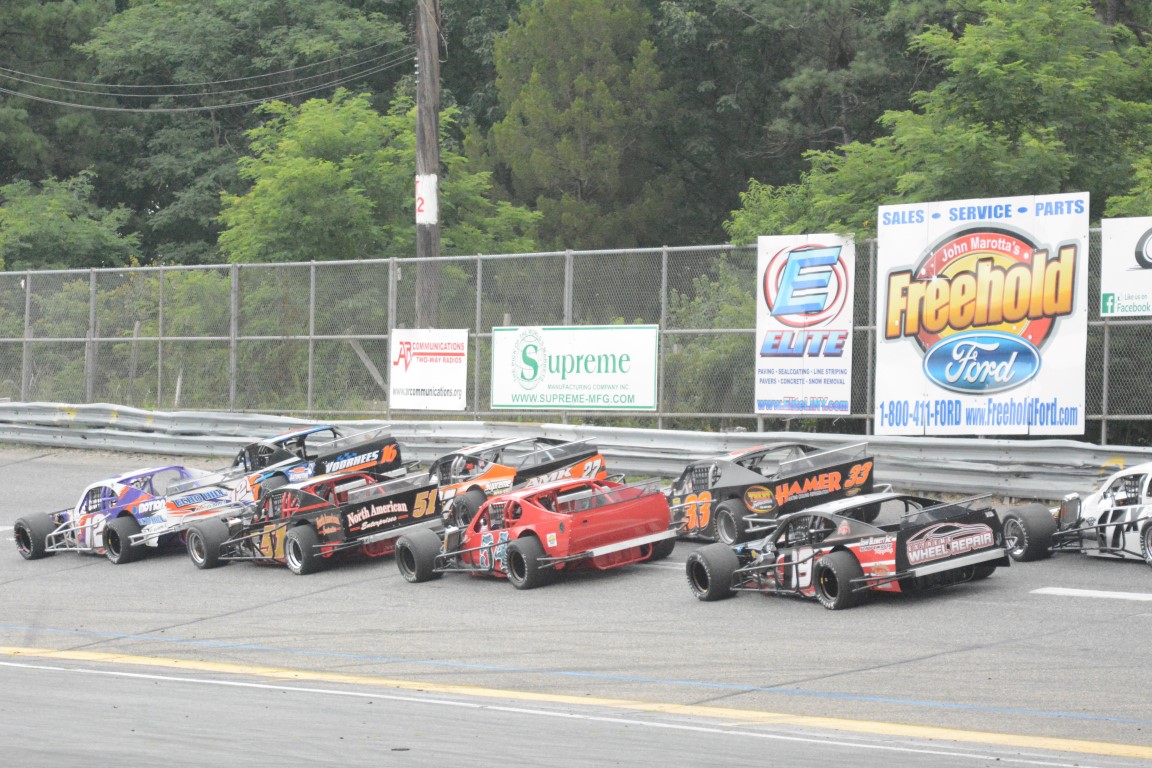 WALL TOWNSHIP, N.J. ~ Just as the Freehold Ford Modified stock cars were taking the track for their 40-lap main event at Wall Stadium Speedway Saturday night the skies opened up forcing officials to cancel the auto racing card. Before the rain fell a Snap on Sportsman main event and a Green Flag Driving Experience Legend Car feature were completed.
In the Sportsman 25-lapper, rain postponed from June, young Jonathan Laureigh of Lanoka Harbor fought off several competitors before taking his first career stock car win. Joe Cocca of Toms River was the early race challenger before Eric Lane of Howell took up the chase. Matt Langbein of Laurence Harbor advanced to second near the halfway point and wrestled with Laureigh until crashing hard into the turn one guardrail in the closing laps.
Two-time and defending champ Kevin Davison then took his shots at the leader before setting for second. Tuckerton's Robby Walton was third, with Lane and Kyle Scisco of Jackson wrapping up the top five.
"This feels absolutely amazing," Laureigh said of his first ever win. "The car felt real good in the race but I had my hands full with some real good drivers behind me. I have to thank my crew, my sponsors and my dad and mom for making this possible."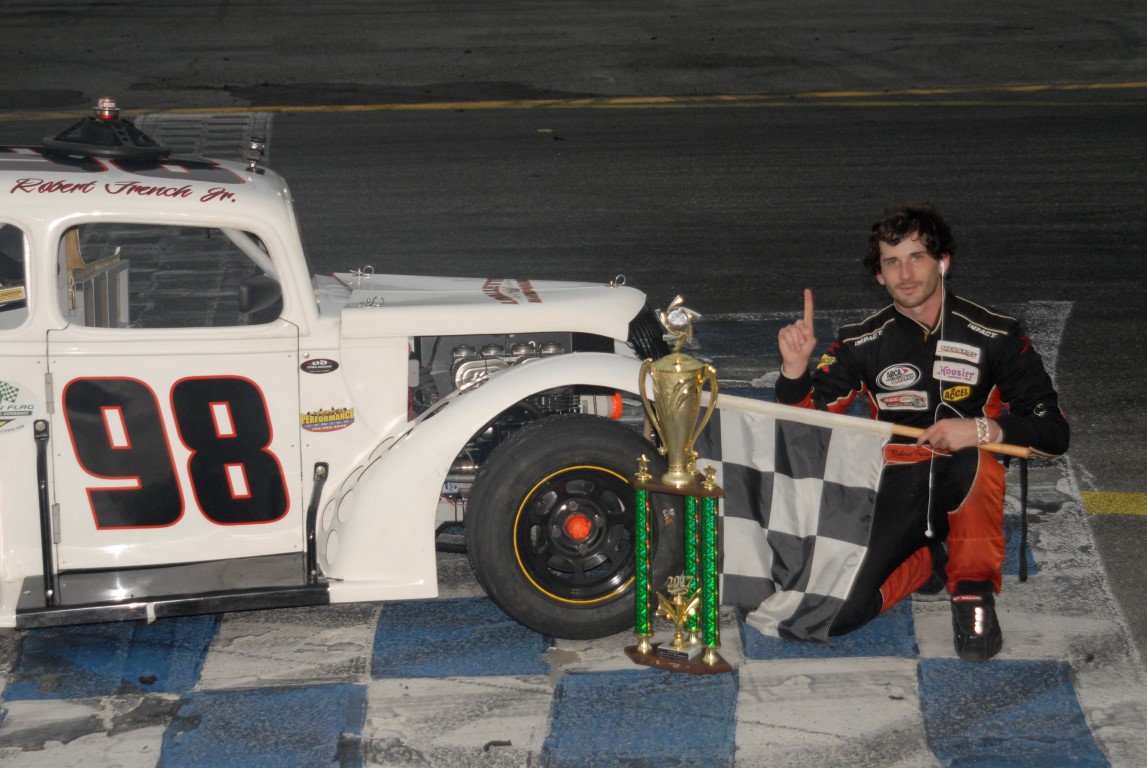 Howell's Robert French raced to his division leading 27th career win in the 25-lapper for the Legend Cars. French passed early leader Nick Van Wickle of Edgewater part on lap eight and then fought defending series champ Louie Keraitis of Toms River to the checker flag. Peter Bruno of Little Silver, Danny Doyle and Elliot Wohl were third through fifth.
Racing returns this Saturday night. The July 29 card will feature the Freehold Ford Modifieds in the "Pete and Elda's Bar/Carmen's Pizzeria Twin 40's" each offering $1,500 to the winner. The O'Shea's Auto Repair Factory Stocks will race in Twin 25-lappers. The popular Neptune City landmark will offer several bonuses to racers in both divisions. The Elite Maintenance Limited Late Models and the Legend Cars will also race in 25-lappers. Grandstands open at 5:00 p.m., qualifying starts at 5:45 p.m. and main event action starts at 7:00 p.m.
More information on Wall Stadium and the 2017 Saturday night schedule can be obtained by visiting the website at wallspeedwayracing.com.
Wall Stadium is located on Route 34 in Wall Township, N.J., just one mile north of Garden State Parkway exit 98 and Interstate 195 exit 35B. The speedway hotline number is 732-681-6400 and email address is CKMotorsports@aol.com.
SPORTSMAN FEATURE – 25 Laps – 1. JONATHAN LAUREIGH, LANOKA HARBOR, Kevin Davison, 3. Robby Walton, 4. Eric Lane, 5. Kyle Scisco, 6. Nick Shaw, 7. Jake Nelke, 8. Jarret DiGiantomasso, 9. Carsten DiGiantomasso, 10. Tyler Truex, 11. Joe Cocca, 12. Mike Tidaback, 13. Matt Langbein, 14. Mike Carr, 15. Roland DeMartino, 16. John McCormack
LEGEND CARS FEATURE – 25 Laps – 1. ROBERT FRENCH, HOWELL, 2. Louie Keraitis, 3. Peter Bruno, 4. Danny Doyle, 5. Elliott Wohl, 6. Steve Woytysiak, 7. Mike Marcardi, 8. Roger Nickerson, 9. Jim Van Wickle, 10. Nick Van Wickle, 11. Joe McGrath, 12. Anthony Colandro