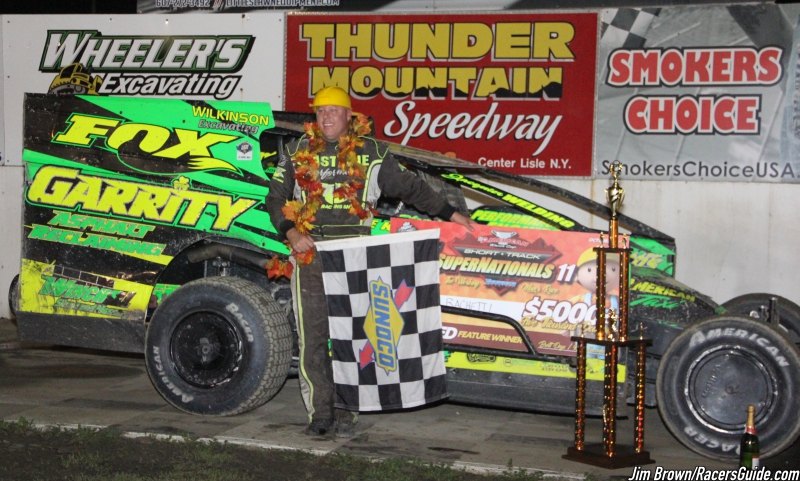 Last-Lap Pass Puts Andy Bachetti In Thunder Mountain Short Track SuperNationals Victory Lane, Becomes 11th "Working Man's Race" Winner
Story By: Brett Deyo/SSTS
Photos By: Jim Brown/RacersGuide.com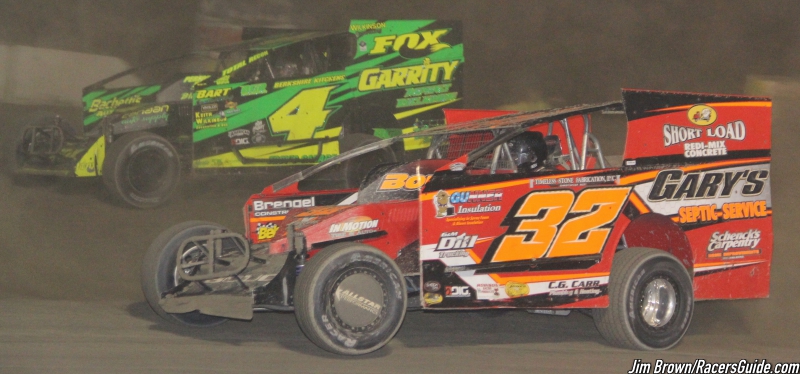 CENTER LISLE, NY – For the 11th consecutive edition, the American Racer Cup Short Track SuperNationals produced a new winner.
Sheffield, Mass., driver Andy Bachetti utilized a last-lap pass to put his name on the list of 'Working Man's Race' champions Saturday night at Thunder Mountain Speedway, annexing the 50-lap big-block/small-block Modified event in dramatic fashion.
The SuperNationals was held at Thunder Mountain for the first time in its history with two days of racing on Friday and Saturday nights. Some 234 drivers competed over the weekend at the Center Lisle three-eighths-mile oval.
Bachetti and Mat Williamson thrilled the fans during the latter stages of the Bob Hilbert Sportswear Short Track Super Series (STSS) Fueled By Sunoco Halmar International North Region eighth round.

"Whether I won or not, that was a great race," exclaimed Bachetti after his $5,100 payday on the Mountain. "It was good, clean, hard racing. Mat (Williamson) has a lot of talent. He will win his share on this series."
In 11 years, there have been 11 different Short Track SuperNationals Modified victors. Bachetti joins that elite group.
"We've been close before in this race," he said. "But we couldn't pull it off. This is one I wanted to get."
It was Williamson who picked the pole via a redraw of top heat-race qualifiers. The Canadian led the 31-car starting field to the green aboard the Behrent's Performance Warehouse No. 3.
Williamson took the lead at the outset with Bachetti, who started fourth, shot the gap into second on the opening lap.
Danny Bouc, a New Egypt (N.J.) Speedway regular in his Thunder Mountain debut, powered from ninth into the top-three inside the opening laps and joined the lead battle.
The lead trio survived a slew of restarts during the race's first half. As the laps clicked off, the trio out front tightened up with Bachetti working on Williamson and Bouc, who switched lanes to the extreme inside, pressuring Bachetti.
Seventh-starter Shaun Walker, the 2014 Short Track SuperNationals winner, quietly moved forward and joined the front three.
During the final stretch of green-flag racing, Bachetti methodically closed on Williamson as both drivers encountered a pack of lapped traffic. On lap 48, Bachetti used a slide-job to momentarily take the top spot from Williamson. However, Williamson crossed Bachetti and retook the lead.
With the white flag flying from starter Gary Folk, Bachetti pulled just ahead of Williamson at the exit of turn two. The pair raced side-by-side into turn three.
Bachetti, on the top, was able to clear a slower car and beat Williamson back to the Sunoco Race Fuels checkered flag.
Williamson, of St. Catharines, Ont., ended his bid for a career-first STSS victory in the runner-up position, taking home $3,000 plus $200 from Superior Remodeling as the Halfway Leader and $100 from Precision Hydraulic & Oil as a heat winner.
Despite two tires going down on the Mike Costello-backed No. 21, Masonville, N.Y.'s Walker completed the podium in third spot, earning $2,100.
Pipersville, Pa.'s Bouc capped his first visit to the Mountain with a fourth-place finish driving his self-owned No. 32 Teo-Pro car. Bouc impressively utilized a sealed spec small-block engine in his efforts during the SuperNationals.
Eighth-starter Billy Decker of Sidney, N.Y., kept his championship hopes alive with a steady fifth-place drive in Jeremy Smith's No. 91. Only one race remains on the STSS Halmar International North Region schedule at Orange County Fair Speedway in Middletown, N.Y., on Thursday, October 18.
Ryan Godown of Ringoes, N.J., rode the outside lane from 17th to finish sixth in the Searock Motorsports No. 26, followed by Mike Gular of Boyertown, Pa., in the Terry Fasnacht-owned No. 2A; late arriver Matt Sheppard of Waterloo, N.Y., who started 15th; 14th-starter Anthony Perrego of Middletown, N.Y., in the Brian Smith-owned No. 44; and Danny Creeden of Wurtsboro, N.Y., who rolled off the grid in 21st.
2006 Short Track SuperNationals winner Mike Ricci of Tillson, N.Y., started 30th and finished 11th to earn the Hard Charger Award, which consisted of $200 from Land Hoe Maintenance, a $200 Beyea Custom Headers certificate and a $50 QA1 certificate.
Heat winners for the 47 assembled STSS Modifieds were Walker, Alex Yankowski, Williamson, Jeff Strunk and Bachetti. All heat winners received $100 cash from Precision Hydraulic & Oil and a $50 Beyea Custom Headers gift certificate.
The consolations went to Godown, Brett Tonkin and Dan Hineline.
Berkshire, N.Y.'s Kenny Hammond kept his late-season momentum on the Mountain rolling. Hammond won the STSS Crate 602 Sportsman 25-lap finale, earning $1,000 for his efforts in the Hunt's Auto Service No. 30.
The veteran Hammond drove from eighth starting position to the lead and won in dominant fashion.
Second-generation driver Blaine Klinger drove to a second-place finish, with Dale Welty advancing from seventh to finish third.
Tom Collins Jr. of Lansing, N.Y., completed his championship season in the STSS Crate 602 Sportsman North Region with a fourth-place finish. Collins entered the night just 10 points ahead of Dustin Jordan, who finished ninth. Kyle Rohner drove the Superior Remodeling No. 44 to fifth at the finish.
Shane Wolf Jr. took $1,000 back home to Susquehanna, Pa., after dominating the 20-lap Street Stock main event. Despite numerous cautions, Wolf pulled away on each restart to gain the triumph over Kurt Stebbins, who advanced late in the distance for second, Trevor Dudley, Dylan Cecce and Earl Zimmer.
Using the outside lane with just two laps remaining in the 20-lap main, Bailey Boyd completed a weekend sweep of 600 Modified competition on the Mountain. Boyd powered around Nathan Brinker coming to the white flag. Brinker settled for second, with Josh Pepe, Mark Golden and Josh Mudge in tow.
The 15-lap Vintage Modified Open saw a back-and-forth battle for the lead. Mike Houghtaling prevailed over Bob Johnson. Charlie Houghtaling, Doug Atkins and Joe Judge filled out the front five.
Thunder Mountain Speedway is located at 91 Hunts Corners Road Center Lisle, NY 13797, approximately 25 miles north of Binghamton. The three-eighths-mile clay oval features hillside concrete seating, free parking and camping, a variety of concession items and novelties, a family environment and more. To learn more about Thunder Mountain Speedway, visit www.thundermtnspeedway.net.
Saturday's event concluded the 2018 season for Thunder Mountain Speedway.
The Bob Hilbert Sportswear Short Track Super Series Fueled By Sunoco continues Friday, October 12 at Port Royal Speedway in Port Royal, Pa., with a 40-lap STSS Modified Velocita-USA South Region event offering $5,000 to win, $1,000 for 10th and $400 to start. 410 Sprint Cars are also on the card paying $4,000 to win for 25 laps.
To learn more about the 2018 Short Track Super Series Fueled By Sunoco, visit www.shorttracksuperseries.com, e-mail bdmotorsportsmedia@gmail.com, check out 'Short Track Super Series' on Facebook or @ShortTrackSS on Twitter or Instagram.
SUPERNATIONALS SIDENOTES: The 'Working Man's Race' was appropriate for Short Track Super Series and Thunder Mountain officials. Rain saturated the facility early Saturday morning. While tapering off in the afternoon, showers returned at approximately 7:15 p.m. and prompted an hour rain delay.
Later, electrical problems, yet undiagnosed, caused sections of speedway lighting to go dark and require repair. Through the challenges, all feature events were completed….
Planned champion's events for the Modifieds and Street Stocks were ultimately scrapped due to the weather and lighting issues. The eight drivers ready to compete in the American Racer Cup Match Races for the Modifieds each received a free tire certificate and $250 (splitting the $2,000 top prize). The Trackside Products Street Stock Dash participants present were given $100 cash each and a free tire certificate….
All winner's received 'Working Man' hard hats as part of their Victory Lane celebrations….
Weather delays at both Thunder Mountain and Super DIRT Week in Oswego, N.Y., kept drivers on their toes. Mat Williamson, Matt Sheppard and Billy Decker all arrived at Thunder Mountain in time to run heat races. Billy Pauch Jr. made the consolation and was able to earn his guaranteed spot achieved at New Egypt Speedway to start the main 31st….
Despite Saturday's shaky weather, a very robust crowd turned out for the SuperNationals event, with 47 Modifieds, 30 STSS Crate 602 Sportsman, 24 Street Stocks, 11 600 Modifieds and nine Vintage Cars filling the pits….
Dan Hineline and Nick Rochinski both qualified for the STSS Modified feature but were unable to run their cars. Hineline broke a steering arm after winning a consolation and hit the turn-three wall. Rochinski, who made the redraw in his heat, suffered engine trouble. Rochinski drove the Ricky Newton No. 55 and Hineline the Ken Titus No. 9 to take the green….
The Short Track Super Series is presented by American Racer/Lias Tire, Sunoco Race Fuel, Insinger Performance, Bob Hilbert Sportswear, Halmar International, Allstar Performance, ATL Racing Fuel Cells, Behrent's Performance Warehouse, Beyea Custom Headers, Bicknell Racing Products, Dirt Track Digest, Fast Axle, Fox Racing Shocks, Henry's Exhaust, Hig Fab, HyperCo, Kirkey Racing Fabrication, K&N, Land Hoe Maintenance, Precision Hydraulic & Oil, QA1, Race Pro Weekly, Racing Optics, Superior Remodeling, Teo-Pro Car, Vahlco, Velocita, Weld & Wilwood.
AMERICAN RACER CUP SHORT TRACK SUPERNATIONALS 11 RACE SUMMARY – THUNDER MOUNTAIN SPEEDWAY OCTOBER 6, 2018
Bob Hilbert Sportswear Short Track Super Series Fueled By Sunoco Halmar International North Region Event No. 8 Modified Feature Finish (50 laps): ANDY BACHETTI, Mat Williamson, Shaun Walker, Danny Bouc, Billy Decker, Ryan Godown, Mike Gular, Matt Sheppard, Anthony Perrego, Danny Creeden, Mike Ricci, Bill Pauch Jr., Mike Colsten, Jerry Higbie, Nick Nye, Steve Davis, Brett Tonkin, Jeremy Smith, Jeff Strunk, Frank Cozze, Alex Yankowski, P.J. Goodwin, Scott Ferrier, Jared Umbenhauer, Craig Hanson, Mike Bowman, Nick Rochinski, Kevin Hartnett, Kevin Sockriter, Joe Judge, Dan Hineline.
Did Not Qualify: Sam Allen, Brad Rothaupt, Colton Wilson, Tyler Siri, Cory Costa, Damon Decker, John Morse, Ricky Newton, J.R. Hurlburt, Duane Howard, Steve Cummings, Brian Malcolm, Lee Dewitt, Tyler Keener, Ken Titus, Alan Barker.
American Racer/Lias Tire Bonuses (FREE Tire): Anthony Perrego (ninth) & Mike Ricci (11th)
ATL Fuel Cells Bonus ($200 Certificate): Billy Decker (10th)
Behrent's Performance Warehouse Bonuses ($50 Gift Cards): Danny Bouc (fourth) & Anthony Perrego (ninth)
Beyea Headers Heat Winners ($50 Certificates): Shaun Walker, Alex Yankowski, Mat Williamson, Jeff Strunk & Andy Bachetti
Beyea Headers Hard Charger ($200 Certificate): Mike Ricci (30th to 11th)
Fast Axle Bonus ($50 Certificate): Ryan Godown (sixth)
Henry's Exhaust Power Position Bonus ($50 Certificate): Mike Ricci (11th)
Land Hoe Maintenance Hard Charger ($200): Mike Ricci (30th to 11th)
QA1 Hard Charger ($50 Certificate): Mike Ricci (30th to 11th)
Precision Hydraulic & Oil Heat Winners ($100): Shaun Walker, Alex Yankowski, Mat Williamson, Jeff Strunk & Andy Bachetti
Racing Optics Bonus (Tearoff Sleeve): Shaun Walker (third)
Sunoco Race Fuels/Insinger Performance Bonuses ($50 Certificates): Mat Williamson (second), Billy Pauch Jr. (12th) & P.J. Goodwin (22nd)
Superior Remodeling Halfway Leader ($200): Mat Williamson
WELD Wheels Hard Luck Award (FREE Wheel): Brian Malcolm (DNQ)
Wilwood 'Lucky 7' Bonus ($50 Certificate): Mike Gular (seventh)
Bob Hilbert Sportswear Short Track Super Series Fueled By Sunoco Crate 602 Sportsman North Region Event No. 5 Feature Finish (25 laps): KENNY HAMMOND, Blaine Klinger, Dale Welty, Tommy Collins, Kyle Rohner, Aaron Shelton, Pat Jordan, Daniel Morgiewicz, Dustin Jordan, Stacy Jackson, Joseph Brown, Mike Austin, Jimmy Zacharias, Cole Stangle, Larry Mekic, Hunter Lapp, Aaron Bowes, Matt Spencer, Jason Feinberg, Mike Grover, Connor Sellars, Jake Mason, Marc Goodwin, Frank Dorry Jr., Jerry Lobdell Jr., Matt Brewer, Will Eastman.
Series Champion: Tom Collins Jr.
Did Not Qualify: Brian Fish, David Demorest, Nathan Brinker.
Street Stock Feature Finish (20 laps): SHANE WOLF JR., Kurt Stebbins, Trevor Dudley, Dylan Cecce, Earl Zimmer, Butch Green, Gene Sharpsteen, Doug Stack Sr., Jake Fowlston, Mike Wilbur, Steven Deinhardt, Rich Sharpsteen, Travis Brockner, T.J. Frost, Bob Crandall, Kyle Stark, Jonathan Fowlston, Rich Green, Brandon Birdsall, Kevin Garland, Shawn Boynton, Doug Polhamus, Matt Bowman.
Did Not Start: Kurt Decker
600 Modified Feature Finish (20 laps): BAILEY BOYD, Nate Brinker, Josh Pepe, Mark Golden, Josh Mudge, Jared Green, James Randall, Chace Scutt, Doug Windhausen, Chelsie Beebe, Aiden Morgan.
Vintage Modified Open Feature Finish (15 laps): MIKE HOUGHTALING, Bob Johnson, Charlie Houghtaling, Doug Atkins, Joe Judge, Bob Schmidt, Jon Atkins, Tex Gordon, Phillip Mitchell.