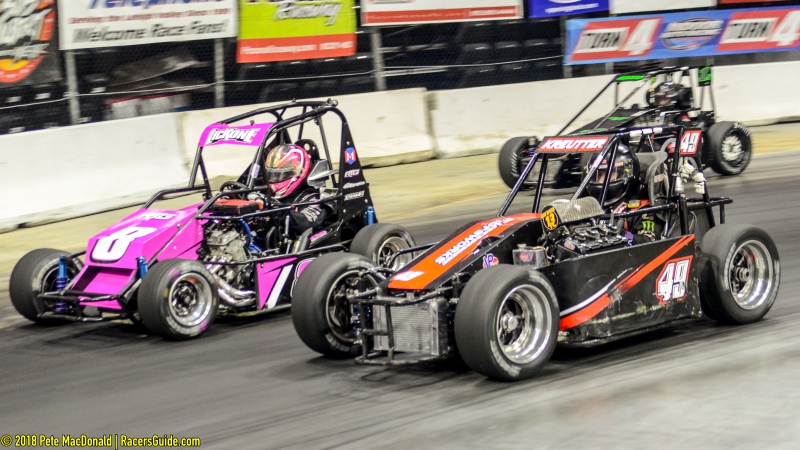 SCOTT KREUTTER READY TO GET BACK TO BUSINESS IN SYRACUSE INDOOR THREE QUARTER MIDGET RACES MARCH 8-9
Story By: Ernie Saxton/Indoor Auto Racing Championship
Photos By: Pete MacDonald/RacersGuide.com
SYRACUSE, NY February 13, 2019 . . . Scott Kreutter will be returning to the Indoor Auto Racing Series Fueled By VP for the upcoming Friday and Saturday, March 8th and 9th events at the New York State Fairgrounds Exposition Center in Syracuse, N.Y presented by RPM Raceway.
The Buffalo, N.Y. dirt Sprint Car driver missed the recent Atlantic City Gambler's Classic in late January Series race for a good reason. Kreutter's wife Allison gave birth to the couple's first child two days before he was scheduled to leave for the races. Dawson, eight-and-a-half pounds and 21 inches long, was born two weeks early.
"I needed to be with my wife and son," Kreutter shared.
"It had been a high-risk pregnancy. But as it happened, they were discharged three days later."
Indoor Auto Racing Series officials arranged for Kreutter to monitor the events via a live stream feed video. The courtesy proved to be nerve wrecking for Kreutter when Matt Farnham, the driver who car owner Trey Hoddick replaced Kreutter with, rode out a grinding crash against the Boardwalk Hall concrete wall.
Kreutter was particularly concerned for Farnham because the two have raced together and work on one another's cars. It was Kreutter, in fact, who suggested to car owner Trey Hoddick that Farnham, a top ranked upstate New York Dirt Small Block Modified driver, take his place.
Once Kreutter realized Farnham was not hurt, albeit shaken and dazed, his thoughts turned to the extent of damage the Hoddick No. 49 had sustained.
"The mounting point for the throttle cable on the engine broke off," Kreutter said. "When Trey and Karl (Hehr) got the car back to Trey's shop, they realized that the car was not bent beyond the front end. They cut it off and are making some update for Syracuse. And Trey, Karl and Matt went over the car to make sure nothing else was broken in the crash I feel bad for Matt. He puts a lot into this car, this was a great opportunity for him and he was making the most of it until the wreck."
Kreutter beliefs the rebuilt TQ Midget will be as good, if not faster when he unloads for the two day event on Friday, March 8th and 9th which will feature complete shows with 40 lap features each day. There will be added pressure placed on him as his employer, RPM Raceways have signed on as the presenting sponsor.
Kreutter works at the RPM indoor karting facility in Buffalo, N.Y., but they also have one just 10 minutes from the New York State Fairgrounds in the Syracuse Destiny USA Mall.
The Slingshots and Champ Karts will join the TQ Midgets with complete shows each day as well. Doors open at 6 PM on Friday night with racing beginning at 7:30. Doors open at 5:30 PM on Friday with racing at 7pm. Fans will be able to visit the pit area to see the cars and meet the drivers each night until 30 minutes before the racing begins.
The first Indoor Auto Racing Series event in Central New York will be the fourth and fifth legs of the series. Both races will offer equal points in helping decide a tight point race between former champions Erick Rudolph and Justin Bonsignore.
Four upstate New York powerhouses, recent Atlantic City Gambler's Classic winner Andy Jankowiak of Tonawanda, Modified dirt and paved track ace Patrick Emerling of Orchard Park, Oswego teenager Tyler Thompson and former Albany-Saratoga Speedway champion Marc Johnson are all expected to be contenders for a win.
The Exposition Center opened during the recent Labor Day Fair. The huge, state of the art $33 million project was built without obstructing poles. Grandstand seating will be available on both the front and backstretch. From their seats, fans will able to be able to see the entire speedway plus the pit area which will be located on the far side of the building. The building has a different seating configuration than other venues the series stops at in that grandstand patrons enter at track level, then walk up to seating areas.
Information including a direct link to E-Tix for advance tickets is available at indoorautoracingseries.com. At this location you'll be able to pick your choice seat from three sections located on both the front and the backstretch. Tickets can also be purchased by calling E-Tixs directly at 1-800-514-3849. Tickets will also be available each day of the event starting at 2 PM at the Expo Box Office, but prices increase by $5 each on the days of the event.
Event sponsorship packages to meet every budget are available by calling the series office at 609-888-3618 or by dropping Danny Sammons an email at danny@aarn.com.