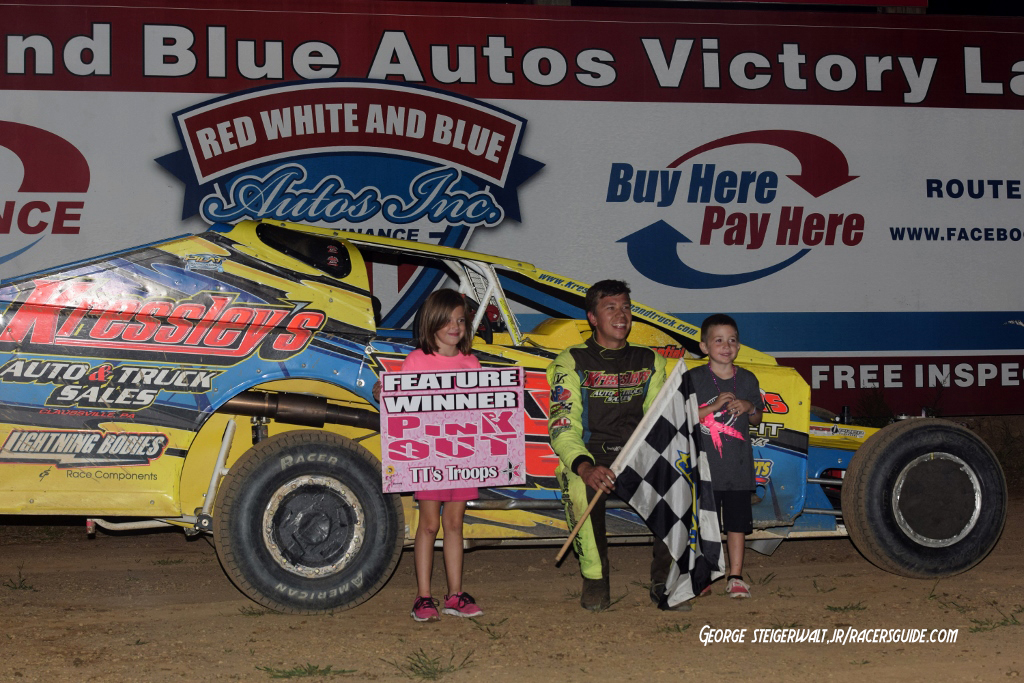 Kressley Dominates Diamond for Fourth Victory of The Season
Story By: Mandee Pauch/MPR
Photos By: George Steigerwalt Jr./RacersGuide.com
Mandee Pauch Relations – August 22, 2017 – Brett Kressley produced his fourth victory of the season Sunday evening at Big Diamond Speedway in Minersville, P.A. driving the Kressley's Auto & Truck Sales, Harry's U-Pull-It, Northern Valley Erectors, Inc., No.19k Modified.
The young gun out of Orefield, P.A. started second in his heat race. Kressley jumped out to an early lead and drove away to win it, placing him on the outside of the second row for the 25-lap main event.
"The car felt great after the heat so we didn't make any changes," Kressley added. "All we did was add some fuel."
Kressley shot into second on the initial start until a caution was brought out on the first lap, lining everyone back into their spots.
On the third restart Kressley was able to make the winning move early and grab the lead on lap four.
Kressley battled through multiple restarts running the topside with some success.
A mid race yellow saw Craig Von Dohren sneak into the runner up spot.
"We had another caution come out," Kressley said. "I chose the top on the restart and Craig and I drag raced down the front stretch. I was able to maintain the lead coming off of two. He drove up under me a couple of times. He gave me a good battle until the end."
Kressley never looked back after the final restart to take the checkered flag and grab his second victory at Big Diamond Speedway.
Looking ahead, Kressley is feeling confident leading into the bigger paying shows coming up.
"The season has had some ups and downs and we were fortunate enough to get some wins," Kressley added. "It definitely helps build some momentum going into the big shows at the end of the year. I'm confident with the cars setup and handling and hoping to have some solid finishes for the bigger races."
Kressley will be back at Big Diamond Speedway this Friday for the prelude to the Coalcracker and then Grandview Speedway on Saturday.
BRETT KRESSLEY QUICK RESULTS –
Aug. 20 – Big Diamond Speedway; Heat: 1 (2); Feature: 1 (4)
BRETT KRESSLEY SEASON STATS –
38 races – 4 wins, 8 top 5's, 14 top 10's
UP NEXT –
Friday, August 25 – Big Diamond Speedway
Saturday, August 26 – Grandview Speedway
MEDIA LINKS –
Facebook: www.facebook.com/kressleyb19
Instagram: www.instragram.com/brettsky19
SPONSOR SPOTLIGHT – Kressley's Auto & Truck Sales
For information on Kressley's Auto & Truck Sales, visit www.kressleysautoandtruck.com.
"If it weren't for Kressley's Auto & Truck Sales and my family I wouldn't be able to what I love on the weekends and some midweek shows," Kressley said. "They specialize in pickups and some SUV's."
Brett Kressley would also like to thank Kressley's Auto & Truck Sales, Harry's U-Pull-It, Northern Valley Erectors, Inc., Morgantini Racing Engines, Race Prep, Enders Racing Engines, Bicknell Racing Products, VP Fuels and Eibach Springs for their continued support.