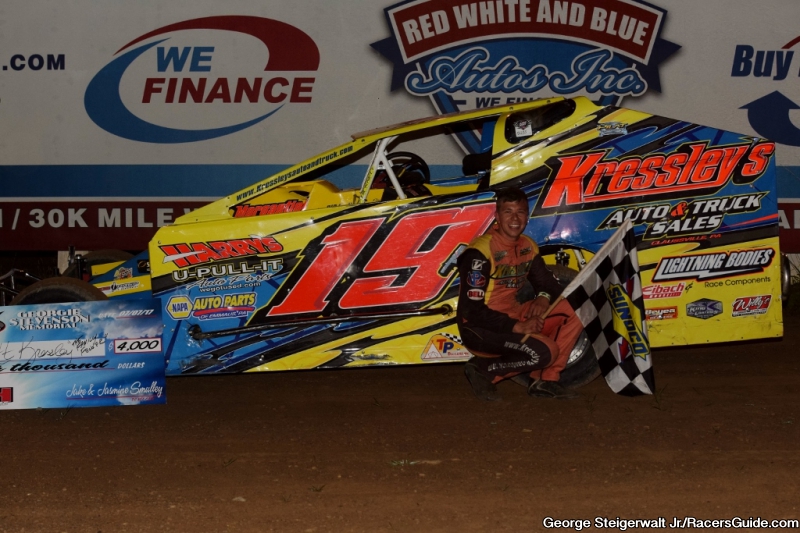 Kressley Conquers Georgie Stevenson Memorial
Story By: Mandee Pauch/MPR
Photos By: George Steigerwalt Jr./RacersGuide.com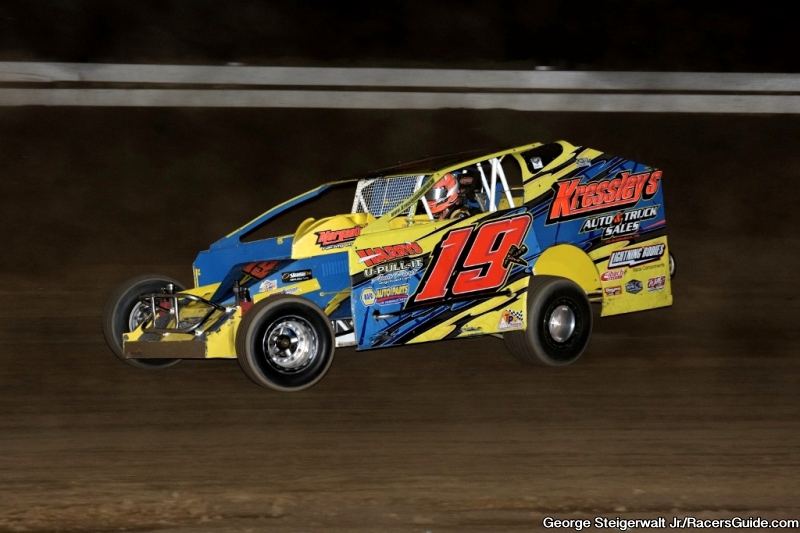 Brett Kressley took home the $4,000 payday Friday night at Big Diamond Speedway for the annual Georgie Stevenson Memorial in Minersville, P.A.
Kressley opened the evening with a heat race win in the No.19k, which lined him up on the pole for the 30-lap main event.
"We jumped out to an early lead," Kressley said. "We had a good lead until the caution came out on lap five which tightened everyone back up."
After a red flag the race was able to get back underway and went green until four to go.
"I was able to navigate my way through some lapped cars and maintain a decent sized lead," he said. "At Big Diamond they don't make the drivers move down for the leader like every other track. They tell the drivers to maintain their line and stay in their fast groove so I had to adjust my line a little bit and move around the guys which made it harder."
Kressley looked at the scoreboard with four laps remaining and noticed Craig Von Dohren and Ryan Godown were running second and third. "I started to get a little nervous. I was contemplating to pick the top or bottom on the restart. I was running the top the whole race. I felt I'd be more in control on the bottom so I picked the bottom."
Kressley then drove away and crossed the line by four-car lengths over Von Dohren to pick up his second victory of the season.
"I was ecstatic," he said. "The last two races there I have a first and a second. We're starting to turn our season around. We're finally running how we should."
Saturday evening saw Kressley and the team at Grandview Speedway in Bechtelsville, P.A.
Kressley ran away with the heat race win from his fourth-place starting spot.
Kressley lined up on the outside of the second row for the main event.
"I was able to jump right into second," he said. "The track went right to the top so I was able to catch up to the leader around lap five or six."
Kressley mentioned the leader spinning out going into turn three. Kressley had to check up, making an evasive maneuver and ending up bouncing off the wall to miss it. "I was up in the fence as he was spinning around. It wasn't pretty."
"After that I had a good lead," he said. "I had a little bit of a tough time in lapped traffic. With about five to go I got caught behind one guy that gave me a little trouble. Then with two to go I started to miss my marks a little bit. Mike Gular was able to catch up to me and beat me to the line by a car length."
Following the feature, the track officials did their routine tech inspection of the top three cars. "It was an unfortunate situation but we ended up being disqualified," Kressley said. "We will be back next week just as strong."
Next up for Kressley and the team will be Bridgeport Speedway on Tuesday, Big Diamond Speedway on Friday, Grandview Speedway on Saturday and back to Big Diamond Speedway on Sunday.
BRETT KRESSLEY QUICK RESULTS –
July 7 – Big Diamond Speedway; Heat: 1 (1); Feature: 1 (1)
June 8 – Grandview Speedway; Heat: 1 (4); Feature: DQ (4)
BRETT KRESSLEY SEASON STATS –
29 races – 2 wins, 5 top 5's, 11 top 10's
UP NEXT –
Tuesday, July 11 – Bridgeport Speedway
Friday, July 14 – Big Diamond Speedway
Saturday, July 15 – Grandview Speedway
Sunday, July 16 – Big Diamond Speedway
MEDIA LINKS –
Facebook: www.facebook.com/kressleyb19
Instagram: www.instragram.com/brettsky19
SPONSOR SPOTLIGHT – Harry's U-Pull-It
Harry's U-Pull-It is a self-service used auto parts salvage yard located in Hazleton, Allentown and Pennsburg, P.A. To find more information on Harry's U-Pull-It, visit www.wegotused.com.
"I'd like to take the time to thank owner Joe Kress for taking us onboard last year and continuing to support us in the 2017 season and hopefully many more to come."
Brett Kressley would also like to thank Kressley's Auto & Truck Sales, Harry's U-Pull-It, Northern Valley Erectors, Inc., Morgantini Racing Engines, Race Prep, Enders Racing Engines, Bicknell Racing Products, VP Fuels and Eibach Springs for their continued support.