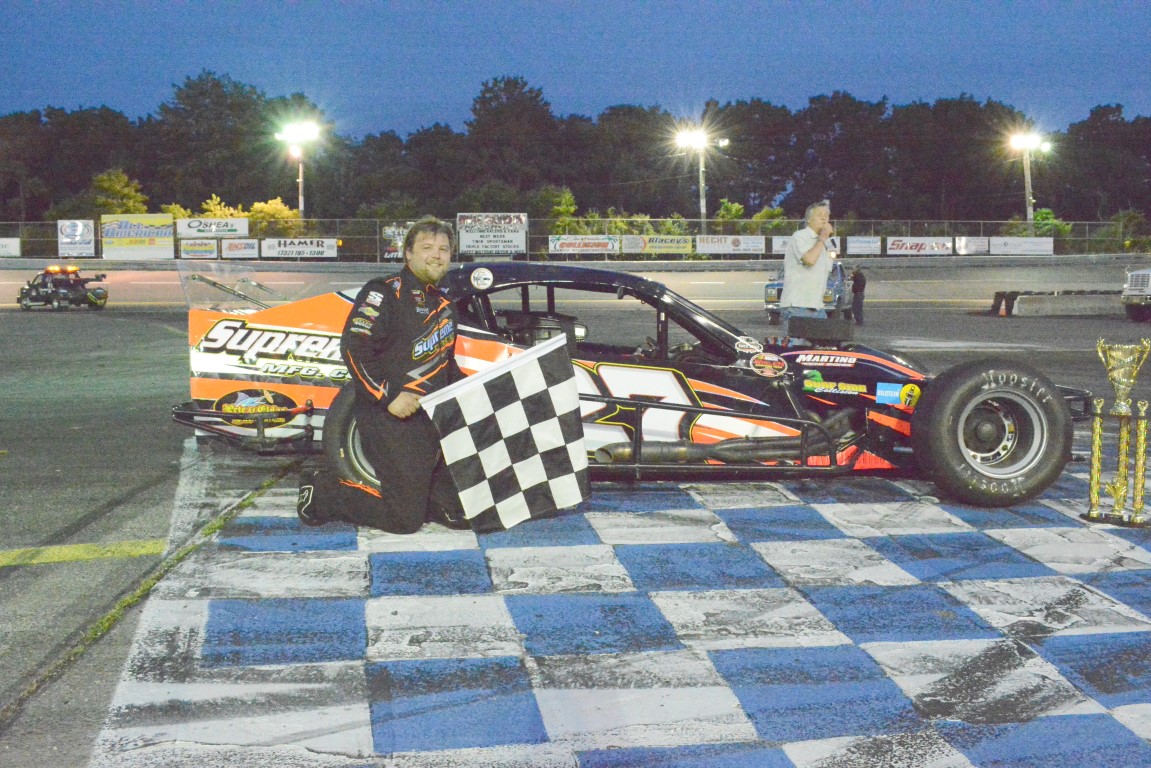 KRAUSE TAKES EMOTIONAL FATHER'S DAY WALL VICTORY
Story By: Jeff Gravatt/Wall Stadium
Photos By: John John Lane/RacersGuide.com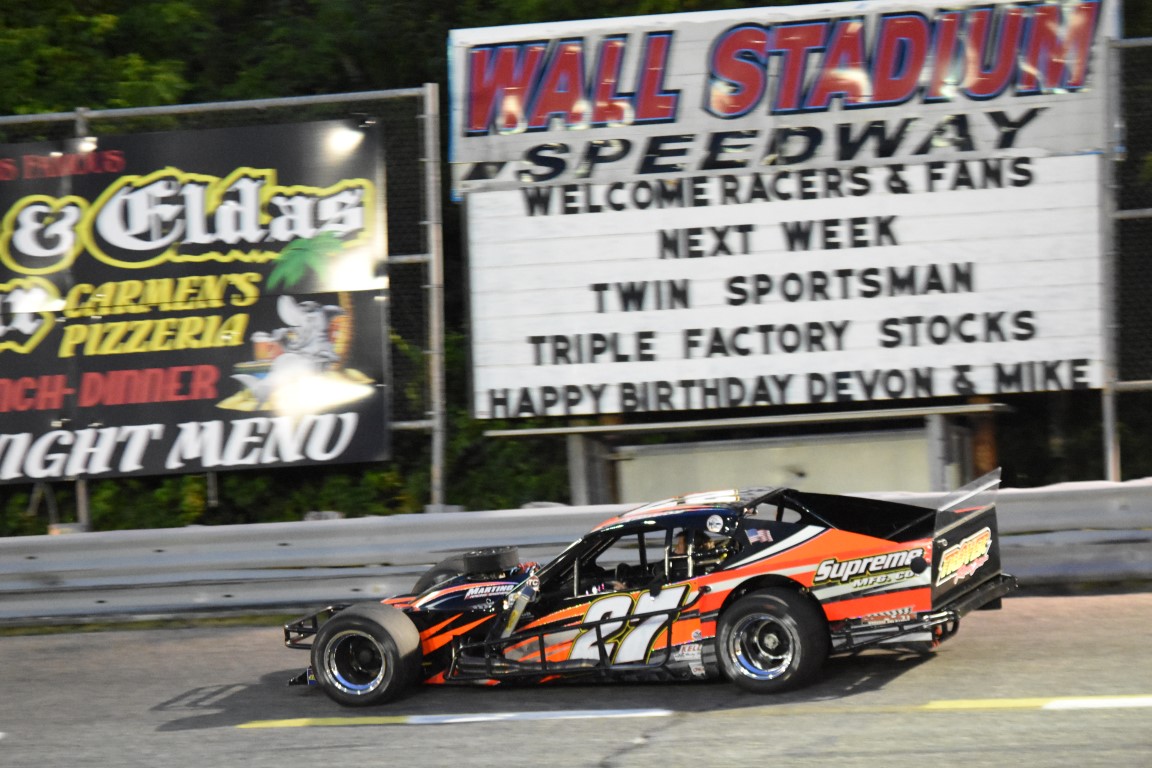 WALL TOWNSHIP, N.J. ~ Andrew Krause of Holmdel nailed down an emotional stock car victory at Wall Stadium Speedway on Saturday night of Father's Day weekend in the All American Auto Group Racing Series. After his Pete and Elda's Bar/Carmen's Pizzeria Modified 40-lap win, Krause dedicated the victory to the memory of his father, Cliff Krause. The senior Krause, who passed away in January, promoted the speedway for several years. His family still promotes the track today.
Jackson's Steven Reed took the lead at the drop of the green flag but Krause and a host of others were charging to the front. Krause was the first to get to Reed and made an outside lane pass on lap seven. Soon Eric Mauriello and Jimmy Blewett, both of Howell, joined Krause and Reed in the top four.
As the race neared the halfway mark Reed and Blewett battled fiercely for the runner-up spot before the caution waved when Blewett stopped with a flat tire. Once action resumed Krause raced home for the emotional victory and stopped Blewett's win streak at five victories. Reed, Mauriello, Blewett and Ricky Collins of Willow Grove, Pa. completed the top five.
"This is a very emotional weekend for my family so this win really means a lot," Krause said after the victory. "My father has done so much for me and my family. He has done so much for this great place."
Eric Lane of Howell raced to his second victory of the year in the companion 25-lapper for the Center State Engineering Sportsman cars. Lane took the lead near the halfway mark after early leaders Kevin Davison of Howell and Jarret DiGiantomasso of Jackson tangled in turn four. Lane then survived his own restart trouble before taking the win. Farmingdlae's John McCormick, Davison, Brick's Robert Sutphin and Eddie McCarthey of Pt. Pleasant wrapped up the top five.
Point race leader Mike Montano of Freeport, N.Y. took the win in the 25-lapper for the O'Shea's Auto Repair Factory Stocks. Defending champ Scott Riggleman of Manchester was second, with Elliot Wohl of Bayville and Bob Haberstick and Bryan O'Shea, both of Wall, completing the top five.
Sal Liguori of Hazlet won his second straight Surfside Collision 4 Cylinder Stock main event over defending series champ Brian OsBorn of Howell. Wall's TJ Graves, Neil Rutt and Mike Lavery were third through fifth.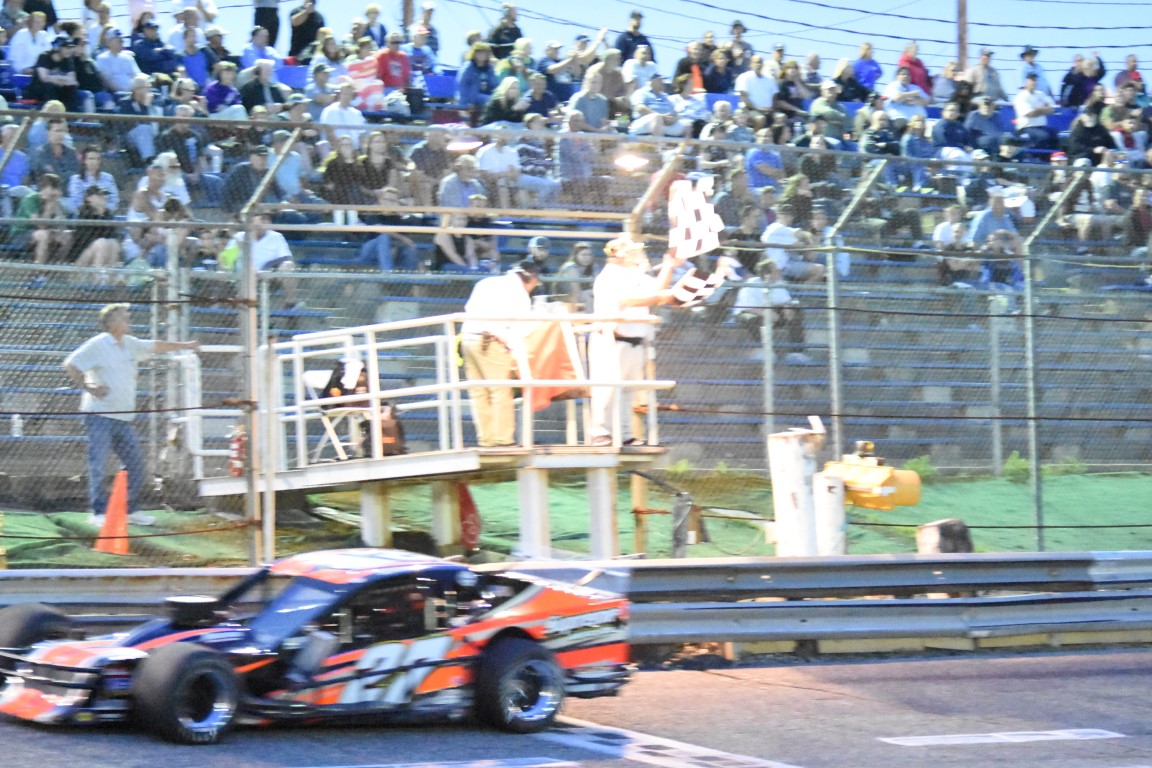 Mike Alcaro of West Milford was tops in the Green Flag Driving Experience Legend Cars 25-lapper with Nick Van Wickle of Edgewater Park and Kyle Dealaman completing the top three. Shannon Mongeau of Manchester won the 25-lap Mike's Performance Center Limited Late Model feature over Brick's Joe Mongeau and Harry Schaeffer of Carteret.
The All American Auto Group Racing Series continues this Saturday evening (June 23) with the Modifieds in a 40-lapper, the Center State Engineering Sportsman cars in twin 25-lappers, the Factory Stocks in triple 25-lappers and the 4 Cylinder Stocks in a 25-lapper during Ladies' Night activities. Grandstands open at 5:00 p.m., with qualifying set for 5:45 p.m. and feature race action set for 7:00 p.m.
Saturday night racing action continues through early October with schedule details at wallspeedwayracing.com.
Wall Stadium is located on Route 34 in Wall Township, N.J., just one mile north of Garden State Parkway exit 98 and Interstate 195 exit 35B. The speedway hotline number is 732-681-6400 and email address is ckmotorsports@aol.com.
RACE RESULTS
MODIFIED FEATURE – 40 Laps – 1. ANDREW KRAUSE, HOLMDEL, 2. Steven Reed, 3. Eric Mauriello, 4. Jimmy Blewett, 5. Ricky Collins, 6. Jason Treat, 7. Blake Barney, 8. Kenny Van Wickle, 9. Tyler Truex, 10. Chas Okerson
SPORTSMAN FEATURE – 25 Laps – 1. ERIC LANE, HOWELL, 2. John McCormick, 3. Kevin Davison, 4. Robert Sutphin, 5. Eddie McCarthy, 6. Michael Rising, 7. Larry Thompson, 8. Jarret DiGiantomasso, 9. Kyle Scisco, 10. Jonathan Laureigh, 11. Joe Cooley, 12. Jake Nelke, 13. Carsten DiGiantomasso, 14. Andy Wolko, 15. Louie Keraitis, 16. Robert Vassilatos, 17. Roland DeMartino, 18. Chris Oswik
FACTORY STOCK FEATURE – 25 Laps – 1. MIKE MONTANO, FREEPORT, N.Y., . Scott Riggleman, 3. Elliot Wohl, 4. Bob Haberstick, 5. Bryan O'Shea, 6. John Bowers, 7. Ron Booth, 8. Gerry Koenig, 9. Tom Rajkowski, 10. Tony Bartone, 11. Theresa Collins, 12. Richie Byrne, 13. Robert DePonte, 14. Tim Majek, 15. Robert Ptaszynski, 16. Matt Badessa, 17. Waylon Speer, 18. Nancy Riggleman, 19. Kenny Green.
4 CYLINDER STOCK FEATURE – 25 Laps – 1. SAL LIGUORI, UNION BEACH, 2. Brian Osborn, 3. TJ Graves, 4. Neil Rutt, 5. Mike Lavery, 6. Chris Silvestri, 7. Nicole Razzano, 8. Jennifer Schultz, 9. Darren Burdge, 10. Darianne McLaren, 11. Jeff Loesch, 12. Willie Davis, 13. Bill Schwartz, 14. Richard Smith
LEGEND CARS FEATURE – 25 Laps – 1. MIKE ALCARO, WEST MILFORD, 2. Nick Van Wickle, 3. Kyle Dealaman, 4. Peter Bruno, 5. Joe Fresco, 6. James Van Wickle, 7. Roger Nickerson, 8. Joe Przyblinski, 9. Bill Petrolino, 10. Chris Hammett
LIMITED LATE MODEL FEATURE – 25 Laps – 1.SHANON MONGEAU, MANCHESTER, 2. Joe Mongeau, 3. Harry Schaeffer, 4. Rick Kopf, 5. Greg Gastelu, 6. Mike Tillett, 7. Rob Moorman, 8. James Moorman