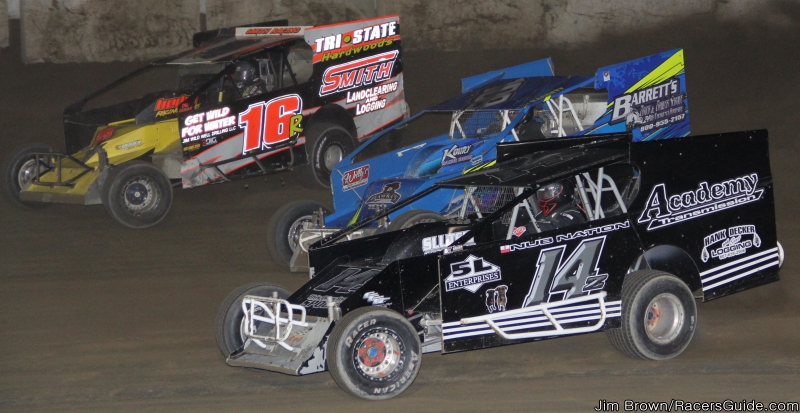 KEVIN BATES HONORED WITH FIRST MODIFIED CHAMPIONSHIP AT FIVE MILE POINT SPEEDWAY AWARDS DINNER.
Story By: Andy Harlep/Five Mile Point Speedway
Photos By: Jim Brown/RacersGuide.com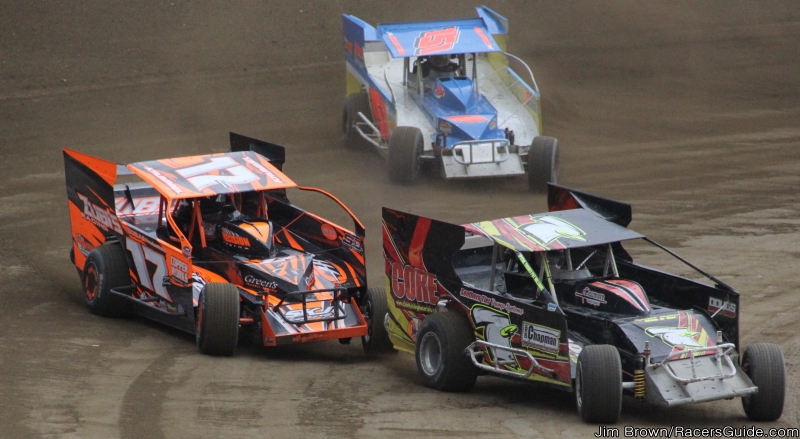 KIRKWOOD, NY…The Claude Garrison Memorial, Inc. American Legion post 1645 in Binghamton, NY was the site of the 2017 Annual Five Mile Point Speedway Awards Dinner. Kevin Bates from Lake Ariel, PA was honored as the 2017 Modified Track Champion at the historic speedway this past Saturday. A large gathering attended the annual dinner as all of the 2017 Track Champions were honored with our special awards presented throughout the evning as well. The 68th consecutive Five Mile Point Speedway racing season gets underway on Saturday, March 31st.
Bates, raced to his first ever Five Mile Point Speedway Modified Track Championship this past season with a combination of consistency and at times dominance. Bates gathered three feature wins on his way to the championship season at the racy quarter mile oval. All three of his wins came in impressive style. Bates commented on his feat during the awards dinner, "We have so many good people that helped us to reach this goal in 2017. We always enjoy racing at Five Mile Point Speedway, it's a fun track and the competition is tough." He added, "We're looking forward to 2018 and the new clay surface, it should be interesting as the competition looks even better this season."
The championship was worth $4,000 for Bates despite only twelve point races were held during a season that saw challenging weather throughout. Bates outdueled Tyler Siri for the overall weekly Modified Championship. Although Siri was unable to collect a feature win he did challenge every week on his way to a fine second place finish in the standings. Multi-time Track Champion Mike Colsten finished third with Nick Rochinski and Brad Sulewski completing the top five positions in the division. Mike Butler, Glenn Knapp, Brian Weaver, Aleia Geisler and P.J. Goodwin placed in final point positions six through ten.
Modified driver Nick Rochinski was also honored for his Modified Sunday Summer Slam Championship. The four race program held on Sunday's saw some of the top invaders converging on Five Mile Point Speedway. Rochinski, a track regular showed all of the outsiders the fast way around for his first Modified title at the speedway. That championship was worth $2,000 for the driver from Dickson City, PA.
For the second straight year Kyle Rohner from Bushkill, PA was honored as the Crate Sportsman Track Championship. Rohner collected three weekly feature wins on his way to the title. He was also the winner of the season ending "Great Crate Race" for the second straight season. Rohner commented on his title, "We have enjoyed racing at Five Mile Point Speedway, everyone has treated us well and the racing is typically very clean." Rohner did announce that he will not be competing weekly for his third straight championship. He has signed on to drive for another team weekly at Middletown Speedway which will take some of the pressure of his family owned racing operation. This will leave the 2018 championship battle wide open in the division. Rohner outdistanced Devon Zona and Matt Cole for the championship. Kyle Pierce and Randy Fox completed the top five in the final standings.
Doug Polhamus from Windsor, NY was honored for his first Five Mile Point Speedway Street Stock Track Championship. Polhamus recorded two feature wins during his championship point season. Polhamus remarked on the weekly three wide racing in the division, "We had a lot of fun coming back to the speedway this season, the guys we raced with kept us on our game right until the final lap of the championship. Shane Wolf, Jr., Ricky Davis, Matt Bowman and Ray Lindquist placed in the final top five in the standings.
Nick Kennedy also from Windsor, NY was honored as the Lightning Cat Expert feature. Kennedy claimed five feature wins during his championship campaign. Kenny Underwood, Dave Simms, Adam Gilbert and Josh Wilder completed the top five in final points.
Eric Beach from New Milford, PA was introduced as the 2017 Factory Stock Track Champion. Beach recorded five feature wins during the season long point battle. Charlie Towner, Josh Towner, Steve Mower and Matt Millard filled the top five slots. Beach is expected to move up to the Street Stock division in 2018.
For the third straight season Dalton Maynard was honored as the Slingshot Track Champion at Five Mile Point Speedway. Maynard won nine out of the eleven scheduled races this past season in dominating fashion. Maynard, from New Albany, PA will be moving in to the Crate Sportsman division for 2018. Shane Lewis, Shane Lewis Sr., Blaine Klinger and Alex Boughton filled the final top five slots.
Brian Salmini was introduced as the 2018 Lightning Cat Novice Track Champion. Salmini recorded three feature wins including the Season Championship night finale. Salmini, from Binghamton will be moving up to the Lightning Cat Expert class this season. Randy Lane, John Maynard, Walter Decker and Jason Colwell, Jr. claimed the top five positions.
Kenny Underwood was honored as the Front Wheel Drive Four Cylinder Fantastic Five Championship. Underwood won two of the five events which included the season finale race worth $1,000.
A number of special awards were presented during the evening. The Best Appearing Car Award Winners were: Mike Butler (Modifieds), Devon Zona (Crate Sportsman), Doug Polhamus (Street Stock), Eric Beach (Factory Stocks), Frank Smith (Lightning Cat Expert), Mike Stark (Lightning Cat Novice), Blaine Klinger (Slingshot).
The Most Improved Drivers were: Kevin Bates (Modifieds), Devon Zona (Crate Sportsman), Josh Towner (Factory Stock), Josh Wilder (Lightning Cat Expert), Brian Salmini (Lightning Cat Novice).
The 2017 Rookie of the Year award winners were: Aleia Geisler (Modifieds), Matt Cole (Crate Sportsman), Alan Komar (Factory Stocks), Mike Wilmot, Jr. (Lightning Cat Expert).
The annual "Head of the Class" Award presented by speedway owner Andrew Harpell was presented to Rick Lunn from Binghamton, NY. The award is annually presented to the driver that best demonstrates sportsmanship and a positive presence at the speedway. Lunn, is a Lightning Cat Expert driver.
The Annual Glenn Knapp, Sr. Memorial "Owner of the Year Award" was presented to Five Mile Point Speedway Track Owner Andrew Harpell. The Knapp Family has been involved with the weekly racing program at the speedway for decades and decide the recipient each year.
Beautiful trophies and plaques were handed out to the teams as well as point fund money. A major winter storm on Friday didn't dampen the great atmosphere at the awards dinner. The weather did affect a number of teams and their families. The Rohner family had no power and numerous downed trees at their residence which prevented several family members from attending. Modified driver Brad Szulewski was also unable to attend due to having no power at their residence as well.
The 2018 Five Mile Point Speedway racing season officially gets underway on Saturday, March 31st. A new clay surface was put on the historic quarter mile oval back in December and a number of new teams are planning on making the speedway their weekly home in 2018. It was announced that the weekly Modified Track Championship will pay an extra $1,000 thanks to Tonarlo's Restaurant in Conklin, NY. The Crate Sportsman and Street Stock division will join the Crate Wingless Sprints as new partners in the Sunday Summer Slam Racing program in 2018. The Modifieds and Xcel Modifieds have had existing Summer Slam racing programs in the past and will return to the Sunday action in 2018. The Xcel 600 Modifieds will also return for weekly competition in 2018.
Five Mile Point Speedway is one of the most historic racing facilities in the United States. Built in 1951 by Irving and Anna Heath the speedway is priming for a big 68th consecutive season of auto racing. For more information please log on to www.5milepointspeedway.com or email us at fivemilepoint1@aol.com. The speedway raceline is 607-775-5555.