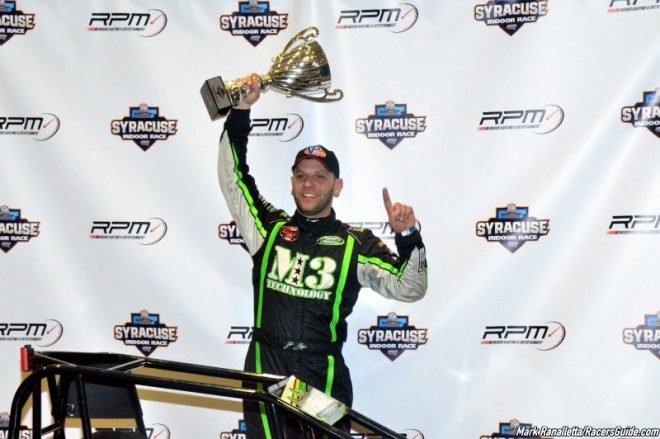 JUSTIN BONSIGNORE, TJ REED AND AUSTIN SILFEE ARE SYRACUSE INDOOR FRIDAY NIGHT WINNERS; SERIES CONCLUDES TONIGHT; CHAMPIONS TO BE HONORED
Story By: Ernie Saxton/Indoor Auto Racing Championship
Photos By: Mark Ranalletta/RacersGuide.com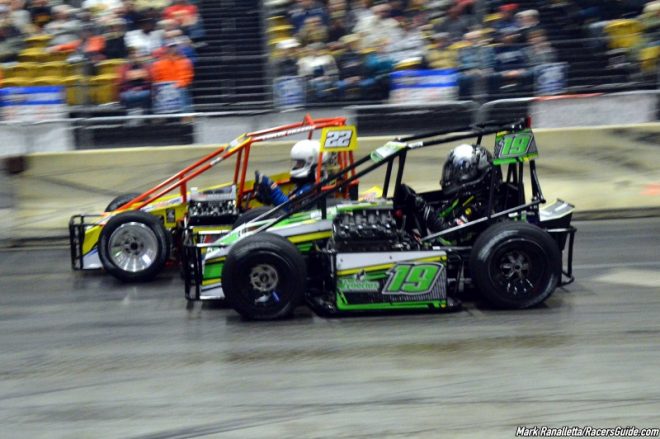 SYRACUSE, NY March 9, 2019 . . . Justin Bonsignore of Holtsville, Long Island, NY bested Erick Rudolph of Ransomville, NY Friday night in the 40-lap Three Quarter (TQ) Midget Indoor Auto Racing Series Fueled By VP Race Fuels in a titanic fight to the finish between two past Series champions locked in mortal combat.
"You never have to worry about racing with Erick (Rudolph). He's tough to beat but he races you clean," Bonsignore said.
The pair swapped the lead six times officially and many more times that during their wheel to wheel battle royal.
Timmy Solomito finished third in his best effort yet in Indoor TQ racing followed by Mike Bednar who was making just his third career start in a TQ indoors and first as a driver for car owner Earl Paules. Andy Jankowiak was fifth after spinning from the top five eleven laps into the race and restarting last.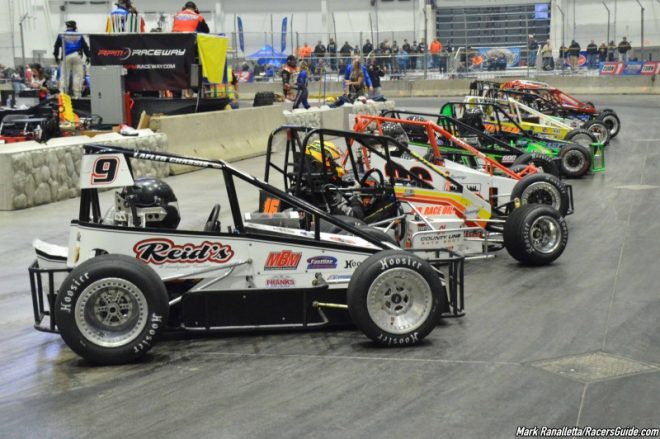 Rudolph leads Bonsignore by six points heading into Saturday night's TQ Series finale.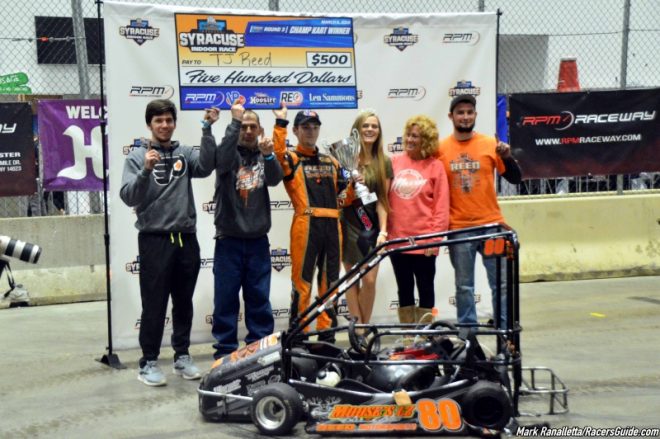 TJ Reed of Carlisle, PA, moved from third to first with one lap left in the 20-lap Champ Kart feature after leader Mike Perry spun after contact from behind from challenger Todd Crenshaw. Race officials penalized Crenshaw, opening the door for Reed to run out the final lap to victory.
Reed not only came from behind to win at the end, he also had to win the Champ Kart B-Main to gain a starting spot into the field.
Brandon Rusczek finished second followed by Eric Zeh, JJ Pacovich and Dan Marsden. Rusczek leads in the Champ Kart point standings by 30 marker over Ryan Kendall heading into Saturday night's season finale.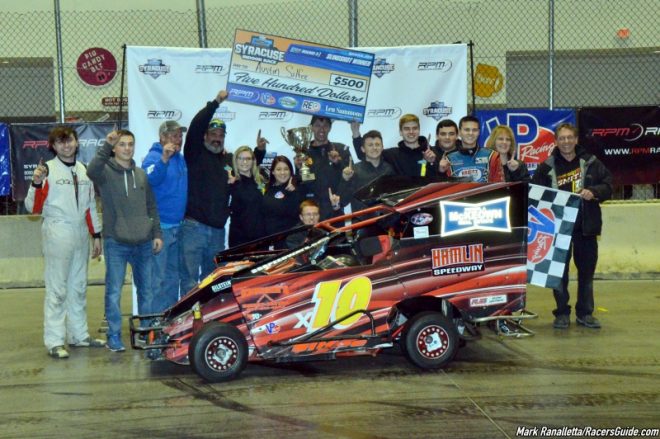 The Slingshot 20-lap feature was won by Austin Silfee of Saylorsburg, PA, who made contact with race long leader Craig Whitmoyer following a late race restart. Whitmoyer settled for second with Kurt Bettler, Danny Buccafusca and Kyle Herve trailing.
Kurt Bettler takes an eight point advantage into tomorrow's Slingshot Series finale.
Fifty-two TQ Midget teams took time Friday afternoon with Justin Bonsignore's 8.161 clocking besting Mike Bednar (8.226), Andy Jankowiak (8.303), Erick Rudolph (8.323) and Shawn Nye (8.335).
Marc Johnson, Ryan Tidman, Jankowiak, Rudolph, Jeremy Haudricourt and Matt Janisch won the six TQ 10-lap heat qualifiers. B Mains were won by Joey Jarowicz, Jr., Tyler Thompson and Kyle Hutchinson.
Champ Kart heats were won by Pacovich, Crenshaw, and Kendall. Feature winner Reed won the B Main.
Craig Whitmoyer, Austin Silfee and Nick Lapicki were the Slingshot heat winners.
The final night of the inaugural Syracuse Indoor Race Weekend takes place tomorrow, Saturday, March 9, at the New York State Fairgrounds Expo Center. Doors open to the public at 5:30 PM. The pit area will be open to spectators for a Fan Fest celebration from gate opening to 6:30 PM. Racing begins at 7:00 PM, featuring a full program of TQ Midget, Champ Kart and Slingshot racing. At the end of the racing, champions will be crowned in the three Indoor Auto Racing Series Fueled By VP Race Fuels classes.
TQ Midget Feature (40 Laps): 1. Justin Bonsignore, 2.Erick Rudolph, 3. Timmy Solomito, 4. Mike Bednar, 5. Andy Jankowiak, 6. Matt Janisch, 7. Tim Buckwalter, 8. Joey Payne, 9. Eddie Strada, 10. Jeremy Haudricourt, 11. Ryan Tidman, 12. Marc Johnson, 13. Randy Cabral, 14. Pat Bealer, 15. Jonathan Reid, 16. Earl Paules, 17. Brett Conkling, 18. Chad Parks, 19. Anthony Sesely, 20. Steve Kemery, 21. Tyler Thompson, 22. Timmy Catalano, 23. Anthony Payne, 24. Ryan Bartlett, 25. Kyle Hutchinson, 26. Joey Jarwicz, Jr.
Champ Kart Feature (20 Laps): 1.TJ Reed, 2. Brandon Rusczek, 3. Eric Zeh, 4. JJ Pacovich, 5. Dan Marsden, 6. Ryan Kendall, 7. Richie Davidowitz, 8. DJ Doyle, 9. James Stutts, 10. Brianna Page, 11. John Hribko, 12. John Berger, 13. Todd Crenshaw, 14. Tyler Brown, 15. Mike Perry, 16. Nick McGill, 17. Robert Miles, 18. Dominic Roselli, 19. Jake Nelke, 20. Frank Hodge.
Slingshot Feature (20 Laps): 1. Austin Silfee, 2. Craig Whitmoyer, 3. Kurt Bettler, 4. Danny Buccafusca, 5 Kyle Herve, 6. Cody Kline, 7. Mark Mohr, 8. Nick Shaw, 9. Matt Mertz, 10. Mike Lapicki, 11. Brett Putnam, 12. Kevin VanValkenburg, 13. Tyler Truex, 14. Jared Silfee, 15. Louden Reimert, 16. Jimmy Gagne, 17. Brian Preville, 18. Don Boonstra, 19. Seth Spayd, 20. Cody Kohler.