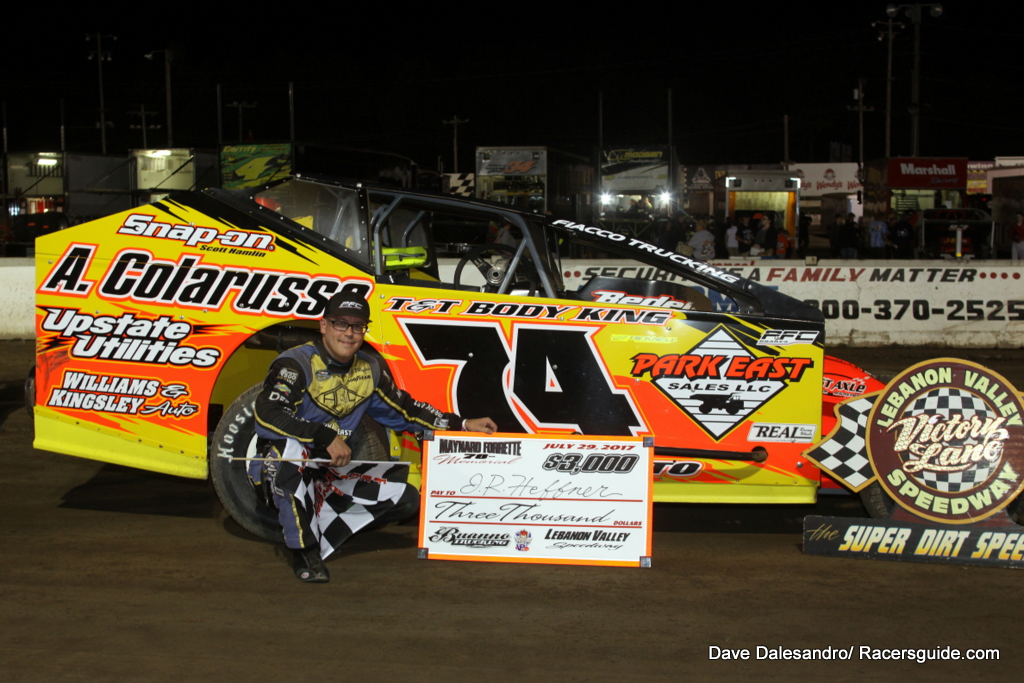 JR HEFFNER IS 358 KING ON THE HIGH BANKS
Drellos Climbs To 6th In KOD Tour Point Standings
Story By: Rob Hazer/KOD
Photos By: Dave Dalesandro/RacersGuide.com
July 31, 2017 (West Lebanon, NY) – There were so many story lines going on Sunday night at Lebanon Valley Speedway even George R.R. Martin himself couldn't keep up, but at the end of the night the famed Game Of Thrones author would have been pleased with the dramatic outcome of the King Of Dirt Racing Small Block Modified 35-lap feature event. JR Heffner inherited the lead on lap 15 and never looked back holding off challenges from Demetrios Drellos to earn the $2,200 payday.
Peter Carlotto and Frank Harper led the 32-car field to the green flag, with Harper taking the early lead. All eyes quickly focused on J-Tees Screen Printing fast timer of the day Brian Berger driving the famous 115, who took over 2nd and began chasing down Harper.
Track regular Brian Peterson had his hands full mixing it up with tour regulars Demetrios Drellos and Neil Stratton for position inside the top five, while Dirt Rush driver Jason Herrington and fellow competitor Brett Haas began moving their way forward.
The aforementioned Brian Berger caught Frank Harper in traffic and pressured for the lead until lap 14 when he took the top spot, but suddenly on lap 15 that all changed. A yellow flag slowed the field and Berger came to a stop in turn four, while Harper headed to pit road. The engine in the 115 had expired one lap after taking the lead and the 25 fell to mechanical failure. This handed the lead over to the force known as JR Heffner.
Allison Ricci was on the move from her 15th starting position with the Halmar International number 55 along with Jeremy Wilder who started 19th. Both drivers were battling for top 10 positions by the mid way point of the race.
Matt DeLorenzo had the BBL Companies number 3d moving forward after starting 17th on the grid. The little giant would ultimately end up bringing home a 12th place finish respectively.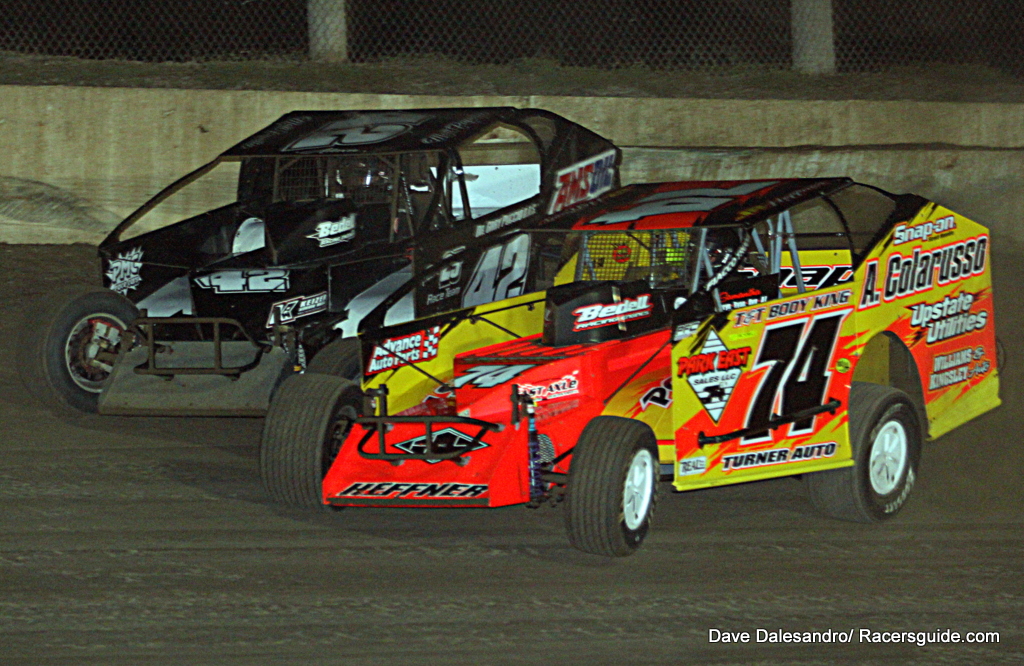 The NAPA kid Jack Lehner is enjoying the learning experience of being on tour for the first time. The NAPA Auto Parts number 2 started 24th and drove home to a 16th place finish respectively.
All this was behind JR Heffner as he fought off challenges from the Gatorworks number 111 of Demetrios Drellos to win the battle on the banks. Jason Herrington grabbed 3rd, while Brian Peterson, Brett Haas, Pete Carlotto, Neil Stratton, Dillon Steuer, Allison Ricci, and Jessey Mueller rounded out the top ten.
KOD NOTES: 32 cars were in house at Lebanon Valley Speedway for the 3rd race of the 2017 King Of Dirt Small Block Modified tour. Noticeably missing was point leader Marc Johnson who opted for a sub due to commitments at Utica Rome Speedway, which is allowed one time per season by series rule. JR Heffner defended home turf to pick up the win; his 1st KOD series win thus far. By virtue of moving forward during the feature passing fellow racers Jeremy Wilder was awarded the Herrington Farms hard charger, while Elmo Reckner earned an award most guys would rather not receive; the Herrington Farms Hard Luck. Demetrios Drellos was the big mover in the standings climbing from 11th to 6th in tour points.
JULY 30, 2017 ELMO'S SPEED SUPPLY KING OF DIRT RACING SMALL BLOCK MODIFIED SERIES PRESENTED BY HERRINGTON FARMS & DMC RACING PRODUCTS FEATURE FINISH AT LEBANON VALLEY SPEEDWAY (35 Laps) – 1) JR Heffner, 2) Demetrios Drellos, 3) Jason Herrington, 4) Brian Peterson, 5) Brett Haas, 6) Pete Carlotto, 7) Neil Stratton, 8) Dillon Steuer, 9) Allison Ricci, 10) Jessey Mueller, 11) Jeremy Wilder, 12) Matt DeLorenzo, 13) Timothy Davis, 14) Tyler Boniface, 15) Brandon Pitcher, 16) Jack Lehner, 17) Shaun Pangman, 18) Michael Sabia, 19) Brian Gleason, 20) Ryan Charland, 21) CG Morey, 22) Sean Mandel, 23) Ray Hall Jr, 24) Chad Pierce, 25) Ricky Davis III, 26) Brian Sandstedt, 27) Brian Berger, 28) Frank Harper, 29) Frank Hoard III, 30) Alan Houghtaling, 31) Jason Tompkins, 32) Elmo Reckner (DNS).
KOD Small Block Modified Heat #1 Results (8 Laps) – 1) Pete Carlotto, 2) Frank Harper, 3) Jessey Mueller, 4) Timothy Davis, 5) Matt DeLorenzo, 6) Michael Sabia, 7) Brian Gleason, 8) Shaun Pangman.
KOD Small Block Modified Heat #2 Results (8 Laps) – 1) Demetrios Drellos, 2) JR Heffner, 3) Brett Haas, 4) Frank Hoard III, 5) Ricky Davis III, 6) Alan Houghtaling, 7) Chad Pierce, 8) CG Morey.
KOD Small Block Modified Heat #3 Results (8 Laps) – 1) Ray Hall Jr, 2) Jason Herrington, 3) Neil Stratton, 4) Allison Ricci, 5) Jeremy Wilder, 6) Jason Tompkins, 7) Sean Mandel, 8) Brandon Pitcher.
KOD Small Block Modified Heat #4 Results (8 Laps) – 1) Brian Berger, 2) Dillon Steuer, 3) Brian Peterson, 4) Tyler Boniface, 5) Brian Sandstedt, 6) Jack Lehner, 7) Ryan Charland, 8) Elmo Reckner (DNS).
DTD Lap Leaders – Frank Harper (1-14), Brian Berger (15), JR Heffner (16-35).
Herrington Farms Hard Charger – Jeremy Wilder
Herrington Farms Hard Luck – Elmo Reckner
Fast Axle Superior Sixth – Pete Carlotto ($50 Certificate)
J-Tees Fast Timer – Brian Berger (20.463)
Newcomer Of The Race – Demetrios Drellos (2nd)