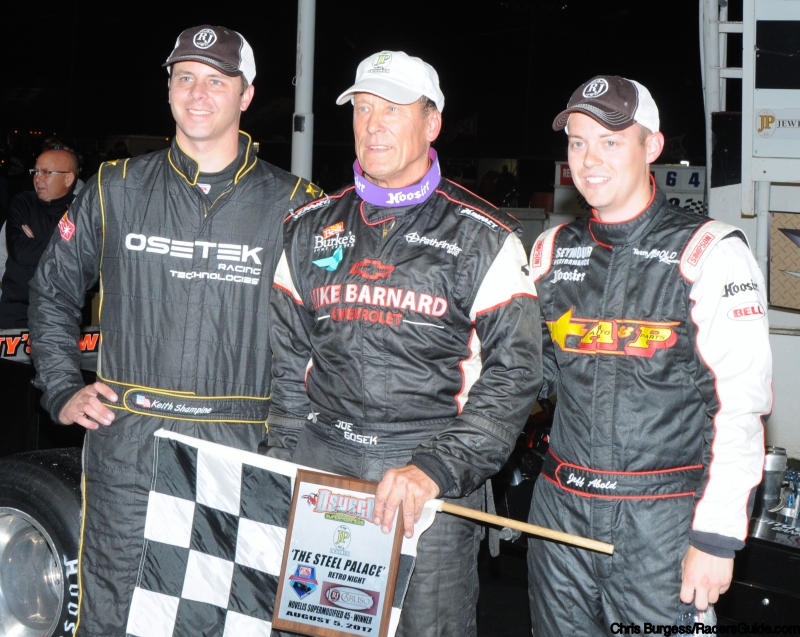 Joe Gosek Electrifies 'Retro Night' Crowd with 43rd Career Oswego Victory
Story By: Camden Proud/Oswego Speedway
Photos By: Chris Burgess/RacersGuide.com

OSWEGO, NY (August 6, 2017) – He's still got it. 61 year-old Joe Gosek did it again last night at Oswego Speedway, earning his 43rd career victory on 'Retro Night' at the Big O, bringing the crowd to it's feet as Gosek became the oldest non-wing Supermodified winner in track history.
The driver of the Burke's Do It Best Home Centers No. 00 didn't waste any time getting to where he wanted to be, the lead, in the 45-lap special, which was ran in honor of the 'retro' program presented by RJ Caruso Tax and Accounting and JP Jewelers.
Starting in the fourth spot, Gosek made quick work of outside pole sitter Tim Snyder, and on lap 5, got under the other front row starter in Dan Connors Jr. to take the top spot on an exciting move heading into turn one.
Gosek ran away early as the front five ran nose to tail. On lap 13, the caution flag flew for the No. 71 of Bill Sharkey, who found himself into the turn four foam. Sharkey was done for the night.
On the restart, Gosek continued to walk away, leading Connors, Jeff Abold, Snyder and a very fast Keith Shampine. It was then that Shampine and seventh starting Otto Sitterly began to make their moves to break into the top five as Shampine went by Snyder for fourth with Sitterly following suit into the fifth spot.


Further back in the top ten, defending champion Michael Barnes, 'Mr. Supermodified' Dave Gruel and series points leader Dave Shullick Jr. put on a tight battle for positions six, seven, eight and nine for nearly 20 laps.
Lap 24 saw another Canale Insurance
and Accounting yellow flag in the air for the driver of the No. 94, Logan Rayvals, when he came to a halt in turn one. The Canadian experienced what appeared to be motor problems on his ride. Rayvals joined Brandon Bellinger as drivers with engine issues on
the evening, as the plant in the Bellinger No. 02 went south on the original start of the feature event.
Just before the yellow was thrown, defending Budweiser International Classic 200 Champion Jeff Abold was on the move, taking second from Connors and giving chase to Gosek. The restart set things up perfectly for the driver of the A&P Auto Parts No. 05 to put the pressure on '00 Joe' as Gosek tried to make a clean getaway once again.
For 20 laps, Abold kept the legendary driver honest on the night of his oh so fitting victory, as he was honored with the debut of his special edition 'Hall of Fame Legends' t-shirts on the same evening.
It was when Abold really began
to apply pressure on Gosek that the final yellow of the race came out with five to go for polesitter Connors, who unfortunately found himself up against the turn three foam with his orange No. 01. Connors was also out for the night. This in turn packed the field right tight together once again.
Battles had ensued for the remaining 20 circuits further back in the field as Shullick made the hard charge from ninth, but it was within the last five laps following the crucial restart that 'The Shoe 2' really heated things up, finding his way by both Gruel and Barnes to crack the top five
with only a handful of laps to go.
Moving into fifth, Shullick pulled in right behind teammate Otto Sitterly, who sits right behind him in second in the point standings, keeping himself in check with a relatively comfortable lead as only two shows remain in the points race. Sitterly and Shampine found their way by Connors
on lap 28 when the No. 01 machine slipped up the track.
For awhile, it appeared as if there would be a four car battle for the lead as the the front four cars raced nose to tail, but when it all came down to those last five laps Gosek and Abold pulled away from Shampine and Sitterly.
Bringing the vocal crowd to its feet, Gosek was able to hold off a closing Abold for his 43rd career victory. He was greeted by his wife, daughters, and a plethora of fans in victory lane for photos, autographs and congratulatory wishes after pulling off a rather impressive feat that
will always go down as one of those "special moments" in the speedway's rich history. Oswego's fans were ecstatic to see 'Go Joe' back in victory lane after a nailbiting last few laps, and Gosek was pretty darn happy to hold the checkered flag himself.
"I guess this is pretty fitting
for old timer's night, here I am," Gosek joked. "We've just been working hard all year and got a nice opportunity to start out front and it worked out, but this feels good. All the guys work hard. We spend a lot of time on this thing, as much as these guys
can, and night's like these are very rewarding."
Abold drove to perhaps the most impressive run of his season thus far, but came up just a little bit short finishing runner-up to Gosek, something the pilot of the homebuilt A&P Auto Parts machine saw absolutely no shame in.
"This was a great night, I think that was the best car I've had all year," Abold said. "We've been struggling all season long to have something like that to work with, so to finally go and run up front is nice. I actually think the cautions were hurting me, there were some longer runs where we were making gains but I kind of lost some momentum on the last restart. Congrats to Joe (Gosek), he has been working hard for so many years and has more laps around this place than anyone so it's nice to see him get it done on a special night."
Shampine, who appeared to be the favorite for victory all evening long in the Chris Osetek No. 55, was a bit disappointed with third after running in the top five for the duration of the feature event. The Concord, NC pilot turned a blistering fast 16.393 earlier in the evening in group time trials.
"We were actually a little tight tonight," Shampine commented. "We've been chasing things with the new left rear all season since they've brought it out we've been pretty loose and tonight we got it closer, but were a little bit too tight coming off the corner. I had all I could do to get
by the 0 and 01 to get up to third and that was about all I had at that point, so I was just kind of riding in third hoping Otto (Sitterly) didn't get a run on me."
In a rather recognizable 'Retro Night' top five, it was the legendary Gosek, second generation driver Abold, the iconic "Shampine," seven time champion Sitterly, and another second generation driver in Shullick making up the front five positions. Gruel, Barnes, Snyder, Tim Devendorf, and
Pat Lavery, in his Nicotra Racing debut, completed the top ten.
Devendorf was awarded Lighthouse Lanes Up and Comer for his ninth place effort while Shullick was declared the Lighthouse Lanes Hard Charger. Brad Penn Oil Supermodified Heat Winners were Snyder, Devendorf, and Connors.
The speedway returns to action
next Saturday night, August 12 when CNY CPR and Oswego County Today present 'Twin 20's' for the Pathfinder Bank Small Block Supers and a 50-lap main for the Novelis Supermodifieds. All of the action will get underway at 6:45pm. Tickets can be purchased at
the speedway box office or at the gate for only $17. For further ticketing information, please phone (315)-342-0646.
For more information on Oswego
Speedway visit online at www.oswegospeedway.com, follow on Twitter @OswegoSpeedway, or like on Facebook at
facebook.com/OswegoSpeedway.
Oswego Speedway
Oswego, NY
August 5, 2017
Novelis Supermodifieds
BOX SCORE
Feature (45-laps): 1. 00 Joe
Gosek, 2. 05 Jeff Abold, 3. 55 Keith Shampine, 4. 7 Otto Sitterly, 5. 2 Dave Shullick Jr, 6. 50 Dave Gruel, 7. 68 Michael Barnes, 8. 0 Tim Snyder, 9. 5 Tim Devendorf, 10. 6 Pat Lavery, 11. 83 Lou LeVea Jr, 12. 66 Lou LeVea Sr, 13. 01 Dan Connors, 14. 24 Jerry
Curran, 15. 94 Logan Rayvals, 16. 71 Bill Sharkey, 17. 02 Brandon Bellinger
Heat 1 (10-laps); 1. 0 Tim Snyder,
2. 02 Brandon Bellinger, 3. 00 Joe Gosek, 4. 7 Otto Sitterly, 5. 94 Logan Rayvals, 6. 66 Lou LeVea Sr.
Heat 2 (10-laps): 1. 5 Tim Devendorf,
2. 2 Dave Shullick Jr, 3. 05 Jeff Abold, 4. 55 Keith Shampine, 5. 24 Jerry Curran, 6. 71 Bill Sharkey
Heat 3 (10-laps): 1. 01 Dan
Connors, 2. 50 Dave Gruel, 3. 6 Pat Lavery, 4. 68 Michael Barnes, 5. 83 Lou LeVea Jr.
Timed Hot Laps: 1. 55 Keith
Shampine – 16.393, 2. 7 Otto Sitterly – 16.512, 3. 68 Michael Barnes – 16.556, 4. 2 Dave Shullick Jr. – 16.624, 5. 02 Brandon Bellinger – 16.647, 6. 50 Dave Gruel – 16.688, 7. 05 Jeff Abold – 16.730, 8. 6 Pat Lavery – 16.759, 9. 5 Tim Devendorf – 16.859, 10.
00 Joe Gosek – 16.993, 11. 01 Dan Connors – 17.043, 12. 24 Jerry Curran – 17.191,13. 0 Tim Snyder – 17.191, 14. 94 Logan Rayvals – 17.244, 15. 83 Lou LeVea Jr – 17.604, 16. 66 Lou LeVea Sr. – 17.798
Lighthouse Lanes Hard Charger:
2 – Dave Shullick Jr.
Lighthouse Lanes Up and Comer:
5 – Tim Devendorf
Brad Penn Oil Supermodified
Heat Winners: Tim Snyder, Tim Devendorf, Dan Connors