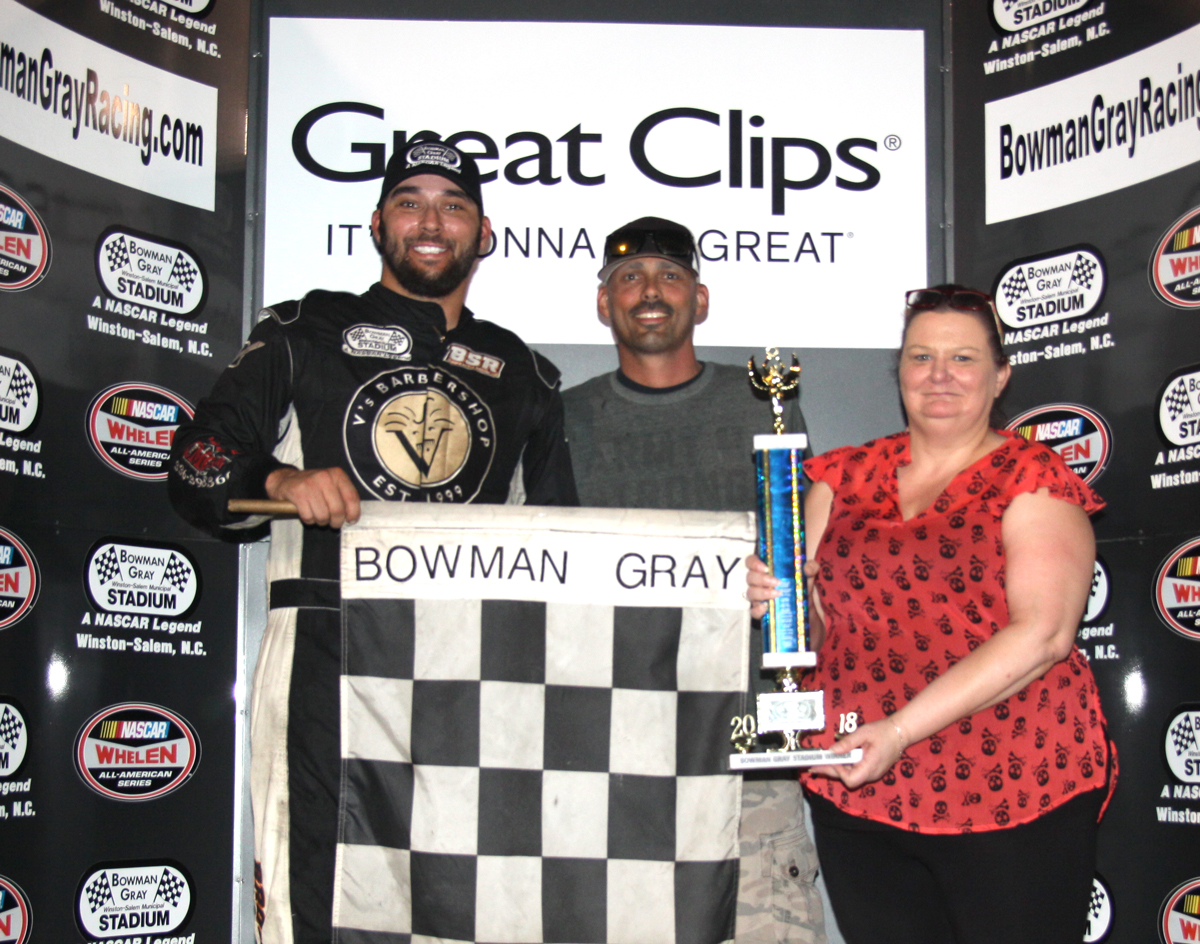 Jason Myers and Jonathan Brown Hit Their Stride at Bowman Gray
Story By: Loren Pinillis/Bowman Gray Stadium
Photos By: Eric Hylton/Bowman Gray Stadium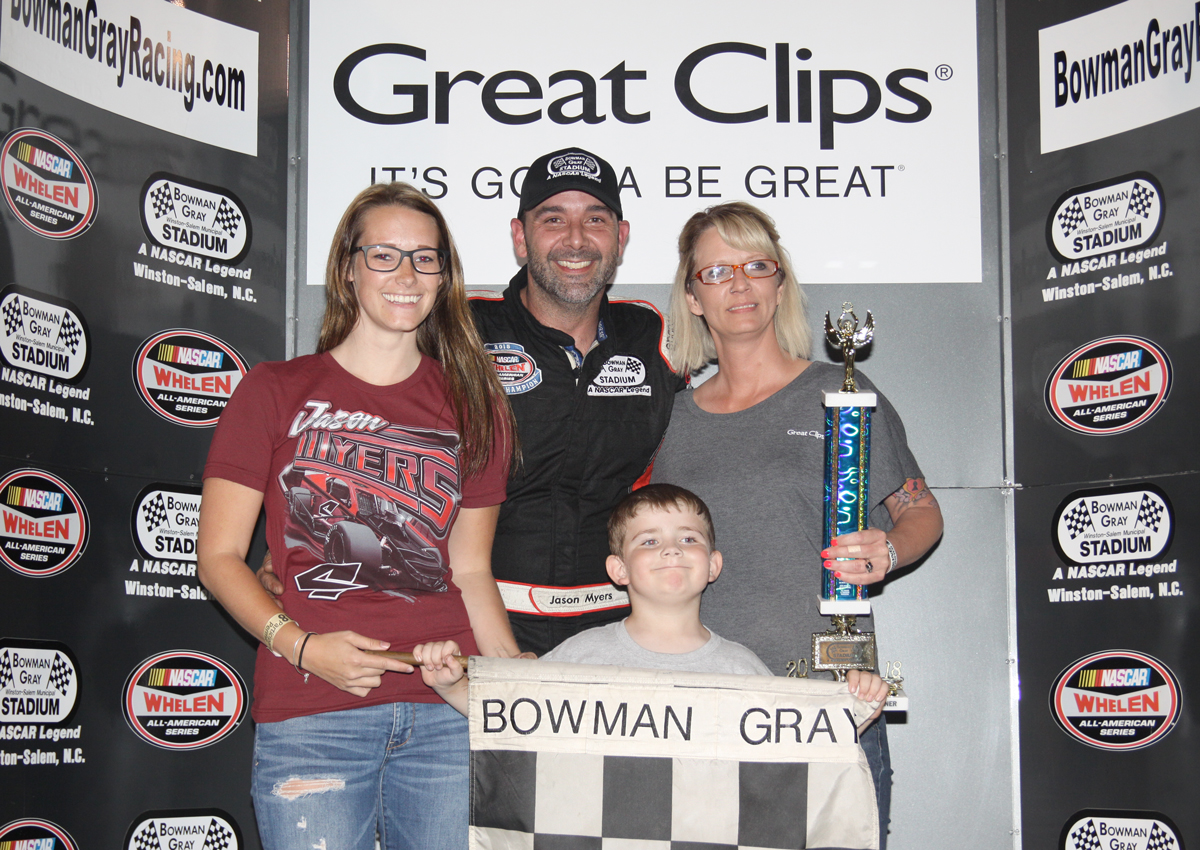 (Bowman Gray Stadium, Winston-Salem, NC) Jason Myers and Jonathan Brown both showed on Saturday that they'll be forces to reckon with this season at Bowman Gray Stadium. Each claimed their second 2018 victory on Saturday, and each of them are hungry for more wins.
Jason Myers of Walnut Cove took the first step towards victory by being the fastest qualifier for the Brad's Golf Cars Modified Series. He started on the pole with brother Burt Myers starting beside him on the outside front row.
"We've had a good car all year. We've just been struggling with qualifying. We went back actually to a three-year-old setup, and it worked," said Jason Myers about the pole lap. "Our car has been racing well. But until you get it out front, you don't know. So we finally had a good enough lap to put us on the front row tonight."
The #4 of Jason Myers then stayed ahead of brother Burt to claim the checkered – although a hard shot from Burt almost took him out of the race during the final lap. "I tiptoed getting into the corner. The car was getting a little free getting in. I figured it'd be best just to go in, stop, and make him hit me," said Jason about the impact. "When he hit me, it turned me sideways. I about blew it on the last lap. But me and Burt can race like that all night. I don't think he's going to knock me out of the way because we still have the same parents."
For the start of the second race, Daniel Beeson of Kernersville and Randy Butner of Pfafftown were sent to the front row. In quick order, George Brunnhoelzl III of Mooresville made a dash past them to claim the lead.
Jonathan Brown of Winston-Salem, who started in ninth, made his way through the field and was soon knocking on the bumper of Brunnhoelzl. The 79 of Brunnhoelzl held Brown off for lap after lap but he couldn't hold down the lead for long enough. Brown gave him a bump and moved smoothly to the inside to steal the lead away on lap 11.
Brown then went on to take the checkered – his second victory in a row after an early season characterized by mishaps and mechanical struggles. "I think this is the fifth week of racing and I think we should have won about four times this year," said Brown.
In the Texas Steak & Tap House Sportsman Series, Michael Adams of Yadkinville sailed ahead in the lead to claim the victory in the first 20-lapper. An intense battle for second place had the crowd shouting as John Holleman of Winston-Salem and Zack Ore of Winston-Salem fought. Zack Clifton had wrecked in the first race and was forced to head to the pits. But he returned in the second race to grab the win.
Spencer Martin of Winston-Salem won in the Law Offices of John Barrow Street Stock Series, with Chris Allison of Mocksville brought home the checkered in the 15-lapper for the Q104.1 Stadium Stock Series.
Race Results
Brad's Golf Cars Modified Series
1st Modified Race: 25 laps
FINISH CAR DRIVER HOMETOWN
1 4 Jason Myers Walnut Cove, NC
2 1 Burt Myers Walnut Cove, NC
3 83 Tim Brown Tobaccoville, NC
4 14 Bobby Measmer Jr. Concord, NC
5 04 Brandon Ward Winston-Salem, NC
6 22 Jonathan Brown Winston-Salem, NC
7 75 Lee Jeffreys Wallburg, NC
8 53 John Smith Mount Airy, NC
9 40 Frank Fleming Winston-Salem, NC
10 18 Daniel Yates Lexington, NC
11 92 Brody Jones Statesville, NC
12 79 George Brunnhoelzl III Mooresville, NC
13 5 Randy Butner Pfafftown, NC
14 44 Daniel Beeson Kernersville, NC
15 9 Jeremy Gerstner Wesley Chapel, FL
16 77 Susan Harwell Jonesville, NC
17 41 Jimmy Wallace Winston-Salem, NC
2nd Modified Race: 25 laps
FINISH CAR DRIVER HOMETOWN
1 22 Jonathan Brown Winston-Salem, NC
2 44 Daniel Beeson Kernersville, NC
3 1 Burt Myers Walnut Cove, NC
4 53 John Smith Mount Airy, NC
5 14 Bobby Measmer Jr. Concord, NC
6 83 Tim Brown Tobaccoville, NC
7 4 Jason Myers Walnut Cove, NC
8 75 Lee Jeffreys Wallburg, NC
9 5 Randy Butner Pfafftown, NC
10 92 Brody Jones Statesville, NC
11 40 Frank Fleming Winston-Salem, NC
12 18 Daniel Yates Lexington, NC
13 79 George Brunnhoelzl III Mooresville, NC
14 04 Brandon Ward Winston-Salem, NC
15 9 Jeremy Gerstner Wesley Chapel, FL
16 41 Jimmy Wallace Winston-Salem, NC
17 77 Susan Harwell Jonesville, NC
Texas Steak & Tap House Sportsman Series
1st Sportsman Race: 20 laps
FINISH CAR DRIVER HOMETOWN
1 19 Michael Adams Yadkinville, NC
2 55 Zack Ore Winston-Salem, NC
3 86 Taylor Branch Lewisville, NC
4 12 Justin Taylor Kernersville, NC
5 07 Kevin Neal Walkertown, NC
6 21 Tommy Neal Walkertown, NC
7 70 Dylan Ward Winston-Salem, NC
8 68 Robbie Brewer Winston-Salem, NC
9 01 Amber Lynn Walkertown, NC
10 4 John Holleman Winston-Salem, NC
11 2 Andrew Durham Winston-Salem, NC
12 81 Zack Clifton Walkertown, NC
13 92 Kyle Southern Rural Hall, NC
14 38 Mitch Gales Thomasville,NC
15 02 Derek Stoltz Walkertown, NC
16 14 Terry Thompson Winston-Salem, NC
2nd Sportsman Race: 20 laps
FINISH CAR DRIVER HOMETOWN
1 81 Zack Clifton Walkertown, NC
2 12 Justin Taylor Kernersville, NC
3 2 Andrew Durham Winston-Salem, NC
4 07 Kevin Neal Walkertown, NC
5 01 Amber Lynn Walkertown, NC
6 4 John Holleman Winston-Salem, NC
7 92 Kyle Southern Rural Hall, NC
8 86 Taylor Branch Lewisville, NC
9 19 Michael Adams Yadkinville, NC
10 21 Tommy Neal Walkertown, NC
11 55 Zack Ore Winston-Salem, NC
12 38 Mitch Gales Thomasville,NC
13 70 Dylan Ward Winston-Salem, NC
14 68 Robbie Brewer Winston-Salem, NC
15 14 Terry Thompson Winston-Salem, NC
Law Offices of John Barrow Street Stock Series
Street Stock Race: 18 of 20 laps completed (race ended early due to time limit)
FINISH CAR DRIVER HOMETOWN
1 5 Spencer Martin Winston-Salem, NC
2 40 Taylor Robbins Winston-Salem, NC
3 28 Billy Gregg Lexington, NC
4 08 Jacob Creed Dobson, NC
5 09 David Creed Mount Airy, NC
6 13 Kevin Gilbert Mocksville, NC
7 29 Bradley Potts Clemmons, NC
8 33 Dennis Lanier Lexington, NC
9 15 Nick Wall Pfafftown, NC
10 11 Hunter Hutchens Boonville, NC
11 1 Christian Joyce Trinity, NC
12 31 Brandon Butner East Bend, NC
13 97 Jeremy Warren Winston-Salem, NC
14 98 Nate Gregg Lexington, NC
15 72 Bryant Robertson Dobson, NC
16 22 Brian Wall Winston-Salem, NC
17 30 Blake Shupe Mount Airy, NC
18 69 Gerald Robinson Jr Winston-Salem, NC
19 99 Bryan Sykes Winston-Salem, NC
20 00 Donnie Martin Winston-Salem, NC
Q104.1 Stadium Stock Series
Stadium Stock Race: 15 laps
FINISH CAR DRIVER HOMETOWN
1 01 Chris Allison Mocksville, NC
2 81 Chuck Wall Lexington, NC
3 68 Tyler Bush Clemmons, NC
4 1 Grayson Keaton Mocksville, NC
5 02 Wesley Thompson Advance, NC
6 33 DJ Dean Thomasville, NC
7 69 Brandon Crotts Winston-Salem, NC
8 26 K.C. Myers Winston-Salem, NC
9 9 Charlie Curry Welcome, NC
10 24 A.J. Sanders Mocksville, NC
11 14 Ken Bridges King, NC
12 76 Billy Cameron Jr Salisbury, NC
13 60 Brad Mickalowski Mocksville, NC
14 20 Scarlett Dahmer Kernersville, NC
15 54 Justin Owens Walnut Cove, NC
16 91 David Houck New London, NC
17 22 Adam Thomas Winston-Salem, NC
18 10 Chad Hopkins Winston-Salem, NC
19 28 Robert Mabe Germanton, NC
20 3 Kyler Staley Reedy Creek, NC
21 27 Austin Cates Tobaccoville, NC
22 2 Brandon Brendle Winston-Salem, NC