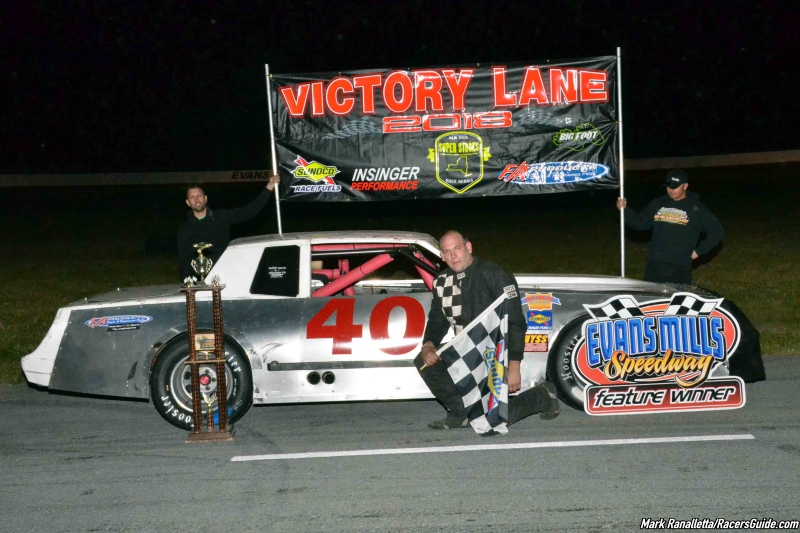 Jason Dinzler Reigns Supreme Over The Sunoco New York Super Stock Field at Evans Mills Speedway
Story By: Shylo Fuchs/NYSS
Photos by: Mark Ranalletta/RacersGuide.com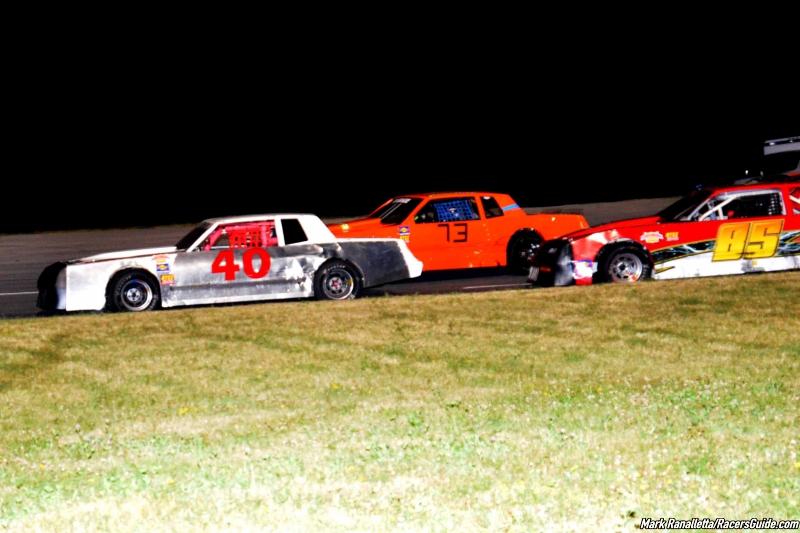 Saturday July 7th would find 26 Super Stocks signed into the Evans Mills Speedway to battle it out for victory in the F/A Products 50 lap main event. Four heats would qualify 12 cars for handicapping and lock the field in for what was guaranteed to be a great show for the Sunoco New York Super Stocks by Insinger Performance.
The sun would set and the track would cool down during intermission as the drivers and their crews made adjustments and prepared for the extra distance. The #52 of Kenny Atkins and #84 of Josh Schoonmaker would be on the front row to lead the field to the green. Schoonmaker would lead lap one, but Jason Dinzler was using his third starting position to his advantage and took the top spot to lead laps two and three.
Dylan Bancroft and his #91 would nab the lead from Dinzler on lap four. Bancroft would then set sail trying to run away and hide. This worked until the first caution of the race would fall on lap 23 for the #29 of Ray Bancroft's spun car. On the restart the #91 of Dylan Bancroft would break his drive shaft and be forced to retire from the race.
That would return the lead to the #40 of Jason Dinzler. Not long after the #84 of Josh Schoonmaker would spin in front of the field while running third and collect several of his competitors in turn three.
We would try to restart again and two cars would come together causing the #29 of Ray Bancroft to sustain front end damage, most noticeably being his bumper sparking and dragging all the way around the track. He would be able to get this fixed and return to the track to complete the race.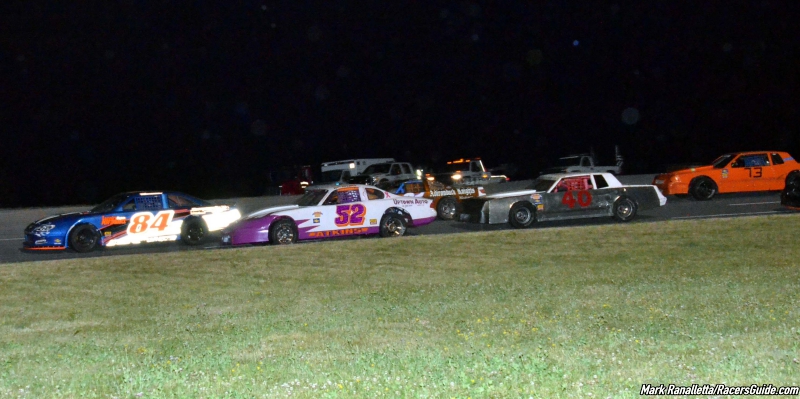 However, Dinzler would not be denied on this night as he would weave in and out of lap traffic, maintaining the lead through several cautions and fighting off the battle of the #73 of Jason Duke who was running with us for the first time this year, to win his first ever New York Super Stock series race.
At the completion of the race several fellow drivers would stop on the front stretch to congratulate Jason on the win showing great sportsmanship and camaraderie.
Thanks again to F/A Products and all their support to the series.
Join us next Friday July 13th at Spencer Speedway for another amazing show presented by Lazzaro Performance.
Feature Finish: #40 Jason
Dinzler, #73 Jason Duke, #85 Brian Wozniak, #8 Chris Finocchario, #38 Shaun
Frarey, #25 Joel Gleason, #78 Robert Fink, #17 Amber VanOrden, #51 Chris
Vogler, #15 Nick Robinson, #29 Ray Bancroft, #13 Aaron Higgins, #64 Scott
Dinzler, #90 Nate Peckham, #12 Matt Larrivee, #5 Sam Rotunda, #37 Zak Patrie,
#88 Matt McLane, #77 Jim Helt, #52 Kenny Atkins, #9 Joe Miller, #75 Zach Willis, #6 Griffin Miller, #84 Josh Schoonmaker, #91 Dylan Bancroft, #94 Billy Coyle
Heat Winners: #84 Josh Schoonmaker, #40 J. Dinzler, #91 Dylan Bancroft, #78 Robert Fink