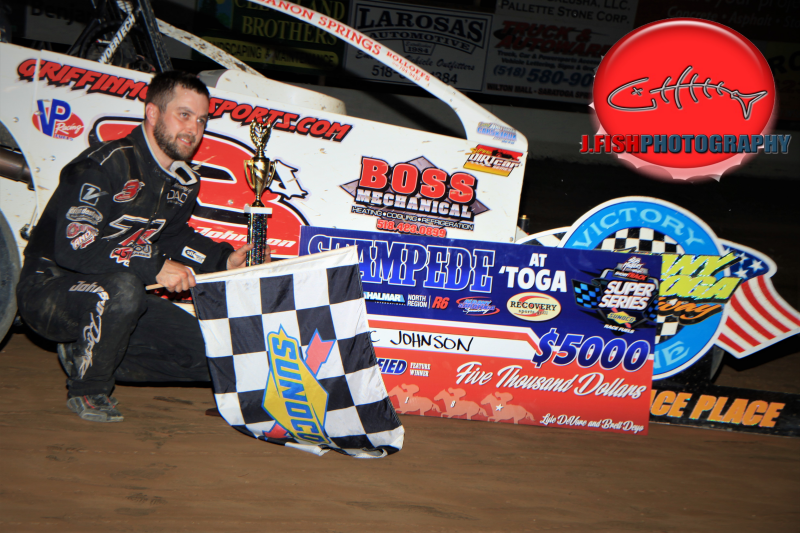 It's Johnson Over Johnson In Albany Saratoga Thriller
Story By: Tom Boggie/Albany-Saratoga Speedway
Photos By: Jay Fish/RacersGuide.com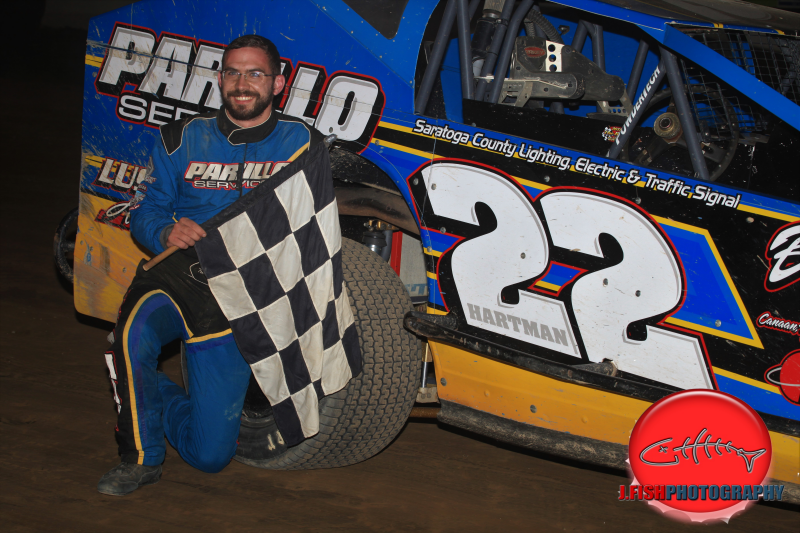 MALTA, NY – If you're going to wait over a year to get a win, might as well make it a big one.
Marc Johnson, the 2016 modified champion at Albany-Saratoga Apeedway, got to hoist the big check Wednesday night after pulling off a surprising victory in the 50-lap Brett Deyo-promoted Short Track Super Series "Stampede At Toga" at the Malta track.
Johnson, using the low line to his advantage, rocketed past Ronnie Johnson with six laps to go and came away with his first win since June 14, 2017. With a $1,000 bonus from Amsterdam Trailer Repair, Johnson took home $6,000
Johnson has been competitive all year at Malta, and came into the Stampede off four consecutive fourth-place finishes.
But on Wednesday, there was no stopping him.
"Maybe it was running more laps, maybe it was starting a little forward," said Marc Johnson after the win. "I've been in a position to win a lot this year, but I couldn't let myself get discouraged. I have to take into account who I'm racing against. These guys [at Albany-Saratoga] are the best of the best."
Frank Cozze started on the pole in the 50-lapper, but all eyes were on Ronnie Johnson, who looked strong from the drop of the green flag. Ronnie Johnson, who started eighth, one spot ahead of Marc Johnson, only needed eight laps to move into second place, and then threw everything he had at Cozze.
The battle raged for some 40 laps, with Cozze staying out front. But with Cozze protecting the bottom, Ronnie Johnson moved to the top with 10 laps to go and finally charged past the invader from Wind Gap, Pa., on lap 43.
But his lead was shortlived, as Marc Johnson first gobbled up Cozze and then caught Ronnie Johnson by surprise, blasting into the lead with six laps left.
Marc Johnson nearly got trapped by the lapped car of Jeremy Smith on lap 46, and suddenly, it was a three-car race, as series leader Matt Sheppard, who had started scratch on the field after being disqualified for being light on the scales after winning his heat race, tried to stick his Sweetners Plus 92 between the two Johnsons.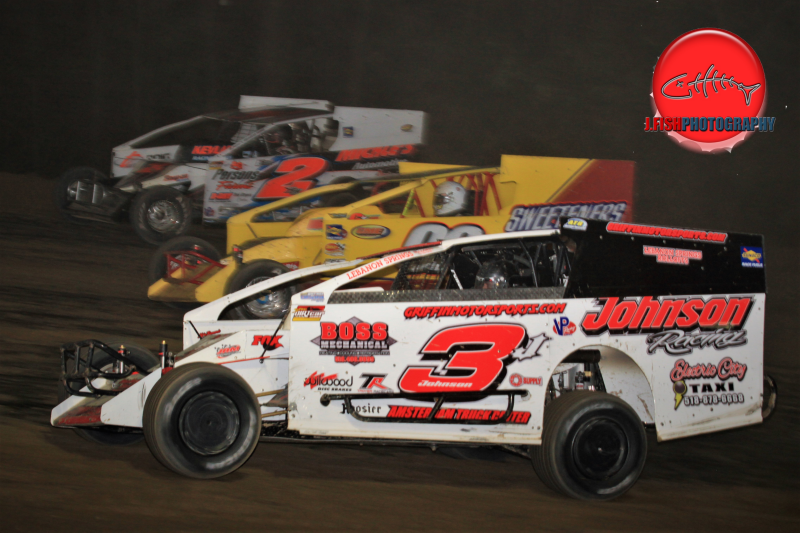 But Marc Johnson had the momentum down low, and Ronnie Johnson held off Sheppard by .004 seconds for third.
Anthony Perrego finished fourth, while Cozze was fifth.
"I thought I was racing Frank for the win," said Ronnie Johnson after climbing out of his car. "I thought when I got by Frank, that was it. I didn't even know Marc was there. He sniped up on the bottom and got me."
"I thought I had a chance to catch Ronnie," said Marc Johnson. "Those guys were burning up the top and I was getting awesome drive coming off the bottom."
Tim Hartman Jr. recorded his third win of the season in the accompanying 25-lap sportsman race, which paid $1,000 to win. Hartman started fourth and took the lead away from polesitter Robert Bublak Jr. early in the race, but Bublak refused to give up, and used a crossover move coming out of the second turn on lap 10 to move back out in front.
Hartman continued to hound Bublak, and got the break he needed when a yellow flag came out on lap 19 when Butch Wilcox spun in the first turn. On the restart, Hartman regained the lead and refused to give it up.
"I did everything I could to hold him off," said Hartman.
FolIowing Hartman and Bublak across the finish line were Justin Comes, a regular at Devil's Bowl Speedway, Connor Cleveland and Dan Grignon.
STAMPEDE AT TOGA (5O LAPS): Marc Johnson, Ronnie Johnson, Matt Sheppard, Anthony Perrego, Frank Cozze, Mat Williamson, Mike Mahaney, Billy Decker, Ken Tremont Jr., Mike Gular, Ryan Godown, Brett Hearn, Danny Varin, Jerry Higbie, Andy Bachetti, Nick Nye, Brett Tonkin, Danny Creeden, Rick Laubach, Jeremy Smith, Duane Howard, Matt DeLorenzo, Jimmy Horton, Jack Lehner, Rusty Smith, Tyler Boniface, Matt Stangle , Brandon Grosso.
SPORTSMAN: Tim Hartman Jr., Robert Bublak Jr., Justin Comes, Connor Cleveland, Dan Grignon, David Boisclair, Jason Gray, Joey Scarborough, Chris Johnson, Jack Speshock, Bobby Flood, Joseph Coppola, Dylan Bokus, Fred Proctor, Joe Orlando, Scott Bennett, Chris Ronca, Butch Wilcox, Bob Schmidt, Derrick McGrew Jr., Jon Miller, Pat Jones, Jim Osgood, Richie Simmons, Scott Duell, Thomas VanVorst.