[xyz-ihs snippet="Posts-Ad"]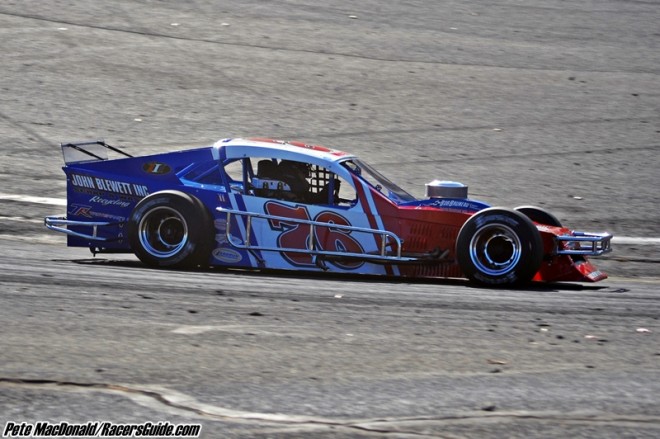 Is Turkey Derby Time 'Showtime' for Jimmy Blewett?
By: Pete MacDonald
There is no secret that Jimmy Blewett loves racing at Wall Stadium, he grew up literally just five minutes up the road in Howell, NJ. I'm also willing to bet that Jimmy has just as many laps around the 1/3 mile high-banked speedway than just about anybody else in its history.
The driver they call "Showtime" will be again chasing Turkey Derby glory this week, in somewhat of a homecoming for the 35 year old driver.
Jimmy who has primarily competed on the dirt at New Egypt Speedway the past few seasons announced back in September that he will return to asphalt racing in 2016 racing at Wall Stadium and most of the NASCAR Whelen Modified tour.
Blewett who's win in the SK/Wall Modified feature last year was his astonishing fifteenth overall Turkey Derby win but, What makes Turkey Derby so special for Blewett?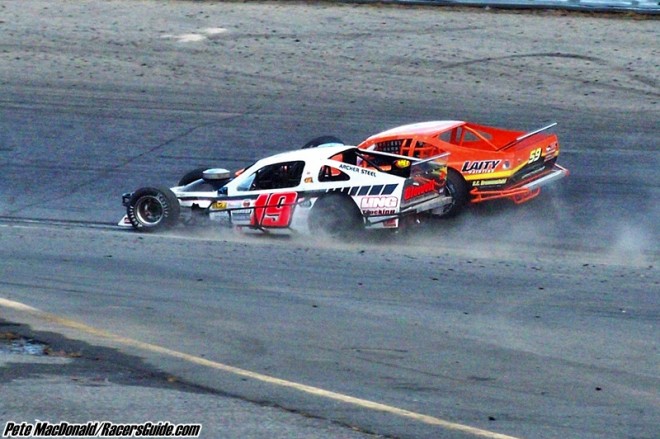 "It's the last race of the year, when you win that it makes the winter that much better, just being there makes the winter seem to go quicker," explained Blewett." It's got a lot of prestige in it, it's like going to a tour race at your home track, there's a lot of good guys coming , Hirschman is good, Danny Bohn, Les Hinckey, (Woody)Pitkat, (Keith) Rocco those guys are fast everywhere they go every week, or to beat someone like Dick Barney who's right up theroad, his car races here every week with Eric (Mauriello), to beat those guys is big."
Blewett known as the guy that can be rough on occasions, has mildly calmed down the past few seasons versus how he was years back.
"I used to burn my stuff up coming through and didn't have anything for the end, now I plan the races out so I have something left. You have the people that no matter what still want to make a left when you get along side of them though, which aren't many but they're still there. You can crowd me all you want, I'm going to get underneath you. If my right front is to your left rear , I'm taking that spot, that's how you win races," Clarified Blewett. "I'm not there to wreck stuff, I'm there to win races."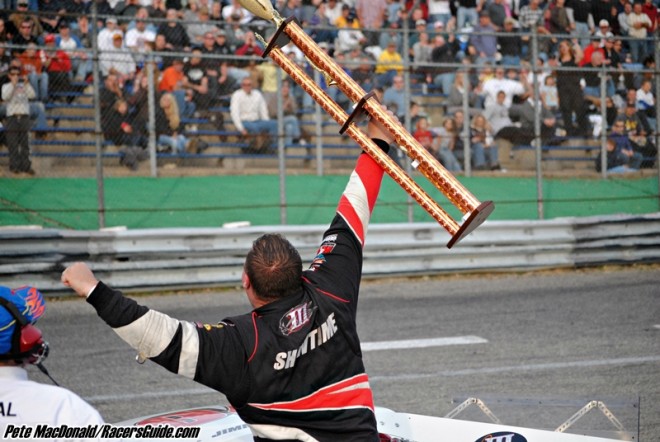 For someone who has legitimately been going to Turkey Derby every year since he was born, one special memory has to stand out for Blewett, right?
"Being 9th with three laps to go and still winning in I think 2010 or 2011 was cool. We had all those green white checkered's late in the race. They helped a lot," said Blewett .
You would think someone who has as many laps around Wall Stadium such as Blewett wouldn't feel threatened  by anyone in the field on Saturday. Who does Jimmy think his biggest threat would be?
"Probably Hirschman, There's a lot of good cars coming. Eddie is coming with Ryan and look at him, he's running Cup races now, you're going to have a lot of good people there, not saying Matt is the best but I'd say he's the biggest threat," revealed Blewett who in Saturday's final open practice was third on the speed charts.
"I don't have high expectations, I want to go to win, just run good and run strong, I'll be happy with that," said Blewett
Jimmy plans on competing in his Grandfather's red, white and blue  #76 in the Tour Type Modified event on Saturday and Bob Boardwick's #18 Wall Modified, the same car he took to a win in the Woody's 105 at Wall back on August 22nd.
Any questions, comments or concerns I can be e-mailed at racersguide@gmail.com or found on Twitter @PMacDonald51. Thanks for reading!
[xyz-ihs snippet="Posts-Ad"]