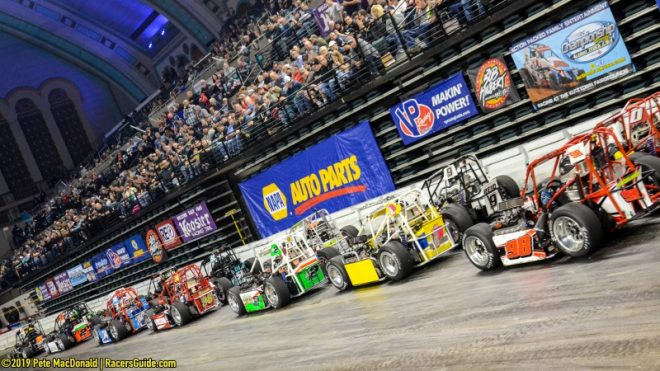 INDOOR AUTO RACING SERIES FUELED BY VP RACE FUELS 2019 TITLES TO BE DECIDED MARCH 8-9 FOR TQ MIDGETS, SLINGSHOTS AND KARTS IN ALL NEW SYRACUSE EXPOSITION ENTER. TITLE RACES WIDE OPEN; COMPLETE SHOWS SET FOR ALL THREE CLASSES
Story By: Ernie Saxton/Indoor Auto Racing Championship
Photos By: Pete MacDonald/RacersGuide.com
SYRACUSE, NY February 27, 2019 . . . The cars and stars of the Indoor Auto Racing Series Fueled By VP Race Fuels headlining Three Quarter (TQ) Midgets are readying for Round 4 and Round 5 on Friday, March 8 and Saturday, March 9 inside the all new Exposition Center on the New York State Fairgrounds.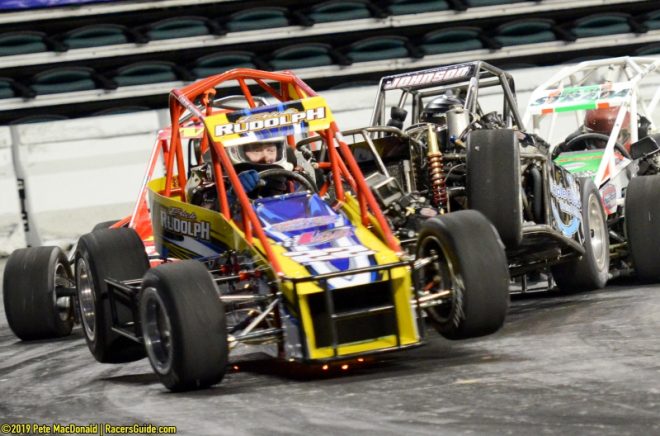 While well over 50 drivers will be seeking victory in the features run each night, the biggest prize in Syracuse will be the crowning of the 2019 Indoor Auto Racing Series Fueled By VP Race Fuels. Round 3 and Round 4 for the companion Slingshots and Champ Karts is also on the Syracuse card which is being presented by RPM Raceway.
Each of the two nights of racing will consist of complete programs of qualifying, heat races and feature events for the TQ Midgets, Slingshots and Champ Karts. This is the first time the Indoor Auto
Racing Series has ever presented full three division programs on consecutive nights.
On Friday, March 8, TQ Midgets will run in single car time trials followed by heat races and B Mains climaxed by a 24-car, 40-lap feature.
The next night, Saturday, March 9, TQs will re-qualify, this time in group qualifying sessions, another first for the Indoor Auto Racing Series. Heats, B Mains and a 24-car, 40-lap A Main follow with the TQ Midget champion to be crowned at the end of the night.
Slingshots and Champ Karts will draw for starting spots in their heats races both days with a 20-car, 20-lap A Main for both classes each night.
Doors open at 6 PM on Friday night with racing beginning at 7:30. Doors open at 5:30 PM on Saturday with racing at 7pm. Fans will be able to visit the pit area to see the cars and meet the drivers each night until 30 minutes before the racing begins.
North Carolina resident, New Jersey native Ryan Flores leads the standings, with 290 after the first three races. Flores, who works full time for Roger Penske's Ryan Blaney NASCAR Monster Energy Cup team, will not be in the Syracuse field.
Erick Rudolph, Ransomville, NY, 260, and Justin Bonsignore, Holtsville, LI, NY, 239, Andy Jankowiak, Tonawanda, NY, 220, and Eddie Strada, Lake Ariel, PA, 213, are second through fifth.
A maximum of 210 points are available, 100 for a feature win and five points for quick time each night, meaning that 210 markers can be picked up by any TQ competitor over the Syracuse race weekend. Non qualifiers earn 10 points for each night, a minimum of 20 points for the weekend. Thus the most points any driver can gain is 190.
By subtracting 190 (maximum points) from Rudolph's 260 points total, any TQ driver within 70 points, in theory, could win the Indoor Auto Racing Series TQ title. That includes the next 21 drivers outside the top five, in the standings: Matt Janisch, Tim Buckwalter, Earl Paules, Scott Kreutter, Briggs Danner, Matt Roselli, Anthony Payne, Anthony Sesely, Chad Jones, Kyle Lick, Jonathan Reid, Timmy Catalano, Ryan Tidman, Tyler Thompson, Joey Payne, Kyle Reinhardt, Pat Bealer, Andrew Molleur, Lou Cicconi, Tommy Catalano and Brett Conkling.
The point title chases in both the Champ Kart and Slingshot classes is far less complicated. A maximum of 100 points is available for each feature, a minimum of 10 points is awarded for each non-qualifier each night.
With a theoretical points swing of 180 points over two races, any Syracuse entrant in the Champ Kart races could surpass leader Brandon Rusczek, Wallingford, CT, (170), and any Syracuse entrant in the Slingshot races could surpass points leader Tyler Truex, Mayetta, NJ (150).
The Exposition Center opened during the Labor Day Fair. The huge, state of the art $33 million project was built without obstructing poles. Grandstand seating will be available on both the front and backstretch. From their seats, fans will able to be able to see the entire speedway plus the pit area which will be located on the far side of the building.
The building has a different seating configuration than other venues the series stops at in that grandstand patrons enter at track level, then walk up to seating areas.
Information including a direct link to E-Tix for advance tickets is available at www.indoorautoracing.com.
At this location spectators may select choice seats from three sections located on both the front and the backstretch. Tickets can also be purchased by calling E-Tix directly at 1-800-514-3849. Tickets will also be available each day of the event starting at 2 PM at the Expo Box Office, but prices increase by $5 each on the days of the event.
Event sponsorship packages to meet every budget are available by calling the series office at 609-888-3618 or by dropping Danny Sammons an email at danny@aarn.com.
Indoor race information, including ticket and hotel links, are available at indoorautoracing.com. Other information including sponsorship packages is available by calling the series office during regular working hours at 609-888-3618.