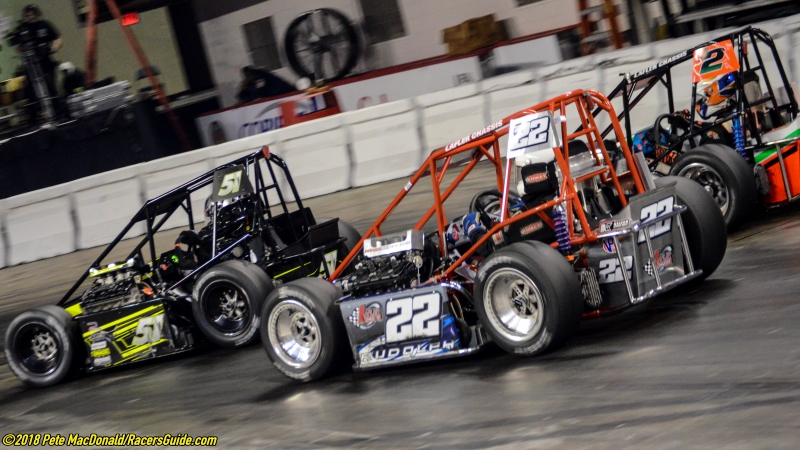 ALBANY INDOOR AUTO RACING SERIES RACES ARE FIRST IN NEW YORK STATE IN 16 YEARS; TIMES UNION CENTER FEBRUARY 9-10 EVENTS TO FEATURE TQ MIDGETS, SLINGSHOTS AND CHAMP KARTS
Story By: Ernie Saxton/Albany Indoor Race
Photos By: Pete MacDonald/RacersGuide.com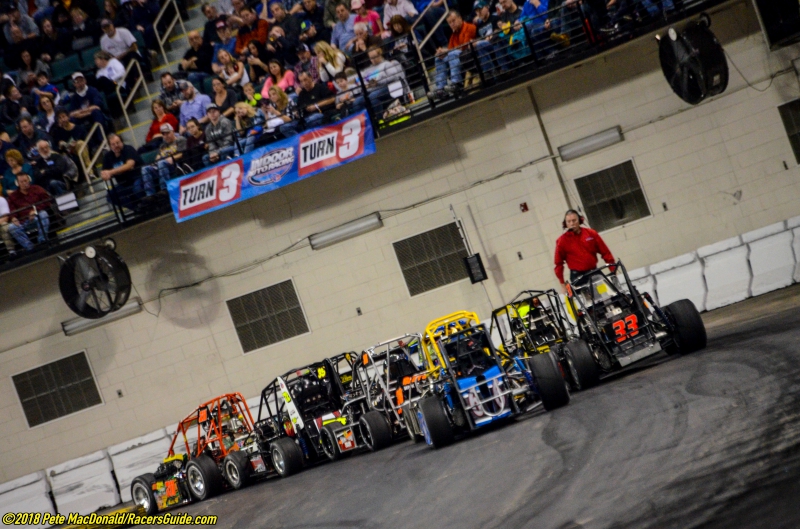 ALBANY, NY February 1, 2018 . . . The roar of racing engines will reverberate in the dead of winter in the State of New York for the first time in nearly two decades when the Tines Union Center in Albany comes alive with Indoor Auto Racing Series Fueled By VP Race Fuels high powered (Three Quarter) TQ Midgets, unpredictable Slingshots and nimble Champ Karts over the February 9-10, 2018 weekend.
Len Sammons, Indoor Auto Racing Series event promoter, has high expectations for the inaugural Albany race.
"With so many of our top TQ drivers from New York State, we expect a big home state turnout to cheer them on," Sammons said. "Erick Rudolph and Scott Kreutter won our first two races and both are Empire Staters."
The last Indoor racing held in New York State took place on Saturday, May 9, 2002, at Niagara Falls Convention Center in Niagara Falls, N.Y., and was won by Lou Cicconi, Jr.
Heading into the Indoor Auto racing Series finale for the TQ Midget class, Long Island native Justin Bonsignore of Holtsville leads in Series point standings over two time past champion Rudolph, of Ransomville, N.Y.
Bonsignore has his sights set on his first Indoor Auto Racing Championship. If he succeeds, he'll earn the TC Cup, emblematic of excellence in Indoor TQ racing and presented in memory of the late Ted Christopher, an eight-time Indoor Auto Racing Series A-Main winner.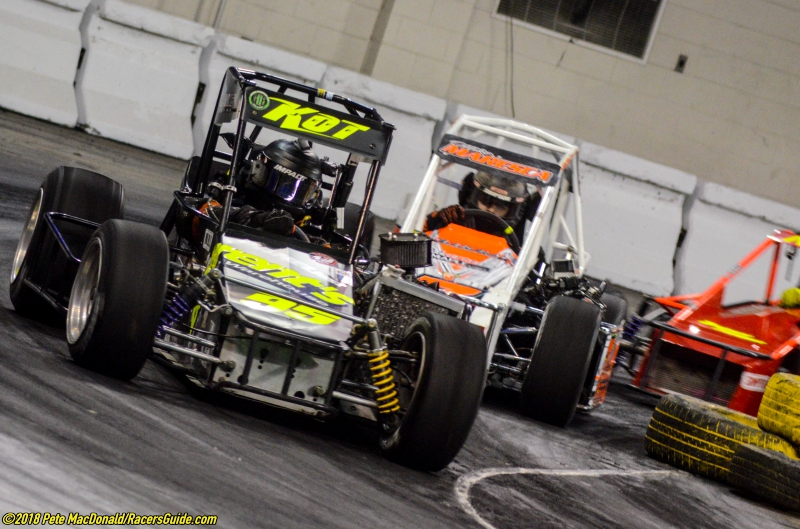 "Nobody wants to win that TC Cup more than I do," Bonsignore said during post-race ceremonies at the Indoor event in Atlantic City.
Other Empire Staters who are likely entrants in the Indoor Auto Racing Championship TQ event include Ronnie Flaim of Allegany, DJ Forbes, Jr., of Syracuse, Bobby Holmes of Lockport, Shawn and Andrew Nye of Lancaster, Timmy and Tommy Catalano of Ontario, crowd favorite Andy Jankowiak of Tonawanda, Ryan Bartlett of Watertown and Tyler Thompson of Fulton.
The wild card for the TQ Midget drivers and their teams is the fact that the Times Union Center is a first-time venue: no one knows exactly how the track will develop and to what extent it will change over time.
The TQ Midgets will be supported by two classes the Slingshot class and the recently added Champ Kart division.
In the Indoor Auto Racing Series Slingshot point's battle, Brett Bieber moved to the top of the scoring pylon with his Atlantic City win. He is just 15 points ahead of Kyle Herve and 35 markers ahead of Cody Kline. Kurt Bettler and Danny Buccafusca trail in the top five.
Top New York State Slingshot entrants include Dan Morgiewicz of Goshen, Damon Paul and Matt Hitchcock both of Stony Point, Nick DelCampo of Blauvelt, Brandon McGill of Plattskill, and Don Boonstra of Hurley.
Champ Karts were added to the Saturday schedule by popular demand.
"Though we had not scheduled them initially, their races in Allentown and Atlantic City were extremely competitive," Indoor Auto Racing Series promoter Len Sammons commented. "Several of the top Kart drivers are from New York State so we look for a regional rivalry to develop."
Cale Ross of Lambertville, N.J., is undefeated in Series competition this winter and has earned the 2018 division championship. Ross's chief rival could very well be Chris Daley, the Pleasant Valley, N.Y., veteran who has earned eight Indoor Auto Racing Series victories in his career.
Since the Albany race was an added event, race promoter Sammons is making the race a non-points paying affair.
The Friday, February 9 schedule of events calls for time trials, qualifying races and feature events for both TQ Midgets and Slingshots. Doors open at 6:30 PM Friday with racing beginning at 7:30.
On Saturday, February 10 doors open at 6 PM with racing beginning at 7 PM. Qualifying races will set the Feature event fields for all three classes.
Choice tickets for both days are available at the Times Union Center Box Office, charge-by-phone at (800) 745-3000, or visit online at Ticketmaster.com.