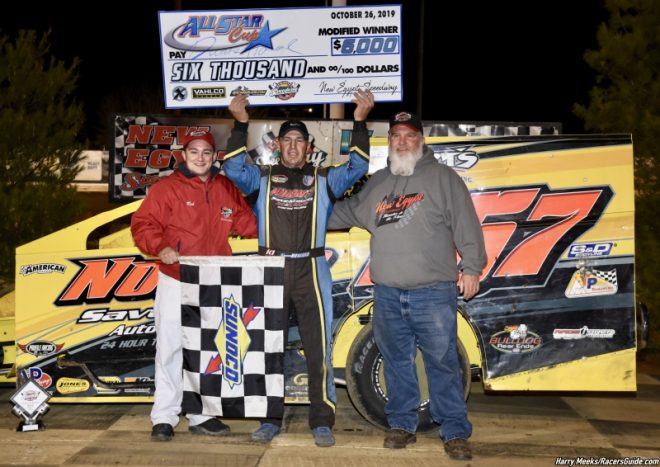 Howard Holds Off Pauch Jr. For $6,000 New Egypt All Star Cup Victory
Story By: Pete MacDonald/New Egypt Speedway
Photos By: Harry Meeks/RacersGuide.com

New Egypt, NJ – Oley, PA's Duane Howard held off a hard charging Billy Pauch Jr. to pick off his second career All Star Cup victory at New Egypt Speedway worth $6,000 on Saturday night. It was Howard's fourth career NES win.
"I've been around this game a long time and to beat Billy here at his home track is something special. We came here a little under-motored but we freed the car up and got some momentum up in the feature. I got to thank Norm with the 357, he gives us great equipment to come and race with. It's really fun to come here and race and beat the weather tonight. Thanks to the fans for sticking this out tonight, what a great-prepared racetrack, you can run the bottom and the top", said Howard post race.
Ryan Simmons led the field to the green flag but it would be Duane Howard leading lap one. Howard would lead the first 11 laps with third place starter Brandon Grosso in tow. The first caution of the event would fly on lap twelve when Stan Frankenfield came to a stop on the backstretch. Grosso would jump out to the lead on the restart and would pull away from the field at will. It would all come undone for Grosso as the yellow fell for the halfway break, it appears the motor broke and he headed to the pit area handing the lead back to Howard. On the ensuing restart from the halfway break Cale Ross would spin in turn two to bring out the caution. 12th place starter David VanHorn would enter the picture as he reached the third position on lap 33. Following the restart Howard would again jump out to the lead with fifth-place starter Billy Pauch Jr. on his back bumper on lap 34. Pauch Jr. would work the bottom to perfection while Howard rim-rode on the top of the speedway. On lap 35 the caution would fly again for Cale Ross who spun again in turns one and two.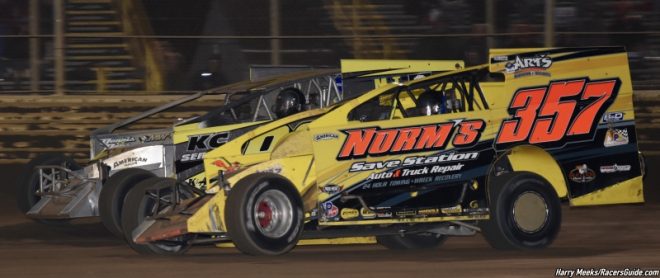 As leaders choice, Howard chose the outside for the restart and again jumped out to the lead with Pauch Jr. inching ever so closely lap after lap on the back of Norm Hansell's No. 357. Pauch would appear to be faster but just couldn't manage to pull even with Howard to complete the pass. Pauch Jr. would try the top of the Speedway on lap 50 in turns three and four but would lose a bit of ground as Howard would pull out to a four car length lead. Pauch Jr. would make one last effort on Howard but it was to no avail as Howard would pick up his second All Star Cup victory. Pauch Jr. would come home second with Wade Hendrickson, David VanHorn and Frank Cozze completing the top five.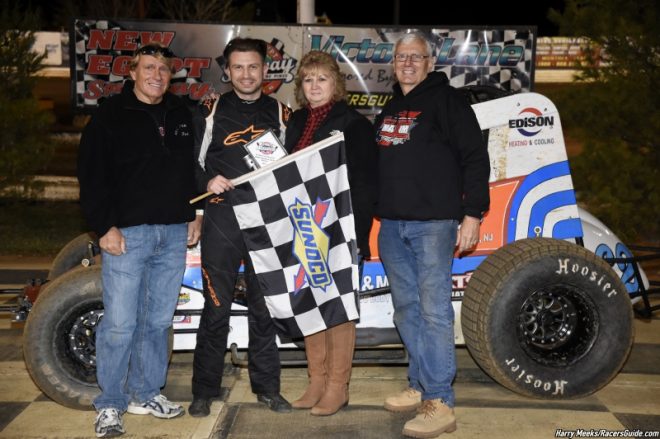 Brian Spencer would hold off a hard charging Joey Biasi to win his fourth straight Larry's Hot Rods & Harley's Northeast Wingless Sprint Car event. 2019 track champion Rich Mellor, Heidi Hedin and Larry Drake would complete the top five.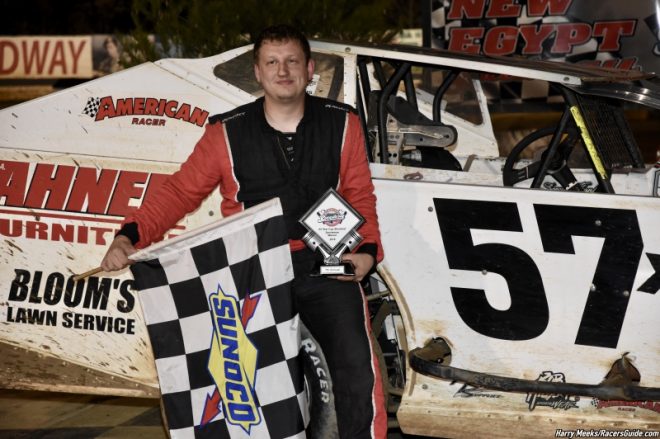 Pennsylvania invader Branden Edgar picked up his first career New Egypt Speedway Sportsman win in just his second start. Art Liedl would come on late in the going to finish second with Jim Housworth Joseph Brown and Bill Liedtka completed the top five.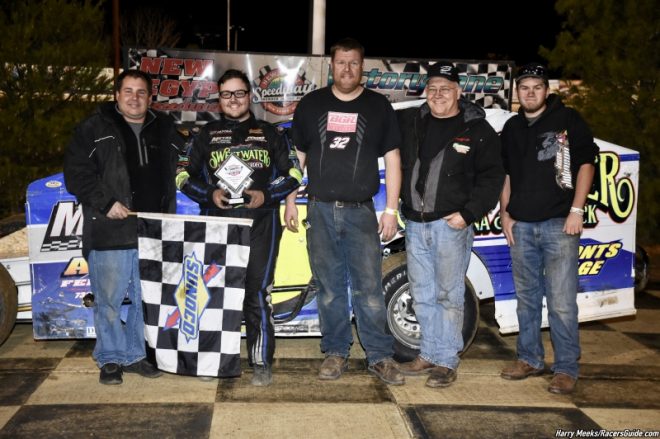 Joe Toth would win the rain shortened Crate Modified event. Toth who took the lead from Johnny Bangs on lap 10 said he would rather be lucky than good as he told Nick Leach post race had something break in the driveline and had to be pushed to Victory Lane. Ryan Godown Jr., Bangs, Jeremy Martino and Ryan Simmons rounded out the top five.
The final event of the 2019 schedule will be held on Saturday December 7th with our 22nd Annual Fall Swap Meet and Flea Market. Gates open to sell at 7:30am, it is free to browse and $15 to sell. Anything automotive is welcome to be sold.
Plans for the 2019 New Egypt Speedway awards banquet should be announced in the coming weeks.
New Egypt Speedway would like to thank all the race teams, fans and sponsors for their support during the 2019 season! The March Meltdown is tentatively scheduled for March 21st, 2020 here at NES!
New Egypt Speedway, which is New Jersey's premier dirt racing facility, is located on Route 539 just minutes from Six Flags Great Adventure and the New Jersey Turnpike. A racy 7/16-mile D-shaped dirt oval, New Egypt Speedway serves Garden State race fans with some of the best competition in the country. New Egypt's state-of-the-art facilities feature daylight-quality lighting and excellent sightlines from any seat in the house. The grandstands are fully wheelchair accessible with wide, clear, and well-groomed walkways. Concession facilities serve up everything from Jersey Burgers to ice cream treats at family-friendly prices.
For more information, visit online: www.newegyptspeedway.net, "Like" us on Facebook at www.facebook.com/newegyptspeedwayofficial, or follow us on Twitter @nesspeedway.
New Egypt Speedway Results 10/26/19
Modified Feature Results (60 Laps): 1.) DUANE HOWARD 2.) Billy Pauch Jr 3.) Wade Hendrickson 4.) David VanHorn 5.) Frank Cozze 6.) Jimmy Horton 7.) Davey Sammons 8.) Billy Osmun 9.) Ryan Krachun 10.) Jack Swain 11.) Mike Butler 12.) Chris Grbac 13.) Danny Bouc 14.) Bucky Kell 15.) Kevin Vaclavicek 16.) Cale Ross 17.) Stan Frankenfield 18.) Brandon Grosso 19.) PJ Oliver 20.) Ryan Simmons 21.) Dominick Buffalino 22.) Steve Young 23.) JR Fulper 24.) Michael McClinton
Larry's Hot Rods & Harley's Northeast Wingless Sprint Car Feature Results (25 Laps): 1.) BRIAN SPENCER 2.) Joey Biasi 3.) Rich Mellor 4) Heidi Hedin 5.) Larry Drake 6.) Duane Nixon 7.) Ken Nealis 8.) Dan Malley 9.) Eric Miller 10.) Greg Shepsis 11.) Brad Schaale 12.) Dean Conk
Hammer Sportsman Feature Results (25 Laps): 1.) BRANDEN EDGAR 2.) Art Liedl 3.) Jim Housworth 4.) Joseph Brown 5.) Bill Liedtka 6.) Will Dupree 7.) Mickey Kessler 8.) Marty Resnick 9.) Kenny Bock 10.) Matt Luzi 11.) Will Trstensky
Crate Modified Feature Results (16 Laps due to rain): 1.) JOE TOTH 2.) Ryan Godown Jr 3.) Johnny Bangs 4.) Jeremy Martino 5.) Ryan Simmons 6.) Dan Fleming 7.) Anthony Tramontana 8.) Ryan Simmons 9.) Howie Finch 10.) Jeff Bubori 11.) Tom Princiotta 12.) Glenn McIntre 13.) John Meyer 14.) Matt Miller 15.) Andy Walko 16.) Steve Hicks 17.) Will Protnick 18.) Justin Grosso 19.) Zachary Merola 20.) JD Cranston 21.) Jordan Cox 22.) Kevin Borden