[xyz-ihs snippet="Posts-Ad"]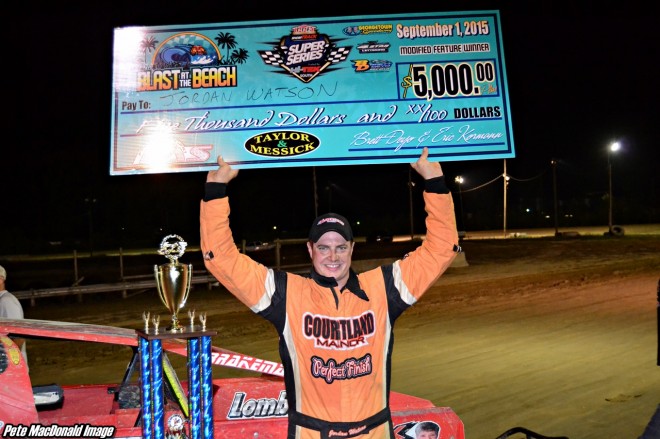 Hometown Driver Jordan Watson Tops Georgetown Speedway 'Blast at the Beach' And Pockets $5,280; Ryan Watt First-Ever Short Track Super Series South Region Champion; Other Victors Include Jeremy Harrington (Crate 602 Sportsman); Robert Smith (Super Truck) & Ryan Riddle (Delmarva Charger)
GEORGETOWN, DE – Jordan Watson put his name in the limelight with a career-defining victory on Tuesday night at Georgetown Speedway.
The Milford, Del., driver thrilled his hometown crowd by winning the second annual 'Blast at the Beach' at the historic half-mile track. Watson pocketed $5,280 cash for his efforts in the 35-lap Short Track Super Series Fueled By Hi-Tek big-block/small-block Modified main event. Sponsorship support for the program came via Taylor & Messick, Hurlock Auto & Speed Supply, Shore Water Refining and American Portable Mini Storage.
Boyertown, Pa.'s Ryan Watt, meanwhile, made history as the first-ever STSS Pioneer Pole Buildings Inc. South Region presented by Scotty's Speed & Diesel champion. Watt, who finished fourth in the event, will pocket $7,500 in point fund money for the five-race series at the December 5 Awards Banquet.
A huge crowd took in the special event co-promoted by Brett Deyo of BD Motorsports Media LLC and driver/racing businessman Eric Kormann.
By virtue of a redraw, Watson's Will Brown-owned No. 1W rolled off the starting grid in fifth position. Jamie Mills, meanwhile, charged from third to the lead in the early going of the main, sweeping past pole starter Neal Williams. Mills, of Milford, Del., appeared to have the car to beat in the race's first third before abruptly exiting the speedway with mechanical issues on the sixth lap.
Mills' misfortune handed the lead back to Williams, the Pittsgrove, N.J., pilot of Fred Vahlsing's No. 323OV. Watson moved in to contend from second position.
The championship battle had its own drama unfolding. David Van Horn Jr., who entered the night as the STSS point leader, showed signs of smoke and slowed. Other title contenders encountered their own issues including Mills, Craig Von Dohren with a broken axle and an overheating Billy Pauch Jr., who powered from 20th to run inside the top-four.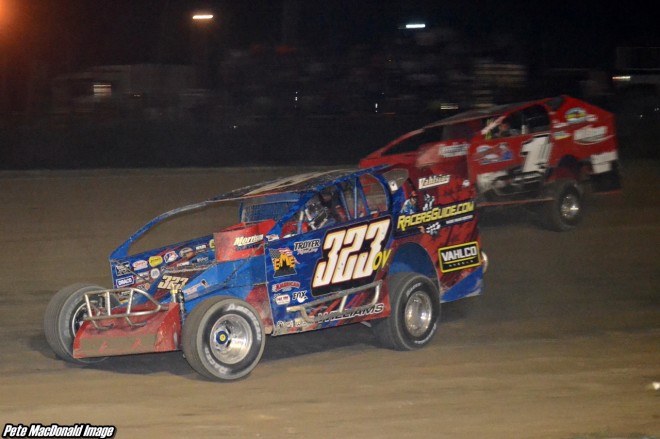 Watson pressured Williams, gaining and losing ground lap after lap. However, Williams had his own troubles developing. His car began to 'break' up down the straightaways with 10 laps to go.
Watson ultimately cleared Williams for the lead on lap 27 as Williams' car dropped off the pace. He led the remainder of the distance for the most prolific victory of his career.
"Wow!" exclaimed Watson, who received a thunderous ovation from the partisan crowd. "I kept gaining on the 323 (Williams) and I could see he was starting to slow down. I was trying to be careful not to get caught behind him and get run over. I knew I needed to go."
For Watson, now a Bridgeport (N.J.) Speedway regular, the triumph turned the corner on an up-and-down '15 season.
"This feels good – to win a race like this with such an awesome field," Watson said. "The whole year has been a struggle for us, which makes it that much sweeter."
Howard O'Neal of Lincoln, Del., authored a spectacular drive from 10th starting position to finish second, earning well over $3,000 for his efforts in the family fielded No. 09.
Jimmy Horton of Neshanic Station, N.J., drove from 15th on the grid to complete the podium in third, at the controls of his father, Jim's, No. 43. Horton and Watt spent the final 15 laps racing side-by-side and swapping the third position back-and-forth. Watt's fourth-place result was enough to clinch the STSS South Region crown and Andy Bachetti of Sheffield, Mass., earned a fifth-place finish in his Georgetown debut after starting seventh.
Completing the top-10 finishers were Anthony Perrego of Montgomery, N.Y., racing for the first time at Georgetown and earning $200 as the top small-block across the line; Joseph 'Jo Jo' Watson of Milford, Del., up from 13th starting spot in a second Mills family car; H.J. Bunting III of Milford, Del., who started 22nd in the Jake Marine No. 85; Dominick Buffalino of Morganville, N.J., in the Pat Michael No. 51M; and Rick Laubach of Hellertown, Pa., whose Gary Spotts-owned No. 91 was sidelined with engine issues after hot laps and picked up the ride in Brian Kressley's No. 19B. Laubach started 21st.
Will Brown's Truck Repair of Cambridge, Md., heat winners, pocketing $100 each, were O'Neal, Watson, Mills and Bachetti. Laubach and Bunting split the consolations.
Jeremy Harrington of Milford, Del., won the biggest race of his career, topping the 25-lap Crate 602 Sportsman headliner and earning $1,000 cash. Harrington started seventh and avoided a multi-car crash on a restart that collected a number of the top-running cars. Harrington then held off Joseph Tracy during the final stages of the main. Tracy, a rim-riding Scott Hitchens, Carson Wright and Brett Ballard completed the front five.
Robert Smith put his name in the win column as the 15-lap Super Truck victor and Ryan Riddle was the 15-lap Delmarva Charger winner.
The Georgetown event concluded the STSS South Region for 2015. The point fund will be distributed Saturday, December 5 at the Awards Banquet to be held at the Holiday Inn Lehigh Valley Conference Center in Breinigsville, Pa. Banquet order forms will be posted on the STSS website in the near future.
The next STSS Bob Hilbert Sportswear North Region event is planned for Sunday, Sept. 13 at Thunder Mountain Speedway in Center Lisle, N.Y., with the MjH Oilfield Wade Decker Memorial paying $5,000 to win, $1,000 for 10th and $400 to take the green. Also in action: Crate 602 Sportsman under the GRIT Series banner, XCel 600 Modifieds and Street Stocks.
To learn more about the Short Track Super Series or BD Motorsports Media LLC, visit www.bdmotorsportsmedia.com, www.shorttracksuperseries.com or call 845.728.2781 or e-mail bdmotorsportsmedia@gmail.com. "Like" Short Track Super Series on Facebook or follow @ShortTrackSS on Twitter.
BEACH BITS: The Lou Johnson-prepared Georgetown Speedway racing surface was in prime condition for Tuesday's event, with plentiful bite and ample racing room for side-by-side action. The oval was tabletop smooth from hot laps to the final checkered….
Fans, turning out in droves, enjoyed a number of giveaways throughout the night. CAT Country 97.5 broadcast live from the track and the RC2U remote-control track was set up for kids of all ages to enjoy….
Andy Bachetti towed six hours, 20 minutes to compete for the first time in his career at Georgetown. Bachetti spent the night at the track Tuesday before heading back to Massachusetts. Like Bachetti, New Yorker Anthony Perrego was a first-time participant at Georgetown….
Jimmy Horton was the last hauler to enter the pits after breaking down en route to the track. Horton's night ended much better than it started with a solid third-place result….
'BLAST AT THE BEACH' RACE SUMMARY – SEPT. 1, 2015
Short Track Super Series Fueled By Hi-Tek Pioneer Pole Buildings Inc. South Region Presented By Scotty's Speed & Diesel Race Summary (35 Laps): JORDAN WATSON ($5,280), Howard O'Neal, Jimmy Horton, Ryan Watt, Andy Bachetti, Anthony Perrego, Joseph Watson, H.J. Bunting III, Dominick Buffalino, Rick Laubach, Brad Trice, Kyle Merkel, Scott Van Gorder, Clay Tatman, Neal Williams, Matt Hawkins, Beau Wilkins, David Van Horn Jr., Billy Pauch Jr., Mike Gular, Jamie Mills, Richie Pratt Jr., Shawn Ward, Craig Von Dohren, Matt Jester.
Did Not Qualify: Ron Roberts, Michael White, Dale Hawkins, Kevin Gardner, Ryan Anderson, Brian Kressley, Eric Vent, Brad Roberts, Dave Schamp.
'Lucky 7' Lap Money ($1,190 Total): Neal Williams ($295); Anthony Perrego ($190); Jordan Watson ($180); David Van Horn Jr. ($120); Howard O'Neal ($105); Jimmy Horton ($100); Ryan Watt ($65); Andy Bachetti ($50); Dominick Buffalino ($45); Jamie Mills ($20); Billy Pauch Jr. ($20).
Allstar Performance Bonuses ($50 Product Certificates): Jimmy Horton (third) & H.J. Bunting III (eighth)
American Racer/Lias Tire Bonuses (FREE Tire): Anthony Perrego (sixth) & Brad Trice (11th)
ATL Fuel Cell Bonus ($100 Certificate): Andy Bachetti (fifth)
Behrent's Performance Warehouse Bonuses ($50 Gift Cards): Ryan Watt (fourth) & Dominick Buffalino (ninth)
Bob Hilbert Sportswear Bonuses ($100 Certificate): Howard O'Neal (second), Kyle Merkel (12th) & Richie Pratt Jr. (22nd)
Danny's Pizza Pizazz Halfway Leader Bonus ($200): Neal Williams
DTM Motorsports Highest Delaware International Speedway Regular ($250): H.J. Bunting III (eighth)
Fast Axle Bonus ($50 Certificate): Joseph Watson (seventh)
Simplicity Design/Vahlco Wheels Hard Charger ($200): H.J. Bunting III (22nd to eighth)
Jones Racing Products Giveaways: Ron Roberts (Aluminum –AN Wrenches) & Jordn Justice (Hustler Fan)
L&J Sheet Metal Small-Block Bonuses: Anthony Perrego (sixth – $200); H.J. Bunting III (eighth – $100); Mike Gular (20th – $100) & Matt Jester (25th – $100)
Lineman Racing Bonuses ($50 Certificates): Dominic Buffalino (ninth) & David Van Horn Jr. (18th)
Shiley Fabrication Hard Luck Award (Bumpers & Rubrails): David Van Horn Jr. (18th)
Vahlco Wheels Bonus (FREE Wheel): Andy Bachetti (fifth)
Vahlco Wheels Replacement Award (FREE Wheel): Beau Wilkins (17th)
Will Brown's Truck Repair Heat Winners ($100 each): Howard O'Neal, Jordan Watson, Jamie Mills & Andy Bachetti
Crate 602 Sportsman Feature Finish (25 Laps): JEREMY HARRINGTON ($1,000), Joseph Tracy, Scott Hitchens, Carson Wright, Brett Ballard, Brandon Grosso, Kevin Sockriter, Devin Dodson, Jordn Justice, Trevor Collins, Brandon Blades, Matt Smith, Matt Peck, Brian Hitz, Jeff Marker, Tyler Reed, Richie Wilson, Kenneth Peck, Tom Princiotta.
Super Truck Feature Finish (15 Laps): ROBERT SMITH, David Smith, Mattie Long, Bobby Reed, Robert Paczkowski, Stanley Pete Jr., Shane Clogg, Brian Meisenholder, Mike Lewis, Joe Pete, Orville Wells, Dale Elliott, Cory Sapp, Larry Meekins, Thomas Jackson, Tim Quay, Noah Vincent, Kara Klink, Billy Cropper, Billy Lockwood.
Delmarva Charger Feature Finish (15 Laps): RYAN RIDDLE, Jay Sipple, Bud Sipple, Scott Calhoun, Brett Sellers, Ashley Merritt, Derek Swafford, Randy Merritt, Phil Levering, Geoff Carey, Butch Hudson, Cory Sapp.
The Short Track Super Series is presented by Hi-Tek Race Fuel, American Racer/Lias Tire, Bob Hilbert Sportswear, Pioneer Pole Buildings Inc., Scotty's Speed & Diesel, East Coast Speed/ECS Auto, Behrent's Performance Warehouse, Allstar Performance, ATL Fuel Cells, Bicknell Racing Products, COMP Performance Group (COMP Cams, Driven Racing Oil & Quarter Master), Crane Ignition, Dirt Track Digest, Fast Axle, Fox Racing Shocks, Henry's Stainless Steel Exhaust, Hig Fab Chassis, Hyperco, Kirkey Racing Fabrication, Lineman Racing, Pilat Graphic Design, Race Pro Weekly, Racers Guide, S&D Bodyline, S&W Awards, Shiley Fabrication, Simplicity Design, Teo-Pro Car, Vahlco Wheels & VP Racing Fuel.
[xyz-ihs snippet="Posts-Ad"]