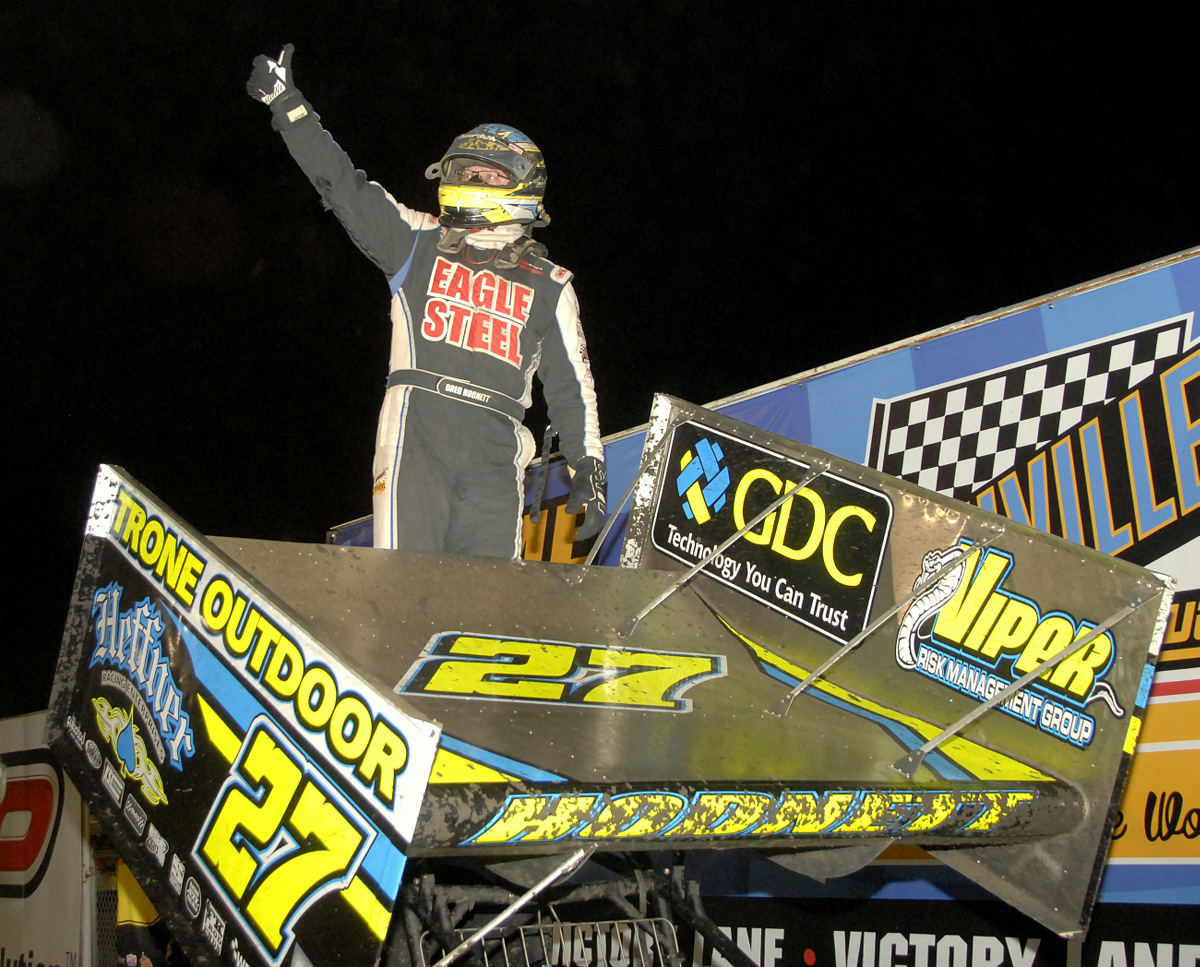 Hodnett Dominates Night 2 of the 27th Knoxville ASCS 360 Nationals presented by Great Southern Bank!
Story By: Bill Wright/Bryan Hulbert /ASCS
Photos By: Paul Arch & Tommy Hein/RacersGuide.com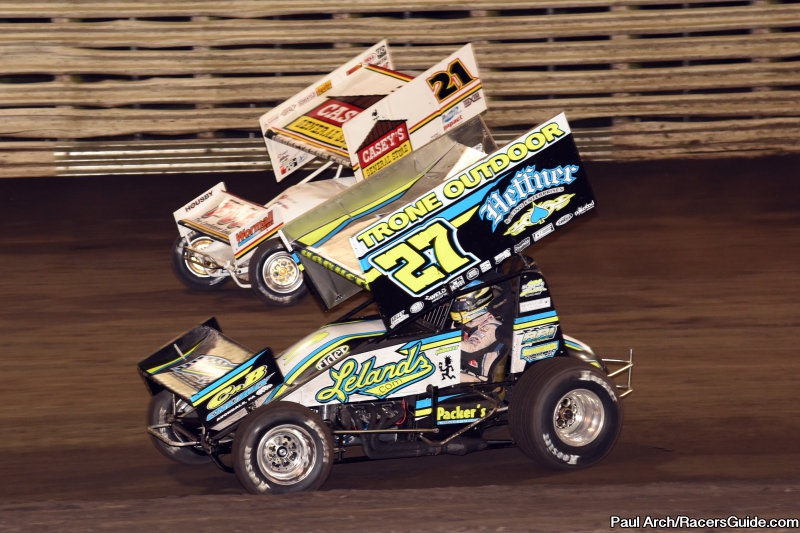 KNOXVILLE, Iowa (August 4, 2017) – Greg Hodnett won a three-way battle for the lead and cruised to his first career ASCS 360 win at the Knoxville Raceway, as well as first Lucas OIl ASCS presented by the MAVTV Motorsports Network score, on night two of the Knoxville 360 Nationals presented by Great Southern Bank.
The win, aboard the Heffner Racing No. 27, was worth $3,000 for the Thomasville, Pennsylvania native. Clint Garner and Wayne Johnson emerged as the two high-point drivers heading into Saturday night's $15,000 to win finale. They'll sit on the front row, with Nate Van Haaften and Jamie Ball in row two, and Aaron Reutzel and Tim Shaffer making up the third row.
Trey Starks led Brian Brown and Jeff Swindell to start the 20-lap feature event. Brown would shoot under Starks to lead lap two. Hodnett was up to third by lap four, and shortly after, Sawyer Phillips spun in turn three.
Brown led Starks, Hodnett, Swindell and Wayne Johnson back to green flag racing. Starks shot by Brown back into the lead when the green fell, while Johnson moved into fourth. Hodnett stuck his car to the low side, taking second on lap six. Two laps later, he was by Starks into the lead and checking out.
One final caution for a stopped Parker Price-Miller at the halfway point set up a ten lap Dash. At the time, Hodnett led Starks, Brown, Johnson, and Garner. Brown moved into second, while Garner took fourth and Swindell got back into fifth.
No one had anything for Hodnett, who took off from the field like a galloping horse. Brown was second, followed by Starks, Garner, and Swindell. Dusty Zomer, Van Haaften, Wayne Johnson, hard-charger Sam Hafertepe Jr. and Christopher Bell completed the top ten. Garner set quick time over the field, while Johnny Herrera, Ryan Giles, Zomer, Scott Bogucki and Tim Kaeding won heats. Ryan Leavitt won the C main in his first ever 360 start, while Hafertepe won the B.
"Mr. Aliquippa himself (Tim Shaffer), the 'Steel City Outlaw' got 'er done last night," said Hodnett in Victory Lane. "We were fortunate enough to take advantage of a pretty decent starting spot. We had a good race car and we came out on top in this one. It's been a long time since we've been up here. I didn't even know how to get here. I'm just very fortunate and very blessed to have this car, car owner and the guys who work on it. I'm very thankful. This is really important.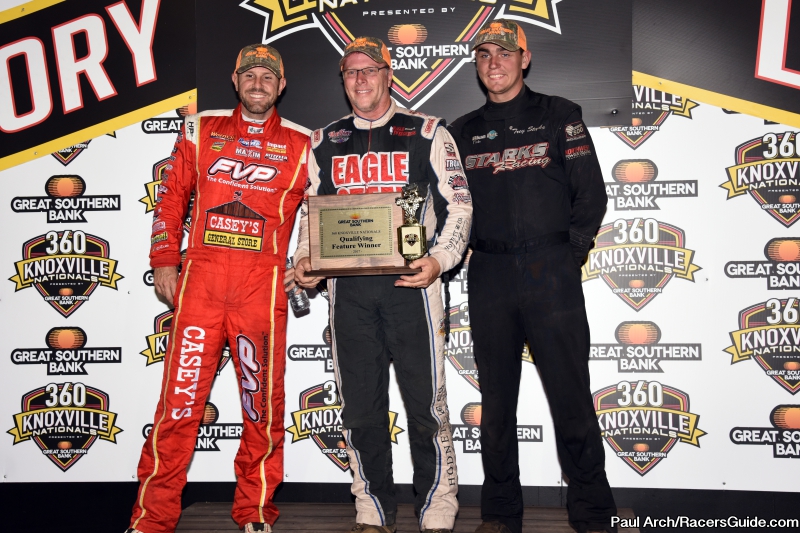 We come out here one time a year and get minimal laps here. We don't get as many as we used to with the Outlaws. This is hard to do. These guys are tough, and it's hard to do. We're going to keep working as a team to get better."
"I'm just a little disappointed in the driver," said Brown. "You get guys like Greg and Trey Starks, and you give them opportunities…they're going to make it count. For Greg to come back from Pennsylvania and put it on us says something about how strong his team is. Greg is a true ambassador to our sport. To run second to him isn't the end of the world. I just feel I didn't run 20 good laps. I need to make better laps and better decisions as a driver. We'll come back tomorrow and hopefully, I can do my job."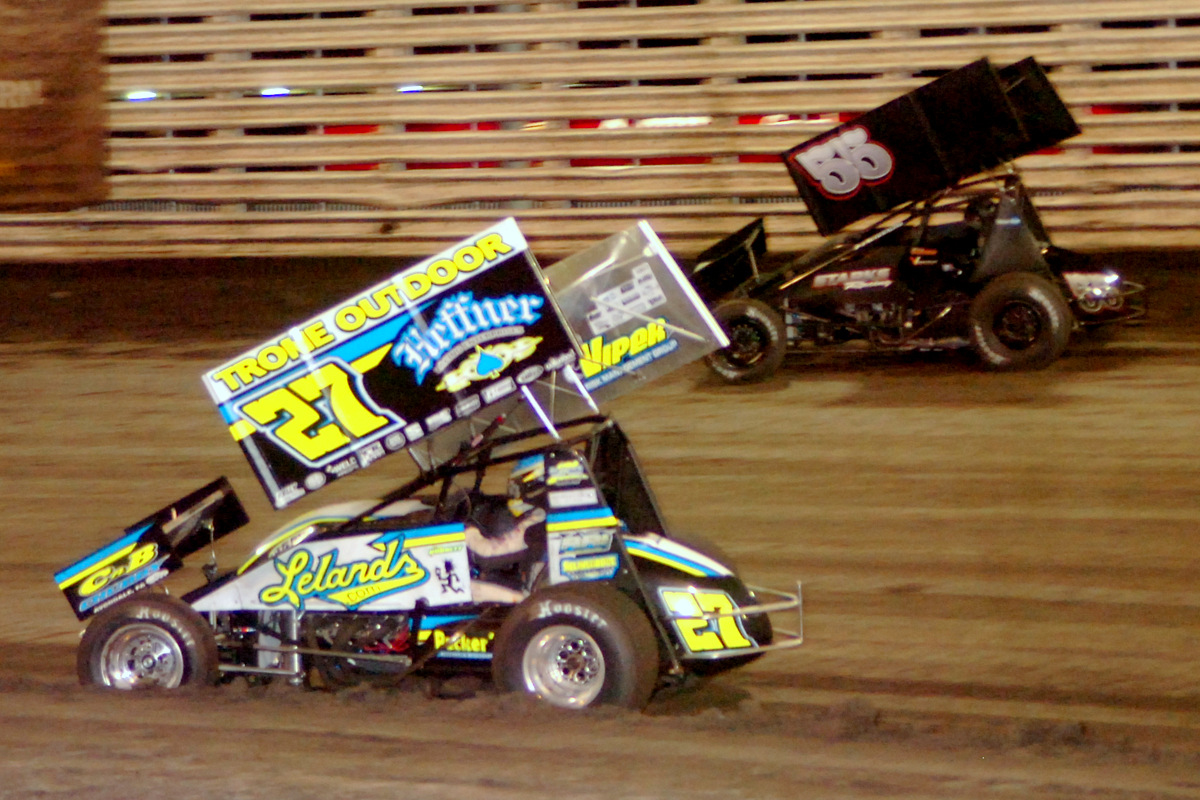 "I wish I had more laps around here and knew how to run the bottom," said Starks. "The bottom was hooked up, and good and fast. I just tried to run the top as hard as I possibly could. That was a fun one with Greg and Brian there. I can't really complain very much. Hopefully, we're set up good for tomorrow."
The 27th Annual Knoxville 360 Nationals presented by Great Southern Bank comes to a close tomorrow night, August 5! The 305 sprint car class will also be in action. For more information, visit www.KnoxvilleRaceway.com!
Race Results:
Lucas Oil ASCS National Tour
Knoxville Raceway – Knoxville, Iowa
27th Knoxville 360 Nationals presented by Great Southern Bank
Friday, August 4, 2017
Car Count: 48
Event Count: 91
Time Trials (Qualifying Order), 2 laps: 1. 40, Clint Garner, Sioux Falls, SD (2), 16.196; 2. 2C, Wayne Johnson, Knoxville, IA (8), 16.293; 3. 14B, Christopher Bell, Norman, OK (3), 16.319; 4. 23S, Stu Snyder, Waverly, NE (1), 16.334; 5. 3, Nate Van Haaften, Otley, IA (17), 16.449; 6. 41, Dominic Scelzi, Fresno, CA (6), 16.523; 7. 15H, Sam Hafertepe Jr., Sunnyvale, TX (26), 16.562; 8. 24, Terry McCarl, Altoona, IA (10), 16.581; 9. 55, McKenna Haase, Des Moines, IA (18), 16.622; 10. 71, Joey Saldana, Brownsburg, IN (45), 16.653; 11. 5M, Troy Manteufel, St. Peter, MN (5), 16.664; 12. 27, Greg Hodnett, Spring Grove, PA (39), 16.685; 13. 94, Jeff Swindell, Bartlett, TN (23), 16.700; 14. 090, Matt Juhl, Tea, SD (29), 16.716; 15. 44, Chris Martin, Ankeny, IA (7), 16.757; 16. 21, Brian Brown, Grain Valley, MO (19), 16.765; 17. 10H, Chad Kemenah, Alvada, OH (15), 16.767; 18. 55S, Trey Starks, Puyallup, WA (46), 16.779; 19. 26, Tayler Malsam, Seattle, WA (13), 16.802; 20. 25, Dylan Peterson, Hartford, SD (27), 16.806; 21. 35V, Jamie Veal, Warrnambool, VIC, Au (4), 16.813; 22. 36, Jason Martin, Lincoln, NE (20), 16.817; 23. 82, Dusty Zomer, Brandon, SD (44), 16.852; 24. 67X, Parker Price-Miller, Kokomo, IN (25), 16.872; 25. 3K, Tim Kaeding, San Jose, CA (47), 16.897; 26. 45X, Johnny Herrera, Albuquerque, NM (24), 16.919; 27. 9, Ryan Giles, Grimes, IA (48), 16.923; 28. 17H, Jared Horstman, Cloverdale, OH (11), 16.954; 29. 84, Scott Bogucki, McLaren Vale, SA, Au (37), 16.959; 30. 12N, Cole Duncan, Lockbourne, OH (34), 16.987; 31. 9M, Ricky Montgomery, Lakewood, CO (30), 17.011; 32. 71C, Stacey Alexander, Lacona, IA (36), 17.023; 33. 1B, Ryan Leavitt, Knoxville, IA (14), 17.024; 34. 07, Michael Bookout, Tulsa, OK (12), 17.040; 35. 22S, Sean McClelland, Tulsa, OK (32), 17.113; 36. 63, Brooke Tatnell, Sans Souci, NSW, Aus (42), 17.127; 37. 16, Dustin Clark, Agency, IA (33), 17.16; 38. 9N, Wade Nygaard, Grand Forks, ND (28), 17.193; 39. 3P, Sawyer Phillips, Pleasantville, IA (40), 17.22; 40. 7M, Chance Morton, Coweta, OK (31), 17.222; 41. 40H, Howard Moore, Memphis, TN (16), 17.259; 42. X1, Mason Moore, Chico, CA (35), 17.459; 43. 10C, Jeremy Campbell, Wichita, KS (41), 17.489; 44. 38, Mike Dapra, Gillette, WY (38), 18.171; 45. 1A, John Anderson, Des Moines, IA (43), 18.444; 46. 9Z, Jared Goerges, Brainerd, MN (21), No Time; 47. 26X, Josh Higday, Des Moines, IA (22), No Time; 48. 53D, Jack Dover, Springfield, NE (9), No Time;
Heat Races (Top four finishers go to A, next four to B, remainder to the C.)
Heat 1 (8 Laps): 1. 45X-Johnny Herrera, [1]; 2. 21-Brian Brown, [3]; 3. 35V-Jamie Veal, [2]; 4. 40-Clint Garner, [6]; 5. 41-Dominic Scelzi, [5]; 6. 40H-Howard Moore, [9]; 7. 5M-Troy Manteufel, [4]; 8. 9Z-Jared Goerges, [10]; 9. 9M-Ricky Montgomery, [7]; 10. (DNF) 63-Brooke Tatnell, [8]
Heat 2 (8 Laps): 1. 9-Ryan Giles, [1]; 2. 36-Jason Martin, [2]; 3. 2C-Wayne Johnson, [6]; 4. 27-Greg Hodnett, [4]; 5. 15H-Sam Hafertepe Jr, [5]; 6. 10H-Chad Kemenah, [3]; 7. 71C-Stacey Alexander, [7]; 8. 16-Dustin Clark, [8]; 9. X1-Mason Moore, [9]; (DNS) 26X-Josh Higday,
Heat 3 (8 Laps): 1. 82-Dusty Zomer, [2]; 2. 17H-Jared Horstman, [1]; 3. 94-Jeff Swindell, [4]; 4. 55S-Trey Starks, [3]; 5. 14B-Christopher Bell, [6]; 6. 24-Terry McCarl, [5]; 7. 9N-Wade Nygaard, [8]; 8. 10C-Jeremy Campbell, [9]; 9. 1B-Ryan Leavitt, [7]; (DNS) 53D-Jack Dover,
Heat 4 (8 Laps): 1. 84-Scott Bogucki, [1]; 2. 67X-Parker Price-Miller, [2]; 3. 3P-Sawyer Phillips, [8]; 4. 26-Tayler Malsam, [3]; 5. 55-McKenna Haase, [5]; 6. 23S-Stuart Snyder, [6]; 7. 07-Michael Bookout, [7]; 8. 09-Matt Juhl, [4]; 9. (DNF) 38-Mike Dapra, [9]
Heat 5 (8 Laps): 1. 3K-Tim Kaeding, [2]; 2. 12N-Cole Duncan, [1]; 3. 3-Nate VanHaaften, [6]; 4. 44-Chris Martin, [4]; 5. 71-Joey Saldana, [5]; 6. 22S-Sean McClelland, [7]; 7. 1A-John Anderson, [9]; 8. (DNF) 7M-Chance Morton, [8]; 9. (DNF) 25-Dylan Peterson, [3]
Hoosier Tire C-Main (Top 4 advance to the B):
C Feature (8 Laps): 1. 1B-Ryan Leavitt, [1]; 2. 9M-Ricky Montgomery, [2]; 3. 63-Brooke Tatnell, [4]; 4. X1-Mason Moore, [3]; 5. (DNF) 38-Mike Dapra, [5]; (DNS) 25-Dylan Peterson,
BMRS B-Main (Top 4 advance to the A):
B Feature (12 Laps): 1. 15H-Sam Hafertepe Jr, [4]; 2. 14B-Christopher Bell, [1]; 3. 24-Terry McCarl, [5]; 4. 10H-Chad Kemenah, [10]; 5. 71-Joey Saldana, [7]; 6. 23S-Stuart Snyder, [2]; 7. 41-Dominic Scelzi, [3]; 8. 55-McKenna Haase, [6]; 9. 9N-Wade Nygaard, [15]; 10. 71C-Stacey Alexander, [11]; 11. 09-Matt Juhl, [9]; 12. 40H-Howard Moore, [17]; 13. 5M-Troy Manteufel, [8]; 14. 10C-Jeremy Campbell, [16]; 15. 1B-Ryan Leavitt, [21]; 16. 16-Dustin Clark, [14]; 17. 07-Michael Bookout, [12]; 18. 1A-John Anderson, [19]; 19. X1-Mason Moore, [22]; 20. (DNF) 63-Brooke Tatnell, [23]; 21. (DNF) 22S-Sean McClelland, [13]; 22. (DNF) 9M-Ricky Montgomery, [20]; 23. (DNF) 9Z-Jared Goerges, [18]; (DNS) 7M-Chance Morton,
Protect the Harvest A-Feature:
A Feature (20 Laps): 1. 27-Greg Hodnett, [5]; 2. 21-Brian Brown, [2]; 3. 55S-Trey Starks, [1]; 4. 40-Clint Garner, [8]; 5. 94-Jeff Swindell, [4]; 6. 82-Dusty Zomer, [12]; 7. 3-Nate VanHaaften, [6]; 8. 2C-Wayne Johnson, [7]; 9. 15H-Sam Hafertepe Jr, [21]; 10. 14B-Christopher Bell, [22]; 11. 36-Jason Martin, [11]; 12. 26-Tayler Malsam, [9]; 13. 3K-Tim Kaeding, [14]; 14. 45X-Johnny Herrera, [15]; 15. 44-Chris Martin, [3]; 16. 24-Terry McCarl, [23]; 17. 9-Ryan Giles, [16]; 18. 12N-Cole Duncan, [19]; 19. 35V-Jamie Veal, [10]; 20. 17H-Jared Horstman, [17]; 21. 3P-Sawyer Phillips, [20]; 22. (DNF) 84-Scott Bogucki, [18]; 23. (DNF) 67X-Parker Price-Miller, [13]; 24. (DNF) 10H-Chad Kemenah, [24]
Lap Leader(s): Trey Starks 1, 3-7; Brian Brown 2; Greg Hodnett 8-20
CP-Carrillo Hard Charger: Sam Hafertepe, Jr. +12
FSR High Point Driver: N/A
Provisional(s):N/A
Tentative Lineups for the 27th Knoxville 360 Nationals presented by Great Southern Bank:
A Main
40, Clint Garner, 485
2C, Wayne Johnson, 478
3, Nate Van Haaften, 474
5J, Jamie Ball, 473
87, Aaron Reutzel, 471
49X, Tim Shaffer, 470
27, Greg Hodnett, 469
17B, Josh Baughman, 467
1, Thomas Kennedy, 467
23, Seth Bergman, 467
14B, Christopher Bell, 466
21, Brian Brown, 465
4, Jon Agan, 465
94, Jeff Swindell, 462
15H, Sam Hafertepe Jr., 460
55S, Trey Starks, 453
13V, Seth Brahmer, 451
18M, Ian Madsen, 451
1M, Danny Lasoski, 450
70, Calvin Landis, 448
B Main (4 transfer)
2M, Matt Moro, 447
82, Dusty Zomer, 446
6, Carson McCarl, 442
22, Rager Phillips, 442
24, Terry McCarl, 441
28, Jonathan Cornell, 441
36, Jason Martin, 435
44, Chris Martin, 435
26, Tayler Malsam, 433
35, Skylar Prochaska, 430
5H, Cory Eliason, 428
3K, Tim Kaeding, 428
45X, Johnny Herrera, 424
56N, Davey Heskin, 423
18, Ryan Roberts, 420
23S, Stu Snyder, 419
35V, Jamie Veal, 418
23D, Devon Dobie, 416
9, Ryan Giles, 416
41, Dominic Scelzi, 416
C Main (4 transfer)
21AU, Jordyn Brazier, 414
3S, Sammy Swindell, 412
71, Joey Saldana, 412
14, Tony Stewart, 412
17, Tyler Groenendyk, 409
55, McKenna Haase, 408
67X, Parker Price-Miller, 407
10H, Chad Kemenah, 407
17W, Harli White, 406
12N, Cole Duncan, 405
17H, Jared Horstman, 405
84, Scott Bogucki, 402
53, Joe Beaver, 397
23W, Scott Winters, 397
77X, Alex Hill, 396
5M, Troy Manteufel, 388
75AU, Matt Egel, 387
9, Matt Juhl, 386
3P, Sawyer Phillips, 378
99, Skylar Gee, 353
D Main (4 transfer)
4J, Lee Grosz, 352
71C, Stacey Alexander, 352
95, Matt Covington, 350
9N, Wade Nygaard, 342
1J, Danny Jennings, 342
45, Chuck Hebing, 339
12, James Mosher, 339
1B, Ryan Leavitt, 334
52, Blake Hahn, 334
40H, Howard Moore, 333
35L, Cody Ledger, 332
7, Michael Bookout, 331
25, Dylan Peterson, 328
16, Dustin Clark, 327
22S, Sean McClelland, 327
9M, Ricky Montgomery, 324
10C, Jeremy Campbell, 319
8M, Kade Morton, 319
27B, Patrick Bourke, 316
63, Brooke Tatnell, 315
E Main (4 transfer)
93, Dustin Morgan, 314
1A, John Anderson, 310
9L, Hunter Lane, 310
X1, Mason Moore, 308
33, Alan Zoutte, 307
7M, Chance Morton, 305
98, Chris Masters, 300
9Z, Jared Goerges, 295
38, Mike Dapra, 282
26X, Josh Higday, 269
53D, Jack Dover, 265