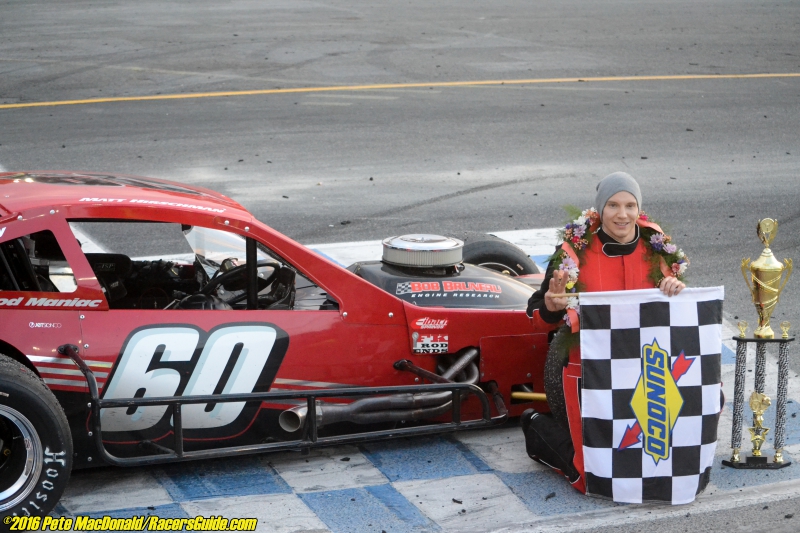 HIRSCHMAN SWEEPS TURKEY DERBY MODIFIED RACES AT WALL SATURDAY
Story By: Jeff Gravatt/Wall Stadium – Photos By: Pete MacDonald/RacersGuide.com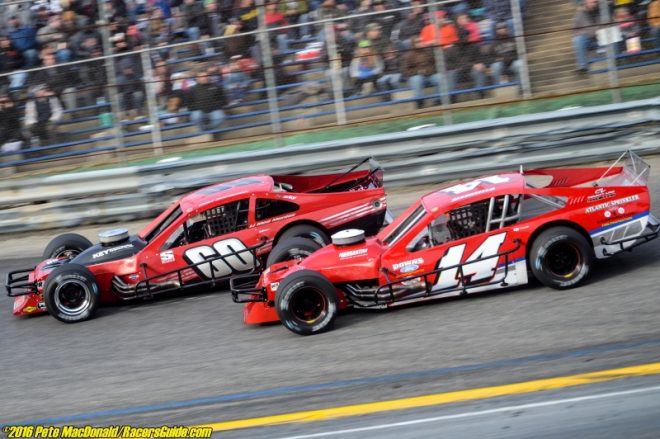 WALL TOWNSHIP, N.J. ~ Throughout the 2016 season Matt Hirschman lived up to his nickname "Big Money Matt" by winning many of the high paying races he entered. The Northampton, Pa. resident did it again on Saturday at Wall Stadium Speedway by winning both the Tour Type Modified and Wall Modified feature races during Turkey Derby XLIII. These two wins are added to the "Woody's 105" race victory that he enjoyed in the summer here.
Hirschman collected a combined $9,000 by sweeping the 150-lap Tour Type feature and the 100-lap SK Modified feature.
"It's a career day! That's the only way to put it. I've been doing it for probably five or six years," Hirschman said. "I've won each race on different years, but never in the same day. It's incredible! It's something I've always wanted to do. I know Jimmy (Blewett) has done it before; I don't know if anybody else has.
"I'm not the first to do it but it's something I've wanted."
Things seemed to be going Hirschman's way early in the Tour Type Modified race when he was promoted to the inside of row one as a result of pole sitter Steven Reed failing to make the grid with a broken transmission. Hirschman dominated the majority of the event but nearly got tripped up late when former Turkey Derby winner Eric Mauriello of Howell jumped to the lead. Hirschman returned the favor on the following restarting jumping to the front and never again being headed.
Mauriello, Blewett, Brick's Ron Frees, who had converted his Wall Modified to a Tour Type car, and Earl Paules of Palmerton, Pa. completed the top five in the 26 car field.
Things were not as easy for Hirschman during the Wall Modified feature. After losing a lap in time trials for being light at the scales in tech, Hirschman started in 13th. With a pack of cars around him, Hirschman made what would turn into a race-winning move near lap 25.
"We didn't start up where I would've liked to and we were in a position that I didn't like," he explained after the race. "I thought something was going to happen. I thought it might not be the winning strategy, but let's bail out of here, put our tires on, and hope it cycles through.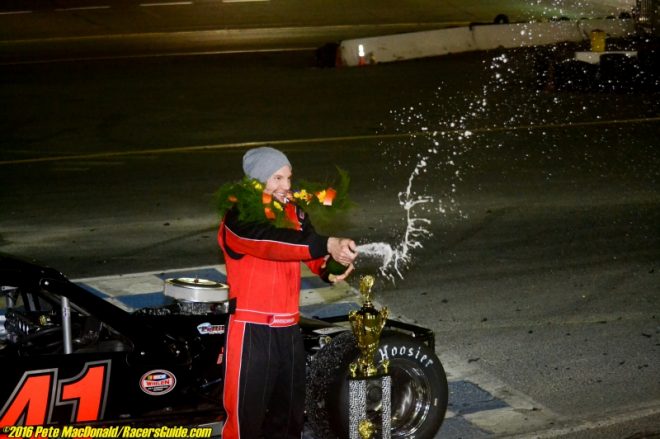 "The very next restart is when they all wrecked in three and four, so I went from last to eighth. It worked out, definitely the right thing to do, I don't know why I felt like doing it, but it was a good feeling. From there I ran the car hard and it stayed with me."
With Hirschman closing on the leader Jimmy Blewett, Blewett made what could've been a race-winning move when he went down pit road with just over 11 laps to go for new tires. Restarting around tenth Blewett charged through the pack to second before running out of time to challenge for the win.
Blewett, Matawan's Anthony Sesely, Danny Bohn, and Holmdel's Andrew Krause were second through fifth.
Blewett did enjoy a Modified win on Saturday taking top honors in the Dirt Modified 50-lap feature race. Krause came on to challenge later in the test before finishing second. Jim Brit, Mickey Kessler and Joey Payne wrapped up the top five.
Joe Ryan Osborn was a happy winner in Saturday's 30-lapper for the Legend Cars over Mike Alcaro. Richie Davidowitz, Kyle Ellwood and Joe Graf completed the top five. In Sunday's Legend Cars 40-lapper Alcaro took the win as Davidowitz, Noah Korner, Brandon Martinez and Kevin Nowak completed the top five.
Matt Roselli won Saturday's TQ Midget 30-lapper.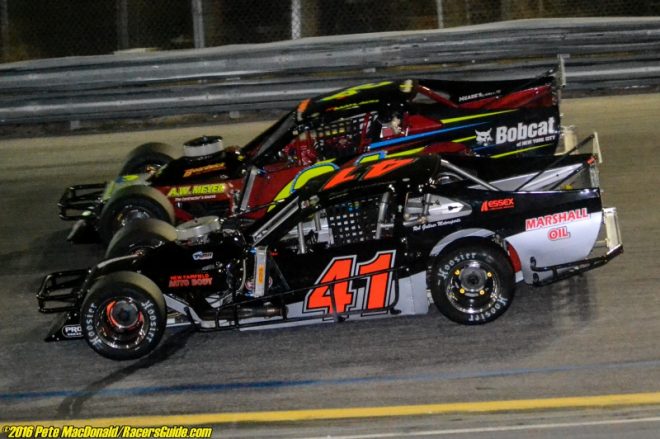 On Friday, day one of Turkey Derby, Blewett was a winner in a wreck filled 50-lapper for the Sportsman cars holding off Mayetta's Tyler Truex and Brick's Dom Fattaruso. Andrew Bohn and Matt Langbein were fourth and fifth.
Shanon Mongeau of Manchester won Friday's Limited Late Model 45-lapper over Wayne Coury. Chris Turbish, John Vullo and Marc Rogers were third through fifth.
Brick's Joe Mongeau won Friday's 40-lapper for the Factory Stocks over a challenging Rob McCormick. Richie Byrne, Scott Riggleman and Ron Booth were third through fifth. Sunday's 50-lapper saw Union's Joey Helberg take the victory with Shanon Mongeau, Tom Rajkowski, Tim O'Shea and Scott Riggleman completing the top five
Also on Friday Beachwood's Todd Pilla won the 4 Cylinder Stock main event. Darren Burdge chased him across the line for second, while Christian LaCicero, Jason Lane and Jeff Loesch posted top five finishes. Shanon Mongeau returned to win the 75-lap main event for the 4 Cylinder Stocks on Sunday. Robert Sutphin, Dan Birdsall, Lee Allen and Jay Conrad wrapped up the top five.
On Sunday, day three of Turkey Derby, the Dirt Sportsman cars saw action with Joey Payne taking the win over Rich Coons, Dakota Kessler and Chuck Stone. The Dirt Outlaw Stocks were also on Sunday's card with Brick's Ron Frees taking the win with Brian Ludwig, Jon Meyer, Billy Wroble and Michael Creamer filling out the top five.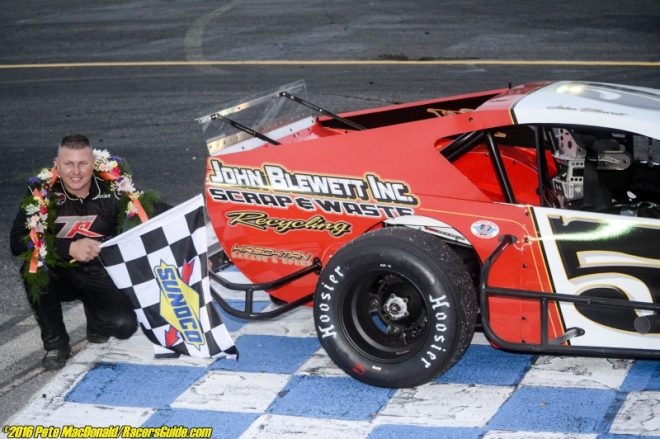 Jeff Henry won the demolition derby, final event of the season.
With the Turkey Derby now compete the 2016 season at Wall Stadium is in the record books. All attention is now turning to the 2017 season with the first pre-season testing session set for April 15.
Wall Stadium is located on Route 34 in Wall Township, N.J., just one mile north of Garden State Parkway exit 98 and Interstate 195 exit 35B. The speedway hotline number is 732-681-6400, the website is wallspeedwayracing.com and email address is CKMotorsports@aol.com.
TURKEY DERBY RESULTS
TOUR TYPE MODIFIED FEATURE – 150 Laps – 1. MATT HIRSCHMAN, NORTHAMPTON, PA., 2. Eric Mauriello, 3. Jimmy Blewett, 4. Ron Frees, 5. Earl Paules, 6. Jimmy Zacharis, 7. Andrew Krause, 8. Anthony Sesely, 9. Shawn Solomito, 10. Less Hinckley, 11. Keith Rocco, 12. John Fortin, 13. Jamie Tomaino, 14. John Markovic, 15. Amber Fortin, 16. Justin Bonsignore, 17. Andy Jankowiak, 18. Tommy Catalano, 19. Jonathan Mandato, 20. Timmy Solomito, 21. Austin Kochenash, 22. Dave Sapienza, 23. Ken Darch, 24. Jason Treat, 25. Tyler Truex, 26. Jack Ely
DOWNS FORD MODIFIED FEATURE – 100 Laps – 1. MATT HARISCHMAN, NORTHAMPTON, PA., Jimmy Blewett, 3. Anthony Sesely, 4. Danny Bohn, 5. Andrew Krause, 6. Eric Mauriello, 7. Jason Hearne, 8. Shawna Ingraham, 9. Marc Rogers, 10. Dennis Perry, 11. Shaun Carrig, 12. Chris Lane, 13. Chris Reynolds, 14. Ken Matlach, 15. Trevor Alspach, 16. Jack Ely, 17. Vinnie Marone, 18. Steven Reed, 19. Adam LaCicero, 20. Ricky Collins, 21. Justin Gumley, 22. Derek Hopkinson, 23. Shanon Mongeau, 14. Mike Benevides, 25. Zack Alspach, 26. Kenny Van Wickle
DIRT MODIFIED FEATURE – 50 Laps – 1. JIMMY BLEWETT, HOWELL, 2. Andrew Krause, 3. Jim Britt, 4. Mickey Kessler, 5. Joey Payne, 6. Rich Coons, 7. Rob Anderton, 8. Charles Stone, 9. Aleia Geisler, 10. Brian Papiez, 11. Dakota Kessler, 12. Bucky Kell, 13. Kerry Irwin, 14. Jackie Brown, 15. Mark Levy
LEGEND CARS FEATURE – 30 Laps – Saturday – 1. JOE RYAN OSBORN, 2. Mike Alcaro, 3. Richie Davidowitz, 4. Kyle Ellwood, 5. Joe Graf, 6. Artie Pederson, 7. Brandon Martinez, 8. Kevin Nowak, 9. Mitchell Dowd, 10. Matt Maring, 11. Vinny Delaney, 12. Louie Keraitis, 13. Lowbed Johnson, 14. Chris Gall, 15. Brad VanHouten, 16. Glenn Corner, 17. Bryan Kelly, 18. Tony Hanbury, 19. Joe Fresco, 20. Kyle Dealaman, 21. Tony Colandro, 22. Eugene Drew, 23. Noah Korner, 24. Gillian Korner, 25. Pat Verwys, 26. DJ Doyle
LEGEND CARS FEATURE – 40 Laps – Sunday – 1. MIKE ALCARO, 2. Davidowitz, 3. Korner, 4. Martinez, 5. Nowak, 6. Dowd, 7. Graf, 8. Kelly, 9. Maring, 10. Keraitis, 11. Delaney, 12. Kyle Elwood, 13. Gall, 14. Gillion Kirkpatrick, 15. Pedersen, 16. VanHouton, 17. Dealaman, 18. Mike Marfeo, 19. Korner, 20. Colandro, 21. Hanbury, 22. Johnson, 23. Joey Lembo, 24. Joe Fresco, 25. Joe Mafeo, DQ Joe Ryan Osborn
LIMITED LATE MODEL FEATURE – 45 Laps – 1. SHANON MONGEAU, MANCHESTER, 2. Wayne, Coury, 3. Chris Turbish, 4. John Vullo, 5. Marc Rogers, 6. Daryn Miller, 7. Joe Mancuso, 8. Brandon Turbish, 9. Mike Tillett, 10. Ricky Collins, 11. Jim Moorman, 12. Andy Gamble, 13. Anthony Hillard, 14. Ray Minieri, 15. Rick Kopf, 16. Brian Doyle, 17. Charles Macwhinnie
SPORTSMAN FEATURE – 50 Laps – 1. JIMMY BLEWETT, HOWELL, 2. Tyler Truex, 3. Dom Fattaruso, 4. Andrew Bohn, 5. Matt Langbein, 6. CJ Lehman, 7. Blake Barney, 8. Michael Carr, 9. Robert Silver, 10. Joe Graf, 11 Jonathan Laureigh, 12. Kenny Van Wickle, 13. Roland DeMartino, 14. Chris Owsik, 15. Jarret DiGiantomasso, 16. Robert Sutphin, 17. Jake Nelke, 18. Jon Meyer, 19. Bill McNeil, 20. Jimmy Wolcott, 21. Kevin Davison, 22. Eric lane, 23. Dom Casola, 24. Robby Walton, 25. Donnie Ericson, 26. Kenny Green
4 CYLINDER STOCK FEATURE – 40 Laps – 1. RODD PILLA, BEACHWOOD, 2. Darren Burdge, 3. Christian LaCicero, 4. Jason Lane, 5. Jeff Loesch, 6. TJ Graves, 7. Tom Lalomia, 8. Lee Allen, 9. Chuck McDonald, 10. Jimmy Avery, 11. Richard Smith, 12. Jim Sturtecky, 13. JC Duvall, 14. Dan Birdsall, 15. Ronnie Mullen, 16. Bobby Woch, 17. Brian Osborn, 18. Darianne McLaren, 19. Frank Ciancitto
FACTORY STOCK FEATURE – 40 Laps – Friday – 1. JOE MONGEAU, BRICK, 2. Rob McCormick, 3. Richie Byrne, 4. Scott Riggleman, 5. Ron Booth, 6. Ryan Flores, 7. Bill Stockert, 8. Tim O'Shea, 9. Gerry Koenig, 10. Tom Rajkowski, 11. Joey Helberg, 12. Scott Maher, 13. John Carpenter, 14. Tim Majik, 15. Eric Bodenschatz, 16. Steve West, 17. Mike Montano, 18. Waylon Speer, 19 Tommy Casagrande, 20 Josh Matthews, 21. Elliott Wohl, 22. Whitey Miller
FACTORY STOCK FEATURE – 50 Laps – Sunday – 1. Joey Helberg, Union, 2. Shanon Mongeau, 3. Rajkowski, 4. O'Shea, 5. Riggleman, 6. Stockert, 7. West, 8. Booth, 9. Maher, 10. Byrne, 11. Matthews, 12. Chris Felber, 13. Koenig, 14. Wohl, 15. Carpenter, 16. Rob Haberstick, 17. Joe Mongeau, 18. Waylon Speer, 19. Montano
DIRT OUTLAW STOCK FEATURE – 25 Laps – Sunday – 1. RON FREES, BRICK, 2. Brian Ludwig, 3. Jon Meyer, 4. Billy Wroble, 5. Michael Creamer, 6. Tom Wills, 7. Dan Collamer, 8. Spider Ensinger, 9. Todd, Dige, 10. Darren Cox, 11. Jack Beaumont
DIRT SPORTSMAN FEATURE – 12 Laps – 1. Joey Payne, 2. Rich Coons, 3. Dakota Kessler, 4. Chuck Stone