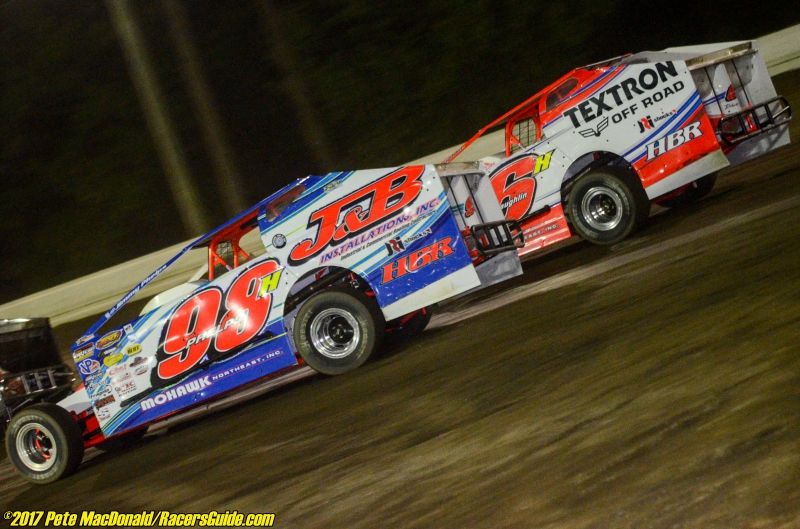 Heinke Baldwin Racing 2017 Season in Review
Story By: Mandee Pauch/MPR
Photos By: RacersGuide.com Photo Staff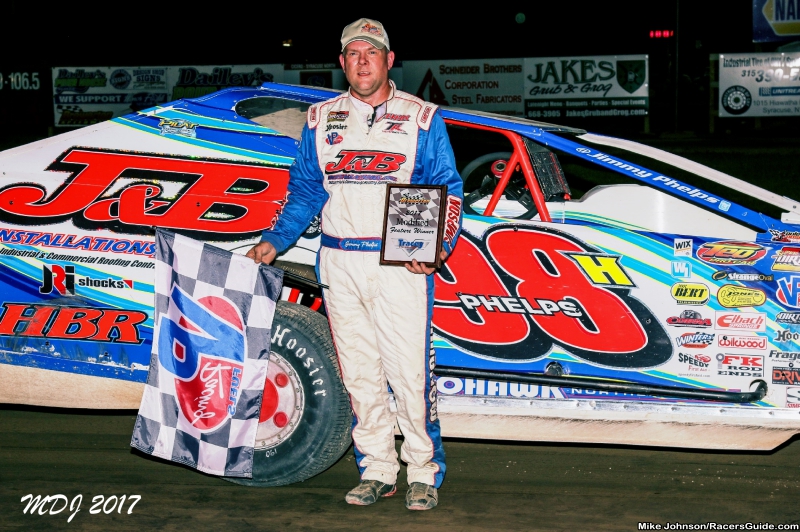 Mandee Pauch Relations – November 15, 2017 – Fast cars, knowledge and teamwork led the Heinke-Baldwin race team to a strong 2017 season.
Together, the team earned five wins, 48 top-fives and 81 top-10s in 119 races.
Their consistency shined bright with six top-10 points finishes, not just at their weekly home tracks but also on the Super DIRTcar Series.
"It really seemed like we got off to a decent start but then for some reason we were starting to dial backwards," said the 'Baldwinsville Bandit,' Jimmy Phelps. "We dug ourselves out of a hole at both tracks. Some of that was probably due to the fact that our cars weren't where they were supposed to be. We weren't winning so we started to make changes which got us further down the beaten path."
Phelps and his team were able to rebound and claw their way back into contention for the point's championship at both Brewerton and Fulton Speedway. Phelps and the team closed out the 2017 second in points at both home tracks.
"We made changes toward the end and made our way back in the points and just ran out of time," noted Phelps. "We had some decent runs. All said and done, if we eliminated that down point in the year we would have had a little more of a cushion to finish the season out on top."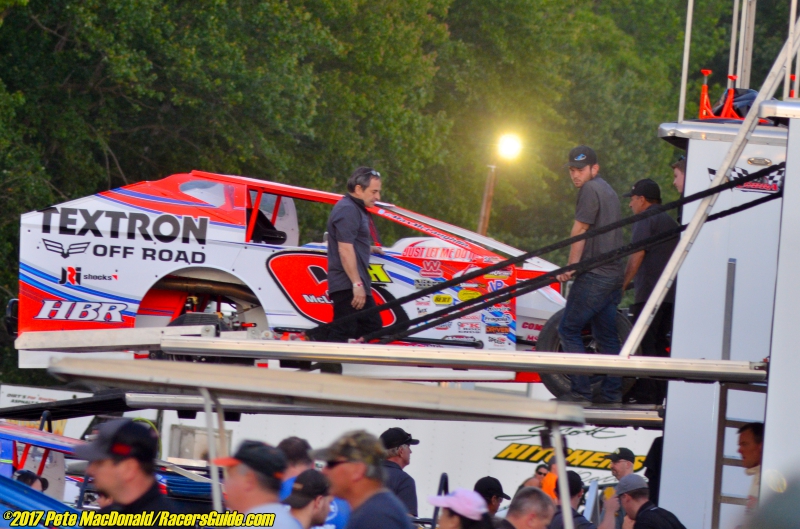 'Mad' Max McLaughlin made an impression this season by grabbing his first ever Big Block Modified career victory at Fulton Speedway then went on to win one more at Brewerton Speedway.
"Even though it's only been a year and a half in a Big Block, it felt like a long time coming," McLaughlin said. "I hadn't won a race in that long and to finally get it done was awesome. To win back-to-back races felt good. To finally get the first one out of the way then start clicking them off after that was pretty cool."
McLaughlin finished a strong fourth-place overall in home track points at Brewerton Speedway and sixth overall at Fulton Speedway.
"We started off the year slow," added McLaughlin. "Towards the end of the year we were consistent with top-fives. I feel if we ran the way we did at the end of the season all year we would have ran a strong contention for the points chase."
The No.98h team weren't off to a very strong start on the Super DIRTcar Series this year, but once again they were able to overcome diversity and bounce back for a solid top-five overall points finish with the series.
"We were a little disappointed with our efforts on the series," Phelps said. "We really struggled early in the season. We built momentum there late but never quite got to victory lane. We have one or two guys who are soon to be really superior as far as the series goes. The rest of us are playing catch up. It'll be a testament to our off season to see if we can keep up with them and narrow that margin for next tear."
McLaughlin's overall points finish with the series doesn't do his season any justice. Going into the World Finals at The Dirt Track at Charlotte McLaughlin sat sixth in points. After a rough weekend McLaughlin came out ninth in points. Despite his overall finish, McLaughlin clicked off 15 top-10s out of a total of 28 races for his second-straight year on the tour against the best in the business.
"We lacked speed all weekend in Charlotte," he said. "Every time we were on the track we were behind. If you qualify bad down there, it puts you behind the eight ball for the rest of the weekend. That hurt us big time points wise. Having double point shows both nights killed us."
Despite the erratic 2017 season, Phelps already has his sites on 2018.
"We have a good foundation right now," Phelps said. "We have a little bit of work to do just to learn the car and the track conditions. We have a really good car. I think we just need to learn more about it. It's really just a matter of fine tuning right now and trying to improve what we have as a foundation.
We worked on our motor program throughout the summer so we really need to just think about what we learned over the season and how to take that further."
Phelps and his No.98h team collected three wins, 29 top-fives and 44 top-10s in 60 races.
The 17-year-old from Mooresville, N.C. plans on having a busy 'off-season.' McLaughlin will be racing a late model for the Turkey 100 at Swainsboro Speedway in Georgia over Thanksgiving. He may also dabble in some more racing over the winter.
"I'll make sure to post online any more races I'll be doing during the winter," noted McLaughlin.
McLaughlin and the No.6h team collected two wins, 19 top-fives and 37 top-10s in 59 races.
McLaughlin is already looking ahead to the DIRTcar Nationals in February at Volusia Speedway. "I'm hoping to have a strong start down and redeem ourselves. We lost by one point in the DIRTcar nationals last year so we're looking to take the title in 2018."
To the crew who work day in and day out to help make things possible, "I can't thank them enough," noted Phelps. "You really find out who you have behind you. When things are going good you have a lot of friends but when you struggle a little bit you find out what your team is made of and we have a really good team."
Both drivers would like to give a special thanks to Al and Judy Heinke, HBR, Mohawk Northeast and all of their sponsors for their efforts, faith and continued support to help make everything possible.
HBR SEASON STATS –
Jimmy Phelps
60 races – 3 wins, 29 top fives, 44 top 10's
Max McLaughlin
59 races – 2 wins, 19 top fives, 37 top 10's
MEDIA LINKS –
HBR
Facebook: www.facebook.com/hbrmotorsports
Twitter: www.twitter.com/HBR_Racing
Jimmy Phelps
Website: www.jimmyphelps.com
Facebook: www.facebook.com/JimmyPhelps
Twitter: www.twitter.com/jimmy_phelps
Instagram: www.instagram.com/jimmyphelps
Max McLaughlin
Website: www.maxmclaughlinracing.com
Facebook: www.facebook.com/MaxMcLaughlinRacing
Twitter: www.twitter.com/MaxMcLaughlin_
Instagram: www.instagram.com/maxmclaughlin_
Dave Blaney
Twitter: www.twitter.com/BuckeyeBullet10
APPAREL –
The HBR team has apparel available for sale at their racecar trailer during events they compete in this season.