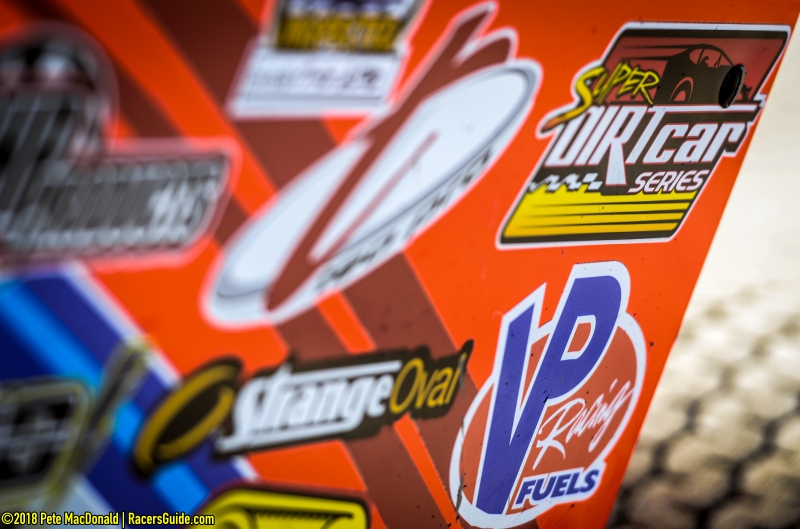 HBR Racing Recap 10/23/18
Story By: Mandee Pauch/MPR
Photos By: Dan DeMarco & Pete MacDonald/RacersGuide.com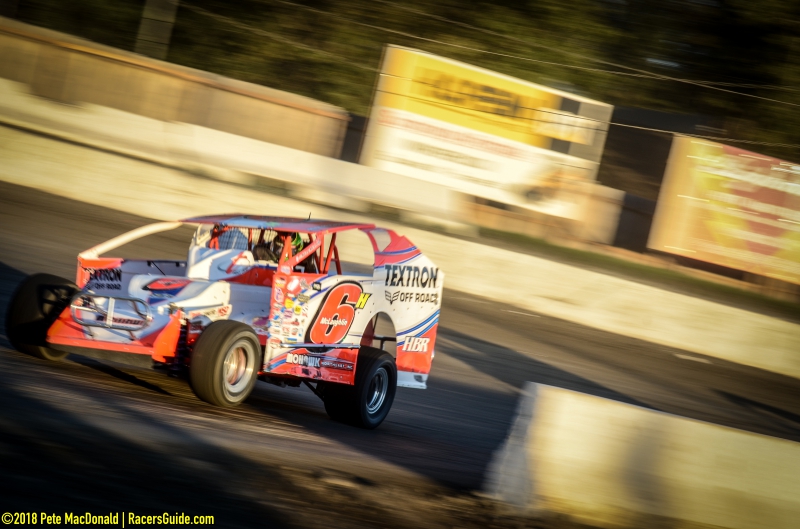 Mandee Pauch Relations – October 23, 2018 – This past weekend the HBR team made the trip to Orange County Fair Speedway for the 57th Annual Eastern States Weekend in Middletown, NY.
Friday afternoon kicked off Eastern States Weekend with time trials for the Big Block Modifieds.
"I thought how early we went out, we timed really well, considering," said Jimmy Phelps. "Towards the tail end, the track picked up speed and we fell back to eighth."
Phelps' time lined him up on the pole in his heat race.
"We had a pretty good car," he said. "We were able to run our own race and stay our front and focus on hitting our marks."
Phelps' heat race win placed him into the dash, where he went on to win it, pocketing some extra money.
Phelps rolled off on the inside of the fifth row for Sunday's 200-lap main event.
"I didn't think we were great at the beginning," Phelps added. "It seemed like once we burnt some fuel it came to life. We pitted with the leaders and only got fuel. As the race went on, it got better and better. The two guys ahead of me were really good, we could run with them, just couldn't pass them. We settled in after every restart and just tried to save the tires. I hoped the leaders would start to fall back, which they didn't. Settled for third, which we're happy with."
'Mad' Max McLaughlin went out early and timed 15thfastest overall in time trials.
"We were a little tighter than I needed to be," he said. "We should have been better."
McLaughlin's time trial efforts lined him up second in his heat race.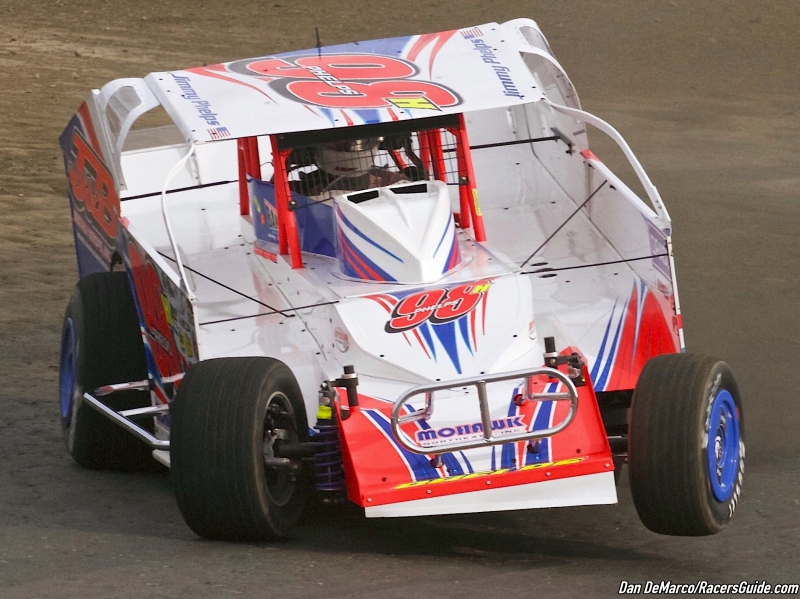 "We ran second to Jimmy," noted McLaughlin. "He was really good. We had a three second lead on third place, but Jimmy had a second over us. We knew we had to make some changes for the race."
McLaughlin rolled off on the inside of the eighth row for the 200-lap main event.
"We went with a strategy to not take any tires and fuel only," he said. "We waited around until the first stop. We went to take fuel and a lot of other people did the same thing. We were saving tires and trying to get track position, but everyone did the same thing, so we were sitting in the back at that point. We made our way forward on a one groove race track. At one point we were running inside the top ten. On a late restart a car picked our rear tires off the ground which made us fall back to 15th."
McLaughlin was able to rebound and drive his way back up to an 11th-place finish.
On Saturday, Phelps ran the small block modified portion of Eastern States Weekend in his no.98h machine.
"We timed third right out of the gate," he said. "I thought it was going to hold up. We sat up there until right at the end when we got bumped by a handful of guys, which put us back to eighth."
Similar to Friday's action in the big block modified, Phelps sat on the pole in his heat race.
"We fell back on the green," he added. "We settled in second and rode it out. We didn't have the speed we needed in the heat to pose a threat to win it."
Phelps rolled off on the inside of the eighth row for the 100-lap small block modified main event.
"We were holding our own," Phelps added. "We were just riding trying to save our stuff. Then we got in a jingle on a restart. I thought it did more damage than it did, so I pitted to look over the car plus, we had to start tail anyways. After that it seemed like we were in every single jingle. More and more yellows came out and we were in all of them. Once we got settled in and got a few strong green laps, we got back into the top ten. With about 20 laps to go I went underneath someone and they got over my right front and put a slice in the right front tire. After a few laps the tire started getting soft, so we pulled in and called it a day."
Next up for the HBR team will be the World Finals at The Dirt Track at Charlotte to wrap up their 2018 season with the Super DIRTcar Series.
Phelps currently sits in a close fourth-place in the points battle heading into Charlotte.
"it seems like we've been off the last few years down there, so we want to go down there and run well," Phelps said. "Things have been clicking for us lately, so we're excited to get down there. We've been a threat to win most nights, so I think our program will help us down there."
McLaughlin currently sits fifth in points, only seven points behind teammate, Phelps.
"Charlotte is one of my favorite places to go," McLaughlin added. "It's my home town, so hopefully we can pull a win off in front of my family and friends."
HBR QUICK RESULTS –
Jimmy Phelps
October 19-21 – Orange County Fair Speedway; Heat: 1 (1); Feature: 3 (9)
October 20 – Orange County Fair Speedway; Heat: 2(1); DNF (15)
Max McLaughlin
October 19-21 – Orange County Fair Speedway; Heat: 2 (2); Feature: 11 (15)