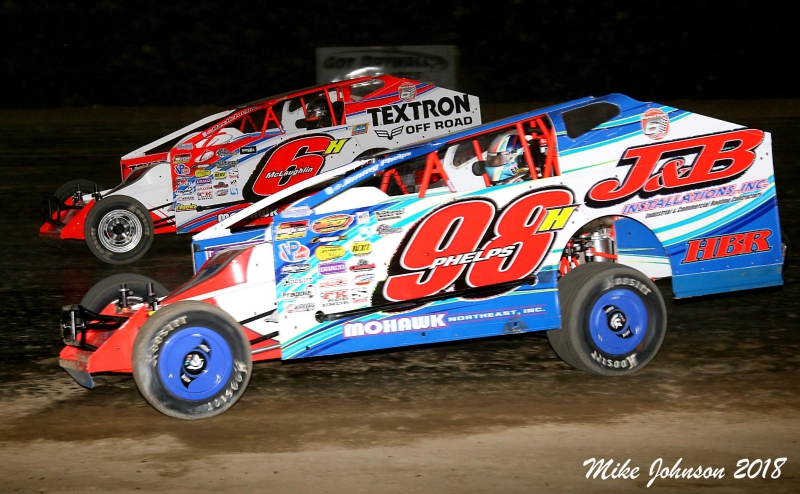 HBR Racing Recap 7/17/18
Story By: Mandee Pauch/MPR
Photos By: Mike Johnson/RacersGuide.com
Mandee Pauch Relations – July 17, 2018 – The stars aligned Friday night at Brewerton Speedway for Max McLaughlin. After struggling at their Friday night home track all season, McLaughlin was able to park the Textron Off Road no.6h machine in victory lane.
The HBR team kicked off their weekend Friday evening at Brewerton Speedway.
Jimmy Phelps started sixth in his heat race and climbed his way through to finish third.
"We missed a little bit on Friday," Phelps said. "We were good just not good enough."
Phelps' third place finish in his heat race lined him up on the inside of the eighth row for the main event.
"We started deep and weren't good enough to take advantage of opportunities which left us playing catch up all night," Phelps added. "It was disappointing because we've been good there but somehow missed it a little bit. We aren't worried because our baseline has been good over there."
Phelps sliced his way through the field and closed out the evening with a seventh-place finish.
'Mad' Max qualified third in his heat race from his fourth-place starting spot.
"We were passing for second but there still wasn't a ton of passing in the heats, so it was tough," McLaughlin added. "I knew we had one of the best cars we've had there all year, so we felt good after the heat."
McLaughlin's third-place heat race finish lined him up on the inside of the fifth row for the main event.
"I felt like our tire didn't fire right away so we fell back to 11th," he said. "I felt it come in once we got some heat in our tire. The car was awesome from there on. It went green, so we had to make our ground up on green flag runs. Once we got to second Tompkins was out front pretty far. I found a different line I could catch him through in turns one and two and finally got by him and made the pass with five to go."
McLaughlin and the no.6h team have been battling Brewerton Speedway all season, to finally get a victory under their belt at their Friday night home track was a relief.
"It was nice," McLaughlin noted. "We've struggled there all year. Now I feel like we have a baseline that's good there. Not only good there, but it seems like everywhere we go we're fast. It feels good to have a great race car under us that can run up front."
The team went to Land of Legends Raceway on Saturday. They ran their scheduled heat races and both qualified but unfortunately due to complications with the track surface they canceled the remainder of the evening. The feature will be run at a later date.
McLaughlin will be kicking his week off early and will be heading west to Eldora Speedway on Wednesday for the Eldora Dirt Derby with the NASCAR Camping World Truck Series.
Next on tap for the HBR team will be Orange County Fair Speedway on Thursday with the Super DIRTcar Series then Brewerton Speedway on Friday and Land of Legends Raceway on Saturday.
HBR QUICK RESULTS –
Jimmy Phelps
July 13 – Brewerton Speedway; Heat: 3 (6); Feature: 7 (15)
Max McLaughlin
July 13 – Brewerton Speedway; Heat: 3 (4); Feature: 1 (9)
HBR SEASON STATS –
Jimmy Phelps
31races– 3 wins, 17 top 5's, 22 top 10's
Max McLaughlin
31races– 2 wins, 9 top 5's, 22 top 10's
UP NEXT –
July 19 – Orange County Fair Speedway
July 20 – Brewerton Speedway
July 21 – Land of Legends Raceway