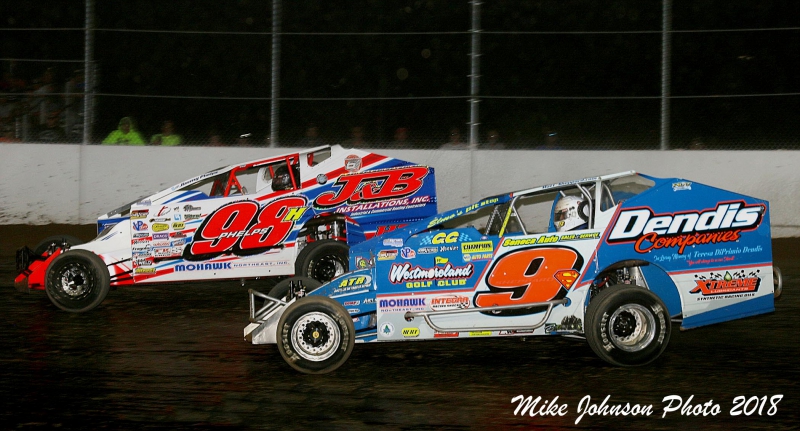 HBR Racing Recap 6/12/18
Story By: Mandee Pauch/MPR
Photos By: Mike Johnson/RacersGuide.com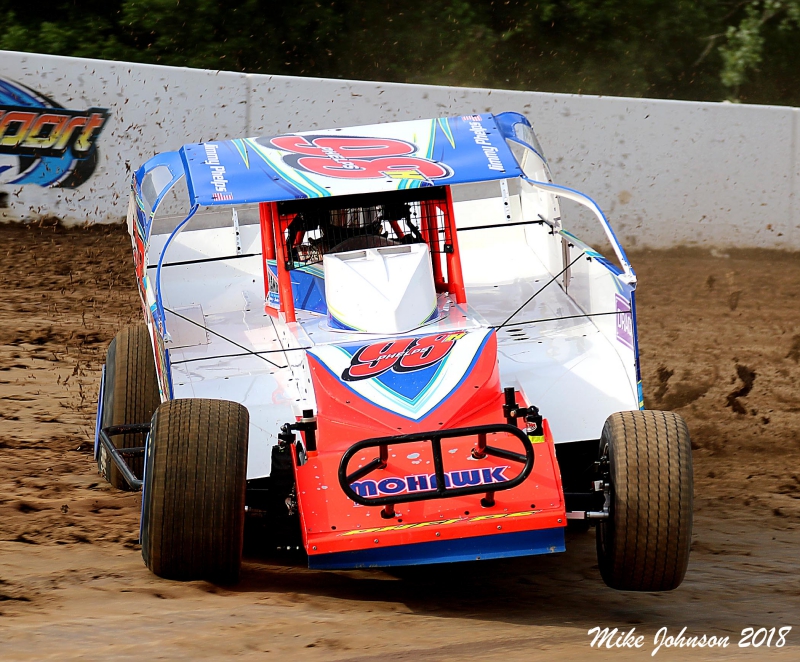 Mandee Pauch Relations – June 12, 2018 – Jimmy Phelps and Max McLaughlin are gearing up for this Friday's Showdown at Sundown 100 with the Super DIRTcar Series at their Friday night home track, Brewerton Speedway.
With a few races under their belts at Brewerton, the HBR team is feeling confident going into this Fridays event.
The team kicked off their three-day weekend Friday evening at the D-shaped Demon, Brewerton Speedway, with two top-ten finishes.
Phelps qualified third from his sixth-place starting spot, which lined him up on the outside of the sixth row for the main event.
"Friday was a little bit of a letdown for us," added Phelps. "We got the lead and felt we had the race in our control. I don't know if the groove changed or what, but the guy rolled around me on the top on a restart with four to go and we ended up second. It's frustrating, it was our third second in a row there. The car Friday night is better than what it's been though, so we're excited moving into the Series race this Friday night."
McLaughlin pulled away with the heat race victory from his third-place starting spot, which lined him up on the outside of the fourth row for the feature.
"We got to second on the bottom," McLaughlin said. "We worked the bottom pretty good, but the top was the preferred groove. We got passed on the top. When I went up there, I was too tight to get around. We ended up fifth, but I think overall, we have a good car for a long run."
Saturday afternoon saw the team back at Land of Legends Raceway.
Phelps started sixth in his heat and drove forward to finish third.
"We've been using Land of Legends as a test," said Phelps. "It seems like this week we got ourselves a little out of the ballpark in the feature. We started 14th, got to sixth, but didn't feel like I had a whole lot for the top five which was frustrating. We'll make notes and keep digging. We feel like Land of Legends is our best opportunity to really work with our program and make changes. We've had nights where we're really good and then nights you're not going to find results that you're looking for."
Phelps capped off the evening with a sixth-place finish.
McLaughlin started deep in his heat race and maneuvered his way to a fourth-place finish.
McLaughlin rolled off on the outside of the ninth row for the main event.
"There was a stopped car in turn three. It was so dusty, by the time I saw him I was already there and flipped five times."
Unfortunately, McLaughlin's night came to an abrupt end.
"Teo built a really safe chassis that held up to a vicious hit," McLaughlin said. "I can't thank them and Simpson Race Products enough for always giving me what I need to stay safe in circumstances like that. We're going to have to get a new car. The car is way beyond fixing."
The team closed out their three-day weekend at Weedsport Speedway on Sunday.
"We drew 74 out of 75 right out of the gate which put us last in our heat race," Phelps added.
Phelps started last in his heat and was able to pick his way forward to a fourth-place finish.
Phelps rolled off twelfth for the 40-lap main event.
"We had a solid top three car but with 40 laps and no yellows, it's tough sledding," he said. "40 laps aren't enough to let the cards fall, especially after the sprint car feature, the track got real slippery."
Phelps capped off the three-day weekend with a seventh-place finish.
"The car was just starting to come on at the end," Phelps added. "I thought it was a good seventh, if there's such a thing."
McLaughlin started last in his heat race and finished seventh, lining him up on the inside of the tenth row for the main event.
"The race went green to checkered without any cautions," McLaughlin said. "I felt really good. Our lap times were fast enough to be in the top five. Everyone was on the bottom, so I was running up in the black. We had a really good car, it's just tough to start in the back and get any cautions to go your way."
McLaughlin closed out the weekend with a tenth-place finish at Weedsport.
Next on tap for the HBR team will be Brewerton Speedway Friday evening with the Super DIRTcar Series where McLaughlin currently sits second and Phelps sits third in the Series points standings, then back to Land of Legends Raceway on Saturday.
HBR QUICK RESULTS –
Jimmy Phelps
June 8 – Brewerton Speedway; Heat: 3 (6); Feature: 2 (12)
June 9 – Land of Legends Raceway; Heat: 3 (6); Feature 6 (14)
June 10 – Weedsport Speedway; Heat: 4 (10); Feature: 7 (12)
Max McLaughlin
June 8 – Brewerton Speedway; Heat: 1 (3); Feature: 5 (8)
June 9 – Land of Legends Raceway; Heat: 4 (9); Feature: DNF (18)
June 10 – Weedsport Speedway; Heat: 7 (9); Feature: 10 (19)
HBR SEASON STATS –
Jimmy Phelps
18 races – 9 top 5's, 11 top 10's
Max McLaughlin
17 races – 4 top 5's, 10 top 10's
UP NEXT –
June 15 – Brewerton Speedway
June 16 – Land of Legends Raceway