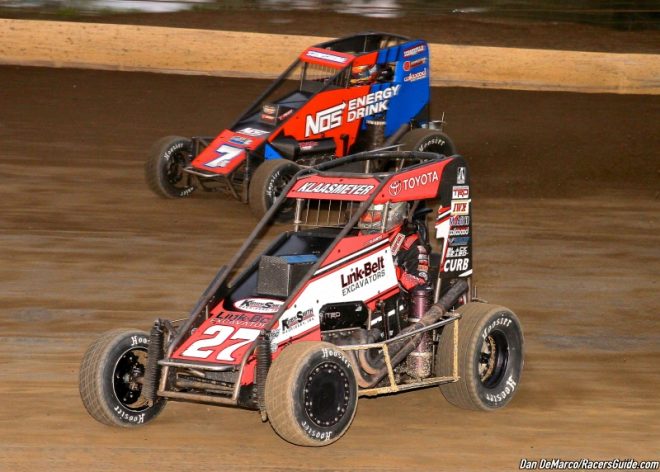 HANGTOWN 100 IS FIRST 100-LAP USAC MIDGET RACE IN 7 YEARS
Story By: Richie Murray – USAC Media
Photos By: Dan DeMarco/RacersGuide.com
Placerville, California (November 18, 2019)………One-hundred lap USAC NOS Energy Drink National Midget races are a rarity these days. In fact, this week's inaugural Elk Grove Ford Hangtown 100 from California's Placerville Speedway is the first such event in seven seasons, a race won by Brady Bacon at Indiana's Tri-State Speedway in 2012.
Races of that length can create a completely different aspect to the event that you don't see in standard 30 or even 40 lap events. There's the patience part of it, the concentration throughout the duration of 100 laps, the ever-changing track conditions and the preservation of equipment.
Of course, those particular things go hand-in-hand with any event on any track, but you can multiply the impact of each aspect when it comes to 100 laps.
One-hundred lappers used to be commonplace in USAC National Midget racing. For instance, in the first year of the club in 1956 alone, 30 such races of that distance were held, including the very first USAC event ever held, at Memorial Coliseum in Fort Wayne, Ind. and won by Gene Hartley.
Between 1956 and 1959, at least 16 100-lap races were held each year from indoor bullrings to dirt half-miles such as Williams Grove and Terre Haute and even to one-mile pavement venues such as the Milwaukee Mile.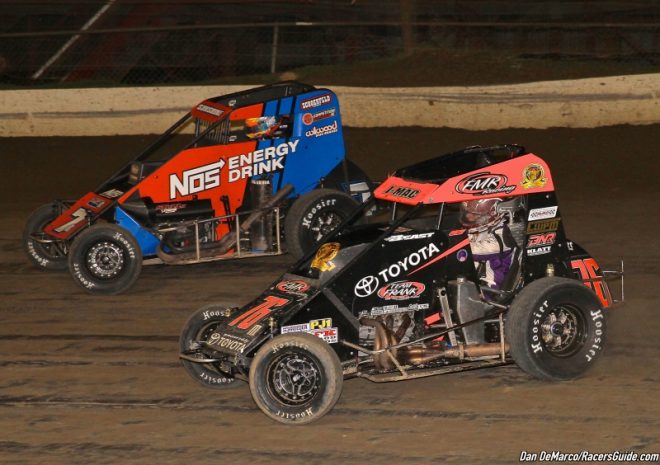 By the decade of the 1970s, the 100-lappers began to gradually fade and became mostly confined to early season indoor events, the Hut 100 and the Turkey Night Grand Prix, which remained traditions into the new century until the demise of the Hut 100 and the alteration of Turkey Night's length to 98 laps in honor of J.C. Agajanian and family whose No. 98 cars were legendary both at Indianapolis and on the short tracks of the west coast throughout the mid-20th century.
The 1990s never had a year in which there were more than four 100-lap races, with only a 1992 event at Wisconsin's Hales Corners Speedway won by Page Jones breaking the mold as an outlier long-distance race outside of the norm of indoor, Hut and TNGP events, and wouldn't happen again at an outlier venue until 2003 at Madera (Calif.) Speedway, won by J.J. Yeley.
The Indiana short paved tracks of Anderson and the Speedrome held their own 100 lap events in the mid-to-late 2000s. When the Hut 100 moved to the quarter-mile dirt oval of Indiana's Tri-State Speedway between 2010-2012, it served as the last event of the distance until this week.
Brady Bacon, a recent winner in the series last Saturday at Arizona Speedway and an entrant for the Hangtown 100, won the last 100-lap USAC National Midget race, held at Tri-State seven years ago and will be a contender once more at Placerville.
After 381 100-lap USAC National Midget races between 1956-2018, Rich Vogler has the most in the category with 16 during his illustrious USAC career. Perhaps Bacon, perhaps somebody new will join a lengthy list of winners of a tradition renewed.
On Tuesday, drivers will draw for qualifying placement at the VIP tent at 1:30pm Pacific, drivers/car owner meeting at 3:30pm, autograph session at 4pm behind grandstands, engine heat and track pack at 5pm and USAC Midget hot laps at 5:45pm.
On Wednesday, an autograph session will take place at 3:30pm behind the grandstands, drivers/car owner meeting at 4:30pm, engine heat and track pack at 5pm and USAC Midget hot laps at 6pm.
Reserved seating continues to be on sale for the Elk Grove Ford Hangtown 100 and can be purchased by visiting www.hangtown100.com/tickets.
A rain date has also been established for Thursday November 21st in case of inclement weather. To stay up to date with event news be sure and visit www.hangtown100.com and follow along on Twitter https://twitter.com/hangtown100.
Also competing both nights and rounding out the card will be the Wicked Energy Gum Northwest Focus Midgets presented by Cognitive Warriors.
Following the action on opening night there will be a post-race party in the concession area with burritos, drinks, music and a lot of fun to be had. All fans and racers are encouraged to attend.
The Placerville Speedway is located on the beautiful El Dorado County Fairgrounds in Placerville, California. Take Hwy US-50 to Forni Road/Placerville Drive exit. Then go north on Placerville Drive to the Fairgrounds. The physical address is 100 Placerville Dr., Placerville, CA 95667. For more information on the Placerville Speedway log onto www.placervillespeedway.com.