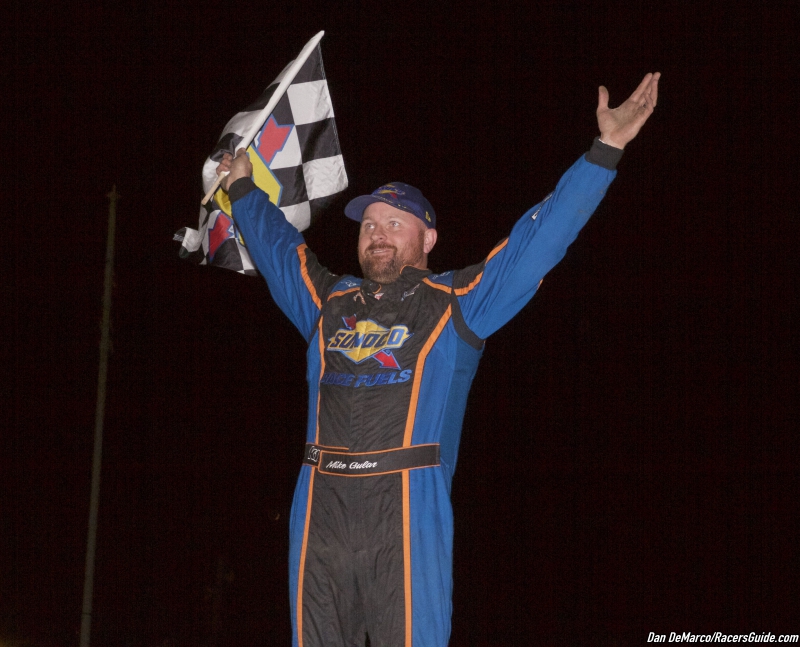 Mike Gular Tops 77-Car Field For OCFS 'Hard Clay Finale' $10,250 Payday; Billy Decker STSS North Region Champion
Story By: Brett Deyo/SSTS
Photos By: Dan DeMarco & Pete MacDonald/RacersGuide.com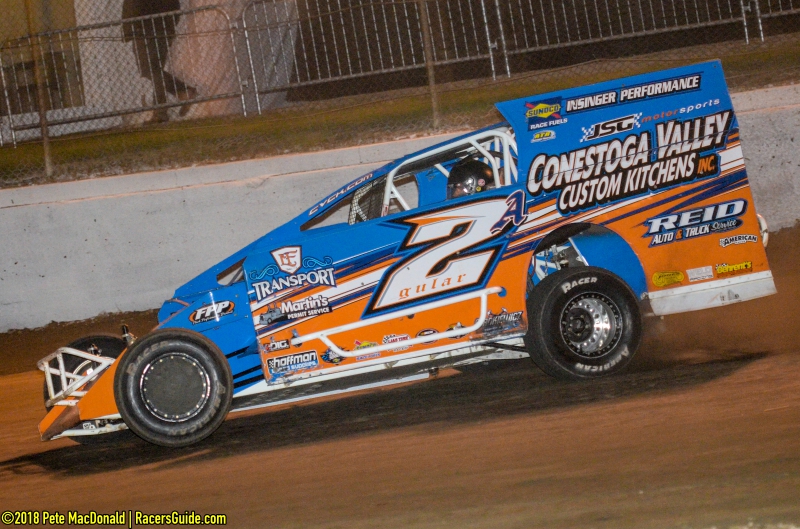 MIDDLETOWN, NY – Second verse, better than the first.
In May, Pennsylvania small-block standout Mike Gular made his first-career start at the legendary Orange County Fair Speedway, finishing a respectable 11th. On Thursday, Gular returned for the Behrent's Performance Warehouse 'Hard Clay Finale' to kick off Eastern States Weekend and fared better – much better.
Gular, of Boyertown, Pa., upset a stacked field to win the Halmar International North Region finale for the Bob Hilbert Sportswear Short Track Super Series (STSS) Fueled By Sunoco big-block/small-block Modifieds at the five-eighths-mile facility.
For the most lucrative victory of his career, Gular and his Terry Fasnacht-owned team pocketed $10,250 – $10,000 from the posted purse, $200 as the Superior Remodeling Halfway Leader and $50 from Rock Fantasy as a heat-race winner.
Gular started from the pole, but relinquished the lead at the outset to track regular Jerry Higbie. On lap nine, he reclaimed the top spot and authored a mistake-free drive for the remainder of the race's 50 grueling laps.
"Of all the places we went this year for the series, can you believe I won one here?" Gular exclaimed after climbing to the roof of his big-block-powered No. 2A Bicknell mount.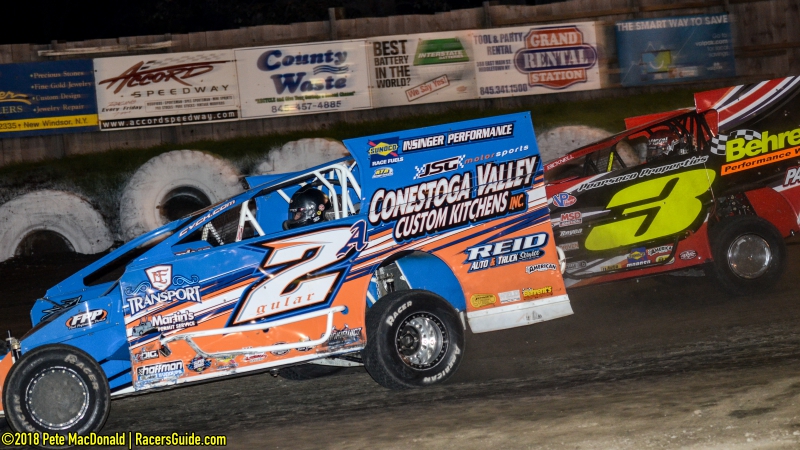 Sidney, N.Y.'s Billy Decker, meanwhile, drove the Jeremy Smith Racing No. 91 to a conservative ninth-place finish after starting 17th and clinched the $12,500 STSS Halmar International North Region championship. While winless on the series, Decker's consistency led him to the ultimate prize by a margin of just two points.
Gular, the champion at his home track of Grandview Speedway in Bechtelsville, Pa., showed speed in his qualifying performance. But it was Higbie – in the United Pump & Tank-sponsored No. 48 – who got the jump at the start of the main.
Gular stalked Higbie before working to his inside on the ninth tour to take over the lead.
But the challenge was far from over.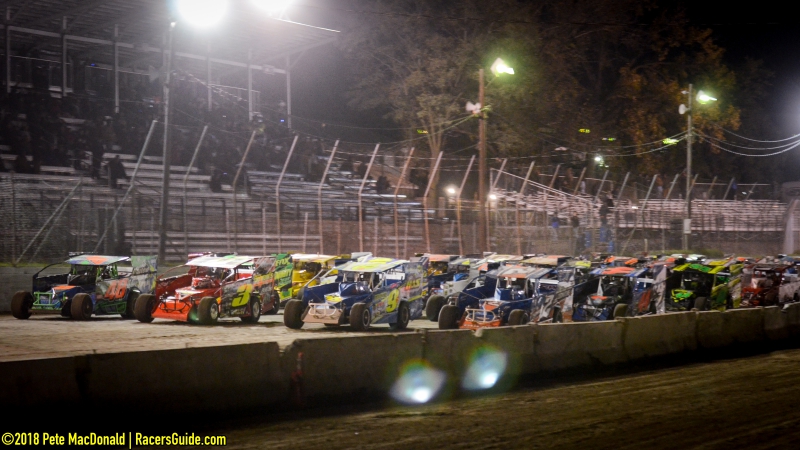 Gular not only had to conserve the rubber on his American Racer tires. He also had to stave off challenges from a number of drivers who occupied the runner-up spot during the remainder of the distance.
Higbie, Andy Bachetti, Matt Sheppard and ultimately Mat Williamson took shots at the leader.
However, it was Gular – who has attended every 2018 Short Track Super Series event in both the Halmar International North Region and Velocita-USA South Region – outrunning the field.
Gular became the 28th different winner in the 64-race history of the Short Track Super Series.
St. Catharines, Ont., native Williamson earned $5,050 as the runner-up in the Behrent's Performance Warehouse No. 3, chasing Gular to the finish. Williamson ended the '18 STSS North Region with back-to-back runner-up efforts.
After starting 11th, Middletown, N.Y.'s Anthony Perrego advanced to third ($4,000), filling out the podium in Brian Smith's Superior Remodeling No. 44 small-block. Perrego fell just two points shy of earning the series championship.
Wallkill, N.Y.'s Tyler Dippel, who has been competing in NASCAR K&N East and Camping World Truck Series competition, made a rare dirt Modified start and authored an impressive drive from 21st to finish fourth, worth $2,500. Mike Mahaney of King Ferry, N.Y., advanced to fifth in the Buzz Chew Racing No. 88 ($1,800). Mahaney started 15th.
Finishing sixth through 10th, respectively, were Stewart Friesen of Sprakers, N.Y., who blasted through the field to sixth in the Halmar International No. 44 after pitting for fresh tires on lap 33 ($1,500); Newburgh, N.Y.'s Higbie, who led early on ($1,400); Hard Charger Danny Creeden of Wurtsboro, N.Y., up from 30th on the grid (a series provisional) earning $200 from Land Hoe Maintenance, a $200 Beyea Custom Headers Certificate and $50 QA1 Certificate ($1,000); series champion Decker ($1,200); and track regular Craig 'Hollywood' Mitchell of Wappingers Falls, N.Y., who had run as high as fourth ($1,150).
A record field of 77 STSS Modifieds attempted to qualify for the 'Hard Clay Finale' requiring seven heat races. Winners received $50 cash from Rock Fantasy Concert Shop and $50 certificates courtesy of Beyea Custom Headers. Heat victors were Stan Frankenfield, Higbie, Sheppard, Ryan Godown, Williamson, Gular and Sam Martz.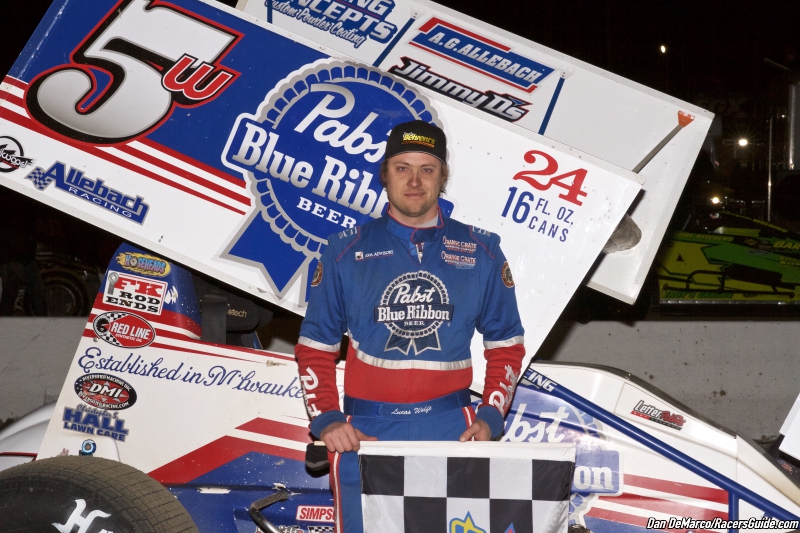 Consolation wins went to Brian Krummel, Shane Jablonka and Mike Ricci.
A special 3-lap Last Chance Qualifier saw Allison Ricci gain the 28th starting position for the main. Drivers missing a qualified spot by one in each of the consolations took part in this event.
For the first time, 360 Sprint Cars joined the STSS Modifieds on the 'Hard Clay Finale' program.
In a down-to-the-wire 25-lap event, Lucas Wolfe of Mechanicsburg, Pa., held off a relentless Davie Franek to earn a $3,000 payday for his R.C. Faigle-backed Pabst Blue Ribbon team.
Wolfe started fifth and avoided a multi-car tangle in turn two on the race's opening lap. Then, he jetted past outside-pole starter Franek to lead the second lap.
Franek was not done, however.
In the race's final five laps, Franek powered his car to the topside and reeled in Wolfe, nearly pulling even with the leader entering turn three coming to the checkered flag. Wolfe prevailed off the fourth turn to take the win.
Franek, from nearby Wantage, N.J., placed second, followed by a rim-riding Billy Van Inwegen of Sparrowbush, N.Y., Montrose, N.Y., native turned North Carolina resident Justin Barger and Binghamton, N.Y.'s Coleman Gulick, who started 16th.
360 Sprint Car winners were Barger and Franek.
Next up for the Bob Hilbert Sportswear Short Track Super Series Fueled By Sunoco is Mid-Atlantic Championship Weekend at Georgetown Speedway in Georgetown, Del., Friday-Saturday October 26-27. The Velocita-USA South Region Modified title will be decided along with the STSS Crate 602 Sportsman championship. 10 divisions of racing are planned over the two days.
To learn more about the 2018 Short Track Super Series Fueled By Sunoco, visit www.shorttracksuperseries.com, e-mail bdmotorsportsmedia@gmail.com, check out 'Short Track Super Series' on Facebook or @ShortTrackSS on Twitter or Instagram.
HARD CLAY HAPPENINGS: The evening honored the career of veteran driver Rich Eurich, who has competed at OCFS since the late-1960s. Eurich signed commemorative posters in the grandstand area prior to the start of racing and spoke to the crowd before the National Anthem. He was bestowed a $1,000 guaranteed starting spot for the event as part of the recognition….
The 77-car STSS Modified field registered on Thursday night at OCFS set a new standard as the largest car count in history since the inception of the series in 2014….
The unofficial top-five in points were: Billy Decker (766), Anthony Perrego (764), Mat Williamson (758), Mike Gular (748) and Matt Sheppard (705). Of the top-five finishers, only one of the top-five was able to win a North Region series event and that was Gular on Thursday night….
The WELD Racing Wheels Hard Luck Award went to Michael Storms, who ran inside a qualifying spot in his heat race until suffering a flat tire on the final lap. Storms will receive a free WELD Racing Wheel….
All-time OCFS win leader Brett Hearn was eliminated after hot laps with water pump failure on the Madsen Motorsports No. 20….
The Short Track Super Series is presented by American Racer/Lias Tire, Sunoco Race Fuel, Insinger Performance, Bob Hilbert Sportswear, Halmar International, Allstar Performance, ATL Racing Fuel Cells, Behrent's Performance Warehouse, Beyea Custom Headers, Bicknell Racing Products, Dirt Track Digest, Fast Axle, Fox Racing Shocks, Henry's Exhaust, Hig Fab, HyperCo, Kirkey Racing Fabrication, Land Hoe Maintenance, K&N, Precision Hydraulic & Oil, QA1, Race Pro Weekly, Racing Optics, Superior Remodeling, Teo-Pro Car, Vahlco, Velocita, Weld & Wilwood.
BEHRENT'S PERFORMANCE WAREHOUSE HARD CLAY FINALE RESULTS SUMMARY – ORANGE COUNTY FAIR SPEEDWAY OCTOBER 18, 2018
Bob Hilbert Sportswear Short Track Super Series Fueled By Sunoco Halmar International North Region Event No. 9 Modified Feature Finish (50 laps): MIKE GULAR, Mat Williamson, Anthony Perrego, Tyler Dippel, Mike Mahaney, Stewart Friesen, Jerry Higbie, Danny Creeden, Billy Decker, Craig Mitchell, Jimmy Horton, Billy Pauch Jr., Matt Sheppard, Bob McGannon, Jeremy Smith, Ryan Godown, Jackie Brown, Tyler Boniface, Andy Bachetti, Sammy Martz, Duane Howard, Brian Krummel, Billy Van Inwegen, Rich Eurich, Allison Ricci, Mike Kolka, Donnie Elliott, Mike Ricci, Stan Frankenfield, Shane Jablonka, Matt Hitchcock.
Did Not Qualify: C.G. Morey, Brett Tonkin, Rick Laubach, Ric Hill, Tommy Meier, Corey Lowitt, Steve Dodd, Nick Nye, Joe Bonetti, J.R. Hurlburt, Roger Henion Jr., Kurt Hundeland, Leo Fotopolous Jr., Yanick Mathieu, John Ferrier, Dillon Steuer, Ricky Davis, Cass Bennett, Mark Pullen, Kyle Armstrong, Chris Stevens, Ed Burgess, Gary Edwards, Sean Mandel, Marc Johnson, Jeremy Markle, Jason Kosch, Brett Haas, Austin Smith, LJ Lombardo, Anthony Falanga, Craig Hanson, Rich Eggers, Tom Hindley, Frankie Harper, Tom Foley, Michael Horton, Danny Cronk, Jessica Friesen, Joe Falanga, Jeff Heotzler, Donnie Wilson, Connor Otten, Mike Storms, Brett Hearn, Rob Rowe.
American Racer/Lias Tire Bonuses (FREE Tire): Jerry Higbie (seventh) & Jimmy Horton (11th)
ATL Fuel Cell Bonus ($200 Certificate): Mike Mahaney (fifth)
Behrent's Performance Warehouse Bonuses ($50 Gift Cards): Tyler Dippel (fourth) & Billy Decker (ninth)
Beyea Custom Headers Hard Charger ($200 Certificate): Danny Creeden (30th to eighth)
Beyea Custom Headers Heat Winners ($50 Certificates): Stan Frankenfield, Jerry Higbie, Matt Sheppard, Ryan Godown, Mat Williamson, Mike Gular & Sam Martz.
Fast Axle Bonus ($50 Certificate): Stewart Friesen (sixth)
Henry's Exhaust Power Position ($50 Certificate): Jimmy Horton (11th)
Land Hoe Maintenance Hard Charger ($200): Danny Creeden (30th to eighth)
QA1 Hard Charger ($50 Certificate): Danny Creeden (30th to eighth)
Racing Optics Bonus (Sleeve of Tearoffs): Anthony Perrego (third)
Rock Fantasy Heat Winners ($50): Stan Frankenfield, Jerry Higbie, Matt Sheppard, Ryan Godown, Mat Williamson, Mike Gular & Sam Martz.
Sunoco Race Fuels Bonuses ($50 Certificates): Mat Williamson (second), Billy Pauch Jr. (12th) & Brian Krummel (12th)
Superior Remodeling Halfway Leader ($200): Mike Gular
Wilwood 'Lucky 7' Bonus ($50 Certificate): Jerry Higbie
360 Sprint Car Open Feature Finish (25 laps): LUCAS WOLFE, Davie Franek, Billy Van Inwegen, Justin Barger, Coleman Gulick, Joe Kata, Kyle Smith, Tyler Jashembowski, Thomas Radivoy, Mike Walter, Eric Jennings, Geoff Quackenbush, Bill Unglert, Floyd Billington, Scott Flammer, Matt Tanner, Scott Goodrich.