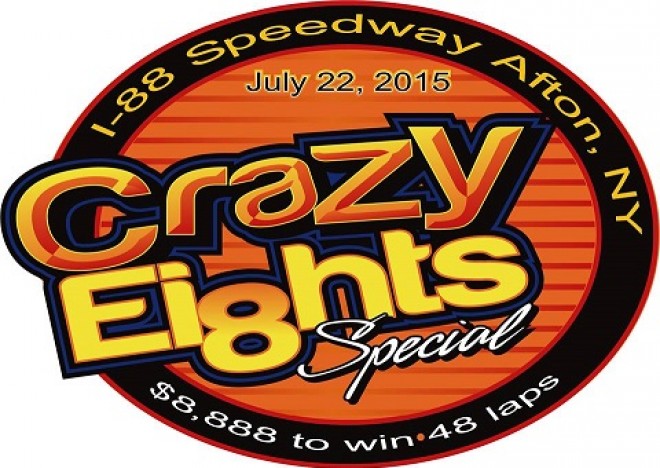 [xyz-ihs snippet="Horizontal-Google-Banner-Series"]
AFTON, NY – The richest race of 2015 in New York State's Southern Tier region takes place on Wednesday, July 22 at I-88 Speedway.
The third edition of the 'Crazy 8s Special' is set for the pristine Afton Fairgrounds three-tenths-mile track, offering a massive $8,888-plus (*with "Gambler's Fee" posted) to the victor of the 48-lap big-block/small-block Modified special. The event serves as round No. 5 of the Short Track Super Series Fueled By Hi-Tek Bob Hilbert Sportswear North Region. A Thursday, July 23 rain date has been posted.
Following the most recent STSS North Region event held at Thunder Mountain Speedway in Center Lisle, N.Y., on June 29, Stewart Friesen of Sprakers, N.Y., has moved to the top of the points chart in the chase for the $15,000 championship. Danny Johnson, Anthony Perrego, Tommy Meier and Jerry Higbie Jr. complete the front five in the standings.
The 'Crazy 8s Special' is a co-promotion involving I-88 Speedway managers Jamie and Denise Page and BD Motorsports Media LLC. Mike Mahaney of King Ferry, N.Y., won the inaugural edition in 2013 and last year's victor was Wurtsboro, N.Y., driver Danny Creeden.
Aside from the hefty winner's share, a massive posted purse of more than $29,000 has been posted for the STSS Modified showdown. Lap money, contingency awards and more will be distributed to racers at the anticipated event.
Defending victor Creeden pocketed more than $9,000 for his efforts in cash a year ago by fending off Friesen and Andy Bachetti.
The entire 2015 posted purse is as follows: 1) $8,888; 2) $3,888; 3) $2,288; 4) $1,688; 5) $1,488; 6) $1,288; 7) $1,188; 8) $1,088; 9) $988; 10) $888; 11) $688; 12) $588; 13) $488; 14-24): $388; Provisionals) $194.
All Modifieds weigh 2,400 lbs. for this event. Tire rules are as follows: American Racer 33 or harder across the front; 33 or harder left-rear; and 38 or harder right-rear. Sail panels are permitted. A draw for position will set heat-race lineups with a redraw of top qualifiers for the main.
Four different drivers have visited STSS North Region Victory Lane already in 2015: Friesen (N.Y.'s Orange County Fair Speedway); Rick Laubach (Pa.'s Big Diamond Speedway); Jackie Brown Jr. (N.Y.'s Accord Speedway) and Brian Malcolm (Thunder Mountain).
Joining the Modifieds on the program are the GRIT Series Crate 602 Sportsman in a $1,000-to-win main and Doug Borger's traveling XCel 600 Modifieds competing in a mini-series race also paying $1,000 to the victor.
I-88 Speedway is located conveniently off I-88 Exit 7 (Afton), approximately 25 miles north and east of Binghamton, at 46 East Main Street Afton, N.Y. 13730. There is plentiful space for parking and camping. To learn more about I-88 Speedway, visitwww.i-88speedway.com.
To learn more about the Short Track Super Series or BD Motorsports Media LLC, visitwww.shortttracksuperseries.com or www.bdmotorsportsmedia.com, call 845.728.2781or e-mail bdmotorsportsmedia@gmail.com.  "Like" Short Track Super Series on Facebook or follow @ShortTrackSS on Twitter.
The Short Track Super Series is presented by Hi-Tek Race Fuel, American Racer/Lias Tire, Bob Hilbert Sportswear, Pioneer Pole Buildings Inc., Scotty's Speed & Diesel, East Coast Speed/ECS Auto, Behrent's Performance Warehouse, Allstar Performance, ATL Fuel Cells, Bicknell Racing Products, COMP Performance Group (COMP Cams, Driven Racing Oil & Quarter Master), Crane Ignition, Dirt Track Digest, Fast Axle, Fox Racing Shocks, Henry's Stainless Steel Exhaust, Hig Fab Chassis, Hyperco, Kirkey Racing Fabrication, Lineman Racing, Pilat Graphic Design, Race Pro Weekly, Racers Guide, S&D Bodyline, S&W Awards, Shiley Fabrication, Simplicity Design, Teo-Pro Car, Vahlco Wheels & VP Racing Fuel.
Short Track Super Series Fueled By Hi-Tek 2015 Schedule
Bob Hilbert Sportswear North Region
Saturday, April 11 – Orange County Fair Speedway/Middletown, NY: Hard Clay Open – WINNER: STEWART FRIESEN
Tuesday, May 5 – Big Diamond Speedway/Minersville, PA (Combo): Anthracite Assault – WINNER: RICK LAUBACH
Tuesday, May 19 – Accord Speedway/Accord, NY: Battle of the Bullring 3 – WINNER: JACKIE BROWN JR.
Sunday, June 28 – Thunder Mountain Speedway/Center Lisle, NY: Lightning on the Mountain – WINNER: BRIAN MALCOLM
Wednesday, July 22 (Rain Date: July 23) – I-88 Speedway/Afton, NY: Crazy 8s Special
Tuesday, August 11 (Rain Date: Aug. 12) – Woodhull Raceway/Woodhull, NY: Hustlin' the High Banks 51
Sunday, September 13 (Rain Date: Sept. 20) – Thunder Mountain Speedway/Center Lisle, NY: Wade Decker Memorial
Friday–Saturday October 9-10 (Rain Date: Oct. 11) – I-88 Speedway/Afton, NY: Short Track SuperNationals 8 – Championship Points
Short Track Super Series Fueled By Hi-Tek Bob Hilbert Sportswear North Region Point Fund (*based on 8 events): 1. $15,000; 2. $7,000; 3. $3,500; 4. $2,500; 5. $2,000; 6. $1,650; 7. $1,550; 8. $1,450; 9. $1,350; 10. $1,250; 11. $750; 12. $650.
Drivers with perfect attendance outside the Top-12 receive $250.