[xyz-ihs snippet="Posts-Ad"]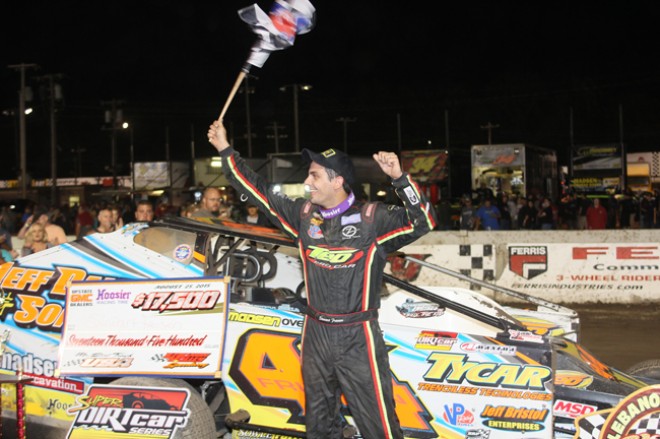 Friesen earns Mr. Dirt Track USA title
Takes lead with two to go at Lebanon Valley
WEST LEBANON, N.Y. – August 25, 2015 – Stewart Friesen dogged polesitter Brett Hearn for 98 laps and went by him as he ran out of gas to win the Super DIRTcar Series (SDS) Mr. Dirt Track USA 100 for a $17,500 payday as a big Lebanon Valley Speedway crowd rose to its feet.
Hearn was trying for his fourth Big-Block Modified win in five nights and his second straight SDS victory. He set a new single-lap track record in qualifying and drew the pole in the Dig Safely NY redraw.
Friesen was just behind Hearn in row two as the race got off to a rocky start.
A 12-car pile-up in turn four on the first lap shuffled the field. Six cautions and another red flag occurred, but Friesen managed to keep Hearn in his sights. When the pair reached double-wide traffic with 10 laps left Friesen closed in, but was unable to get around Hearn until the Madsen Overhead Doors No. 20 slowed as it neared the flag stand to complete lap 98.
"My eyes got big when I saw him slowing down," Friesen said. "We'll take it. Sometimes the racing gods smile on you."
On the final restart on lap 57, Hearn shot out to his biggest lead while Friesen tried to keep in touch and Andy Bachetti, Tyler Dippel and Matt Sheppard fought hard for third place.
"We went with a hard tire," Friesen said. "Sometimes it would fire on the restarts and sometimes it wouldn't. I got back to him in the traffic those last few laps. Owner Jeff Daley gave me a good car."
SDS point leader got by Bachetti for the runner-spot in the closing laps. "We were really coming on," Sheppard said. "I spent a lot of laps getting past (Billy) Decker. I think if I had got up front earlier, I would have had something for those guys."
Tyler Dippel held off Kenny Tremont for 4th. Tremont had to forfeit his original spot (9th) and start at the rear after his crew wrenched a shock on the track while the starting grid was being staged. He avoided the first lap disaster and soon was into the top ten.
Gary Tomkins – from 21st – was sixth, followed by Jimmy Phelps, J.R. Hefner, Hearn and Olden Dwyer.
The win was Friesen's second SDS victory of the season.
The next Super DIRTcar Series event is at Ransomville Speedway September 2.
Super DIRTcar Big-Block Modified Series Statistical Report; Lebanon Valley Speedway; August 25, 2015
"Mr. Dirt Track USA"
A-Main (100 laps): start in (*)
1. 44 Stewart Friesen – Sprakers, NY (4)
2. 9h Matt Sheppard – Waterloo, N.Y. (10)
3. 34b Andy Bachetti – Sheffield, Mass. (6)
4. 1x Tyler Dippel – Walkill, N.Y. (5)
5. 115 Kenny Tremont – West Sand Lake, N.Y. (9)
6. 84 Gary Tomkins – Clifton Springs, N.Y. (21)
7. 98h Jimmy Phelps – Baldwinsville, N.Y. (14)
8. 74 J.R. Hefner – Kinderhook, N.Y. (16)
9. 20 Brett Hearn – Sussex, NJ (1)
10. 88 jr Olden Dwyer – Bennington, VT (18)
11. 42 Pat Ward – Genoa, N.Y. (17)
12. 99L Larry Wight – Phoenix, N.Y. (10)
13. 17 Elmo Reckner – Ballston Lake, N.Y. (13)
14. 34 Steve Hough – Nassau, N.Y. (3)
15. 8 Rich Scagliotta – Bound Brook, N.J. (23)
16. 98 Eddie Marshall – Ridgefield, Conn. (13)
17. 81 DJ Faulkner – East Greenbush, N.Y. (29)
18. 91 Billy Decker – Unadilla, N.Y. (2)
19. 47 Jeff Watson – Sheffield, Mass. (24)
20. 43 Keith Flach – Ravena, N.Y. (22)
21. 3L LJ Lombardo – (28)
22. 27J Danny Johnson – Rochester, N.Y. (32)
23. 42 Matt Pupelo – Scodack, N.Y. (11)
24. 55 Mike King – Nassau, N.Y. (15)
25. 60 Brian Berger – Castleton, N.Y. (30)
26. 11a Kyle Armstrong – New Milford, Conn. (7)
27. 25 Chad Jeseo – Averill Park, N.Y. (25)
28. 98s Kyle Schroeder – Staatsburg, N.Y. (19)
29. 19 Tim Fuller – Edwards, N.Y. (12)
30. 87x Paul Gilardi – Pittsfield, Mass. (31)
31. 42 Kyle Sheldon – Nassau, N.Y. (8)
32. 17p Rob Pitcher – Chatham, N.Y. (27)
Qualifying Heats (8 laps, top 5 transfer, top 3 redraw)
Heat 1: Hearn, Sheppard, Sheldon, Marshall, Ward, Scagliotta, Johnson. Lombardo, Gilardi
Heat 2: Pupello, Armstrong, Fuller, Phelps, Berger, Hoffman, Dwyer, Watson
Heat 3: Dippel, Decker, Hough, King, Schroeder, Jeseo, Pitcher, Faulkner
Heat 4: Friesen, Tremont, Bachetti, Hefner, Wight, Tomkins, Flach, Pitcher
Consi 1: Tomkins, Flach, Scagliotta, Watson, Jeseo, Reckner, Pitcher, Lombardo, Faulkner, Berger, Giladi, Johnson, Hoffman
The Super DIRTcar Series and DIRTcar Racing in the Northeast Region is brought to fans by several sponsors and partners including Hoosier Racing Tire, VP Racing Fuels, Chevy Performance Parts, NAPA Auto Parts, Pole Position Raceway and Dig Safely New York. Contingency sponsors are ASI, Bicknell Racing Products, Bilstein Shocks, Brodix, ButlerBuilt, Cometic Gasket, Comp Cams, Edelbrock, FX Caprara, Fox Shox, Impact Race Products, Intercomp, JE Pistons, JRI Shocks, KSE Racing Products, Mobil 1, Motorsports Safety Systems, MSD Performance, Racing Electronics, Superflow, TNT Rescue and Wrisco Aluminum.
[xyz-ihs snippet="Posts-Ad"]